With a different agenda, I returned to the Island Born of Fire, my third time overall and twice in just a span of one year. No I didn't do the usual island tour, I am through with it twice. I went there to dive!
Technically speaking, I have already dive in Camiguin before, specifically in the waters of Mantigue Island. Not the usual Camiguin but it still is. But I have heard a lot of positive reviews on the waters surrounding the main island of the province and my scuba heart dreamed of seeing its unspoiled and amazing underwater scenery very soon. And that soon came as my birthday trip this year.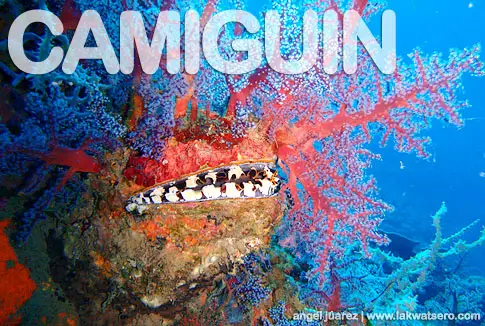 Leaving Cagayan de Oro at four in the morning, Ate Claudia and I reached July's Haven, where we arranged our accommodation, at around eight. We booked our dives through Sir Mario Jugador's Dive Special and the dive boat was already on the shore of our resort when we arrived.
Three dives were scheduled to us that day – Old Vulcan, Sunken Cemetery and White Island.
Old Vulcan
After around fifteen minutes of boat ride, we had our first dive at Old Vulcan, west of the island. The site is made up of sharp pinnacles and huge lava rocks. There is a small gradually sloping wall on a maximum depth of around 50 to 60 meters. Visibility and current are generally good all year round.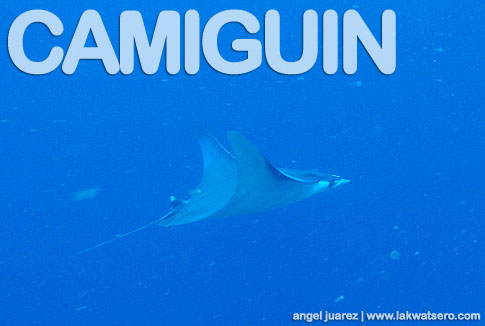 The site is also teeming with marine life. Common tropical fishes, pelagics, corals, sponges and other species are regular in the area but the biggest surprise was the Manta Ray that we saw on proximity. I was around two meters away when it passed on our side. We were ecstatic with the sighting.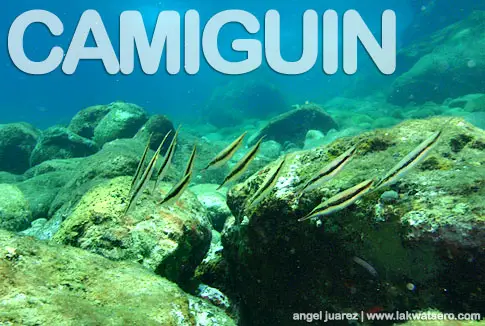 Sunken Cemetery
We had our surface interval at the Cross Marker of the Sunken Cemetery, one of the popular landmarks of Camiguin, where I had an opportunity to climb on its top. It was a knee trembling experience because the ladder was already in a bad state. I wouldn't recommend on climbing it but if you insist, please do so on your own risk.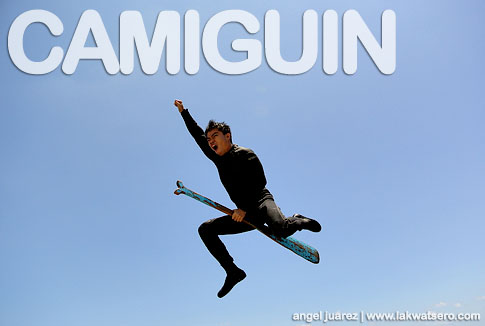 Right after the interval, we dived underneath to satisfy our curiosity. Diving the Sunken Cemetery has long been on our bucket list, we were always intrigued by what's beneath. Tombs? Cadavers? No, we didn't see any, perhaps they were already covered with corals if there are. But we saw the original cross markers, two to be specific. That is aside from huge table and brain corals, sponges and the resident tropical species that dwell in the rich and colorful ecosystem that blossomed there.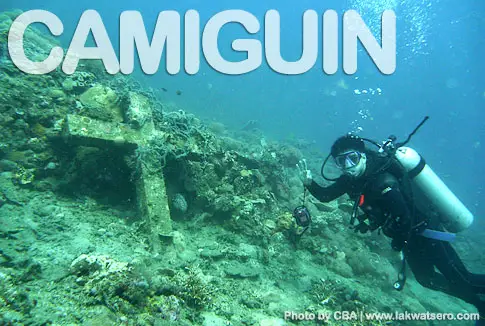 With great visibility and current, we had fun at the Sunken Cemetery. Finally, I was able to fulfill two of my long time dreams. That is to climb the top of the current cross marker and dive underneath. It was surreal!
White Island
Final dive was at the White Island or White Sandbar off the coast of Barangay Yumbing. It was a relaxing dive in a gradually sloping seabed filled with tropical fishes, colorful corals, sponges, crinoids an other sea creatures. The current was mild and the visibility was still good.
Ate Claudia saw a Garden Eel on our descent which I missed but a Sea Turtle graced us on the last minutes of the dive. It was a good dive to end the day.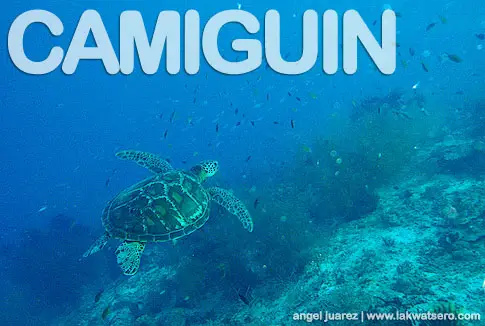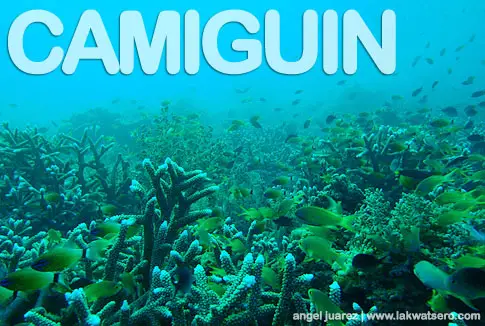 There are more than 20 dive sites in and around the island born of fire and perhaps plenty more that are yet to be discovered. But after seeing three, I can already truly and categorically say that Camiguin is a paradise above and underwater. Camiguin never ceases to awe me! 😀