About Dinadiawan
Beyond the vibrant surfscape of Baler is the laid back town of Dipaculao in the north, a town blessed with panoramic beaches, mountains, caves, waterfalls, river systems and more.
Dipaculao has recently been in the spotlight due to its proximity to the famed capital of Aurora which is just about an hour away. Its serenity makes it an ideal escape from the busy scenes of Sabang.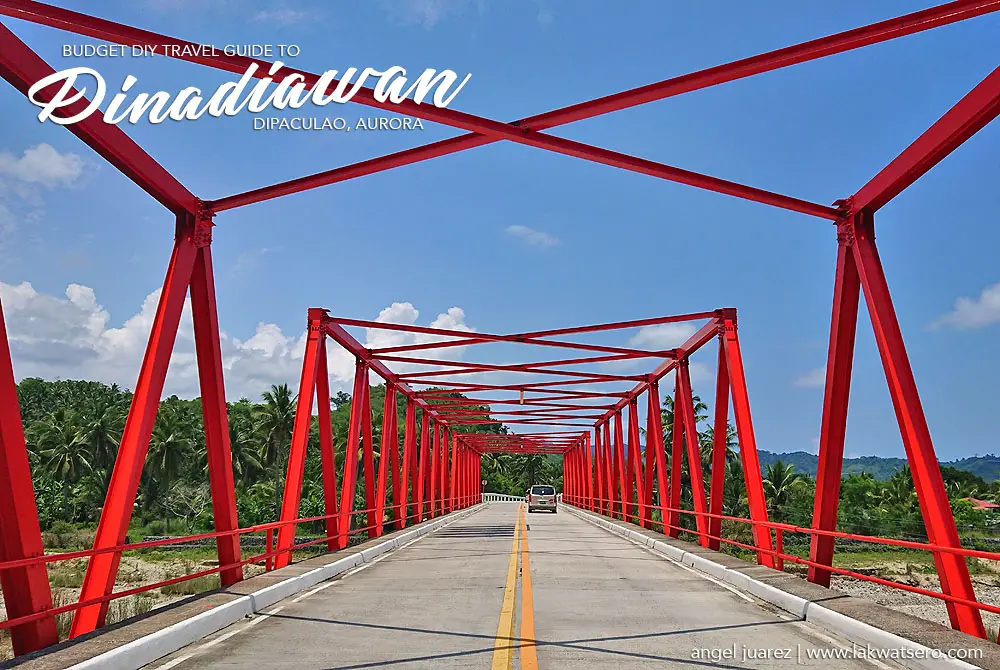 Dipaculao's most popular spot is the long stretch of sandy beach in Barangay Dinadiawan. The cream sand Dinadiawan Beach reflects white under sunlight and with its beautiful turquoise water make a beautiful postcard image of the town.
Aside from Dinadiawan Beach, the town also boasts of other natural spots such as Aleman Falls that lies along Dinadiawan River Protected Landscape, Baul Falls, Panindiga (Dinadiawan) Falls, Bulangan Falls, Ampere Beach and Rock Formation, Dibutunan Twin Cave, Mount Dabukid, Mount Dimanjotol, Mount Pungugupanunga and more.
Dipaculao is more than just a side trip, a day spent in this town is a worthwhile experience.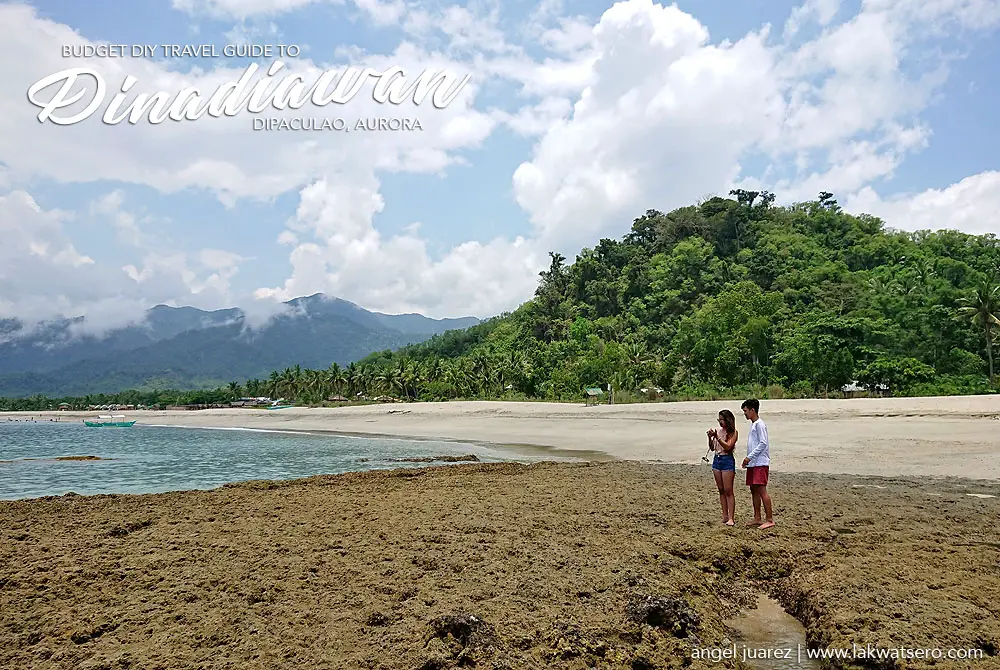 How to Get to Dinadiawan
Via Baler
Manila to Baler
The easiest way of going to Dipaculao from Manila is via Baler with Genesis Transport direct service from Cubao to Baler. They offer two types of bus service: Joy Bus, a non-stop executive luxury service with snacks on a sleeper bus with wifi, a bus stewardess, blankets, pillows and a morning kit; and the regular air-con bus.
Joy Bus has at least four trips daily at 12AM, 1AM, 2AM and 5:30AM, travel time is around five hours and fare is P750 (November 2018 rate), advance reservation is required. Meanwhile, the regular aircon bus has published schedule of departure every hour from 2AM to 8AM but this schedule also depends on the volume of passengers, travel time is about seven hours for a fare of P450, advance reservation is not necessary.
For advance reservation on Joy Bus and other information, call their Cubao Office at (02) 709-0803 or (02) 421-1425. You can also book your bus or private transfer from Manila to Baler or vice versa below: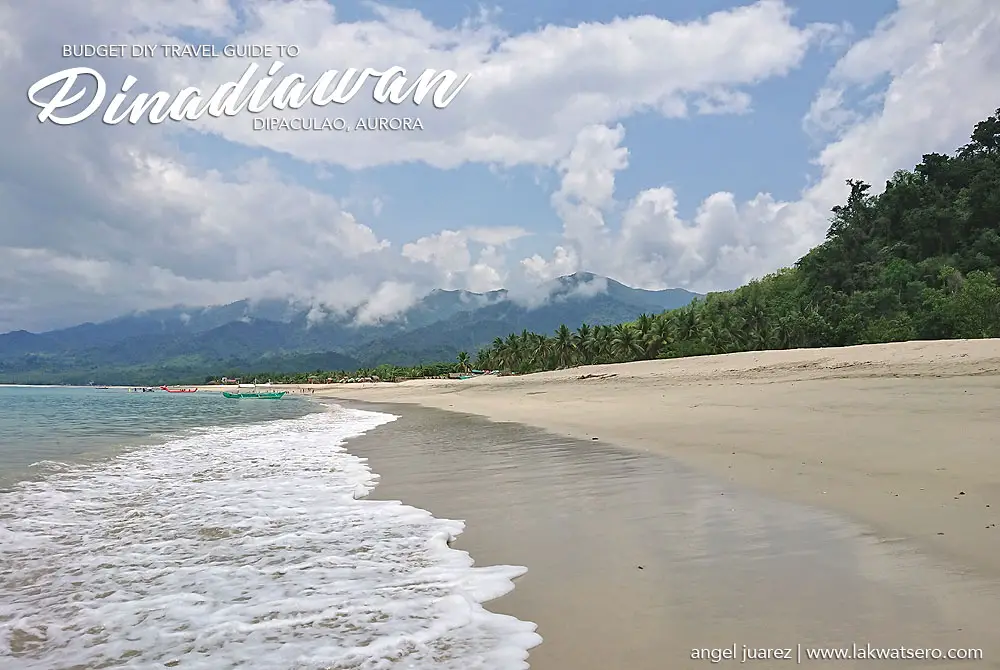 Baler to Dinadiawan
Dipaculao is the neighboring town of Baler to the north. You can take a trike from Baler to get to Ampere Beach and Dibutunan which are near Baler but Dinadiawan is quite far thus bus and van are the common method of transport.
To get here to Dinadiawan, catch a D-Liner bus at Baler Central Terminal going to going to Casiguran and get off at Dinadiawan. There are multiple departures daily from as early as 5AM to as late as 3PM (schedule is subject to change and depends on foot traffic). Travel time by public bus from Baler to Dinadiawan is about two hours and fare is not more than P100.
Alternatively, you may also take a van bound for Casiguran,  Nagtipunan or Madella which will pass by Dinadiawan but you will have to pay the full fare. Baler to Casiguran full fare is P200, while Baler to Nagtipunan or Maddela is P300. Ask the driver to drop you off at Dinadiawan, travel time is around 1.5 hours.
Via Cabanatuan
Manila to Cabanatuan
Another alternative of going to Dinadiawan is via Cabanatuan City, Nueve Ecija. Several bus lines ply from Pasay, Avenida, Cubao and Caloocan to Cabanatuan daily including Genesis Transport, Five Star Bus, Baliwag Transit and ES Transport. Travel time is approximately three hours and fare is at least P202 (November 2018 rate). There are also vans servicing Manila to Cabanatuan.
You can book your bus from Manila to Cabanatuan or vice versa below:
Cabanatuan to Dinadiawan
Buses and vans from Metro Manila stop at Cabanatuan Central Terminal where D'Liner buses to Casiguran are also stationed. D'Liner has schedule departures at 2AM, 3AM, 5AM and 7AM but schedule may change due to various factors. The bus will pass by Baler and Dipaculao, ask the driver to drop you off at Dinadiawan which is around five to six hours away, fare is approximately P300.
Via Nagtipunan or Maddela (Quirino)
If you are coming from Quirino Province, there are public vans linking Nagtipunan or Maddela and Baler that pass by Dipaculao. There are multiple departures daily starting at 5AM and as late as 2PM.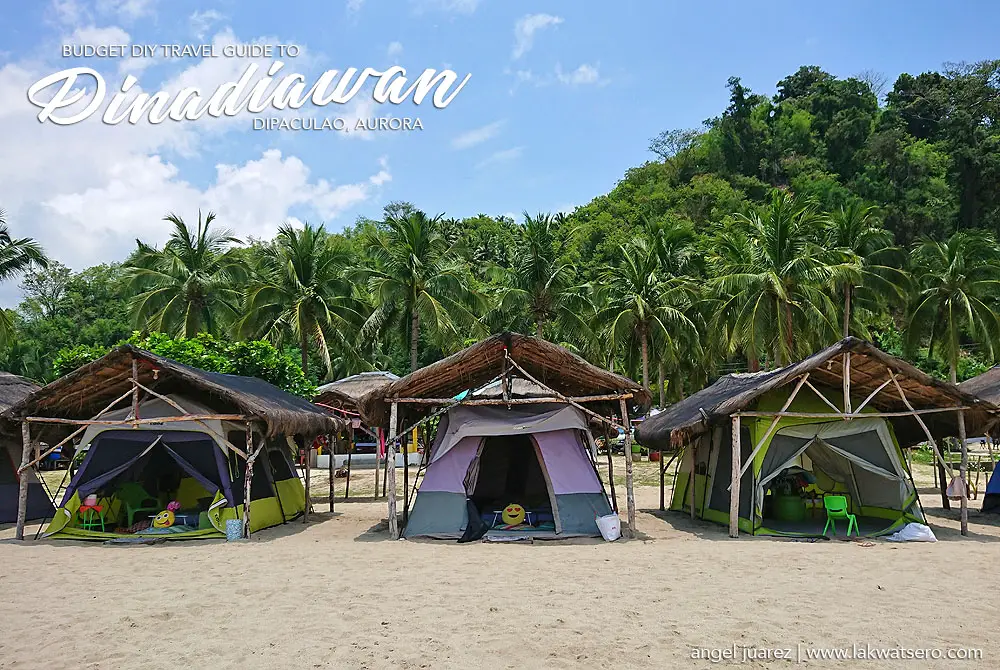 Where to Stay in Dipaculao
Accommodations in Dipaculao Area
There are numerous beachfront resorts in Dipaculao with Sand and Stars Resort and Halos Farm Resort being the most popular. Both offer unique experience – Sand and Stars provides glamping in Dinadiawan Beach while Halos Farm Resort, with their tree house and improvised infinity pool, provides budget bohemian experience in Dibutunan.
Sand and Stars Dinadiawan
Dinadiwan Beach, Dipaculao, Aurora
Contact No: +639178057082
Rate: Starts at P1,500 for glamping tent good for 2 persons
Halos Farm Resort
Dibutunan, Dipaculao, Aurora
Other resorts in Dipaculao:
Amansec Beach Resort
Dinadiwan, Dipaculao, Aurora
Contact No: +63918-2528665
Costa Alexa
Dinadiwan, Dipaculao, Aurora
Contact No: +63922-8336024
Costa Inesita
Dinadiwan, Dipaculao, Aurora
Contact No: +63906-5869212 / +63919-3131316 / +63922-8313139
Dinadiawan Agri Beach Resort
Dinadiwan, Dipaculao, Aurora
Contact No: +63949-4496987 / +63917-9159270
Diva Sunrise Beach Resort
Sitio Ngas-ngas, Dinadiawan, Dipaculao, Aurora
Contact No: +63932-3090941 / +63995-9535526
Doña Luz Dinadiawan
Dinadiwan, Dipaculao, Aurora
Contact No: +63917-1432936
Elysian Sands
Dinadiwan, Dipaculao, Aurora
Contact No: +63995-1075120
La Sunshine Beach Resort
Sitio Ngasngas Dinadiawan, Dipaculao, Aurora
Contact No: +63917-6618802
Pacific Villa
Dinadiawan, Dipaculao, Aurora
Contact No: +63927-5726226
Pearl White Resort
Dinadiawan, Dipaculao, Aurora
Contact No: +6315-7295907 / +63921-537348 / +63927-7160208
Porto Novo Hotel
Dinadiwan, Dipaculao, Aurora
Contact No: +63925-8773322
Radie Beach Resort
Sitio Ngasngas, Dinadiwan, Dipaculao, Aurora
Contact No: +63905-5293397
Rock and Sand Beach Resort
Sitio Kipit, Dinadiwan, Dipaculao, Aurora
Contact No: +63996-9643698
Teresitas Resort
Lower Bulos, Dinadiwan, Dipaculao, Aurora
Contact No: +63915-1114004
White Plains Cottages
Lower Bulos, Dinadiwan, Dipaculao, Aurora
Contact No: +63908-5526666 /+63926-8345155
Accommodations in Baler Area
If you prefer to stay in Baler, here are the recommended places of stay:
Top-Rated / Highly Recommended Accommodations in Baler
Costa Pacifica Resort
Sabang, Baler
Starts at 5,500 PHP

Baler Fiore del Mare
Sabang, Baler
Starts at 2,600 PHP

Chamie's Transient House
Sabang, Baler
Starts at 3,000 PHP

Baler Darshans Guesthouse
Sabang, Baler
Starts at 1,800 PHP
Top-Rated Budget Accommodations in Baler
Go Surfari House
Sabang, Baler
Starts at 700 PHP

The Circle Hostel
Buhangin,Baler
Starts at 1,000 PHP
Top Things to Do in Dipaculao
Go beach hopping and visit Dinadiawan (Dipaculao) Beach, Bungan Beach, Disagadan (Dibutunan) Beach and Ampere Beach and Rock Formation
Chase waterfalls: Aleman Falls, Baul Falls, Panindiga (Dinadiawan) Falls and Bulangan Falls
See Dibutunan Twin Cave
Climb Mount Dabukid, Mount Dimanjotol or Mount Pungugupanunga
Explore the beaches and attractions of Dinalungan and Casiguran
Surf and discover the many wonders of Baler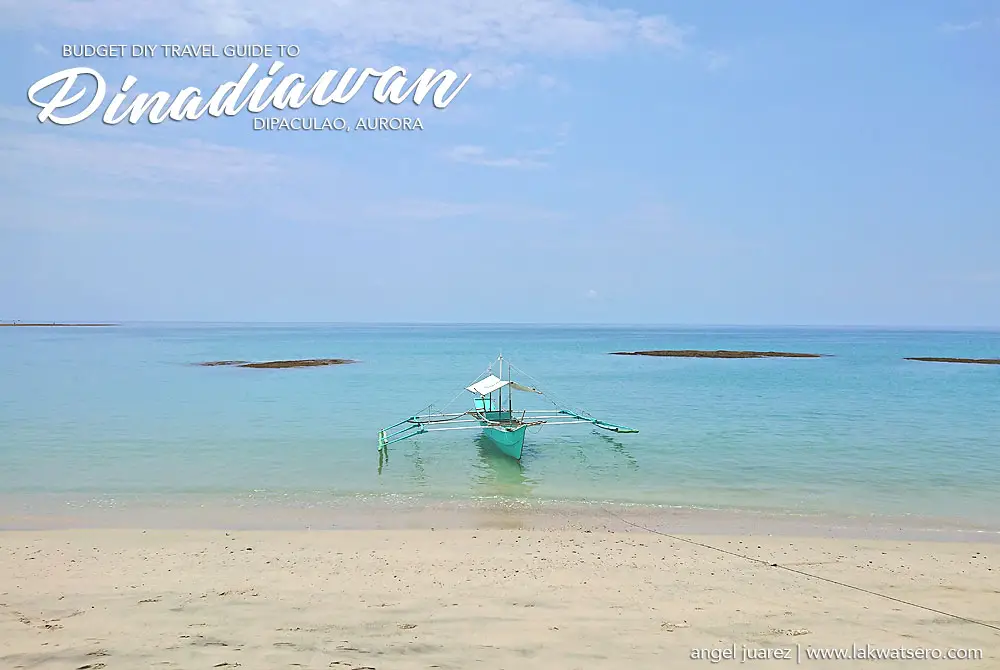 Sample Weekend Budget Itinerary in Dipaculao & Baler
Estimated budget: P3,500 per person (for two-person sharing)
Day 1:
0000H: Assembly in Cubao
0100H: Cubao to Baler
0700H: Arrival in Baler | Breakfast | Transfer to van to Dinadiawan
0900H: Arrive in Dinadiawan | Proceed to Hotel / Accommodation | Rest
1000H: Free Time: Proceed to Aleman Falls / Baul Fals
1300H: Back in Dinadiawan | Lunch | Rest
1500H: Free time: Swim, Beach Games
1700H: Wash-up | Fix-up
1800H: Dinner / Socials
Day 2:
0530H: Call Time | Sunrise
0630H: Breakfast | Check-out | Depart for Baler
0830H: Arrive in Baler | Proceed to Sabang | Surfing Session
1100H: Wash-up | Fix-up  | Rest
1200H: Buffet Lunch at Chef Jerry Shan
1400H: Proceed to Bus Station
1500H: Bus: Baler to Cubao
2230H: Arrival in Cubao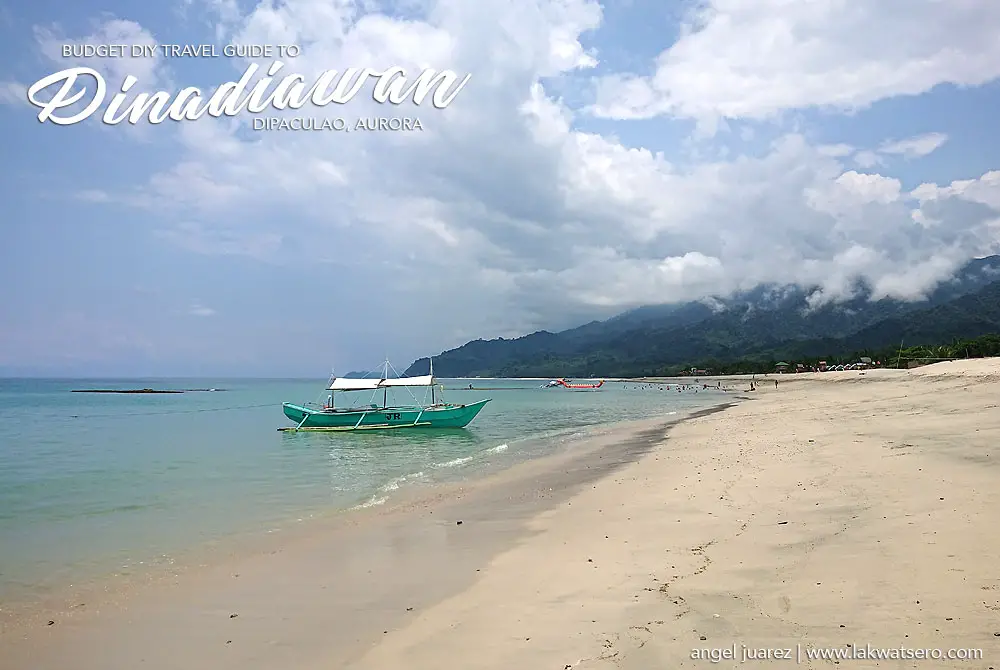 Breakdown of Expenses
| | |
| --- | --- |
| Particulars | Cost |
| Bus: Manila to Baler | P750/person |
| Van to Dinadiawan | P200/person |
| Accommodation | P1500/night (2-person sharing) |
| Trike to Aleman Falls | P200/trike (3-person sharing) |
| Miscellaneous Expenses (food, souvenirs, personal expenses, etc.) | ~P700/person |
| Van to Baler | P100/person |
| Surfing session with instructor (1 hour) | P350/person |
| Bus: Baler to Manila | P750/person |