Hello, Boracay!
Hailed as one of the best islands in the world, the island paradise of Boracay is located in the Central Philippines province of Aklan, two kilometers north of the island of Panay. It is a 7 kilometer long island with about 3.5 kilometer stretch of perfectly fine white sand beach and a couple of other secluded beaches.
They say no other beach in the world can surpass its white and powdery sand, thus making it famous worldwide. Way back in 1980's, Boracay was still a deserted island without commercial establishments and electricity. Two decades past, the island rapidly evolved to become the prime tourist destination of the country with the presence of numerous business establishments and modern infrastructures.
Boracay today is still reinventing and continue to evolve, but its timeless beauty and charm continue to prevail.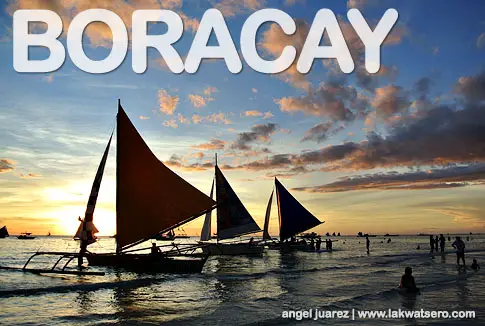 How to Get to Boracay Island
By Air
Via Caticlan Airport
Godofredo P. Ramos Airport or simply Caticlan Airport is the nearest airport to Boracay. Philippine Airlines, Cebu Pacific, Philippines Air Asia, Skyjet, Air Juan and Air Swift connect Caticlan to Manila, Cebu, Cagayan de Oro, Clark, El Nido, Busuanga, Tagbilaran and Cuyo.
Via Kalibo Airport 
Philippine Airlines, Cebu Pacific, Air Asia Philippines and Sky Jet have direct flights to Kalibo International Airport from Manila, Cebu, Clark, Davao, Busan, Incheon, Singapore, Pudong, Chongqinga and Kunming. From Kalibo, it is a two-hour ride to Caticlan Jetty Port. Look for vans outside Kalibo Airport, price ranges from P200 to P250.
Caticlan to Boracay
Caticlan uses two ports going to Boracay island. The Main Caticlan Jetty Port is being used all year round by fast crafts but trigger boats are only allowed during summer or dry months and when the western sea is calm. During monsoon season, when the western sea waves are strong, the trigger boats use Tabon Port.
The boat ride from Caticlan to Boracay takes around 10 minutes. Prepare P25 for the boat fare (P50 for the fast craft), P75 for environmental fee and P100 for the terminal fee. Boat trips start operating from 5AM up to around to 10PM. Boats dock at either Cagban Port on the southwest (when the western sea is calm) or at the Tambisaan Port in the southeast (when the western sea waves are strong).  From any of the ports, you can charter a tricycle to your hotel for at least P100 or you may opt to catch the public multicabs along the mani road that charge less (approximately P15).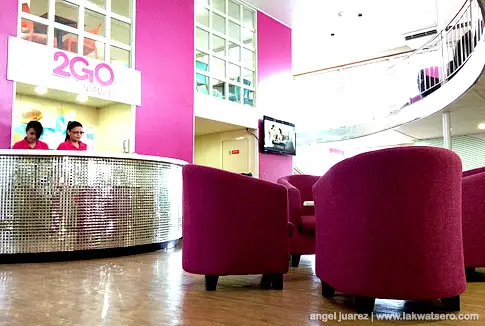 By Roro (Land and Sea)
A cheaper alternative is to ride a 2Go RoRo ferry from Batangas Port directly to Caticlan Port. 2Go services the route with a trip daily (two trips on peak season). You can book your ferry from Batangas to Caticlan or vice versa below:
BOOK YOUR BUS FROM BATANGAS TO CATICLAN
Alternatively, you can also reach Caticlan from Batangas Port by following the old and inconvenient way of going there via boat-bus-but transfers: catch a RORO ferry (Montenegro Shipping Lines, Inc., Contact No: +63 043 723 7975 / +63 043 723 7598) to Calapan (2 hours); take a bus from Calapan to the Port of Roxas, Mindoro Oriental (3  to 4 hours); transfer to another RoRo ferry from Roxas Port ot Caticlan Port(4 to 5 hours).
If you want a lesser hassle, just ride the Ceres bus from Cubao to Caticlan. Bus fare is P920 (as of July 2013) inclusive of all ferry and terminal fees. Travel time takes at least 10 hours.
Where to Stay in Boracay
There are plenty of beaches in Boracay island, some of which are the Puka Beach, Baling Hai Beach and the most popular White Beach, where most tourists stay. If you are staying in White Beach on a tight budget, there are numerous cottages and rooms in Station 3, for as low as P500.00 per room during lean season. However, Lakwatsero prefers staying in La Carmela de Boracay or its sister hotel Boracay Courtyard, both in Station 2. They offer cheap hotel accommodations.
What to Do in Boracay
Boracay offers a wide range of activities suitable for most type of personalities.
Bar hopping – with a variety of bars to choose from, having different themes, you will definitely find one that suits your liking
Beach hopping – from vigorous White Beach to more tranquil Puka and Balang Hai Beach
Island tour – explore the whole islands and its surroundings riding a banca
Snorkeling/Scuba Diving – with plenty of diving and snorkeling sites, enjoy the rich marine life off the waters of Boracay
Aquatic Sports – experience Banana Boat Ride, Fly Fish, Parasailing, Jetski and other aquatic sports and you will definitely enjoy the ride
White Water Rafting/Kayaking – three hours away from Boracay is the Tibiao River in Antique where you can ride a kayak or a raft traversing with the rapids of the river