Not everyone has a luxury of time for a long luxurious vacations. Some have to plan on a limited budget and take advantage of weekend breaks to unwind, relax and enjoy. But for us, beach lovers, it is a time for adventure, to explore and have fun, in a budget of course. This time – Caramoan.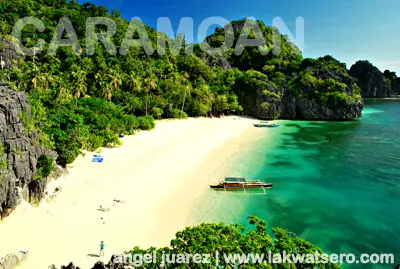 Caramoan is a peninsular town in Camarines Sur consisting of islands and islets that spread across the Pacific. Some say that the place is like Coron or El Nido in Palawan and Boracay in Aklan combined. While I agree that the place reminded me of Coron with its white sand islands and limestone cliffs, Boracay was out of my sight. It was more like Bucas Grande Islands in Surigao del Norte and Coron combined.
Peñafrancia Bus to Sabang
Friday night, the 12th of March, we gathered at Cubao Terminal of Peñafrancia Tours for our 9PM trip. Our tickets were purchased the day earlier, P780.00 for a one-way trip from Cubao to Sabang. Peñafrancia Tours is the only bus line that goes directly to Sabang, the usual the jump off point to Caramoan, from Manila.
The Travel Friends Mother Wrecker Party People were almost complete. Except from Sealdi, Ems and Heidz, everyone showed up – Anj, BJ, Bry with his two pluses Leila and  Pj, Deejay, Donna, Grace with her cousin Allan, Jeph, Jill, Joan, Jona, Jonard, Tin and yours truly.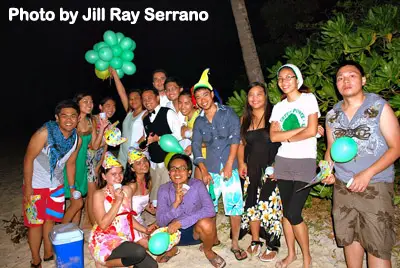 The bus traveled for an estimated time of ten hours to Sabang in the town of San Jose, with stopover in Lucena and Naga. It was half past the hour of seven when we reached Sabang, but the bus didn't go directly to the port so we had to walk for fifteen minutes. It was almost eight in the morning and the public boat scheduled to depart on that hour was almost full, so we decided to take the 9AM public boat to Guijalo, Caramoan.
We had our breakfast at an eatery fronting the port. A set of chicken adobo and rice costs P35.00. After our breakfast, we went to the Sabang Beach and waited for our boat to board. Shortly after, the go signal for us to board the boat was given. It was low tide and the boat couldn't get near the shore, so the porters approached us one by one, carried us on their backs and brought us to the boat. They charged us P10 each.
Sabang to Caramoan
The boat trip was exactly an hour and forty five minutes, and the fare was P120 per person. Boats leave every hour from 6AM to 11AM, however if you miss the last public boat, you can hire a private boat en route to Guijalo. Range varies depending on the size of the boat and your haggling skill. A boat that can accommodate up to 16 persons can be rented from P2500-P3000.
The waves were generally calm when we went there, with some occasional bumps and splashes. When we reached Guijalo, the boat couldn't get to the concrete platform of the port because there were others boats already docked in every space available. Small paddle boats fetched the passengers for a fee of P10-20 pesos.
Guijalo to Caramoan Centro
It was already past 11AM when we all our feet landed at Guijalo. There were tricycles stationed in the port waiting for passengers to Centro, charging P50/pax, but since we were 16, we opted to rent a jeep for P1000 to take us to Centro and then to Paniman.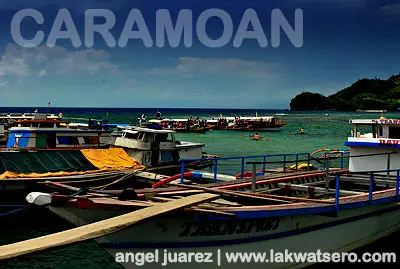 We arrived at Centro around 12PM, a merely forty five minutes ride. We went to the market and spent around P1000 for foods and supplies that we needed for an overnight camping – two containers of drinking water, two kilos of chicken, ice, hotdogs, condiments, some woods for the bonfire, coals, etc.
After the stopover in the market, we had our lunch at Lutong Bahay kitchenette. I paid P40 for a modest serving of pork steak and rice, the foods were good though.
Centro to Paniman Beach

We headed to Paniman after our lunch. Paniman Beach is where all island hopping activities in Caramoan starts. It was just a short drive from Centro. Bry and I were seated in the front seat, and while traversing the road going there, I asked the driver of the trip schedule from Naga to Caramoan since it was his jeepney's route.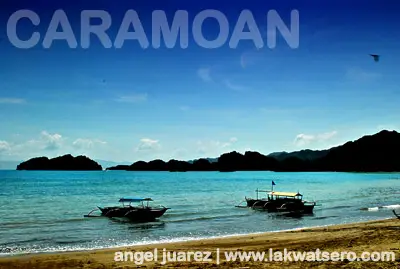 Yes it is possible to reach Caramoan by land from Naga. But the road trip is a hell ride. Trips from Naga are available only during good weather, and catching these trips need some luck. Naga to Caramoan takes five hours and the public jeepney fare is at P250 per passenger, while Goa to Caramoan takes four hours at P200 per passenger.
It was already 2PM when we arrived at Paniman Beach. Jill, Donna and I quickly scouted for boats for our island hopping. We talked to a local fisherman and offered us two boats for P4500.00, P2500 for the a boat that can accommodate 10 persons and P2000 for the other that was good for six. Donna and Jill tried to lower the price but the fisherman resisted saying that it is the standard rate set by the local government.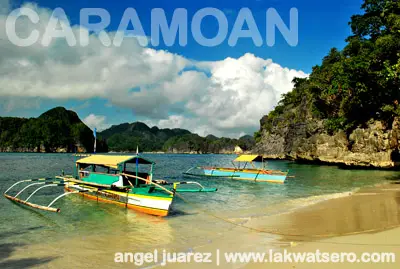 Since it was already afternoon and our beach life hasn't started yet, we already agreed to the offer. Jonah readied her grouping cards and let us pick one to know our boat assignments. The bigger boat was assigned to me, Anj, Allan, Donna, Jona, Tin, Jill, BJ, Grace and Laila. The smaller one was for Bry, Jeph, Jonard, PJ, Deejay and Joan.
Island Hopping: Manlawig and Sabitang Laya
We told the boatman to take us to northern islands first – Sabitang Laya, Cotivas and the nearby islands, where we will setup our camp, then fetch us next morning to tour is in Matukad and Gota area.
3PM, we arrived at the sandbar of Manlawig Island after an hour boat ride. We quickly got off the boat,  took a refreshing dip and had some photo ops. We were all excited. That was when our day officially started.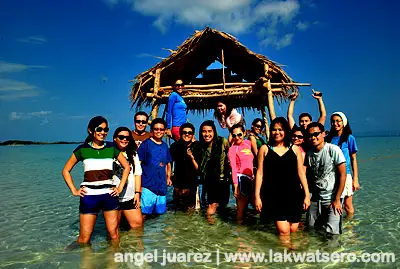 It was already high tide, and the vast sandbar of Manlawig was already submerged in water. There are cottages in the area available for rent at P100 per cottage. After an hour, we left the area and told the boatmen to take us to Cotivas but they refused since it was already late, they decided to proceed  to the Sabitang Laya instead.
Half an hour past four when we reached Sabitang Laya. There were Survivor props in the area, an evident that the island is being used by Survivor Israel filming in Caramoan.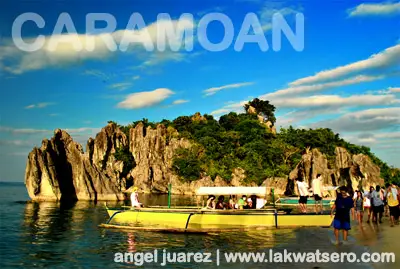 Sabitang Laya is a  fascinating island, with cliffs and white sand beach, the place is an ideal camping location. We decided to setup our camp there but the caretaker stopped us. After some arguments and pleadings, we gave up and decided to leave the place to find another camp. We were already in a hurry because the sun was already setting and we were still unsure whether we will be allowed to camp in the other islands. We left Sabitang Laya after some photo ops and headed to Gota village to try our luck.
Where to Camp?
From Sabitang Laya, the boat maneuvered to the direction of southern Caramoan passing to Gota Beach, other islands and islets. It was already sundown when the boat stopped in a small island with white sand beach and decorated with cliffs and rocks. Our boatman got off and approached the man stationed in the island, then he got back with an okey sign. We were allowed to camp in Matukad Island!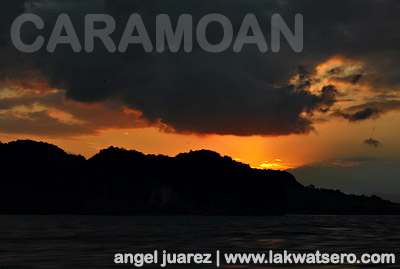 Matukad Island is perhaps the most photographed island in Caramoan. It is usually the island you see in Caramoan postcards. The place is more than ideal, better than Sabitang Laya, perfect for us.
We quickly setup our camp and supplies, then prepared the dinner. Donna, Bry, Joan, Jona, Jonard, Jill, Deejay and the others took turns in preparing our meal. While the others were busy preparing for our surprise secret party. When the dinner was ready, we all shared the chicken adobo, fried hotdogs and steamed rice as prepared by our island chefs.
Surprise Party
Since we are party people, we cannot let a single event pass without having a party. In the tradition of Calaguas surprise beach party for Jill, we cooked a surprised birthday party for Donna and a sendoff ceremony for Jonabeh. The theme – a candlelight formal party by the beach, with Jill as the over all organizer.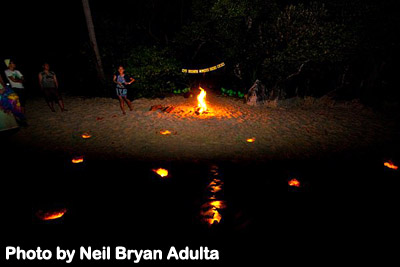 We asked Jonah to help us prepare a birthday party for Donna, and Donnah to help us surprise Jonah as we bid her farewell (she's now working on a cruise line abroad). We gave them a task to keep each other busy while we were preparing the party for the two. BJ, Allan, PJ and Tin prepared the balloons, Anj setup the sand lights while I prepared the banner and the bonfire with the help of Allan.
When the dinner was finished, we proceeded to the other end of the island where the party was set up. The sand lamps and bonfire were lit, and the "We will miss you Beh!" banner surprised Jonah. Girls were on their night dress while the guys reserved their formals for Donna. We handed the planner cum scrapbook to Jonah, personally and artistically prepared by Jill with the of Bry and BJ. Beh was really surprised. She expected it to be a birthday party for Donna. Tin later on handed Sealds' gift to Jonah, it has our drawing on its card. Sealds is really a good artist.
We didn't plan to make the send off party long because there's no joy in goodbye. So after a short but meaningful farewell, the guys wore their formals, the fireworks were lit and the party hats were worn. Happy Birthday Donna!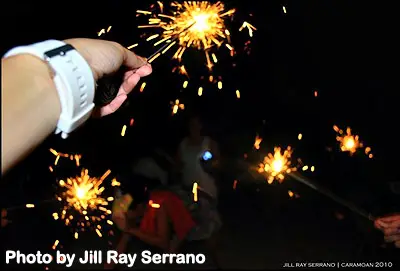 Jonard, the official bartender for the night, with his vest and bow tie on, served the red wine. After a while, the guys danced the birthday celebrant and everybody partied.
Four bottles of wines, packs of marshmallows and chips, endless laughter and a bunch of happy people made the night. We ended the night with our light graffiti.
Good Morning Sunrise
We really lost track of time during the night party. We failed to notice the time when we return to our camp. Anj, Donna, Jona and Allan decided to sleep on the beach while others prefer inside their tents. Few hours before sunrise, the rain fell, the beach sleepers went inside their tents and everybody prayed for the rain to stop. A moment later, it stopped.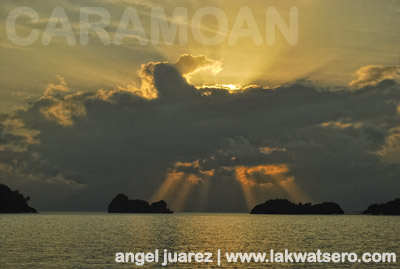 At the break of dawn, the early risers Joan, Donna and I prepared the breakfast while others were still enjoying their sleep. One by one, others got up and marveled at the sunrise. Everybody was already awake  when the breakfast call was announced. Our menu – steamed rice, canned tunas, corned beef, the leftover chicken adobo, breads with Nutella and banana.
Exploring Matukad
The boats were scheduled to fetch us at 10AM, so we took the opportunity to explore and enjoy Matukad at daylight. The island has fine white sand beach ideal for swimming. On one end is a cliff and on the other is a pile of big rocks.
Bry, Jill, Donna, Laila, PJ, Allan, BJ, Jona and I climbed to the cliff. The trek was a challenging but a worthy one. From the top, we witnessed the breathtaking view of Matukad and the surrounding islands.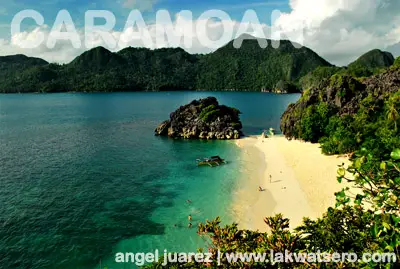 When we went down, that was when we first enjoyed the waters of Matukad. I dropped my camera in the sand and took a plunge to the invigorating water of the island. As usual, we exchanged teases, stories and laughter, enjoying the day while wishing it won't end. If we could only freeze the time.
After a while, the guys decided to explore the other side, the beach beside the pile of big rocks. The girls followed. As usual, Bry and I climbed the pile of big rocks where we had a different vantage point of the picturesque island and its surroundings. The climb to the rocks was easier compared to the cliff, and the view was much better. Jill and Donna followed.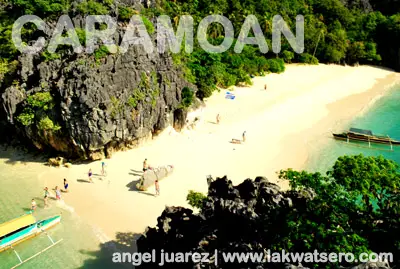 Goodbye Matukad
It was past 9AM when we all went back to our camp and packed our stuff. We were scheduled to leave the island at 10AM, but the boats arrived early.  We left some of our foods to the caretaker of the island and brought our garbage bags. At around ten o'clock, we cleared the area and asked the boatmen to take us to the nearby Lahus Island just to see the place, but the boatmen seemed deaf and just brought us near the Gota Beach. We had a glimpse of the infamous beach and the camp being used by Survivor Israel but they were not there, probably shooting in Sabitang Laya. Honestly, Gota Beach fell short of my expectations. For me, Matukad Island was even far better than Gota.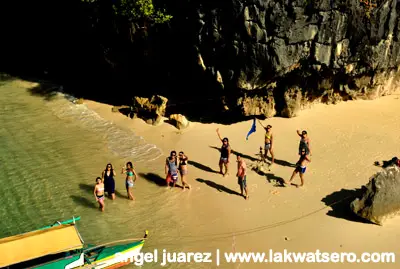 Paniman to Cadong
Timestamp was almost eleven when we landed back to Paniman Beach. Our next stop would be the town of Cadong, the hometown of Donna's dad. We paid P500 for a trike and a multicab to Cadong.
Cadong is a typical rural setting. Some if not most part of the road going there are still not yet cemented. So we wonder, how come this small town blessed with beautiful scenery, being visited by a lot of tourists and with islands being rented by Survivor still lags in infrastructure?  The tricycle driver lamented that the income from Survivor rental goes to the Provincial Capitol and not to Caramoan. Jill and I sighed, what a sad fate of Caramoanons.
We had a taste of province life in our short stay in Cadong. The girls washed up in the open, while the guys bathed in the river. It felt like a back-to-basic life, so simple, so traditional. At lunchtime, Donna's relatives prepared a sumptuous bicolano meal for us. Ginataang langka and tinola for lunch, and a buko party after! Thanks Donna.
Caramoan to Naga
It was the day of Pacquioa's fight with Clottey, but the town had no trace of the euphoria. The jeepney we contracted to fetch us arrived late. We supposed he finished first the delayed telecast of the fight before fetching us. The ride from Cadong to Guijalo took us less than 30 minutes where we passed by St. Michael's Parish that we failed to visit. The jeepney rental costs P400.
At Guijalo port, the private boat to Sabang was already waiting for us. We had the boat rented since the last public boat trip to Sabang leaves Guijalo at 11AM, although there was a public boat boarding some passengers when we arrived at the port past 2PM, we were not sure though if where it was heading. Public boats from Guijalo to Sabang leave every hour from 7AM to 11AM. Fare is at P120 per person. The boat rental was a whooping P4000. It was actually overpriced. The normal boat rental from Guijalo to Sabang ranges from P2500 – P3000 for a boat that can accommodate up to 16 persons, but since it was the day of Pacquiao's fight, and for them it was like a holiday, the boatmen raised the price.
We reached Sabang past 4PM and rented another jeep to SM City Naga which is just beside the Naga Bus Terminal. The jeepney rental was P1500. Renting a jeepney was more practical for us since we were 16 and we had a lot of stuff. There are regular vans, bus and jeeps going to Naga from Sabang, fare is around P70.
The trip from Naga to Sabang was more than an hour, and since our energy level was still high, we played Pinoy Henyo, and the winning team got Mango Caramel Craze from Jollibee courtesy of the losing team. I got one! 😉
It was almost 7PM when we reached SM City Naga and had our dinner at Jollibee inside the mall.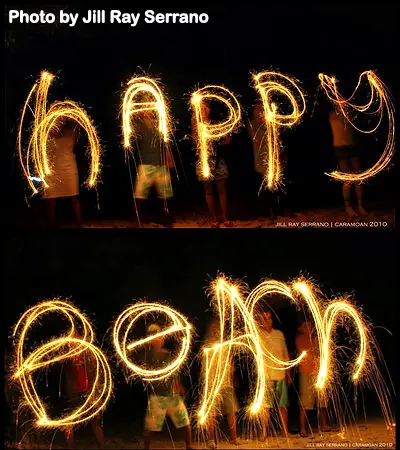 Going Home
Jill, Tin, Grace and Jona decided to spent a night in CamSur Watersports Complex, while the others board the 9PM Executive Carrier bus to Manila. It was so cold inside, good thing I brought a blanket. The fare was cheaper at P500, but the trip took 10 hours to reach Cubao. The bus had to stop in Quezon for an hour to fix some engine problem. We arrived Cubao 630 in the morning, the end of another fun filled adventure.
Survivor in Caramoan
No doubt, the reality game Survivor made Caramoan known worldwide. Survivor France (Koh Lanta) was the first to film in the peninsula in 2008, Caramoan gained international exposure and became popular since then. Other countries followed, Greece, Turkey, Bulgaria and Israel among others.
But due to Survivor shooting and our limited time, we failed to visit  other islands and places, somehow we felt that Survivor snatched Caramoan  from the people. Tourists will be deprived of the opportunity to explore and appreciate the beauty of the entire Caramoan for twenty two more years (if the contract is not extended) due to Survivor series.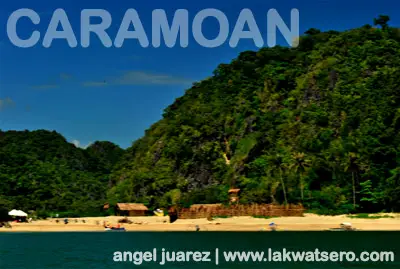 All in all, we spent approximately 30 hours of our weekend in traveling by bus, boat, jeep, multicab and trike; around 18 hours in beach bumming and island hopping; but the adventure, the memories, the fun, the laughter and the stories are timeless.
Ask me if I will do a trip as toxic and tiring as this? A big YES! After all, the journey is as important as the destination!
Overnight Itinerary
Day 0: March 12
2100H: Departure in Cubao to Sabang via Penafrancia
Day 1: March 13
0730H: Arrival in Sabang
0730H-0900H: Breakfast in Sabang
0900H-1100H: Sabang to Guijalo, Caramoan via Public boat (P120.00)
1100H-1130H: Guijalo Port to Centro Caramoan
1130H-1330H: Lunch/Buy camping supplies, water, foods
1330H-1400H: Centro to Paniman/Look for boats
1400H-1800H: Island Hopping – Manlawig, Sabitang Laya, Matukad
1800H onwards: Setup camp/Prepare Dinner/Dinner/Rest/Bonfire/Socials/Party
Day 2: March 14
0600H: Wake-up Call
0600H-0700H: Breakfast
0700H-0930H: Explore Matukad/Swimming/Beach Bumming/Cliff Climbing/Photo Ops
0930H-1000H: Break camp/Clean-up
1000H-1030H: Matukad to Paniman via Gota
1030H-1130H: Fix-up/Paniman to Cadong
1130H-1400H: At Cadong – Wash-up/Lunch/Rest/Fix-up/Buko Party
1400H-1430H: Cadong to Guijalo Port by jeep
1430H-1630H: Guijalo to Sabang by boat
1630H-1830H: Sabang to SM City Naga
1830H-2100H: Rest/Dinner
2100H: Departure in Naga to Cubao
Day 3
0630AM: Arrival in Cubao
Budget
P780.00 – Manila to Sabang (Peñafrancia Bus)
P35.00 – Breakfast in Sabang
P120.00 – Sabang to Guijalo (Public boat)
P62.50 – Jeep Rental – Guijalo to Paniman (P1000 / 16 pax)
P62.50– Camping supplies, foods, water, etc (P1000 / 16 pax)
P40.50– Lunch in Centro
P281.25 – Boat for Island hopping (P4500 / 16 pax)
P6.25 – Manlawig Cottage Rental (P100 / 16 pax)
P31.25 – Paniman to Cadong by Trike/Multicab (P500 / 16 pax)
P25.00 – Cadong to Guijalo Port (P400 / 16 pax)
P250.00 – Guijalo to Sabang via Private boat (P4000.00 / 16 pax)
P93.75 – Sabang to Naga by Rented Jeep (P1500 / 16 pax)
P100.00 – Dinner in Jollibee
P50.00 – Miscellaneous expenses – porters, tips, etc. (P800 / 16 pax)
P500.00 – Naga to Manila (Executive Carrier Bus)
————————————————-
P2438.00~P2500.00 – Approximate budget for  Surviving Caramoan