About Anda
The western coast of the Province of Pangasinan spans 286 kilometers covering two cities and 12 municipalities including the town of Anda, home to some of the province's white sandy beaches.
Anda has long been overshadowed by its popular neighbors Bolinao and Alaminos. As a separate island municipality of Pangasinan, connected by a steel bridge to mainland, the Republic of Anda as it is fondly called by locals, is independently carving its own name as another tourism jewel of the province.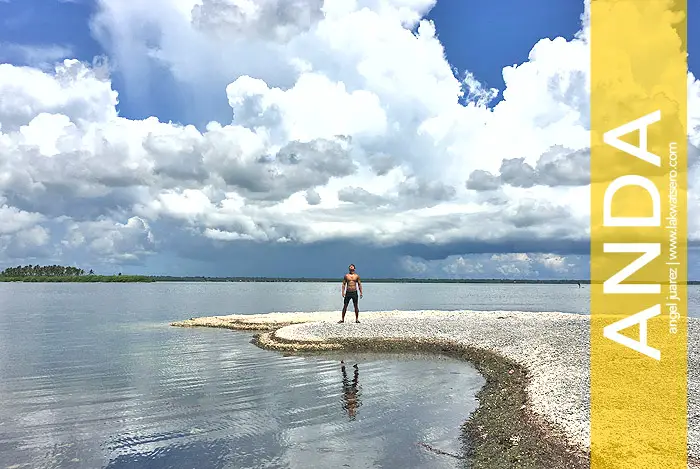 Anda's show window is Tondol in the western coast conveniently fronting the sunrise. With its white sandy beaches, islands and sandbars sans the huge crowd, Tondol holds a promise of a perfect sea, sand and sun escapade.
If you are yearning for more, Bolinao and Hundred Islands are just stone throw away. Take extra steps and you'll be at Tambobong and Colibra Island of Dasol, Cabongaoan of Burgos or the unspoiled beaches of Agno and Bani, all in western Pangasinan.
If you think you have been to Pangasinan, think again. Create a new Pangasinan experience at Republic of Anda!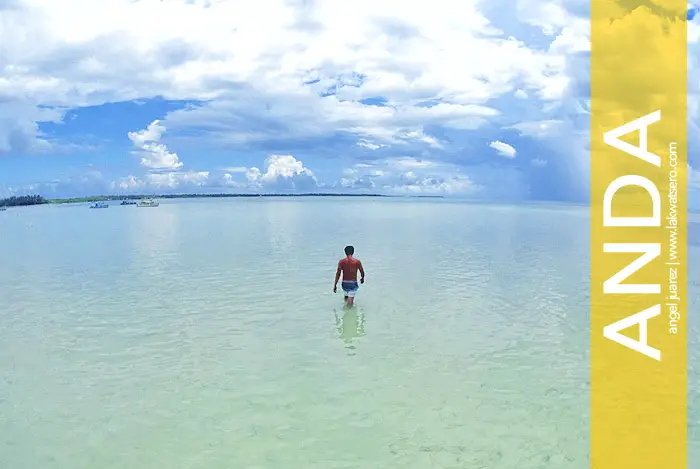 How to Get to Anda
Manila to Anda
Dagupan Liner and Five Star Bus have direct trips from Cubao to Anda, travel time is at least five (5) hours and fare starts at P390 for ordinary (non-aircon) and P450 for de-luxe (aircon).
The buses drop passengers at the town center which is around 20 minutes away from Tondol. There are tricycles and jeeps serving the route.
The schedule of direct buses to Anda is unpredictable and limited. The other option is to take a bus to Alaminos or Bolinap and transfer to a local bus or jeep to Anda.
Manila to Alaminos to Anda
Victory Liner, Solid North Bus, Dagupan Bus, Five Star Bus and Philippine Rabbit have multiple trips daily to Alaminos City and Dagupan. Bus fare from Manila to Alaminos as of January 2018 is around P350 for ordinary (non-aircon) and P400 for de-luxe (aircon). You can book your bus from Manila to Alaminos or vice versa below:
BOOK YOUR BUS FROM MANILA TO ALAMINOS
From Alaminos terminal, transfer to a local bus or jeep going to Anda. Travel time is around one (1) hour and fare is around P40.
Manila to Bolinao to Anda
Another option is to take a bus to Bolinao. Victory Liner, Five Star Bus and Solid North Bus have numerous direct trips from Cubao and Pasay to Bolinao daily. Ask the driver / conductor to drop you off at Anda Crossing, travel time is roughly six (6) hours and fare is around P390 for ordinary (non-aircon) and P440 for de-luxe (aircon).
From the crossing, Anda is just a ten-minute jeepney, bus or tricycle away.
You can book your bus from Manila to Bolinao or vice versa below:
BOOK YOUR BUS FROM MANILA TO BOLINAO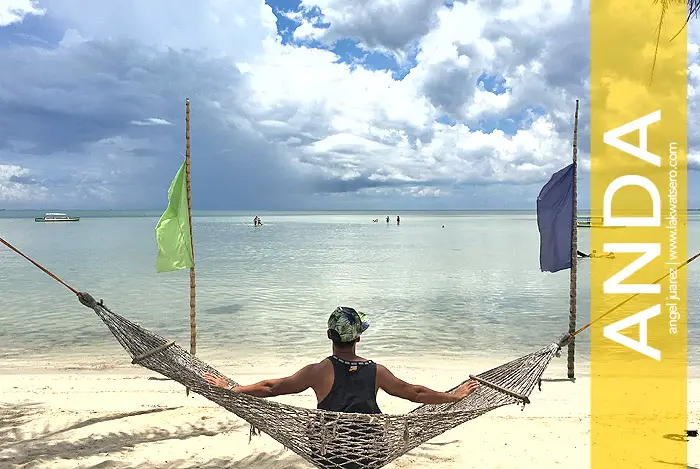 What to do in Anda
Laze in Tondol Beach (best experienced during low tide)
Go island hopping to Tanduyong Island, Cory Coral Islet, Ninoy Coral Islet and the sandbars in Barangay Macalaen (Panacalan Island) and Batiarao
Visit the attractions of Bolinao: Bolinao Falls, Patar Beach, Bolinao Lighthouse, Enchanted Cave, etc.
Spend a day in Hundred Islands of Alaminos
Discover the hidden beaches of Bani, Sual and Agno
Explore the beaches, islands and other spots of Burgos and Dasol such as Cabongaoan Beach and Tidal Pool, Colibra Island and Tambobong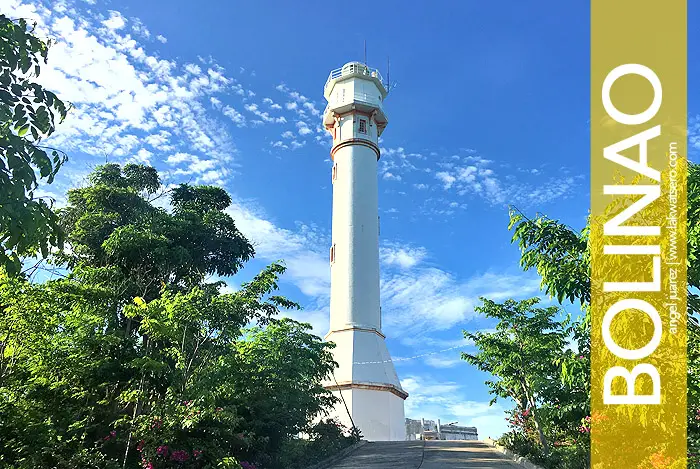 Where to Stay in Anda
Tourists usually stay in Tondol where numerous resorts are located. Some of the popular are:
Kaihana Resort
Tondol, Anda, Pangasinan
Contact Numbers: +63917-5028848 / +63908-8643204
Rates: Starts at P1,500 per night (3 persons sharing)
828 Gems Beach Resort
Tondol, Anda, Pangasinan
Contact Numbers: +63-75-6969661 / +63910-4533743 / +63973-07561954 / +63973-440654
Rates: Starts at P1,500 per night (4 persons sharing)
Tondol White Sand Beach Resort
Tondol, Anda, Pangasinan
Contact Numbers: +63928-3077999
Rates: Starts at P1,500 per night (3 persons sharing)
JCT Beach Resort
Tondol, Anda, Pangasinan
Contact Numbers: +63921-4949248
Island Secret Garden Resort
Tondol, Anda, Pangasinan
Contact Numbers: +63912-2299602
Nabua's Beach House
Tondol, Anda, Pangasinan
Contact Numbers: +6307-5164559
Pertible Beach Resort
Tondol, Anda, Pangasinan
Contact Numbers: +63910-4533743
Sample Itinerary
Bolinao – Anda Itinerary
Budget: Less than P2,000 per person (group of four to five persons)
Day 1:
0000H: Departure (Cubao to Alaminos)
0400H: Arrival in Alaminos / Proceed to Bus Terminal to Bolinao
0530H: Arrival in Bolinao / Breakfast
0700H – 1500H: Tour: Visit Wonderful Cave, Cape Bolinao Lighthouse, Patar Beach, Saint James Church, Patar Rock Formations, Bolinao Falls 1 & 2
1500H – 1600H: Proceed to Anda / Check-in at hotel
1600H onwards: Free time / Rest / Dinner / Socials / Lights off
Day 2:
0530H – 0700H: Call Time / Sunrise / Breakfast
0700H – 1100H: Island hopping: Tanduyong Island, Cory Islet, Ninoy Islet and Sandbar (at least P1,500 per boat good for 5)
1100H – 1200H: Back at hotel / wash-up / pack-up / check-out
1200H – 1300H: Lunch
1300H – 1430H: Anda to Alaminos
1430H – 1500H: Snacks / wait for Bus
1500H – 2000H: Alaminos to Manila
Breakdown of Expenses
| | |
| --- | --- |
| Particulars | Cost |
| Bus: Cubao to Alaminos | P400/person |
| Bus: Alaminos to Bolinao | P70/person |
| Trike Tour: Wonderful Cave, Cape Bolinao Lighthouse, Patar Beach, Saint James Church, Patar Rock Formations, Bolinao Falls 1 & 2 | P1,500/trike (4-person sharing) |
| Trike or Jeep: Bolinao to Anda | P40/person |
| Trike: Anda to Tondo | P120/trike (4-person sharing) |
| Accommodation in Anda | P1,500/night (4-person sharing) |
| Island Hopping in Anda: Tanduyong Island, Cory Islet, Ninoy Islet and Sandbar | P1,500/boat (5 to 6 person sharing) |
| Budget for food for two days | P500/person |
| Optional: Miscellaneous Expenses (souvenirs, personal expenses, etc.) | P500/person |
| Bus: Anda to Cubao | P450/person |
Tips
The best time to go here is from November to May or during dry months
Mobile signal is available
Some resorts allow tent pitching for a fee