Route: Mount Polis – Bayyo Rice Terraces – Bontoc – Sadanga – Buscalan (Tinglayan)
Total Time: 8 hours and 45 minutes
Saddle Time: 6 hours (approx)
Distance: Approximately 60 kilometers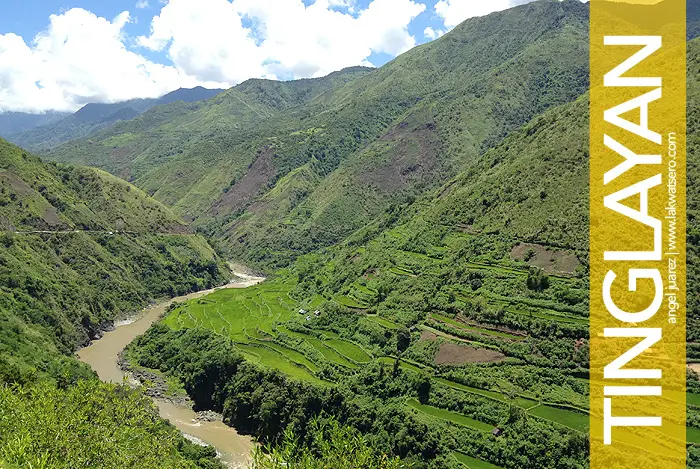 With its temperate weather, challenging trails and scenic views, there is no doubt that the highlands of Cordillera is one of, if not the best place in the Philippines for mountain biking. Its trails, off roads, ascends and down slopes are haven for bikers who love surprises and challenges. Challenges that are rewarded with the unparalleled beauty of the place – breathtaking rice terraces, endless horizon of greens and cloud-kissed mountains that are well complemented with the warm hospitality of its people.
Needless to say, every ride in Cordillera guarantees an epic and memorable biking experience. Once is not enough that we decided to make it a tradition.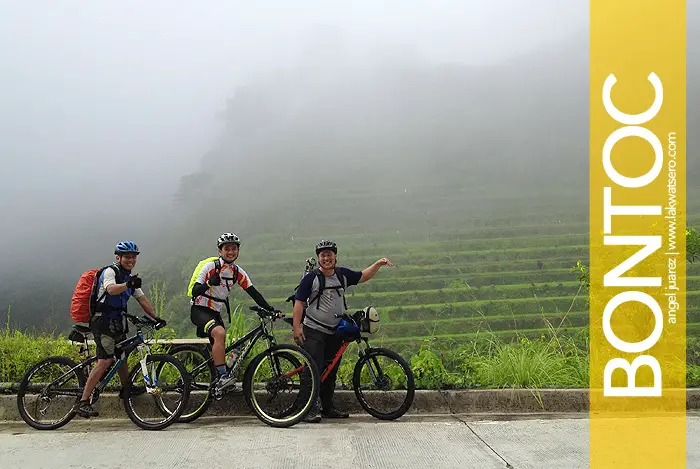 On our second year, we ventured once more into the highlands for four days and three nights discovering more offbeat trails and hidden wonders of the mountains. We were actually delayed for 10 hours due to road mishap in Carranglan, near Dalton Pass in Nueva Ecija, that it was already dark when we reached Banaue. So we decided to charter a jeep to take us to Mount Polis in Hungduan and start our ride from there the next morning. Thanks to the family of Ma'am Emma Mercado for adopting us for the night.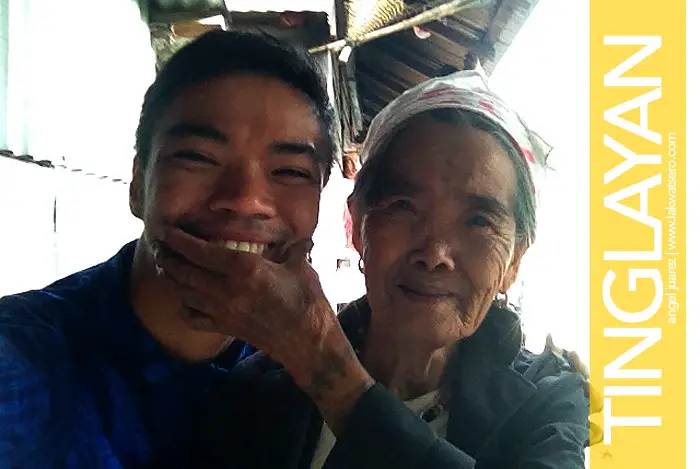 The next day, we woke up early and started our journey from Mount Polis to Bontoc and onward to Tinglayan on our first day, then to Lubuagan down to Tabuk on our second day. How did our ride went? As expected, it was epic! Truly one for the books! Without further ado, here's the diary of our first day. Read on! 🙂
0500H Sunrise Joyride
With our itinerary totally altered after the delay, we decided to start before sunrise of the next day. We had to cover as much distance as we could to make up for the lost time albeit it would require more effort and possible short cuts. The sky was in the dark gradient of purple as we rolled down from Mount Polis to Bontoc, it gradually changed to lighter shades as the sun slowly rose behind the mountains. It was a cold and windy morning but there was a promise of a beautiful day.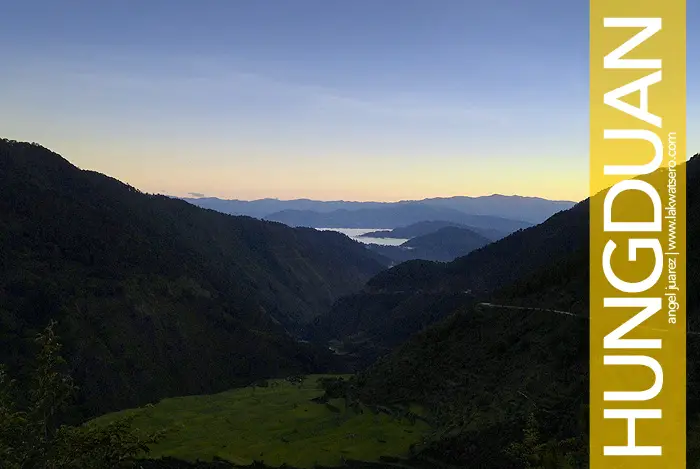 0535H Bay-yo Rice Terraces
One of the joys of biking is being able to stop anytime and anywhere whether to rest or just to appreciate the view… this time the view of the rice terraces of Bay-yo, a village of Bontoc. We had a quick stop at the viewpoint along the National Road between Bontoc and Banaue. It is actually spot I have seen countless times yet never really got a chance to capture in stills as I was always either in a bus or jeepney from Banaue to Bontoc or the opposite. On that day, I finally got a chance to stop, stare and capture its beauty.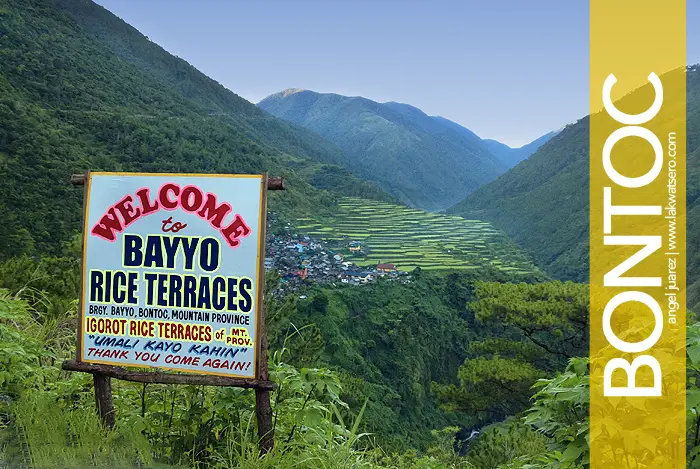 0600H Rolling in Talubin
We continued the joyride down from Bay-yo to Talubin where we passed by the beautiful rice terraces of the village, almost 10.5 kilometers away from the Bontoc town proper. As we crossed the concrete bridge of Talubin, a three-kilometer uphill tested our morning rhythm.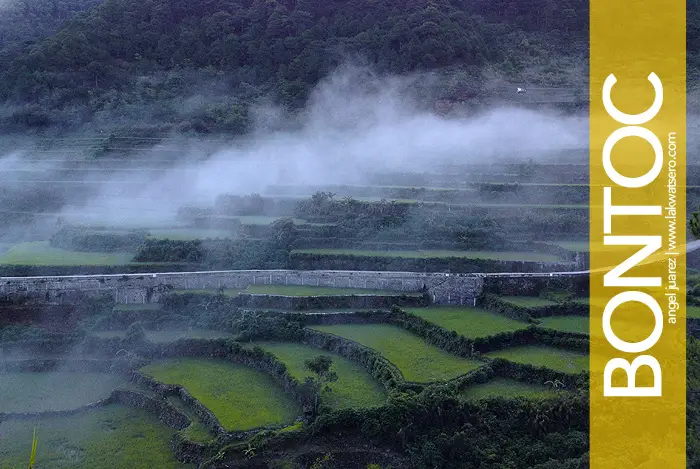 0625H Biking through the Clouds
The three-kilometer uphill was short of a warm up. We managed to pedal it easy and breezy, through the fog-covered winding road of Upper Talubin. We were rewarded with a seven-kilometer long downhill to the town proper.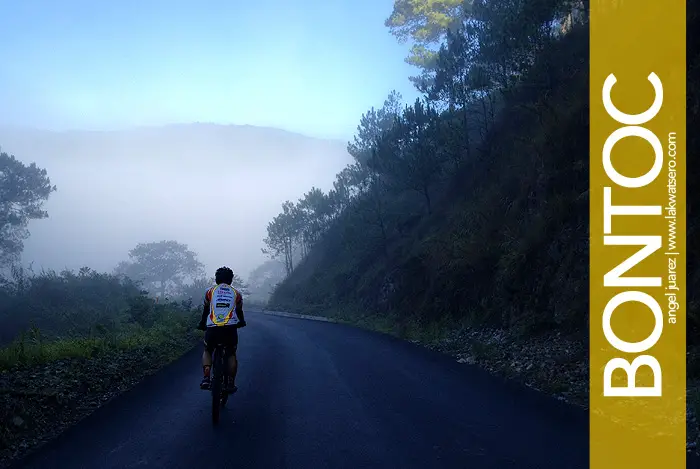 0700H Touchdown Bontoc
The town was just starting its day as we arrived in the provincial capital. Good morning Bontoc! We had a courtesy call at Green Bikers Club of Mountain Province who warmly welcomed us not only with their lively and supportive presence but also with delicious mountain coffee and local snacks. Afterwards, Rod brought us to a nearby eatery for breakfast, a taste of local delicacies. We all had their own version of adobo, the best adobo I have ever tasted. For sure, Ken, Glen and Rod will agree.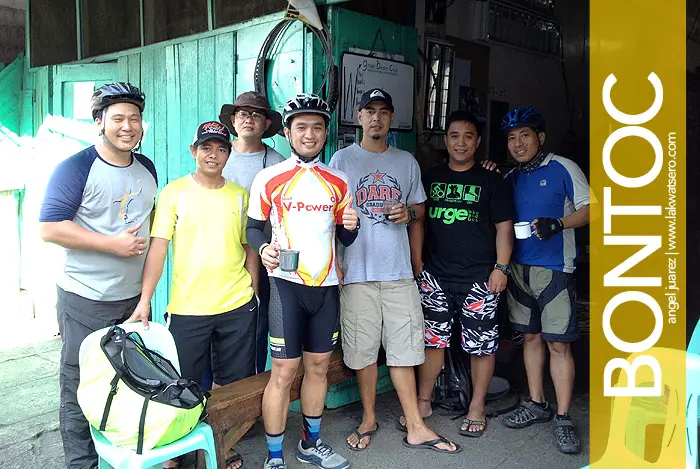 0825H Back to the Saddle
An hour-and-a-half past and we we were back to our saddle, with 27 kilometers of scenic yet challenging journey ahead of us. It was a clear and sunny day, a perfect day for leisure biking. The sky was blue with patches of cotton clouds, the rice paddies and the mountains are on its greenest. We encountered gradual uphill in Tocucan but the mesmerizing scenery provided great relief and comfort.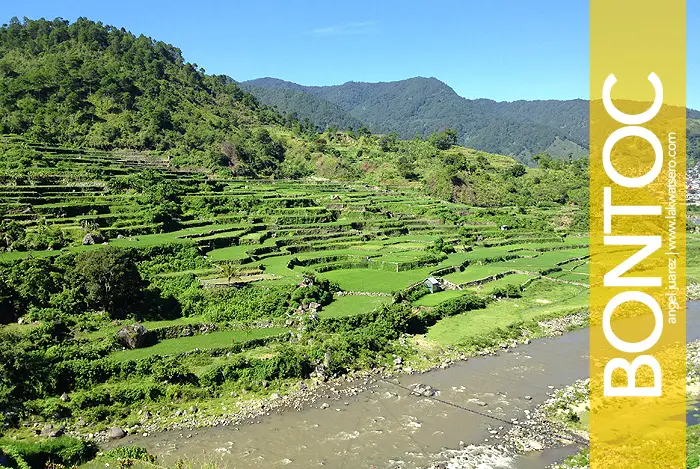 0924H Anabel Rice Terraces
We spent an hour of pedalling, occasionally stopping for a quick rest or to appreciate and capture the scenery. We then had a break at the viewpoint of the breathtaking Anabel Rice Terraces, one of the prides of the town of Sadanga.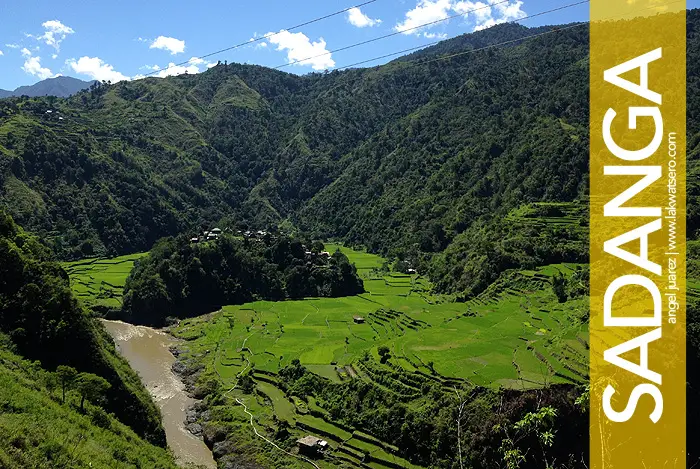 0948H Betwagan Rice Terraces
We stopped again briefly at the viewpoint of the equally mesmerizing Betwagan Rice Terraces, another pride of Sadanga.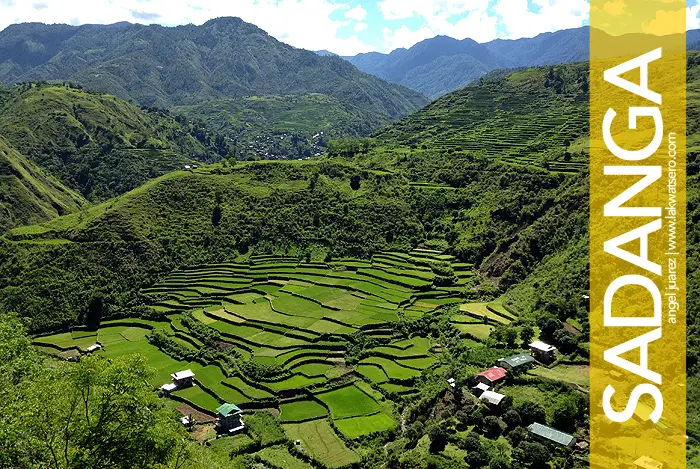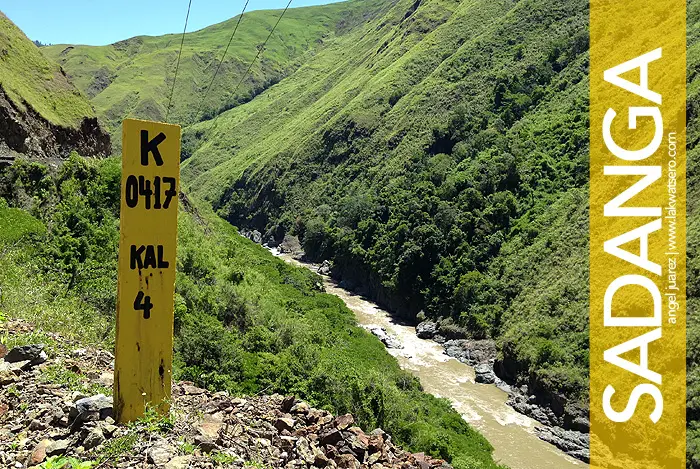 1100H Welcome to Kalinga
From the rice terraces of Mountain Province, the scenery slowly changed to beautiful mountainside as we traversed the flat and rough road combo of the stretch from Bontoc to Kalinga. At almost midday, we reached Bugnay, the first village of Tinglayan, with a two-kilometer uphill to the grotto. The uphill was matched with two-kilometer downhill to Buscalan junction.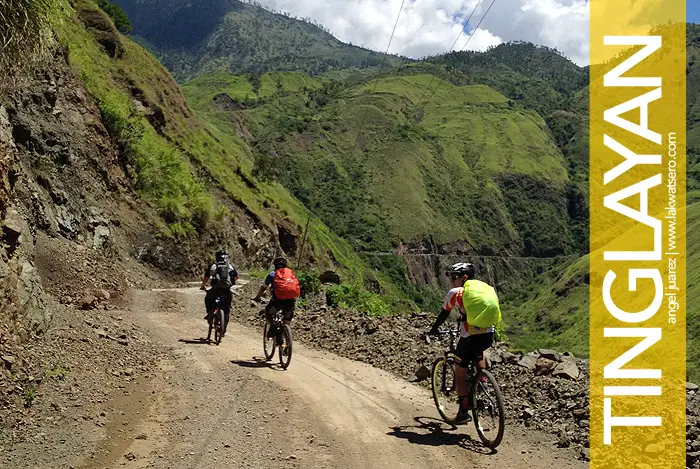 1115H Buscalan Junction
We had a short stop at the junction overlooking Bugnay Rice Terraces for some photo-ops. We were five kilometers away to Buscalan, five kilometers of pure uphill pedaling and trekking.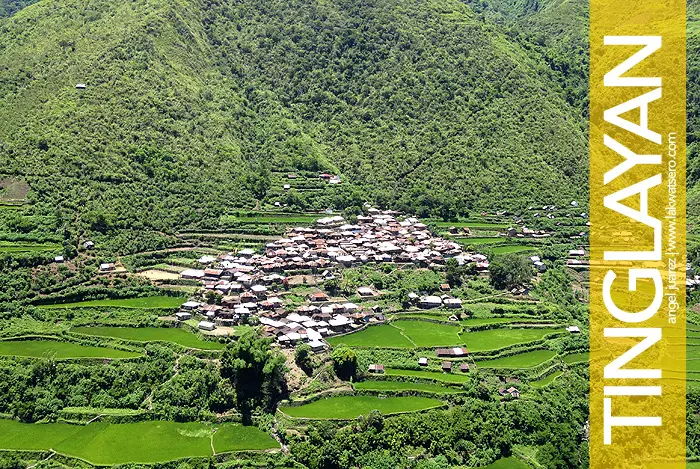 1130H Uphill Battle
From the junction, we faced the last stretch of our day's journey, the ascending and rough stretch to the village of Buscalan.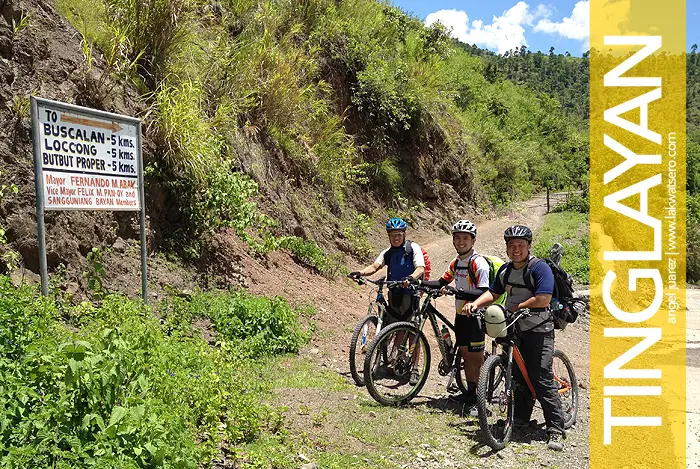 1200H A View of Sleeping Beauty
Half-an-hour past of strenuous uphill and we stopped on another junction near the elementary school for a quick break from the mid-day heat. Along with some kids and a lone female traveler, we found relief on the shades of the huge trees by the roadside, with the famed Sleeping Beauty, the mountain ridge formed by Mount Patukan, Mount Mating-oy Dinayao and Mount Mantingoy, on the backdrop.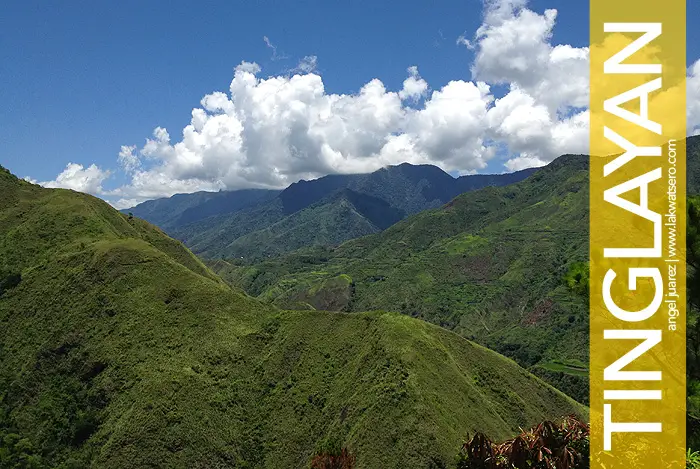 1225H Trekking to Buscalan Village
Not far from the junction is the starting point of the trek to Buscalan. There is no other way to reach the village by land but to trek along the narrow human trail and stone steps to the village. So we had to carry not only our personal stuff but also our bikes. At one point we met a group of kids who were so elated upon seeing our bikes. They were conversing in local dialect as they got up from the river and circled Ken's bike. We were surprised! They hugged the bike and almost kissed it. Ken and I were in full smile watching the kids.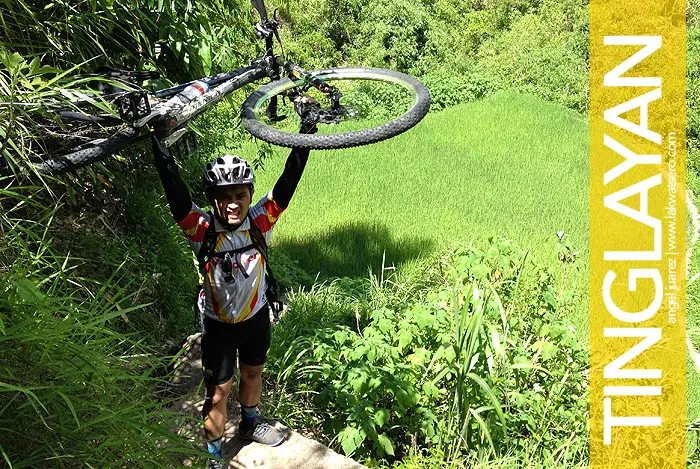 1330H Almost There
The trek is approximately only two kilometers long but after biking almost fifty kilometers of varying terrain, the day was already taking its toll on us. The weights on our hands and shoulders also made the trek harder. It took us an hour to reach the waiting shed that marks the entry to the village.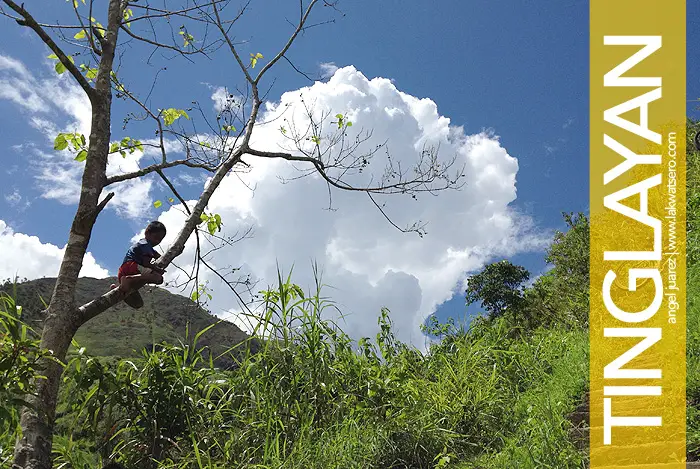 1345H Meeting Whang-od
Adrenaline kicked-in as we finally reached the village of Buscalan, we were excited to see Whang-od! We parked our bikes and went to where she does her stuff. We found Whang-Od and her granddaughter Grace on a tattooing session not far from the old lady's home. There were four other guests when we arrived, two were in queue for Whang-od. Thankfully, the last in queue gave way for Ken who had her right wrist inked with centipede which they say is a symbol of protection and spiritual guidance. It was a dream come true for Ken. 🙂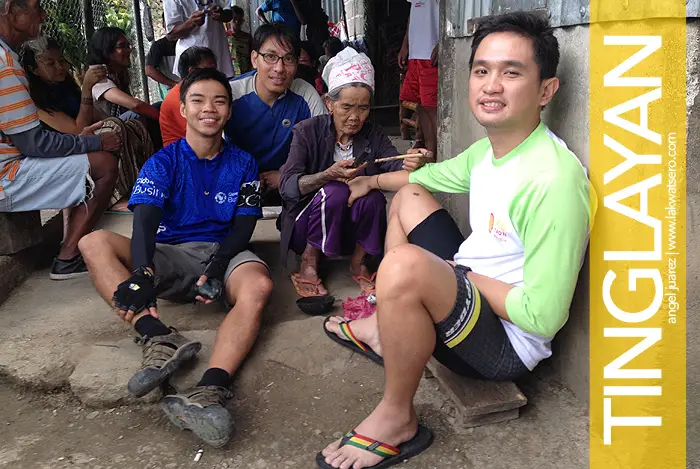 After the tattoo session, Rod gave the two basketballs he brought to the locals who excitedly gathered in the basketball court to play. The sky turned to gray but it didn't rain. The game went on.
We decided to spend the night in Buscalan since it was already dark and we had enough adventure for the day. A local offered her room to us at P175 per person, overnight. The homeowner also cooked dinner for us.
For some reason, our restlessness seemed to vanished that night. Along with some locals and a group of young travelers from Manila, we ended the day with songs and beers. It was a day to remember and tomorrow would be another one.