Rizal Province's proximity to Metro Manila has quickly made it a playground for adventure seekers who want a quick escape from the busy city life. With its numerous mountains and peaks, caves, waterfalls and river systems, there are a lot in store for outdoor people who prefer to explore the varied landscape of this province.
The town of Rodriguez (formerly Montalban) alone, which is just a stone-throw away from Quezon City, offers numerous attractions for mountain enthusiasts. From the popular Mount Balagbag, Mount Pamitinan, Mount Binacayan, Mount Hapunang Banoi, Mount Sipit-Ulang, Mount Ayaas and Mt. Maranat to lesser known Mount Lagyo, Mount Oro, Mount Rayak, Mount Magloko, Mount Payacin, Mount Kapananan and more smaller mountains that offer thrill to novice mountaineers and escape to experienced ones.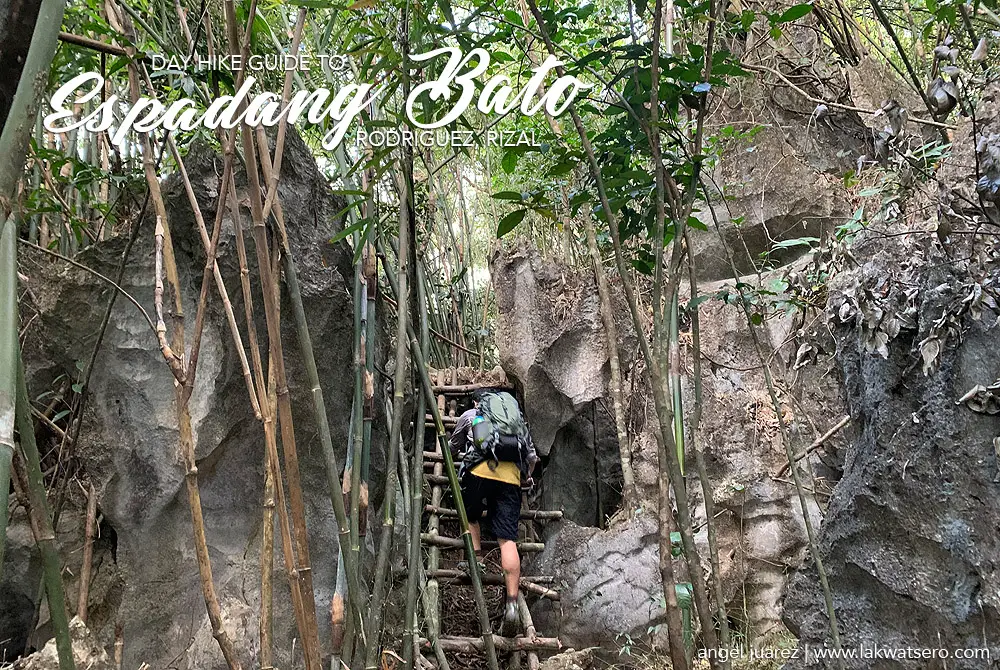 These mountains hides unique and iconic spots that will certainly pique the curiosity of everyone. One of them is Espadang Bato, a rock formation in the mountains of Barangay Mascap of Rodriguez, Rizal.
It isn't difficult to understand the reason why locals dubbed it as Espadang Bato which is quite obvious with its sharply pointed shape resembling a sword. At a height of 455 meters above sea level, the novelty of this spot makes it one of, if not the most visited peaks among the mountains of Rodriguez.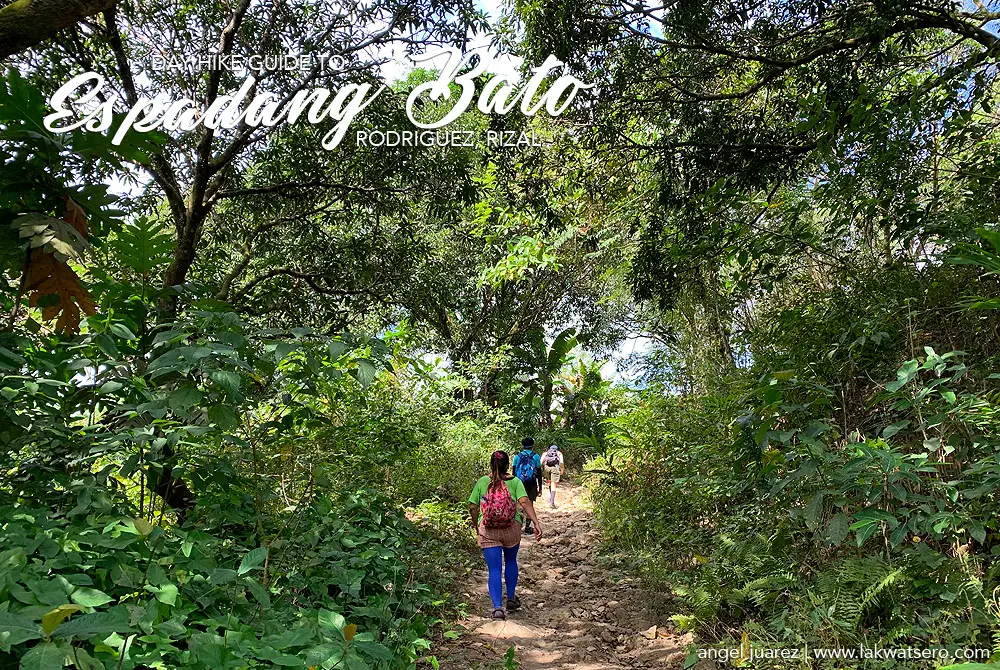 This site is approximately 3.6 kilometers away from Barangay Hall of Mascap. It follows the same gradual trail to the junction of nearby Mount Sipit Ulang forking to a trail to the south, around 1.5 kilometers in length. Past the junction is a steep trail passing through boulders and keen limestone rocks, culminating to a sharply protruded rock formation that we come to know as Espadang Bato.
A metal ladder was installed recently for those who wish to stand atop Espadang Bato. But without harness, helmet or any protection gear and equipment, climbing the top of the rock is a risky feat. As such, do it on your own risk. Do not even attempt, if you fear height!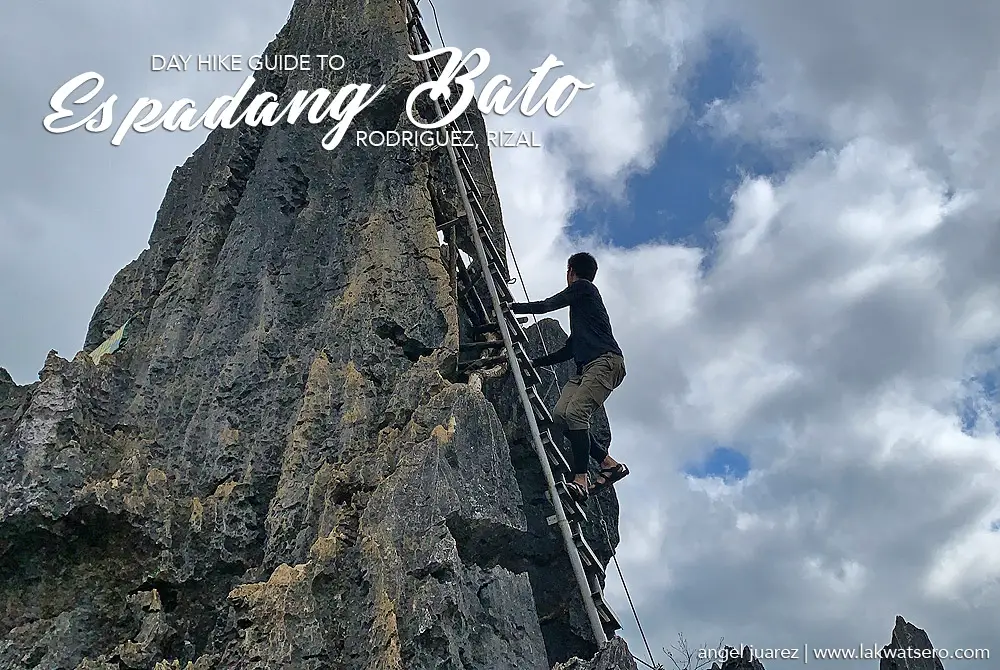 Espadang Bato is best combined with a trek to nearby peaks, mountains and waterfalls. A usual day hike itinerary combines it with a twin hike to Mount Sipit Ulang and Payaran Falls.
Espadang Bato – Payaran Falls Day Hike Itinerary
0330H – Meetup at Cubao
0400H – Van to Montalban
0500H – Arrival in Montalban / Proceed to Mascap Trike Terminal
0515H – Tricycle to Mascap
0545H – Arrival in Mascap Barangay Hall / Register / Breakfast
0600H – Start trek
0800H – Arrival in Espadang Bato
0900H – Start descent
1000H – Back in trailhead / Trike to Payaran Falls trailhead
1015H – Arrival in trailhead / Start trek to Payaran Falls
1030H – Arrival in Payaran Falls
1130H – Depart Payaran Falls
1145H – Back in trailhead / Trike to Mascap Barangay Hall
1200H – Back in Mascap Barangay Hall / Logout / Wash-up / Fix-up
1230H – Trike to Montalban
1300H – Back in Montalban / Lunch / Proceed to Van Terminal to Cubao
1400H – Van to Cubao
1500H – Arrive in Cubao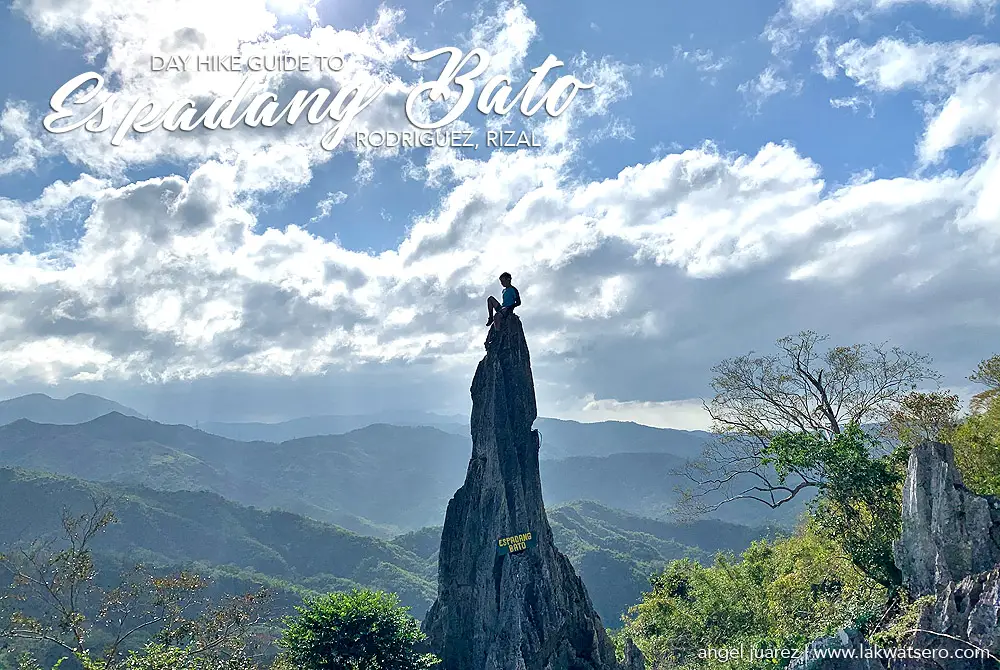 Logistics / Expenses
Van to Montalban: P50/person
Trike Montalban to Mascap Barangay Hall: P150/trike good for 5
Registration Fee: P100/person
Guide Fee: P500/guide group for 5
Trike Mascap to Espadang Bato trailhead: P15/person
Trike Espadang Bato trailhead to Payaran Falls trailhead: P15/person
Trike Payaran Falls trailhead to Mascap Barangay Hall: P30/person
Trike Mascap Barangay Hall to Montalban: P150/trike good for 5
Van to Montalban: P50/person
Food and Miscellaneous: ~P200/person
Estimated Budget for DIY hike: ~P600/person
How to Get to Espadang Bato (Mascap)
To get to Barangay Mascap, ride a van from Jollibee Farmers' Cubao going to Montalban and get off at San Isidro, fare is P50 and travel time is 1.5 to 2 hours. From San Isidro, transfer to a tricycle to Barangay Mascap, fare is P150/trike good for 5 passengers and travel time is 20 minutes.
Guide and Reservation
Reservation is not required, guides are readily available on site
Guide fee for other sites:

Mount Sipit Ulang – P400/guide for group of 5
Payaran Falls – P200/guide for group of 5