The town of Impasug-ong in the Province of Bukidnon is characterized by scenic mountains, ridges, deep canyons and gorges. Its mountainous landscape serves as home to variety of flora and fauna, and hides numerous waterfalls and river systems. One attraction from this town has recently made it viral in the social media with the panoramic and hail-worthy photos that we come to know as Panimahawa Ridge of Impalutao, Impasug-ong, Bukidnon.
Panimahawa Ridge is just one of the five ridges that make up Impalutao which include Kapayawan Ridge, Gupalon Ridge, Kaanibungan Ridge and Ginahawan Ridge.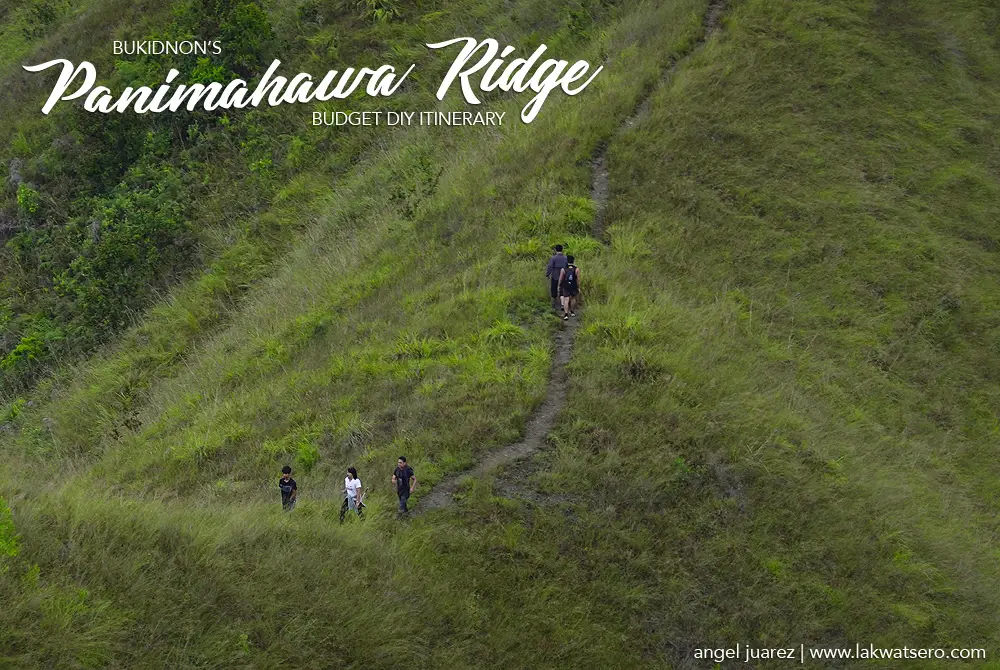 The highest peak of Panimahawa Ridge stands at 2,687 feet or 819 meters, overlooking the surrounding ridges town of Impasug-ong. The trek usually starts at the spot called Ant Farm and takes about two (2) hours for newbie trekkers, one (1) hour for experienced ones.
If you are coming from
Cagayan de Oro City
, you can plan your own day trek to Panimahawa Ridge with side trip to Cedar Falls with itinerary that goes like this:
Panimahawa Ridge and Cedar Falls Day Hike Itinerary
0100H Bus from Agora Terminal
0230H Arrive in Impalutao Integrated School / Habal to Ant Farm
0245H Arrive in Ant Farm / Registration / Briefing
0300H Start trek
0500H Arrive in Panimahawa Ridge View Deck
0600H Start Descent
0730H Back in Ant Farm / Breakfast / Rest
0830H Proceed to Cedar Falls
0845H Arrive in Cedar / Start Trek
0900H Arrive in Gantungan, Natigbasan Falls and Dila Falls
1100H Back in trail head / wash-up
1130H Jeep to Kisolon
1200H Arrive in Kisolon / Bus to Cagayan de Oro
1400H Arrive in Cagayan de Oro
Budget & Expenses
Bus (Cagayan de Oro to Impalutao): P100/person
Habal to Ant Farm: P20/person
Guide and entrance fee in Panimahawa Ridge: P350/person
Habal to Cedar: P35/person
Jeep to Kisolon: P20/person
Bus (Kisolon to Cagayan de Oro): P70/person
Entrance Fee in Cedar: P20/person
Food and Miscellaneous: ~P250/person
————————————————-
Total Estimated Budget: ~P865/person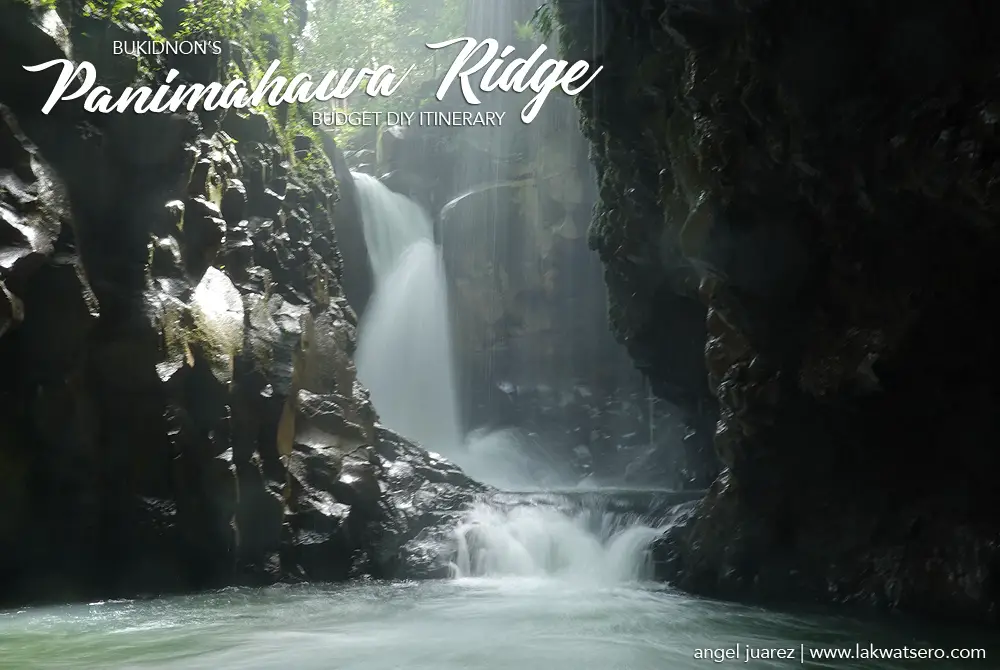 How to Get to Panimahawa Ridge
From Cagayan de Oro City, catch a bus to Malaybalay and ask the conductor to drop you off at Impalutao Elementary School. From there, catch a habal-habal or single motorcycle to Ant Farm, the trailhead to Panimahawa Ridge.
Guide and Reservation
Guides are readily available in Ant Farm and while walk-ins are welcome, it is best to advise them ahead. Guide fee for Panimahawa Ridge is P350 per head per five (5) person. Get in touch with Sir Jayson for reservation at +63975-6944626.
Meanwhile, guide is not required in Cedar Falls. It is just an easy trek, and the waterfalls are just nearby. In fact, Gantungan Falls and Natigbasan Falls lie on the same river system and just around 150 meters away from each other but prepare to get wet as the trail to Gantungan Falls needs one to cross a chest-deep river. If you opt to hire a guide in Cedar Falls, your guide in Panimahawa Ridge can take you there for P220/person for two waterfalls – Gantungan and Natigbasan Falls.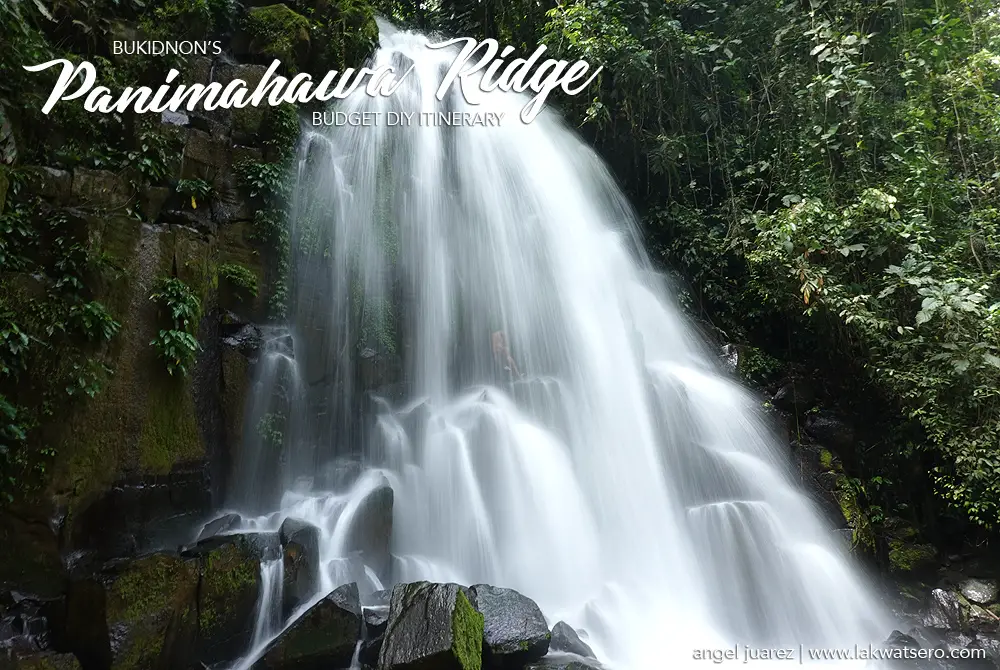 Where to Stay in Cagayan de Oro City
Cagayan de Oro being one of the frequently visited place by tourists in Mindanao has a lot of resorts and hotels that cater to all type of travelers.
Top-Rated Hotels in Cagayan de Oro
Seda Centrio
C.M. Recto and Corrales Streets
Starts at 3,500 PHP

Limketkai Luxe Hotel
Limketkai Avenue, Cagayan de Oro City
Starts at 4,000 PHP
Top-Rated Mid-Range Accommodation in Cagayan de Oro
Red Planet Hotel
C.M. Recto Avenue, Cagayan de Oro
Starts at 1,300 PHP

New Dawn Pensionne
Velez & Macahambus Streets
Starts at 1,100 PHP
Top-Rated Budet Accommodation in Cagayan de Oro
The Urban Pod
Corrales Street, Cagayan de Oro
Starts at 300 PHP

St. Nicolas Inn
Cogon, Cagayan de Oro
Starts at 500 PHP