My dive buddy Ate Claudia and I had an unexpected first dive trip of the year in the waters of Mactan Island, Lapu Lapu City, Cebu. It was unplanned and spontaneous, a simple "hi" and "hello" exchanges on SMS that ended up looking forward for a day of breathing more than 30 feet underwater.
So we ended up one weekend of January in Cebu, thanks to the free accommodation in Mactan courtesy of Hilton Cebu Resorts and Spa, part of my winnings in the Cebu Pacific Wandering Juan Travel Blog Awards 2010.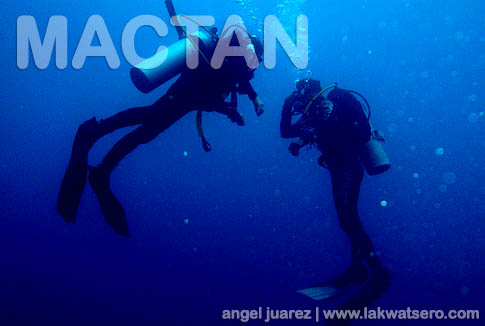 Ate Claudia arranged two boat dives with Club Kon-Tiki Dive Resort in Maribago. We wanted it to be three but it wasn't possible due to limitations in flying the next day.
We were welcomed by Ma'am Dianna, a dive shop staff, very hospitable and accommodating. We enjoyed her various stories, about her life as a diver, her daughter and more. She introduced us to Julienne, our dive master.
First Dive: Agos Bay
On a downcast sky, our boat left the shore half past the hour of ten in the morning. Our first stop was Agus, just a few minutes from the resort. The site is a reef with a wall, it has low current and pretty good visibility of 15-30 meters. Moorish idols, Parrotfish, Sea snakes, Triggerfish, Nudibranches, Shrimps, Gobies and other common tropical fishes, invertebrates and colorful corals are regular on the site.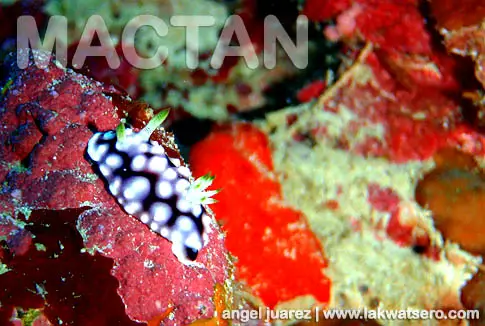 Julienne told us that the residents there are mostly small fishes, and it was true. We didn't see any pelagic or big creatures, but there were a lot of colorful corals and cute Nudibranches. It was a good dive anyway.
Dive Profile: Maximum Depth – 86 feet/Time of Descend – 1053H/Bottom Time – 48 minutes/Water Temp – 28°C/Start Air – 200 Bars/End Air – 40 Bars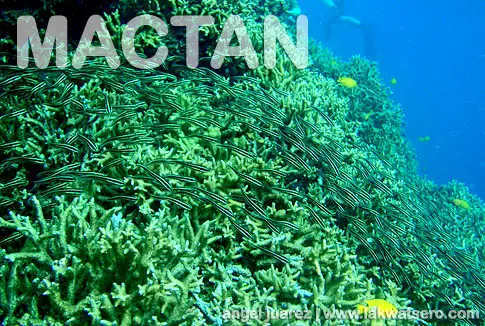 Second Dive: Marine Station
Our boat maneuvered for another few kilometers towards the water in front of Maribago Blue Water Resort for our second dive at the site they call Marine Station. It is where the Marine Biologist of University of San Carlos Cebu made their research thus calling it Marine Research Station which was later shortened to Marine Station. It has a steep reef and a wall full of corals, fishes, invertebrates and other marine life. With a good visibility of 15 – 30 meters and some shallow area, the site is ideal for divers of all levels.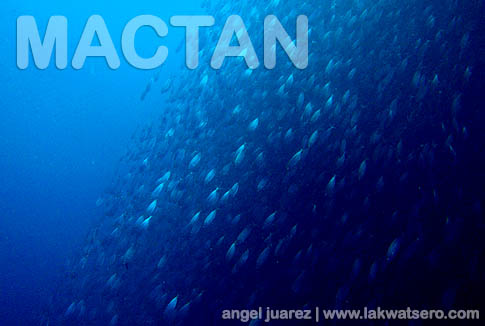 We descended there after an hour of surface interval. Not so long after we descended a school of Bluefin Trevally, a family of mackerel or jacks welcomed us. The school clouded us as we move towards them. The sight was so lovely and amazing, they reminded me of the sardine run in Pescador Island, Moalboal though smaller in numbers, but we estimate their count to be on tens of thousand.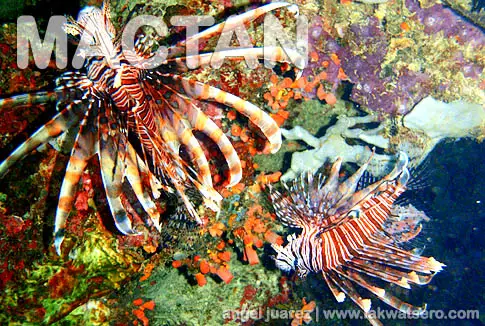 We drifted southwest with the current and saw a lot of colorful corals and tropical fishes: Angelfish, Groupers, Parrotfish, Ghost Pipefish, Scorpionfish, Anemones and a lot of Lion Fish. I counted a total of eleven Lionfish all throughout the dive. After 49 minutes of diving, we surfaced at Kon-Tiki.
Dive Profile: Maximum Depth – 77 feet/Time of Descend – 1312H/Bottom Time – 49 minutes/Water Temp – 28°C/Start Air – 200 Bars/End Air – 50 Bars
There are more than twenty dive sites in Mactan area, including the sites in Olango, Hilutungan and Nasuluan Islands, we only dove in two. I am very sure that we will be diving again in Mactan in the future. Nevertheless, it was great dive weekend. It feels good to be back in the water.
We were billed P2675.00 each for the two dives including the Dive Master Fee, Environmental Fee, rental of the BCD, regulator, tanks and weights. Thanks Sir Julianne, Club Kon-Tiki and of course my dive buddy Ate Claudia, it was fun diving with you.