One night, while I was scanning my old pictures, I chanced upon the photos of my first trip to Boracay and Antique some six years back. It was a memorable trip, not just because of our first experience in the famed white sandy beach of Boracay but because of our adventure in the wild water of Tibiao River in the nearby province of Antique, merely three hours away.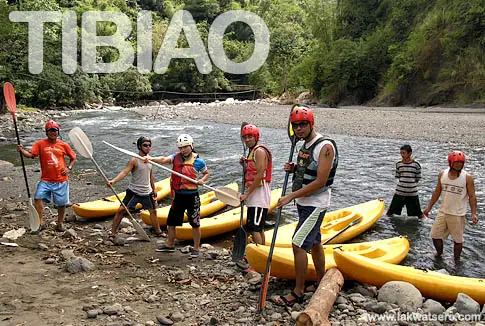 I tried to relive the memories of that adventure. It has been six years but the memento of that unforgettable adventure is still vivid as if it just happened yesterday.
During that time, we have already done the raft rides in the white waters of Cagayan de Oro, Davao and Kalinga. But we were looking for more adrenaline rushing experience, then Tibiao came into the scene.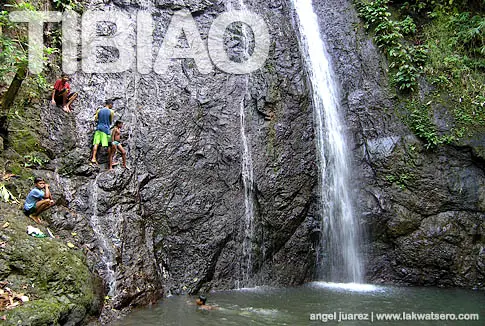 We arranged the tour with Tribal Adventures in Sand Castles Boracay. I remember paying around three thousand pesos for the whole day tour inclusive of transporatation from and to Boracay, meals and the activities which include a trek to Bugtong Bato Falls, white water kayaking in Tibiao River and a hot kawa tub experience. We were supposed to do white water rafting but the water level in the river was so low and unraftable, so we all ended in kayaks.
The three-hour scenic ride from Boracay to Tibiao was just a prelude of something wild. We did the trek to Bugtong Bato Falls first, passing the village, a hanging bridge and narrow trails. Bugtong Bato Falls is a multi-tiered waterfalls located in Barangay Tuno and the most popular among the seventeen waterfalls of Tibiao. It was an easy and rewarding trek. There were no other tourists but us. Some local children leisurely swimming in the pool below the waterfalls proudly showed their diving skills as they jump from the wall to the cold water. We preferred to just dip and enjoy the moment.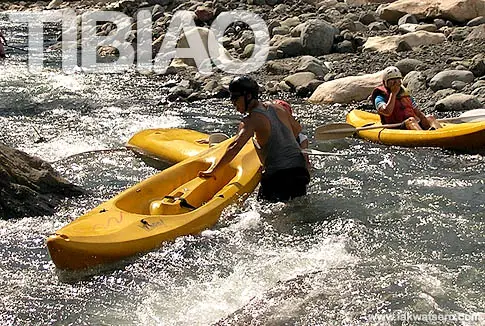 Our prime activity came next, fifteen kilometer of a very challenging kayak ride in the wild water of Tibiao River. It was our first time to ride the kayak and the thought of riding and maneuvering the kayak, and making decisions on our own amid an angry river frightened us all.
As expected the ride was eventful, extreme and wild. I lost count of how many times I flipped and fell out of the kayak into the raging rapids. There were even times that other kayaks hit me while I was underwater. The unkind rapids proved to be tough and not for the weak. I ended up with a lot of wounds and bruises all over my body as well as swollen knees. It was fun and an extreme experience. If you will ask me if I would do it again, I would probably think twice. (Read as: I would still do it for adventure's sake ;P)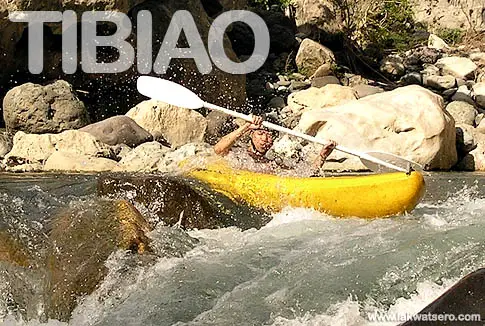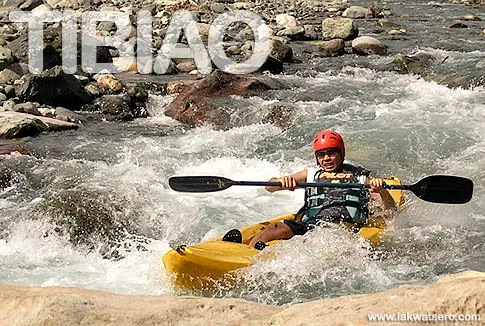 After the ride, we were treated to a sumptuous lunch and a chance to dip in their prominent hot kawa. It was a great moment to relax and chill up after the strenuous ride in the river.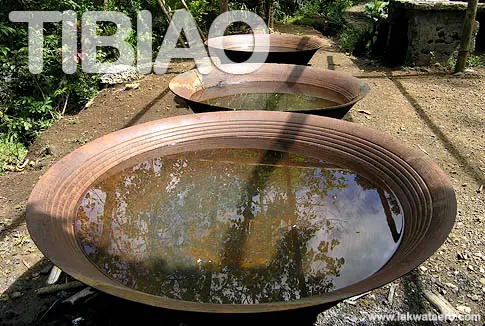 Six years after that momentous adventure, I am definitely missing Tibiao. So I say, if you breathe adventure, head on to Antique and try white water kayaking in the raging Tibiao River. The best time to enjoy it is during this time of the year, rainy season, when the water in the river is high. After a day of wild run in the river, relax in the hot kawa tub and proceed to a lesser crowded Boracay this time of the year, only three hours away.
Today, Tibiao River Kayaking is still being offered by Tribal Adventures on a day tour but on a not so budget friendly rate of around P5,000+. But I have learned from Journeying James that a freelance operator in Tibiao offers it for as low as P600 pesos plus P250 guide fee, contact Mr. Edwin Enrico at +639215701947.
*Photos with asterisk are from Michael Correa