Not minding the storm forecast , we went back to Camarines Norte during the long weekend of June to revisit our happy beach – Calaguas Islands. It has been two-and-a-half years since we first set our foot on this paradise, and year after year, we promised to return.
Exactly fourteen months have passed since we last visited the place, but the memoirs of our beloved paradise are still fresh on my mind. A picture of a fine white sand on a turquoise and calm water, blue sky and white cotton clouds in a serene coastline. That was the Calaguas that we left last year.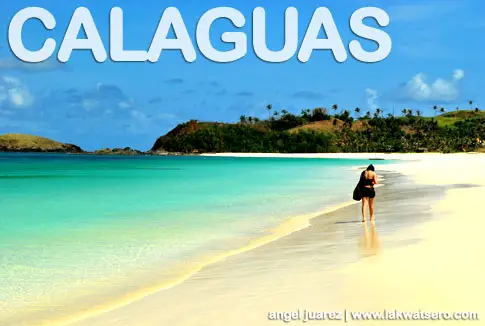 After ten hours of land travel from Manila to Paracale and two hours of boat ride to Tinaga Island, we reached the long stretch of powdery white sand beach of Mahabang Buhangin.
A gray overcast sky and a crowded beach greeted us as our boat docked on its shore. We quickly got of the boat and rushed to feel its soft sand. Aaaah, I finally felt its sand again, the same Calaguas' sand that I felt two-and-a-half years ago. But as soon as we settled, it didn't took us long to realize that a lot of things have changed. If it was because of the gloomy weather, we do not know. But one thing is for sure, there's something awkwardly different.
Happy Beach No More?
Apparently, the island paradise is no longer a secret. And as I walked from its one end to the other, I couldn't help but compare the place from the vivid pictures of beauty that were playing on my head. Countless tourists, tents, cottages, stores and trash; a total contrast from what I am accustomed of Calaguas.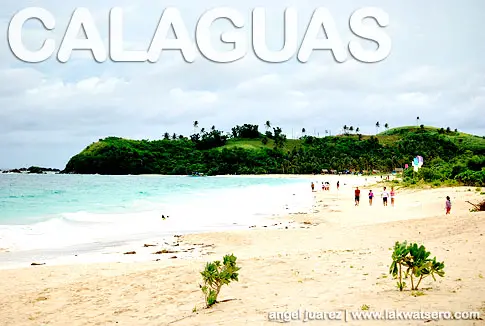 As our time ticked in the island, we have learned to accept its fate and appreciate what was left. Things change, and I believe that the place has its own way of healing itself. Perhaps we were there on the wrong time. I almost take back the title but despite all, the Mahabang Buhangin of Calaguas Islands is still my happy beach.
Stormy Night
The darkness slowly enveloped the place as the night fell. The moon and stars were hiding beneath the clouds, then the sad sky wept. We seek refuge in an open cottage and as I laid my tired flesh and closed my eyes, imaginings and comparisons visited my thought, until I fell asleep.
In the middle of the night, I was awaken by the echoing wind, torrential rains and howling waves. They were all in chorus as they batter our island. I curled up in cold as the rain drizzled our humble abode. There was nothing I could do but wait. For six hours, the stormy weather prevailed. For six hours, I just kept my eyes close, pretending to be asleep. The wind blew harder, I heard it whistling as if saying "this too shall pass".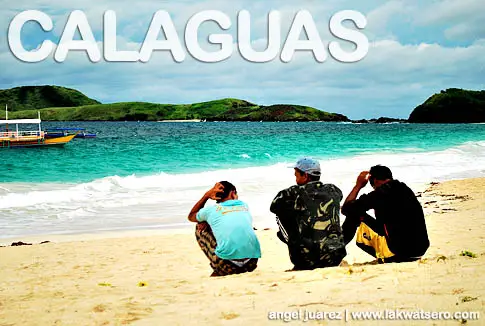 When morning came and the sky cleared, the gusty winds were still blowing occasionally, the sea was still in anger, but the rain already stopped. People lined up on the beach staring at the angry horizon of waves, each has their own stories of the stormy night.
Paracale's Treasure
We were able to leave the island from its other side, in the small community called Barangay Mangkawayan. Surprisingly, the sea is calm on this side and the two hours boat ride to mainland was smooth.
Before noon, we were back in Paracale and were able to visit one of the town's treasures – its century old Catholic Church of Our Lady of the Candles (Nuestro Señora dela Candelaria). The 400-years old structure that sits in the plaza, is considered as one of the oldest churches not only in Camarines Norte or the whole of Bicol, but in the country. It was originally built with bamboo, nipa and other light materials in 1611 under the supervision of Father Jose dela Torre, a Franciscan friar. It was reconstructed between 1888 and 1898 under the supervision of another Franciscan priest Jose Cardenoso. What stands now is the old reconstructed church with thick walls made of huge adobe blocks.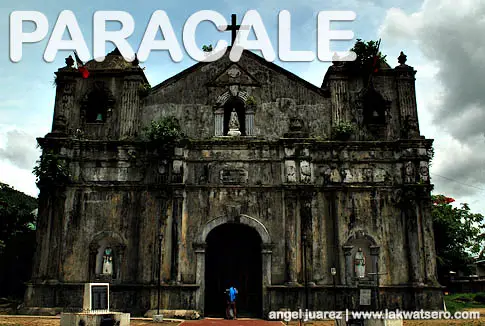 We entered the church and climbed its tower with the old bell still intact. From there it was surprising to see another plight of stairs going to the cross on the rooftop, the first time I saw such and perhaps the only church in the country with this feature. From the rooftop, I witnessed the beautiful unobstructed bird's eye view of Paracale.
Morga 1889
It was June 19, the long weekend was declared to celebrate Dr. Jose Rizal's martyrdom on his 150th birthday. Camarines Norte has a place in Rizal's trail, and since we were already there, I thought it was just worthy to pay tribute to our National Hero on his special day. I decided to drop by the plaza to see Rizal's first monument – the Morga 1889.
Coincidentally, it was Daet's town fiesta, the streets around the Municipal Hall are filled with people as the street dancers graced the crowd with their moves and colorful costumes. The celebration was in full blast but I managed to skip past the crowd and reach the stone monument of Dr. Rizal in a corner of a street.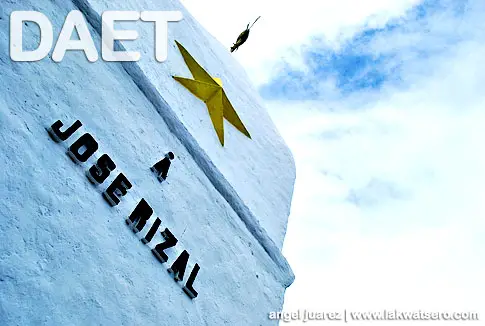 Unlike other monuments, the Morga 1889 has no human figure. Just a white-painted stone commemorative monument with three stars, our national hero's name, his two popular novels Noli Me Tangere and El Filibusterismo, and the text Morga 1889. Yet it is a national landmark and has a distinction of being the first monument of Rizal.
Stoked in Bagasbas
We had our last stop in Bagasbas Beach while waiting for our night trip back to Manila. Bagasbas Beach is a Daet's  surfers' haven. With huge waves that break on a sandy bottom, it is an ideal place for newbie surfers. This was where I had my attempt in surfing two-and-a-half years ago and I can say that nothing much has changed.
After my first attempt here, no other surfing trip followed. This time,  I was back again on the same spot where I first tried this sport, it was very nostalgic.
Finally, I was able to surf again. With the help of Brian, I managed to stand up the board twice and ride the waves. The happiest moment in a life of a surfer wannabee is being able to stand up the board and ride the waves, which I just did.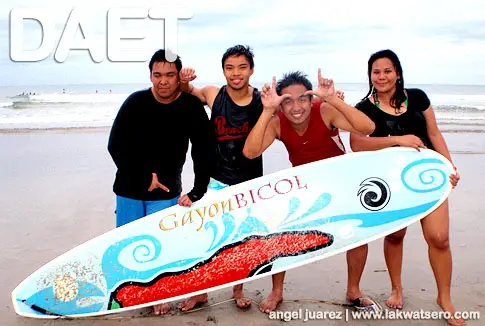 Cam Norte Still Under P2000
More than a year after our P2000 Calaguas challenge, with the influx of tourists in Calaguas and the continuous increase in prices of oil and other commodities, I thought that the  P2000 budget in Calaguas is no longer doable. I was wrong. Thanks to Kuya Nelson, our boatman in Calaguas for giving us a very cheap rate. I won't tell how cheap because it's not his normal rate 🙂
We managed to spend only P17++ each, all eight of us (Me, Brian, Donna, Dj, Grace, Reggie, Anj and Steve), inclusive of all transportation costs, foods, fees and day cottage in Bagasbas Surfer's Inn.
But considering the normal rate of boats to Calaguas from Paracale, the P2000 budget per person from Manila is still doable, so you can still follow my old guide, Calaguas: Paradise on a Budget.
Meanwhile, I highly recommend now Kuya Nelson. He offers really good package and his boats are equipped with life vests. Kuya Nelson is based in Paracale and can be reached at +63920-317-9315.