It was raining hard for two days prior to our scheduled dives and on the day of our trip, the sky continued to pour its seemingly endless tears.
Batanes is not really for us this year. The unfavorable circumstances were enough reasons to give up our dream of visiting the land of beautiful lighthouses and rolling hills. There are reasons for everything and there maybe deeper reasons more than the weather, we thought.
Strong rain and winds persisted as we arrived in the port of Batangas. The Philippine Coast Guard suspended the trips of trigger boats to and from Puerto Galera that day due to inclement weather and huge waves. But our strong and eager souls still decided to pursue. We took the Ro-Ro ferry to Calapan and traveled to Puerto Galera by land just to reach our back-up plan dive destination. The usual one-and-half-hour travel from Batangas to the port of galleons turned into a total of four under stormy weather.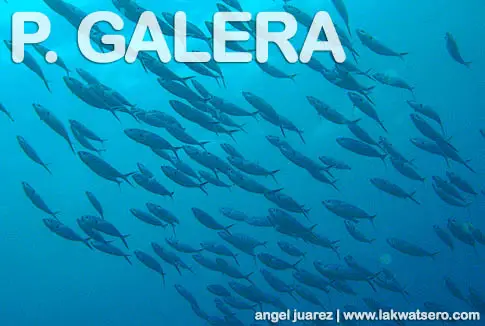 At last, we reached Sabang late in the afternoon, my first time in town. I was surprised by the active beach life, the tons of foreign tourists, most are likely divers, since Sabang is more of a dive destination. We went to Big Apple Dive Resort where we booked a P500/night room. Big Apple is popular for budget divers, travelers and backpackers for offering cheap accommodation and dive rates at premium service.
Unlike the heavy rains being experienced in Metro and most of Luzon, it was only drizzling in Puerto Galera and the sea was quite calmer. There was a promise of better weather the next day, and true enough, the sun showed up on our first day of diving.
Monkey Beach
Guy, our Australian Divemaster from Big Apple Dive Resorts briefed us for our first dive on a site they call Monkey Beach (Monkey Wreck), a few minutes by boat from the Sabang.
We descended into a sloping sandy bottom to a maximum of 25 meters. After two days of rain the visibility was not so good though not that bad, just right to clearly see species up close. The site has a good population of fishes, corals, crinoids and other species, and a wreck of a small sailboat lying on its portside that serves as home to school of Yellow Spotted Sweetlips and other species.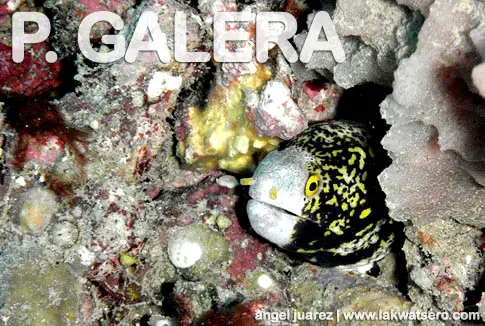 Vividly colored Featherstars in various sizes adorn the reef, and as we go on with our dive, Peacock Mantis Shrimp, Cute Nudibranches, Morays, Garden Eels, Lionfish, Scorpionfish, Shrimpfish and other tropical species also graced us.
Dive Profile: Maximum Depth – 22.8 meters/Date-Time of Descend – 25-Jun-2011 0922H/Bottom Time – 49 minutes/Water Temp – 31°C/Start Air – 210 bars /End Air – 80 bars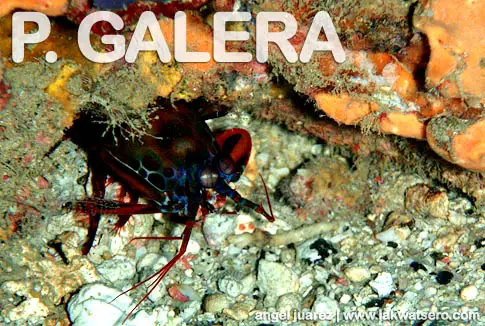 Sabang Wrecks
Our second dive was just in front of the resort. The three wrecks, collectively known as Sabang Wrecks, one steel and two wooden boats lying from end to end. The site is home also to a school of friendly Giant Batfish and Sweetlips that are used on being fed by humans.
Upon our descent, the friendly fishes came close and followed us until we reach the first wooden boat. They were biting my hand in a hope of some bread which I did not have.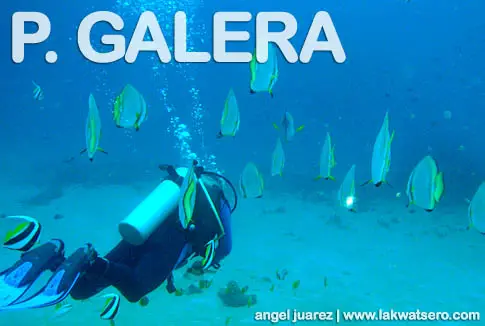 We circled on the small wreck and saw a huge Hawksbill Sea Turtle with a Remora Fish on its shell taking refuge. There were also Scorpionfish camouflaging the wrecks and other sea creatures.
We then drifted towards the second boat covered by corals, a steel sailboat lying also on its portside with a really huge Lionfish inside, the biggest I have seen yet.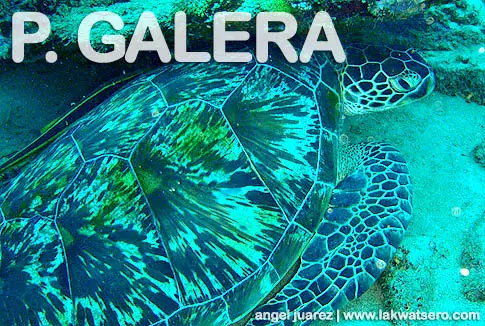 After a round on the second wreck, we went to the third one, which were more of a debris of a wooden boat. More Scorpions were there, as well as Cowfish, Shrimpfish, Banded Pipefish, Shrimps,Nudis, school of small Sardines and wealth of underwater species. It was a lovely dive.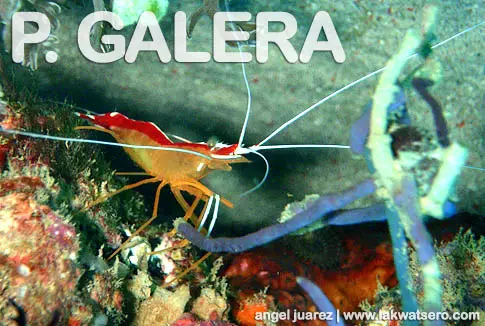 Dive Profile: Maximum Depth – 21.2 meters/Date-Time of Descend – 25-Jun-2011 1109H/Bottom Time – 50 minutes/Water Temp – 29°C/Start Air – 200 bars /End Air – 70 bars
Escarceo to Hole in the Wall
After our lunch break and surface interval, we proceeded to Escarceo Point, the site near the lighthouse, five minutes away from the beach of Sabang. Our plan is to descend in Escarceo Point and drift towards the Hole in the Wall. Blake, another Australian diver joined us.
As soon as we descended, the strong current swept us, so just drifted with the current. It was a very strong current, as if we were flying. I saw some corals being swept away too and some fishes on struggle.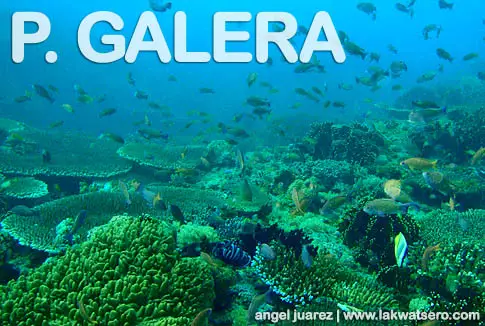 I just let the strong current carry me, watching the beautiful underwater scenery full of corals, crinoids, pelagics and other fishes and creatures. In just fifteen minutes, I felt that we have already traveled far with just 50 bars of air I consumed.
Then Guy pointed to something. I thought he was pointing to the direction of a wall that looks like a big coral boulder. So I went close to the boulder, but was swept by the current to its other side. I held to the hard part of the boulder and flipped my fins hard to fight the current and waited for my buddies. Then Blake showed up checking if I was alright so I gave him an "O" sign.
Then Guy emerged from a hole, followed by Ate Claud. Apparently, it was the Hole in the Wall and I just missed it. I wanted to go to the other side again to experience passing through the hole but the current was too strong to fight.
We continued drifting until we reached the point of tolerable current on an area filled with beautiful table corals and a lot of Anthias where we had our safety stop.
Dive Profile: Maximum Depth – 25.2 meters/Date-Time of Descend – 25-Jun-2011 1419H/Bottom Time – 51 minutes/Water Temp –32°C/Start Air – 210 bars /End Air – 50 bars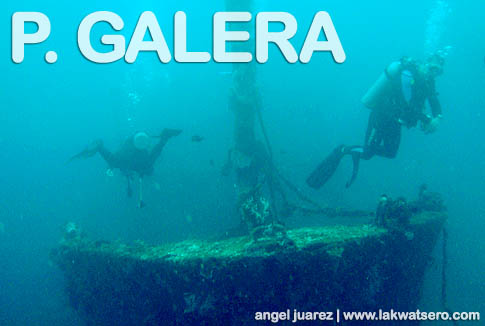 M/V Alma Jane
The next day, we decided that we can still do one dive. So we geared up early for our last dive in Puerto Galera. It was a wreck dive, and the thought of penetrating a submerged wreck excites Ate Claudia and me.
It is the biggest wreck in Puerto Galera, intentionally sunk in 2003. Lying upright at 30 meters off the coast of Sabang Beach, the wreck is already covered with corals and serves as home to school of Giant Batfish, huge Frogfish, Scorpionfish and variety of marine life.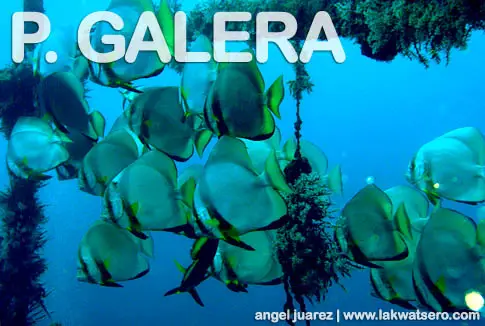 We entered the water through a buoy line, the visibility was not so good. At 20 meters, I had the first glimpse of the ship's mast, and as we dive deeper, the wreck was slowly getting real. I remembered the scene in the movie Titanic, when the camera was zooming in to the sunken ship. It was lovely.
M/V Alma Jane indeed is a big ship, but a dwarf compared to the monsters of Coron. It is a 60-ton, 115-ft steel-hulled cargo ship built in Japan in 1966.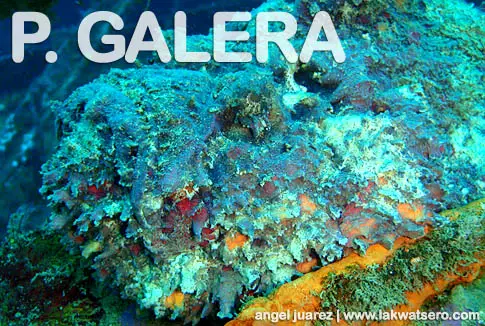 We made a round on the ship before entering its hull. As usual, it was a surreal experience, Ate Claudia and I always loved penetrating wrecks. And though the penetration time was a bit short, it was more than enough experience since we did not expected this to happen.
We made another round on the ship as we exited the hull, exploring the wreck in amazement. When I checked my dive computer, I only had three minutes left in my no decompression time so I decided to ascend slightly, others also did the same. After a while, Guy signaled for safety stop so we all grab the buoy line and ascended to five meters to release nitrogen.
It was a short dive at 31 minutes but it was an amazing one. Wreck diving is pure love!
Dive Profile: Maximum Depth – 29.7 meters/Date-Time of Descend – 26-Jun-2011 0918H/Bottom Time – 31 minutes/Water Temp – 29°C/Start Air – 210 bars /End Air – 60 bars
I have dived Malapascua, Moalboal, Apo Reef, Apo Island, El Nido, Coron, Camotes, Mactan, Camiguin, Samal, Jasaan, Opol, Mantangale, Duka Bay, Sogod Bay and Tubbataha Reefs. I frequent Anilao. Now I regret that it took me so long to dive in Puerto Galera, one of the most diverse dive destinations I've seen. Puerto Galera is ♥!