Earlier this year, I said "yes" to a random open invitation to join an exploratory climb to Mount Manmanoc in Malibcong, Abra. An invitation that brought me to one of the most remote and unexplored parts of Philippine Cordillera where I spent my weekend climbing a mountain where only locals used to summit.
At 2,024 meters above sea level, Mount Manmanoc is possibly the tallest mountain in the province. Mount Bangbanglang which stands at 2,400+ meters is said to be the highest but locals say that while it is shared by Abra and Apayao, it is under the jurisdiction of the latter. Meanwhile, the entirety of Mount Manmanoc belongs solely to Abra.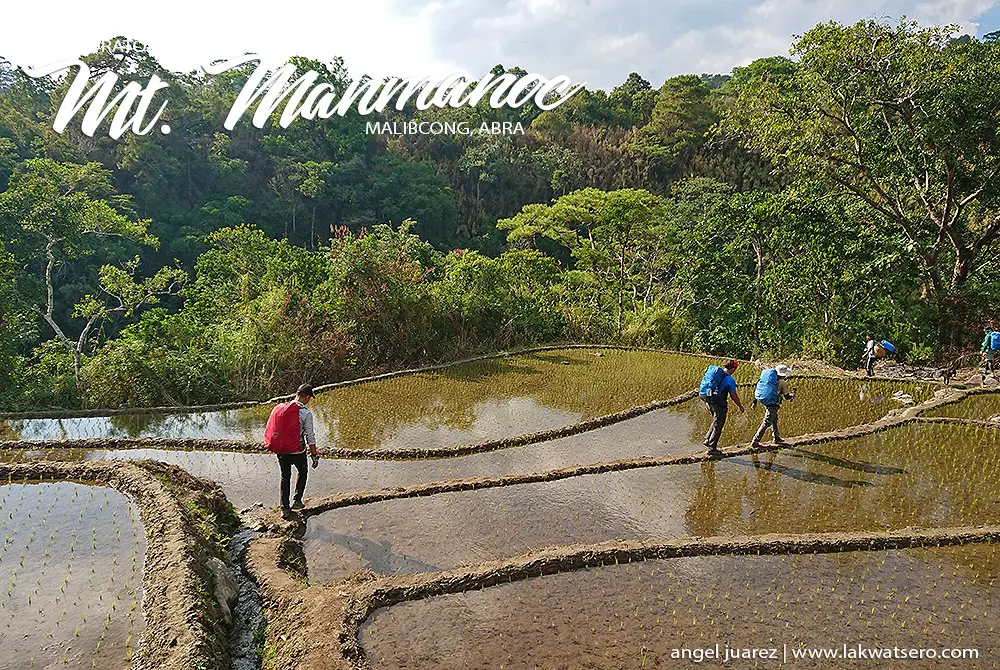 The mountain features an amazing view of the neighboring peaks and the panoramic contour of the province and even of Kalinga and Apayao, sea of clouds and mossy forest on the summit, and trails passing through scenic pine forest ridges and cold rivers. There is no easy way of trekking this mountain as the journey to the trailhead alone is already an adventure in itself.
From Manila, one will have to take an 8-hour ride to Bangued and transfer to a local jeep to Barangay Mataragan, the last barangay of Malibcong, for another 6-hour journey, most of it is rough. Note that there is only one departure of the public jeepney per week and the travel is a real challenge during rainy days but for the purpose of this trek, we chartered the entire jeep.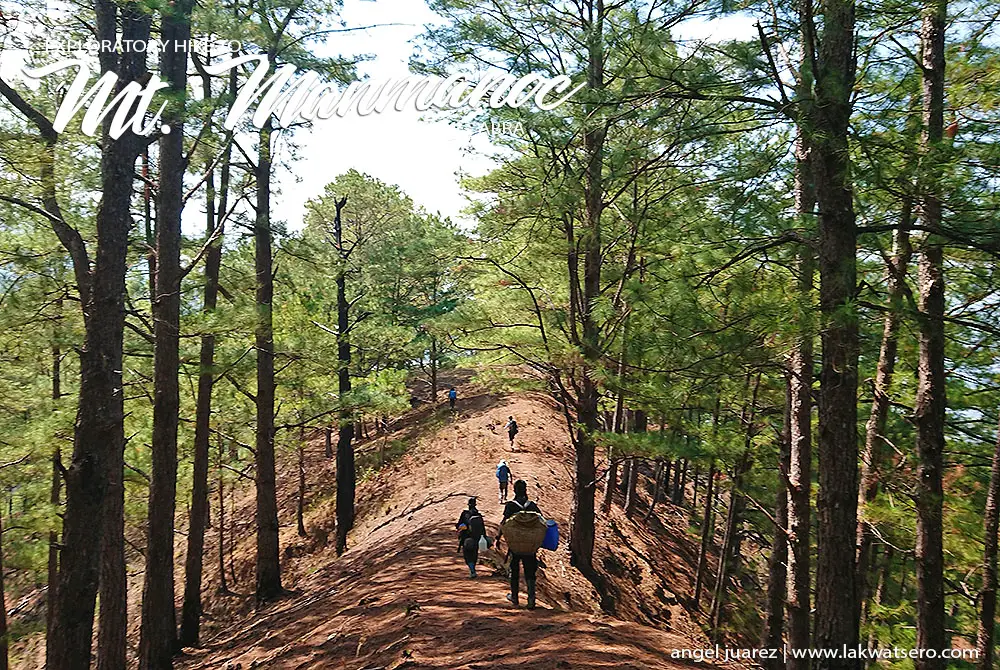 From Mataragan, it is a five-hour trek to the campsite on a rolling trail with numerous river crossings and a steep 75-degree ascent on the final 500 meters. From the campsite, it is another one-and-a-half hour going to the summit marked by a mossy forest. Going down from the campsite, a different trail may be taken via Tapgen Pine Forest which takes at least 3 hours to the village.
Climbing Manmanoc is a milestone! The first time ever that non-locals got to stand on the highest ground of Abra and it marks the third of my #12PhSummits2019!
Here's the actual itinerary of our climb: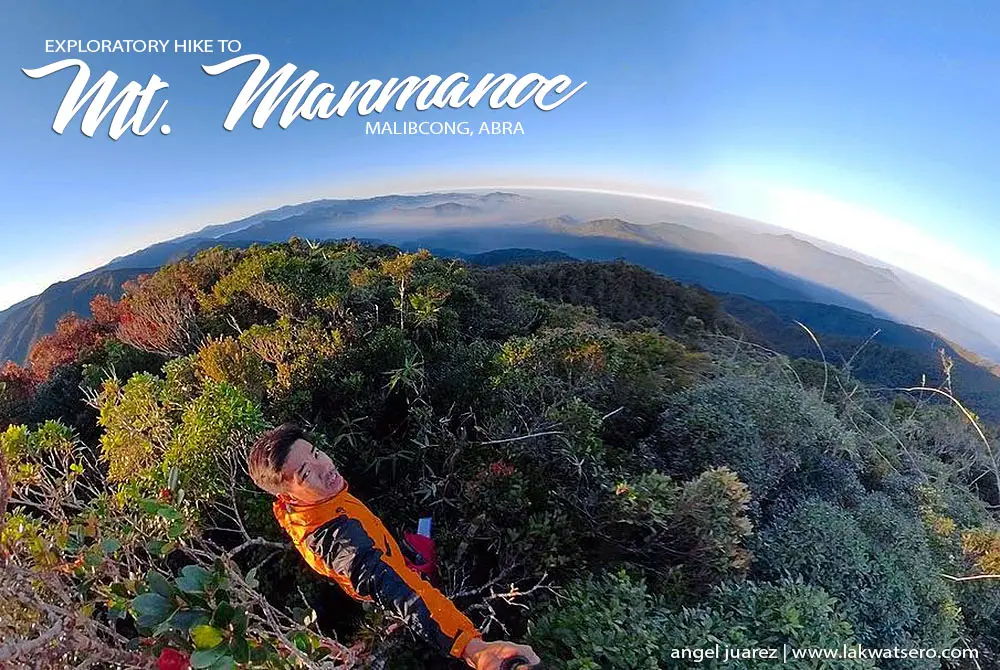 Mount Manmanoc Itinerary
Day 0
2100H Meetup in Greenfield
2200H Depart for Bangued
Day 1
0530H Arrived DPWH Abra / Transfer to Jeep for Malibcong
0600H Depart for Malibcong
0700H Breakfast at Langilang
0830H Licuan-Baay
1015H Arrive in Malibcong Poblacion
1230H Arrive in Barangay Mataragan, Lunch
1350H Start Trek
1445H Break: Sitio Pudto
1510H Push
1520H Break: River / Water Source
1535H Push
1550H Break: Pine Forest at 1016 meters
1600H Push
1620H Break: Sitio Gupongan
1625H Push
1630H River Crossing
1640H Break: River
1700H Push
1730H Break: Rover / Last Water Source
1800H Push
1830H Arrive in Campsite at 1625m
Day 2
0400H Start Trek
0520H Arrive in Peak 1 / Sunrise
0630H Proceed to Summit
0645H Summit
0700H Descent to Campsite
0740H Back at Campsite / Breakfast / Break Camp
0915H Start Descent vis Tapgen
1035H Rest / Midway
1100H Push
1130H Rest at River / Water Source
1135H Push
1140H Arrive in Community
1155H Arrive in Main Village (670m)
1415H Depart for Malibcong
2000H Arrive in Malibcong / Wash-up / Snacks
2100H Depart for Manila / Dinner along the way
Day 3
0430H Arrive in Manila
Estimated Budget: P3,000 per person (Group of 20)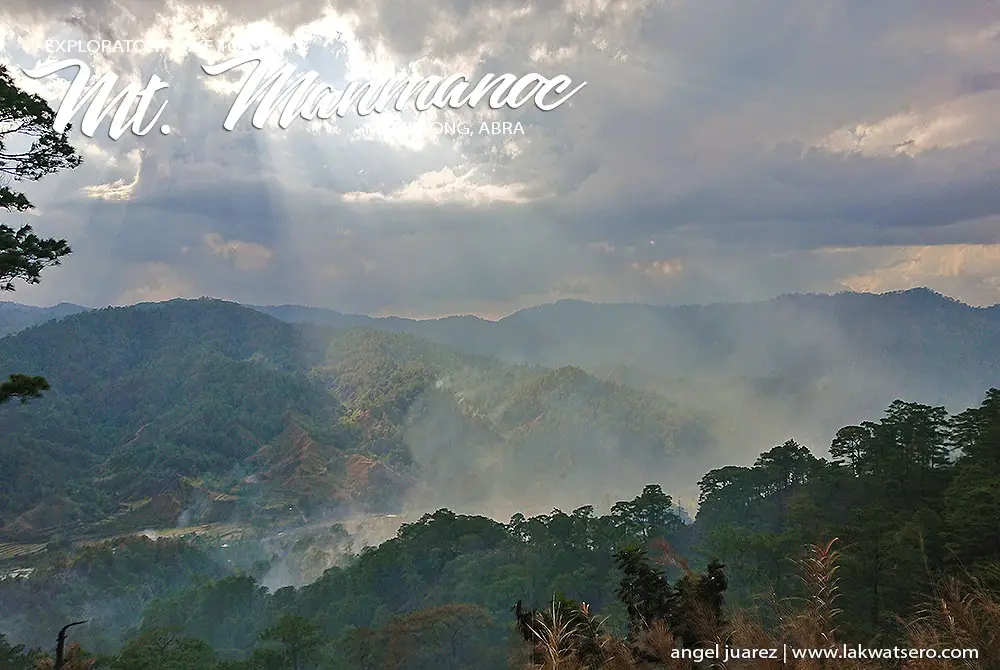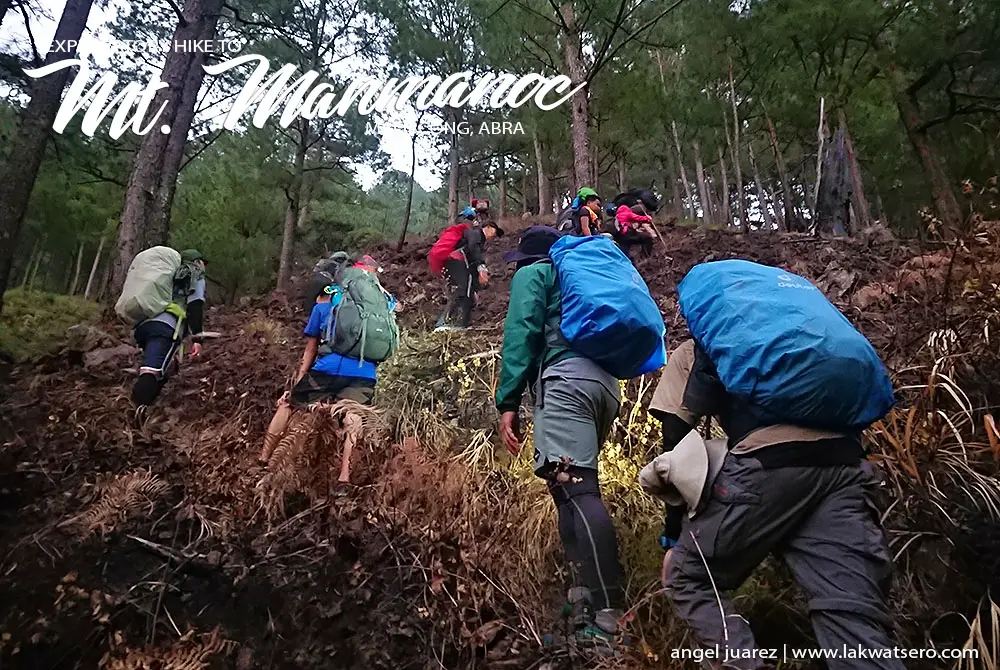 Post Note
Thanks to Michael Reyes for organizing this climb, and to Abramazing Tours and Barangay Mataragan for the assistance.
If you wish to climb Mount Manmanoc, please get in touch with Abramazing Tours at +63927-7725856 or abramaz[email protected] for information, coordination and assistance.