Who would have thought that the quiet and laid back town of Naujan in the island of Mindoro hides awesome surprises? Well, perhaps only Mindorenses know. Thankfully though, I was able to see some of its hidden treasures.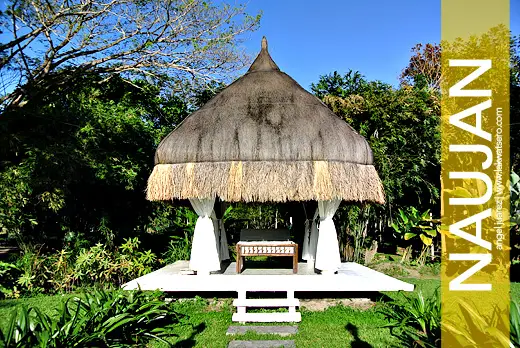 I was in Puerto Galera early this year for the Malasimbo International Music Festival on a trip sponsored and organized by the Tourism Promotion Board of the Department of Tourism. Part of our itinerary was a day trip to the town of Naujan where we were able to discover some of its tourist spots. It was just a short visit but I must say that I was awed by what the quiet town offers. Never did I imagine that the humble town, admittedly unknown to me before the trip, harbors some attractions that will surely interest those travelers who are seeking to explore beyond Puerto Galera.
Approximately three hours away from the Puerto Galera, Naujan is a coastal town in the province of Mindoro Oriental. It is one of the biggest municipalities of the province so it is not surprising that its vast land and long coast harbor natural attractions – coves, beaches, waterfalls, lake, hot spring, historical sites and more! But we didn't have time for all of these spots, our trip covered only man-made attractions such as the Liwasang Bonifacio, Simbahang Bato, Benilda ng Bancuro and La Hacienda.
Liwasang Bonifacio (Naujan Town Plaza)
Where's the best place to get to know Naujan? Well I guess it's in Liwasang Bonifacio, the town plaza!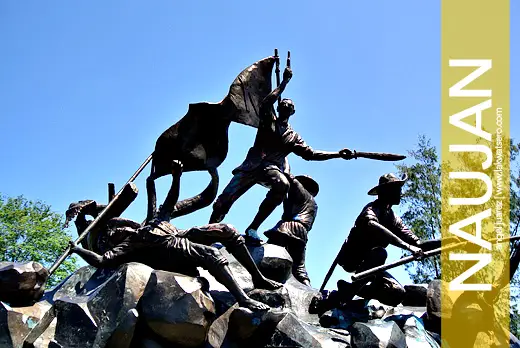 Situated in Poblacion 1, fronting the municipal hall, Liwasang Bonifacio is the heart of Naujan, it is where the town's events are held. No sugar coating but it is undeniably a beautiful plaza – modern, artistic, clean and green! At the center of the plaza is a huge monument done by noted Filipino sculptor Nemesio R. Miranda Jr. and dedicated to the fight of the Katipunero's during the Spanish-Filipino war. One of our national heroes, Andres Bonifacio, is the centerpiece of the monument.
Simbahang Bato
Meanwhile, in Barangay Bancuro, a lost piece of Naujan's History stands in ruin. The Bancuro Church Ruins, popularly known as the Simbahang Bato, is believed to be built in the 17th century by the Augustinian missionaries. There's not much certified information about the old church, only legends and tales of its origin. But one thing is sure, it is a witness to the centuries of history of Barangay Bancuro and the entire town Naujan.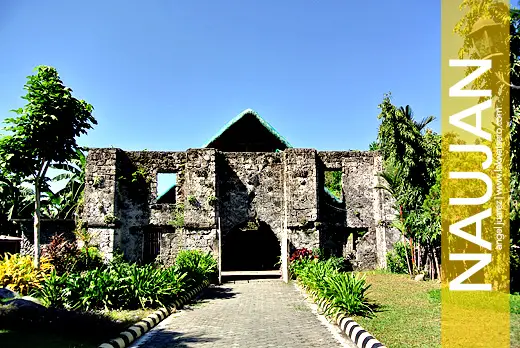 What stands today are the beautifully designed facade and the thick walls that once served as fort that protected the town against Moro pirates long time ago. A church made of light materials and decorated by woodwork was built inside the ancient walls to serve its purpose. A new church within an old church! Only in Naujan!
Benilda ng Bancuro
Not far from Simbahang Bato is this beautifully designed resort that boasts of its restaurant, glowing swimming pool, stone statues, jacuzzi, lovely garden and homey rooms. The theme of the resort is a mixture of Spanish and Filipino as seen on the structures, decors and even food. One will not fail to notice the ornate woodwork in the restaurant, they are truly is fascinating! The woodwork are on the same caliber as those in the Lumang Simbahan and that is no doubt because they fund the construction of the church.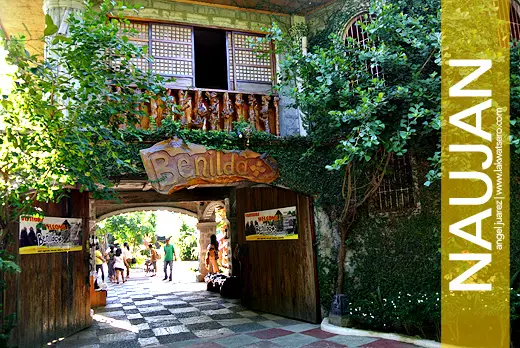 How much does a room in Benilda ng Bancuro costs? The cheapest is at P2,500 good for two persons, P3,200 if you add breakfast to it. They also have rooms good for four and even 10 people, cottages for day trippers and a function hall for gatherings. For reservation, contact 043-2083628 or +639991778762, or email at [email protected] or [email protected].
La Hacienda
The best of Mindoro is finally revealed at La Hacienda, which I guess is the best kept secret of Naujan. The 26-hectare Balinese inspired private resort is everyone's dream place. It is classy, classic and very pleasing. It is one hell of a place in the middle of nowhere! Simply amazing, definitely alluring!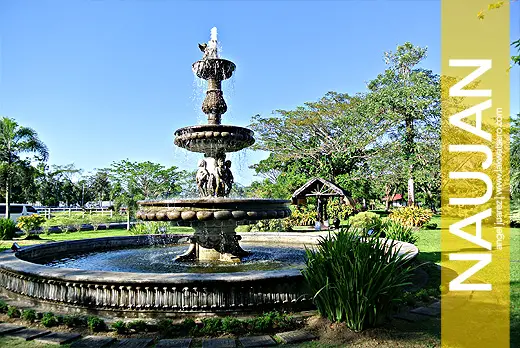 Situated also in Barangay Bancuro, La Hacienda takes pride of its themed private villas with personal butler services, a vast garden, fine dining, huge swimming pool, function hall, spa and various sports activities that will make one stay truly worthwhile. An overnight stay costs at least P6,000 good for two persons but I guarantee you that it is all worth it!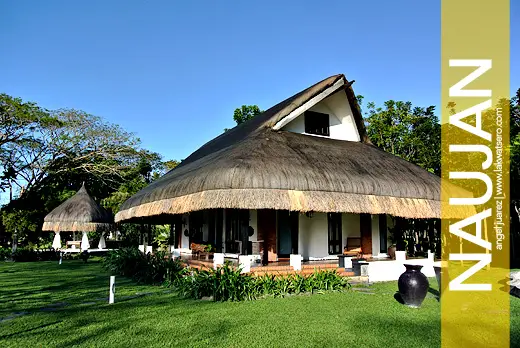 There is a place in Mindoro where the land stretches into the infinity of the horizon, where tranquility and peace reside far from the madding crowd of beach goers. It is La Hacienda!