In the past, a mere mention of waterfalls in Cebu equates to Kawasan, the most famous falls of the province located in Badian, some three-hour land travel from Cebu City. With its majestic cascades and beautiful turquoise water, Kawasan Falls without a doubt, is worthy of admiration… a sight to behold!
But more than Kawasan Falls, we could count the other waterfalls with our fingers. There's Mantayupan Falls of Barili and Tumalog Falls of Oslob, then we would buckle and think if there's more. Admittedly, Cebu was not a popular site for chasing waterfalls.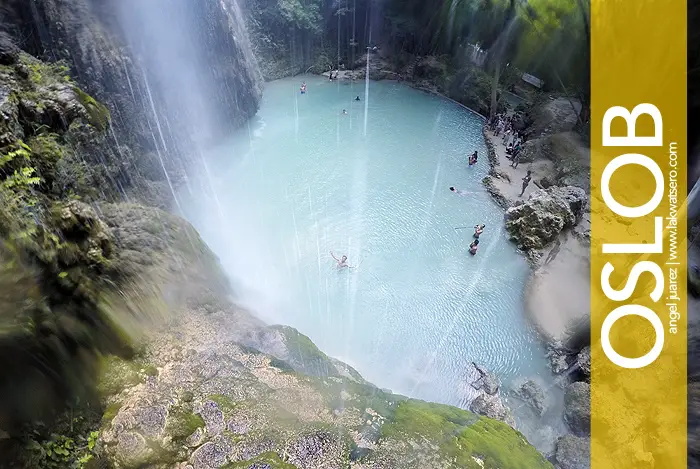 It was just recently that the other waterfalls, mostly from the south, started to take the scene. Thanks to Project Waterfalls of Cebu and other kindred adventurers who brought to public attention the others that are equally or even more enchanting than the famous ones.
There are more than 110 known waterfalls in the province, most of them sit on limestone soil thus the beautiful turquoise water. I may not have been to all 110 yet but I made this personal list anyway in reply to those asking for my top choices. Don't be surprised, I purposely excluded Kawasan Falls, Mantayupan Falls and Tumalog Falls on the list to focus on the offbeat, lesser known spots.
So without further gilding the lily, here are my favorite waterfalls down south.

10. Igottan Falls
Talisay City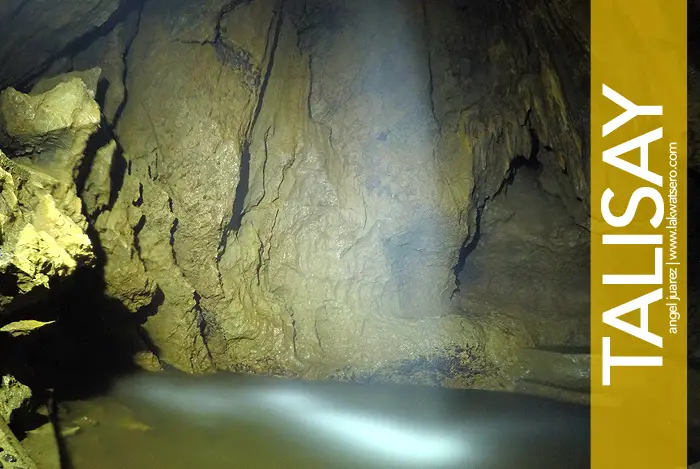 It's not a beam of light. It's the slow shutter shot of the waterfalls at the end of Igottan Cave.
Only less than an hour from Cebu City is Igottan Cave and Falls in Talisay City. Unlike the rest on the list, it has no turquoise, green or blue colored pool, neither a grand cascade. What makes it unique and amazing is it being inside a cave!
How to Go to Igottan Falls: From Cebu City, catch a 41D multicab or KMK bus to Tabunok (30 mins | <P20). Get off at the flyover and take a habal-habal to Igottan Cave (10 mins | P10). Entrance Fee: P25.

9. Cancalanog Falls
Compostela, Alegria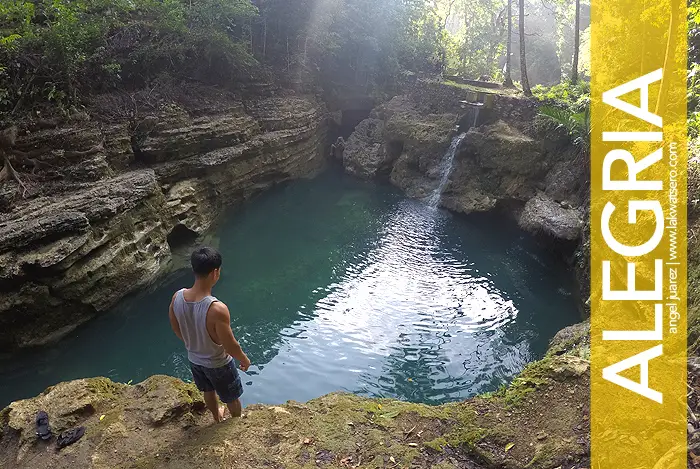 The deep blue circular pool surrounded by layers of rock wall makes Cancalanog Falls truly magical!
Situated in Barangay Compostela in Alegria, Cancalanog Falls lies along Matutinao River, the same river system that ends up in Kawasan Falls. It has two cascades that both drop to the deep natural basin, deep enough for cliff diving.
How to Go to Cancalanog Falls: From Cebu City, catch a bus going south via Barili and get off at Madridejos or Sangi junction in Alegria, it is less than three-hour ride from and fare is P113 by bus. From Sangi, transfer to a motorbike going to Cancalanog, fare is P100 to P150 per trike one-way for two passengers. Pay P20 entrance fee and trek for 20 minutes to get to the falls.

8. Handigan Falls
Sorsogon, Malabuyoc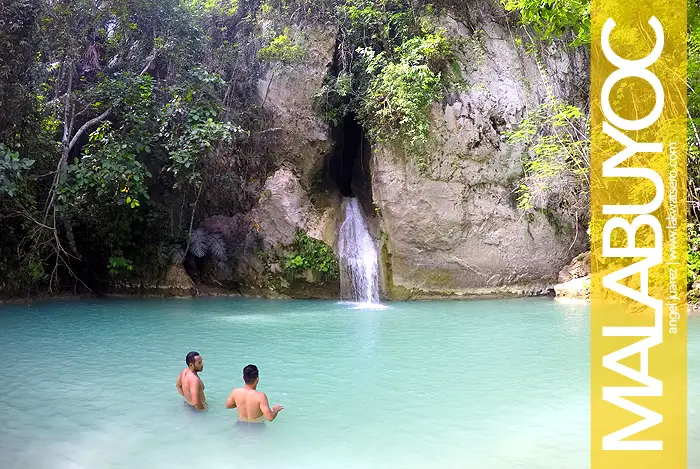 This waterfalls is quite difficult to locate because there is no clear trail going to it and only few knows the spot. An oddly looking yet beautiful waterfalls, Handigan Falls will tickle your imagination.
Tucked in the green slope of Barangay Sorsogon in Malabuyoc, Handigan Falls is a single layer waterfalls with water coming from what seems to be a gorge, dropping to a shallow perfectly turquoise pool before going to Malabuyoc River.
How to Go to Handigan Falls: From Cebu City, take a south bus via Barili and get off at Malabuyoc Poblacion. approximately three hours from Cebu City, fare is P115 by bus. From Poblacion, pray that you find a motorbike driver who knows exactly the spot and can guide you on the trail since the place is quite remote. A good 20-minute trek from the main road will lead you to this falls.

7. Cambais Falls
Guadalupe, Alegria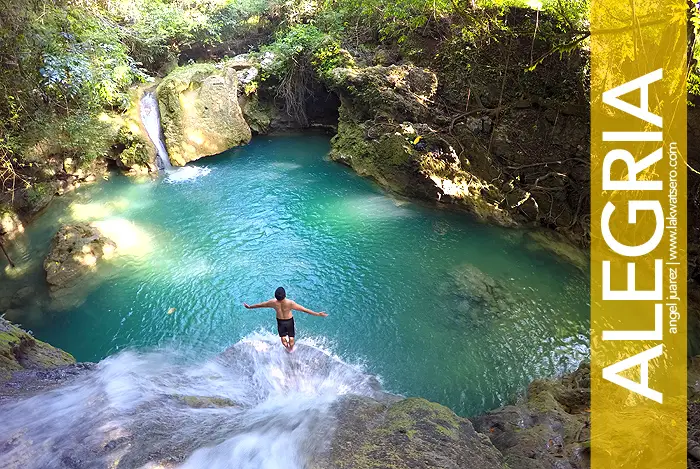 Cambais Falls seems typical and ordinary until you experience swimming in the heart-shaped natural basin of its topmost cascade.
Situated in Barangay Valencia, Cambais Falls is composed of multiple layers with two major cascades. The lower one resembles Tumalog Falls of Oslob with its droplets, while the topmost is quite unique with small cavern behind the cascade.
How to Go to Cambais Falls: From Alegria town proper, charter a motorbike to take you to the jump off point. Rate starts at P400 per motorbike for two passengers, round trip and waiting. Alegria is less than three-hour ride from Cebu City, fare is P113 by bus.

6. Binalayan Falls
Bonbon, Samboan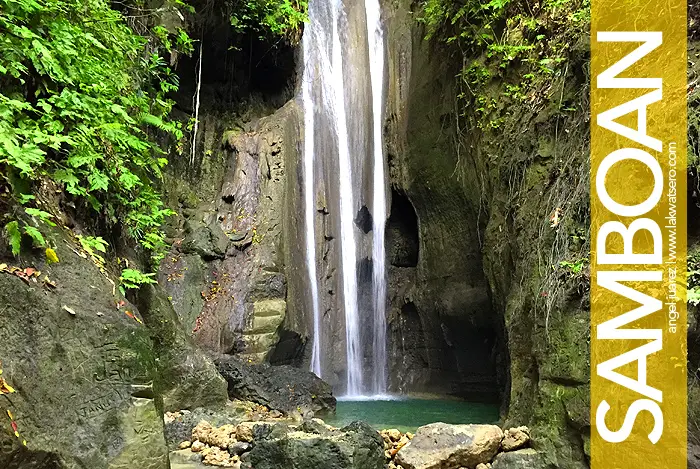 The hidden waterfalls of Samboan is strangely unique and beautiful. With its smooth horsetail cascade against a tall wall with small caverns, Binalayan Falls is distinct from other waterfalls of Cebu.
Nested in Barangay Bonbon, Binalayan Falls is made up of two layers. The first layer is small but wide, while the second one is tall yet narrow. The latter has three-column cascade that explains why others call it as Triple-Drop Falls. The water drops to a height of approximately 30 feet to a shallow and small catch basin before flowing downstream.
How to Go to Binalayan Falls: From Samboan town proper, ride a tricycle or motorbike to Hidden Binalayan. The jumpoff is just along the main road. The trek from the jumpoff takes only 15 minutes. Entrance fee is P10. Samboan is around four hour by bus from Cebu City, fare is not more than P200.

5. Aguinid Falls
Tangbo, Samboan
While it is already getting mainstream, Aguinid Falls is still one of the best waterfalls of Cebu!
It is a poor man's canyoning experience, albeit you will be trekking along the river rather than a canyon. A real adventurer's treat as you trek upstream to the main cascade at the fifth layer, passing numerous beautiful cascades and limestone rock formations. The fifth layer is the biggest of all cascades with water dropping to a shallow turquoise-colored pool. There are small caverns at the back of the cascade, take precautions when going inside the caverns.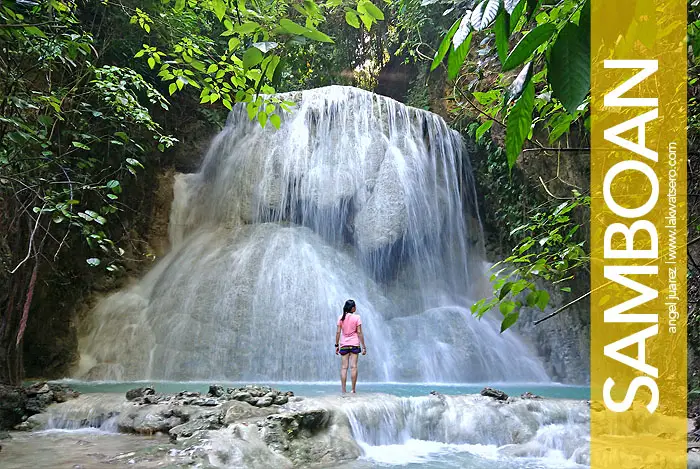 How to Go to Aguinid Falls: From Samboan town proper, ride a tricycle or motorbike to Aguinid jumpoff at along the main road of Barangay Tangbo. From the main road, walk for approximately 10 minutes to reach the registration area. The trek to the waterfalls and back take at least an hour. Entrance fee is P20, local guides are required and readily available on tip basis. Samboan is around four hour by bus from Cebu City, fare is not more than P200.

4. Inambakan Falls
Calabawan, Ginatilan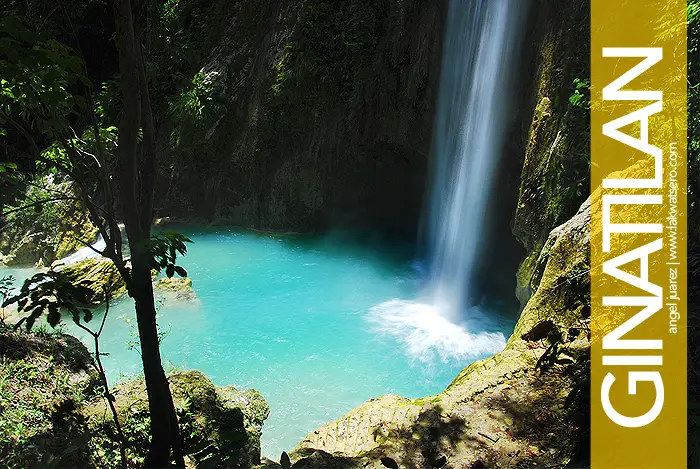 It's quite surprising that despite the grandeur of Inambakan Falls, this beautiful gem remains generally offbeat.
Situated in the highland barangay of Calabawan in Ginatilan, Inambakan Falls is among the highest cascades in the province. The water comes from two smaller falls atop – Bugnawan and Kampael, dropping to a deep natural turquoise-colored pool.
There are myths and folklore attached to the place, and some say that it is enchanted. But if there is one thing certain, it is the fact that Inambakan Falls is an enchanting place!
How to Go to Inambakan Falls: Inambakan Falls is approximately four kilometers from the highway. To get here from Ginatilan town proper, catch a motorbike to take you to Barangay Calabawan (P100 per motorbike / round-trip). Entrance fee is P20. Ginatilan is roughly three-and-a-half hour ride from Cebu City, fare is P176 by bus.

3. Montpeller Falls
Montpeller, Alegria
What could possibly be Cebu's tallest waterfalls may not be the famed Mantayupan Falls of Barili. It could be the towering Montpeller Falls of Alegria.
Nested in the hinterland of Barangay Montpeller, amid the vast lanzones plantation, is Montpeller Falls, a towering horsetail cascade that could rival the recognized tallest in the province. It is composed of one major drop with few smaller cascades downstream. The main one drops to a boulder that dot the shallow catch basin. Simply majestic!
How to Go to Montpeller Falls: To get here, hail a motorbike from Alegria town proper to take you to Barangay Montpeller. The jump off is at the waiting shed along the main road. Trek for approximately 30 minutes amid a lanzones plantation to reach the site, guide may not be necessary as the trail leads only to the falls. Alegria is less than three-hour ride from Cebu City, fare is P113 by bus.

2. Dao Falls
Suba, Samboan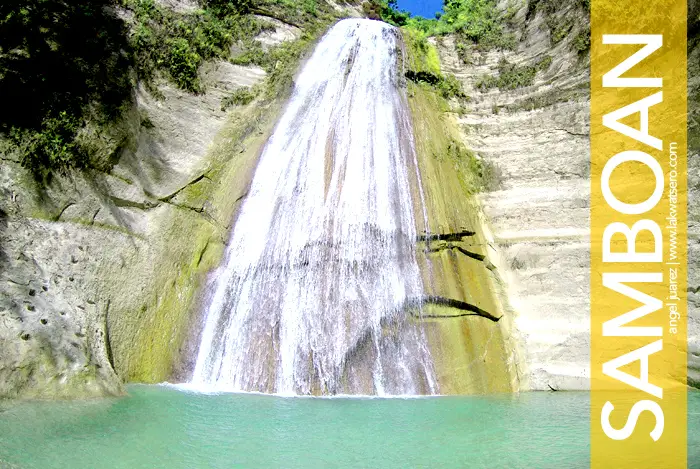 There's no easy way of getting to Dao Falls, specially after the rain when the trail becomes slippery. But it is a rewarding trek… a truly worthy one!
Dao Falls' uniqueness makes it stand out. A huge inclined limestone wall where the water flows before going into a shallow circular catch basin in beautiful turquoise, Dao Falls is a bomb! It looks like a ladle, a huge one!
How to Go to Dao Falls: From Samboan Poblacion, you may charter a motorbike to take you straight at the jump off at Barangay Suba, fare is P40 to P50 per trike, one-way, for two passengers. The trek from the jump off takes at least 30 minutes, passing a steel bridge and along the river sandwich by limestone walls, as if a gorge. Entrance fee is P20, tip-based guides are readily available at the site. Samboan is around four hour by bus from Cebu City, fare is not more than P200.

1. Kabutongan Falls
Looc, Malabuyoc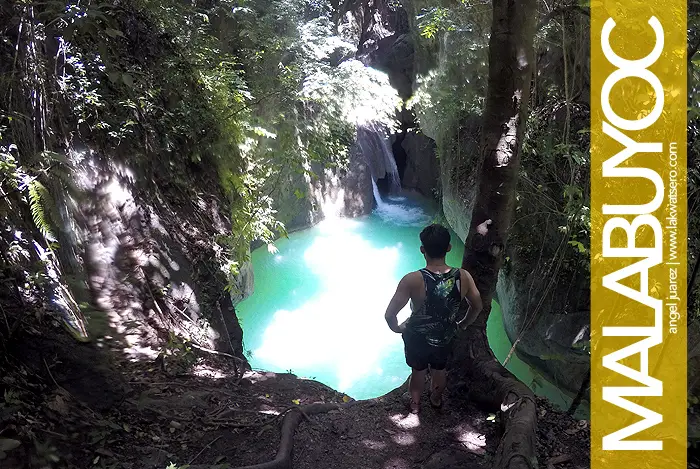 Surreal. Magical. Otherworldly!
Words will fall short and won't give justice to the divine beauty of Kabutongan Falls. The deep and perfectly turquoise large pool enclosed in a high stone wall adorned with foliage, the small cascade that covers a secret cave, the cave that hides an unexplored new dimension. Aaah! Kabutongan Falls will certainly blow your mind away!
How to Go to Kabutongan Falls: From Malabuyoc Poblacion, ride a tricycle to take you to Kabutongan, fare is P60 per trike, good for four. Trekking to the falls upstream takes around 45 minutes to an hour, along the river with smaller cascades and natural pools. Entrance fee is P10, guide is on tip basis. You may also rent a life vest for only P30. Malabuyoc is approximately three hours from Cebu City, fare is P115 by bus.