Life, indeed, surprises us when we least expect it. I have proven it true again in Anda.
Anda is among the province of Bohol's fast emerging hot spots. This coastal town on the eastern part of the island is blessed with manifolds of natural wonders – fine white sand beaches, enchanting caves and cave pools, hidden waterfalls and a lot more. And while the town is gaining popularity for these attractions, not everyone knows that deep down the surface is an equally surprising paradise that only few get to witness!
I have no expectation about Anda. Honest! Surely, Bohol is a destination for divers with its famed dive spots of Balicasag, Panglao and Cabilao. Even on its northern shore where the Philippines' only double barrier reef can be found is starting to make waves in the local diving community. But not Anda.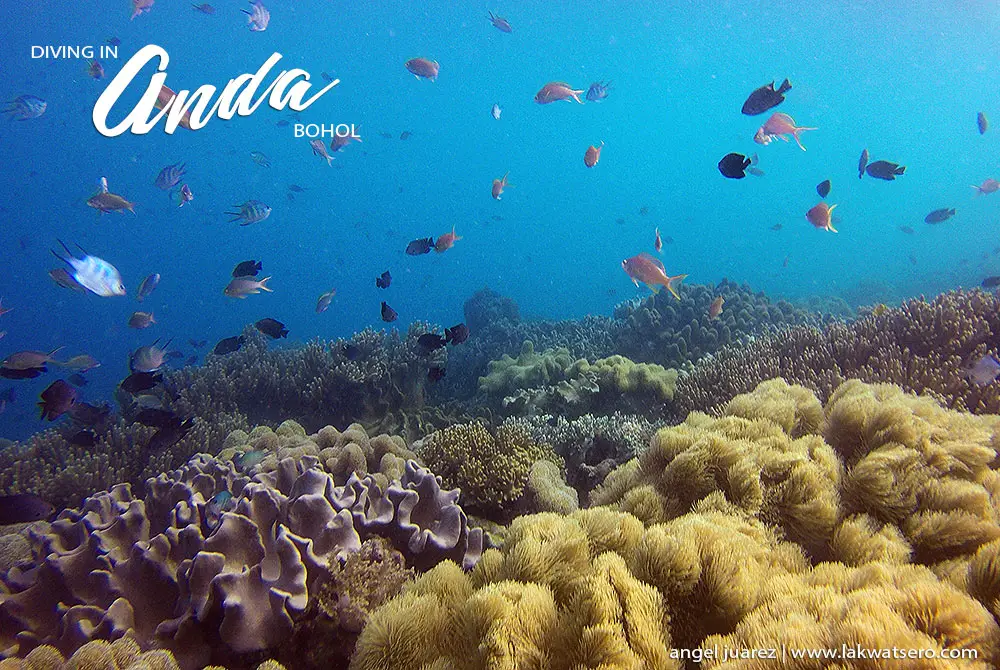 I have never encountered anyone who have dived in Anda before nor have ever read a write up about the place. I doubt if Ate Claudia have any idea as well. What matter to us, actually, is that there is a dive operator in the area and we often leave it to the place to surprise us. For years, our diving lives have become a quest to explore the depths of every corner of our archipelago, the known ones and the offbeat spots.
Our quest brought us to Anda.
There are around four dive operators in Anda but we ended up in Blue Star Dive Resort, an upscale dive resort with a 5-star PADI shop located some seven kilometers from the town proper and just stone throw away from the town's known dive sites.
The resort was quiet when we arrived at mid day. We were up for two dives in the afternoon. Karl, our dive master, eventually arrived and enthusiastically prepared for the dives. He seemed so excited to show to us what their waters offer.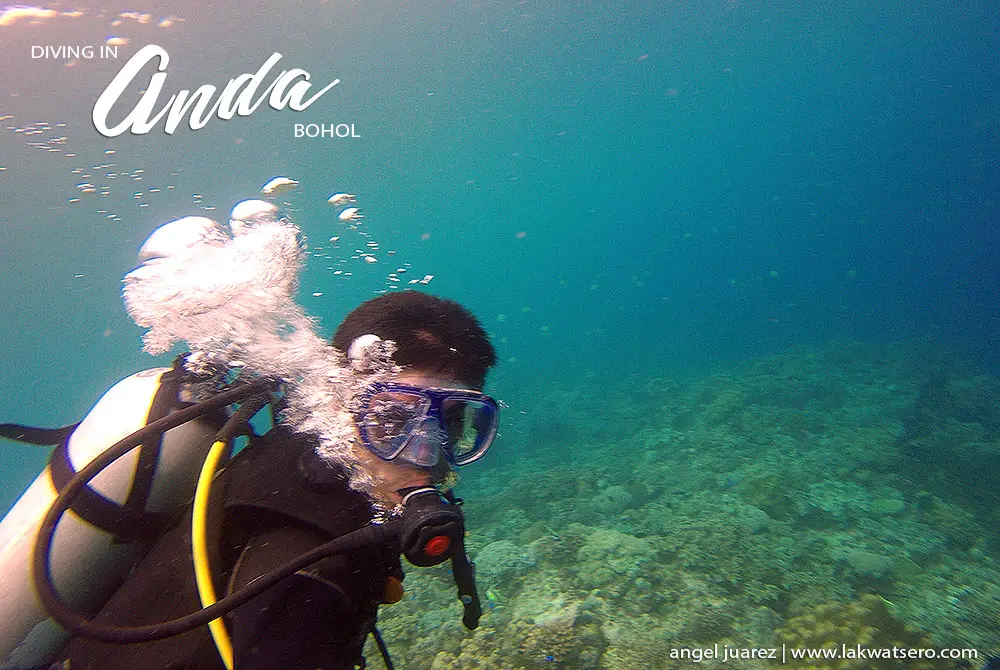 Paradise Garden: A Haven for Sea Turtles
Our first dive was in Blue Star's house reef, a site they call Paradise Garden located just five minutes boat ride from the resort. Our entry was on a gradually descending slope adorned with different species of soft and hard corals, sponges, sea fans, hydroids, feather stars and variety of small tropical fishes. The visibility was awesome despite the mild afternoon current. It was a promise of a great dive.
Eventually, we reached a wall carpeted with corals of different colors and sizes and shapes, hard and soft. The wall is home to variety of fishes and marine creatures. Jacks, triggers, snappers, lions, scorpions, angels, banners, moorish idols, anthias and more reef species.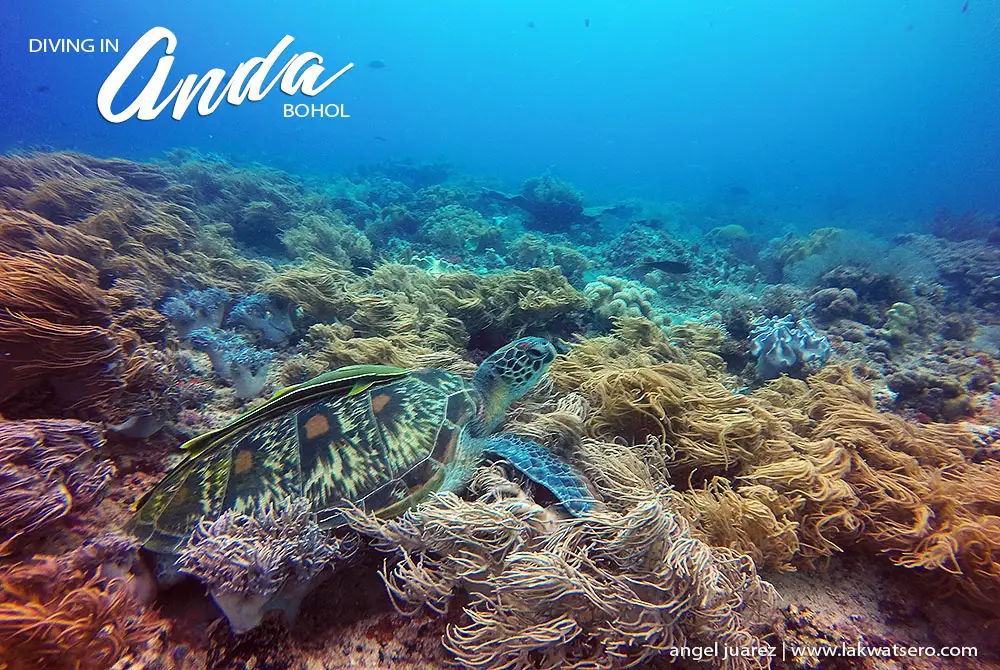 We ended up to a coral garden after drifting with the current. The coral garden was so wide and colorful, I was amazed. It was one of the most beautiful sites I have seen and dived. And it was made more vivid by the variety of fishes that thrive on it.
While circling around and hovering above the carpet of corals, a huge sea turtle appeared. Then another one of almost the same size showed up, and then another one, and another and another and another that I almost lost count. If I remember it right, there were more than 10, some were as big as me. Ahhh! It was a lovely pandemonium! We ascended after 60 minutes of underwater party.
Snapper Cave: Explosion of Colors
Despite the proximity to resort, we spent the surface interval on the boat listening to DM Karl's stories. Passed an hour, we were given the signal for our second descent.
The site is called Snapper Cave, a vivid wall accented with overhangs and crevices. There we saw variety of nudis branches, some are rare that we got to see only in Anda including blue dragon and fat yellow banana. We also see the two yellow frogfish which DM Karl was talking about! It was my first time to see yellow frogfish and they looked so lovely. There were also different colors of gorgonians, numerous bargibanti pygmies, snappers of course, crabs, shrimps, school of squids, banded sea snake, scorpion fish, stone fish and sea turtle, among others. It was explosion of colors!
We drifted with the current oblivious of our location since we were pretty enjoying the underwater show and ended up in Paradise Garden for our safety stop. It was a blissful 62 minutes underwater.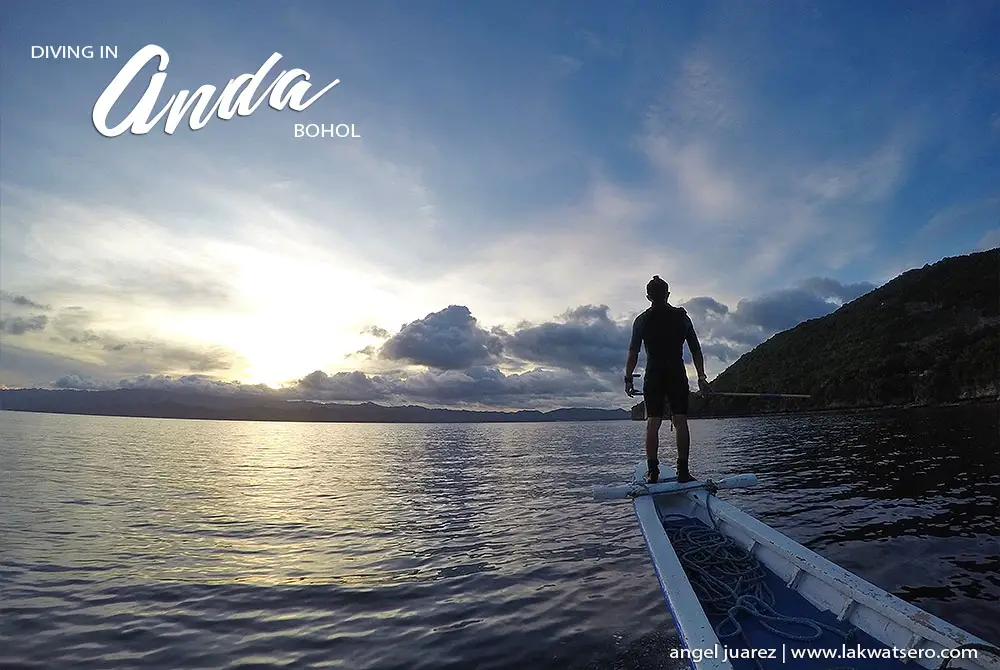 Wonder Wall: Mandarin Fish Country
A night dive was not in our plan but who are we to resist a promise of guaranteed sighting of the Mandarin Fish? So we gave in to DM Karl's invitation for one more descent. It has been three years since my last sunset dive… three long years! So as soon as we learned of the guaranteed sighting of this nocturnal species, we decided to descend for a dark dive.
We went back to the resort first so the staff could prepare the equipment while on our surface interval. Ate Claudia and I just lazed at the lovely pool side of the resort. There were only few guests checked in at that moment that we felt we were exclusively serve.
At sundown, we boarded back to the boat for a short ride to the Wonder Wall. I was anxious as excited, as always, for the night dive. I find scuba diving at dark interesting as it offers different scene and knowing that there are marine creatures that are active only at night.
Our entry was on a gradually descending slope with patches of dead corals. We glided fluidly, gradual and careful not to make disturbing noise. Then DM Karl pointed with his torch a colorful creature hidden in the dead corals. There, a Mandarin fish! The little creature with iconic colorful pattern which was elusive to us in Balingoan. Then I saw another one, and another, and another. They seem to be so many! I observed, closely and carefully, amazed with the very sighting of this unique fish.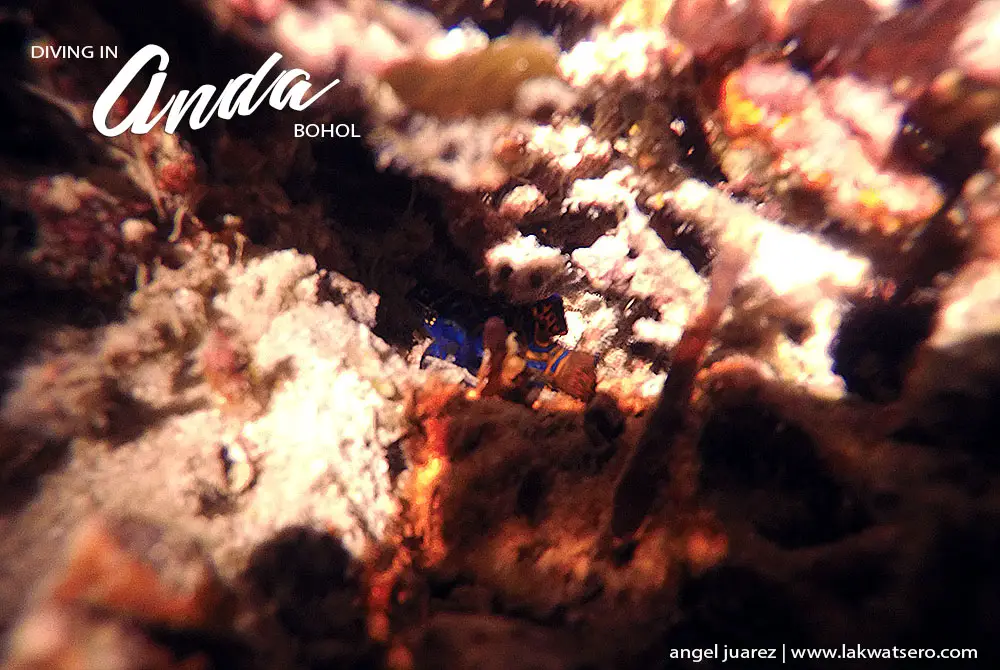 Then while we were busy observing the nocturnal creatures, poof! I noticed that I lost my GoPro! It was a night dive in search for the rare Mandarin Fish turned into a search for missing GoPro. It took us half of our dive time or around 20 minutes for the search which DM Karl eventually found on the surface. Thankfully, we already saw what we wanted to see. I saw four Mandarins taking refuge in the dead corals some 15 meters deep. DM Karl said there seems like a colony out there.
It was just three dives and yet I think I found my newest favorite dive destination in the Philippines. Anda definitely exceeded our expectations that we were already looking forward on coming back. Generally unspoiled and unexploited, the dive sites of Anda are divine! Anda is divine!
Info Bits
Dive Season: All year round, best months are from December to June.
Rate: Average dive rate is around P3,500 for two dives.
Recommended Dive Operators: Blue Star Dive and Resort
Recommended Dive Sites: Paradise Garden, Shark's Point and Wonder Wall.
How to Get to Anda
By Plane
From Manila
Catch a plane to Tagbilaran City, the capital of Bohol. Philippine Airlines, Cebu Pacific and Air Asia have daily flights from Manila to Tagbilaran via their new airport in Panglao. From Panglao Airport, flag a tricycle a taxi or mini-bus to take you to Dao Terminal then catch a bus (P100) or van (P120) to Anda at Dao Terminal, travel time is two to three hours.
By Fast Craft or Ferry
From Cebu
Supercat and Ocean Jet Fast Craft have multiple departures daily from Cebu City to Tagbilaran City, travel time is around two hours. Meanwhile, Cokaliong, Lite Shipping, Trans-Asia Shipping and F.J. Palacio Lines also have regular ferry or RoRo departures with varying frequencies daily or weekly, travel time for slow ferry takes four hours. From Tagbilaran Port, flag a tricycle to take you to Dao Terminal and catch a bus (P100) or van (P120) to Anda at Dao Terminal, travel time is two to three hours. You can book your ferry ticket from Cebu to Bohol below.
BOOK YOUR FERRY FROM CEBU TO BOHOL
From Larena, Siquijor
Lite Shippine Corporation has multiple departures weekly from Larena, Siquijor to Tagbilaran City, travel time takes at least four hours. From Tagbilaran Port, flag a tricycle to take you to Dao Terminal and catch a bus (P100) or van (P120) to Anda at Dao Terminal, travel time is two to three hours. You can book your ferry ticket from Siquijor to Bohol below.
BOOK YOUR FERRY FROM SIQUIJOR TO BOHOL
From Nasipit, Cagayan de Oro, Camiguin and Dumaguete via Jagna
Ocean Jet has daily fast craft from Dumaguete City and Cagayan de Oro City (via Camiguin) to Jagna, three towns away from Anda, travel time from Cagayan de Oro is three hours, and two hours from Camiguin or Dumaguete. Trans-Asia Shipping Lines have mulltiple departures weekly from Cagayan de Oro City for nine-hour journey while Cokaliong Shipping Lines serves Nasipit to Jagna route once a week for a travel time of five hours. From Jagna, catch a bus or van going to Anda, travel time is one hour. You can book your ferry ticket from Nasipit, Cagayan de Oro, Camiguin and Dumaguete to Bohol below.
BOOK YOUR FERRY FROM CAMIGUIN TO BOHOL
BOOK YOUR FERRY FROM CAGAYAN DE ORO TO BOHOL
BOOK YOUR FERRY FROM DUMAGUETE TO BOHOL