Southern Leyte is starting to create buzz among scuba divers for having unspoiled dive sites that offer a whole new diving experience, not to mention a chance to interact with the gentle giants – the very rare Butanding or Whale Sharks. An opportunity to visit the place is truly something unforgettable and fun, and this how our dive trip went.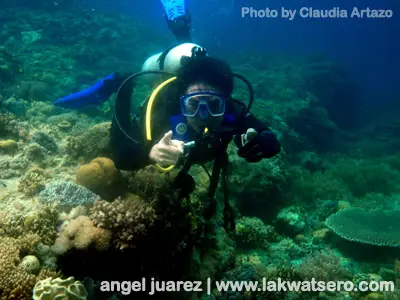 March 20, 2010, Saturday dawn, fresh from a six hour ferry ride via Cokaliong Shipping's M/V Filipinas Dapitan from Cebu City, my good friend and dive buddy Ate Claudia and I arrived at the port of Maasin City at three o'clock in the morning for our dive in Sogod Bay on the same day. We rode a passenger multicab with a special trip early morning to service those arriving ferry passengers. The special trip costs P50 per passenger, not bad since the normal day rate is at P35 per pax.
The gate was closed but unlocked and the lights were off when we reached Peter's Dive Resort in the coastal town of Padre Burgos around four in the morning. We sneaked in and met the guard in the lobby.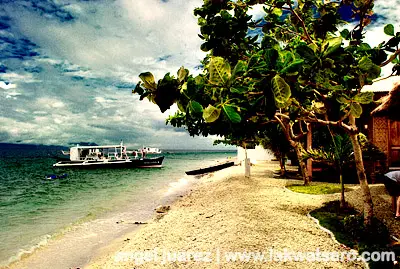 We were given a huge air conditioned room, big enough for the two of us. As soon as we entered the room, we  readied our diving stuff before taking advantage of the few hours left to nap.
We woke up at eight and quickly had our breakfast at the resort's restaurant. Our first dive was scheduled at 9 o'clock, good thing we already prepared our stuff. Shortly after we finished our breakfast we were ready for our dives.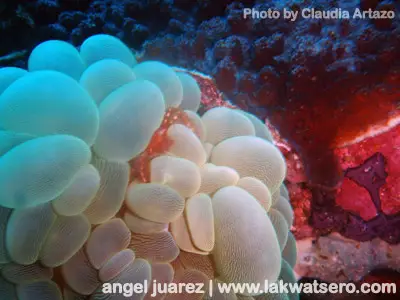 Our first two dives were on Limasawa Island that day. Limasawa Island is known in history as the site of the first Catholic mass in the Philippines during Ferdinand Magellan's expedition in 1521. The island is less than an hour boat ride from Padre Burgos and home to numerous dive sites in Sogod Bay. The water surrounding the island is a marine sanctuary and houses five dive sites – Adrian's Cove, Rio's Point, Zach's Cov, Dag's Hole and the Limasawa Southend.
Zach's Cove is where we first descended for a wall dive. The unspoiled site is home to numerous gorgonians, groupers, trumpet fish and other colorful underwater creature. The visibility was great and we stayed at a maximum depth of 30 meters. We ascended after 50 minutes with 20 bars of air left on my tank.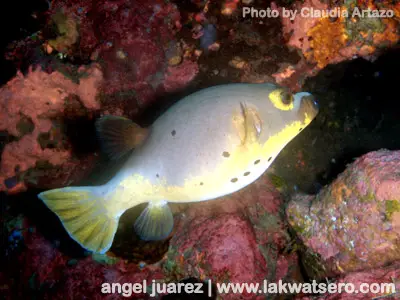 After an hour of surface interval, we had our second dive at Adrian's Cove. The site has also a wall with a lot of huge and colorful corals. Some oversize pufferfish, sea squirts and other tropical fishes roam in the area. We stayed at 24 meters maximum for 45 minutes, when we ascended, 20 bars of air was still left on my tank.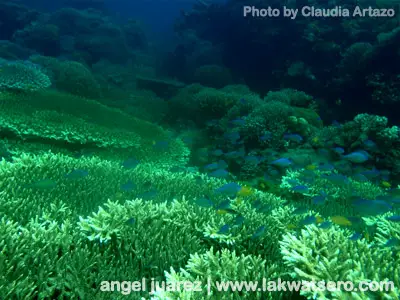 We went back to the resort after our first two dives for our late lunch at the resort's restaurant, the foods taste good although a bit pricey. We just stayed in the room the whole afternoon and had our much needed naps before our night dive.
At six o'clock in the evening, we started preparing for our night dive on their house reef. It was my first shore entry and it was not as easy as I thought it would be. We stayed at maximum depth of 14 meters for 58 minutes, where we saw seven variants of nudibranch, different varieties of crabs, scorpion fish and moray eels. We finished the dive with 40 bars of air left in my tank.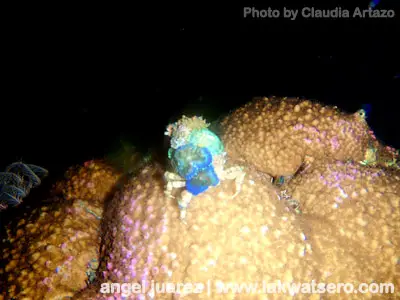 After the tiring but very fulfilling day and a serving of vegetable salad for dinner, we surrendered to the comfort our bed and called the day off.
We didn't join the whale shark tour scheduled on Sunday because Ate Claudia and I felt that our bill was already on our budget limit, instead we just went to the church in Padre Burgos and spent the rest of our stay at Peter's Dive in our room. We checked out at 4PM and arrived at Maasin City by 5PM. We purchased our return trip ticket to Cebu at Cokaliong office in Maasin port, the ferry was scheduled to depart at 10PM. Luckily, we found a newly opened bakeshop near the port with free wifi – Panny's Bakeshop, where we had rounds of coffees and breads until they closed at 8PM, just in time for boarding.
I spent close to around P6200 for the entire dive trip, that includes the two day dives, a night dive, dive equipments, 2 nights accommodation, foods and the round trip ferry from Cebu City to Maasin City (P571.00 one-way) but exclusive of airfares. The rate was already discounted. Quite heavy on my wallet but the experience was priceless.
It will take some time for me to get back in Sogod Bay, time will tell when it will be. Lucky me for having an opportunity to see the rich marine life of the area and for those who have not seen it yet, what are you waiting for? Head to Padre Burgos now because the rumor is true, "it is so good in Sogod!"