The bus traveled for half an hour from Changu Narayan to my next stop, the Bhaktapur District. By noon I was already walking along the main street leading to the ancient city.
Bhaktapur is the third largest city in Kathmandu Valley and the capital of Nepal during the great Malla Kingdom that lasted up to the second half of the 15th century. Situated 12 kilometers east of Kathmandu, the current Capital of Nepal, it is known for its elaborate temples, elegant art, fabulous culture and festivals, traditional dances and indigenous lifestyle of Newari community. Listed as a UNESCO World Heritage Site, Bhaktapur has three ancient squares that house some of the oldest and mesmerizing temples of Nepal – Dattatraya Square, Taumadhi Square and Bhaktapur Durbar Square.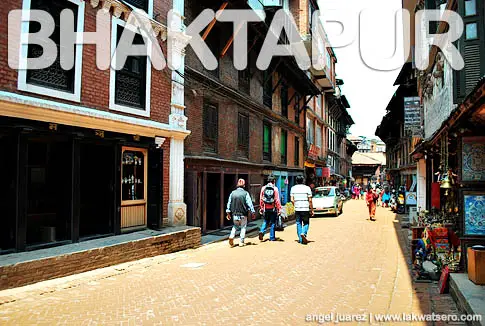 I retreated upon knowing that a 1,100 Rupees entrance fee is being collected to foreign tourists to allow entry to the ancient Bhaktapur District. My budget was already depleting so I decided not to pay. I supposed there are other entry points leading inside, perhaps small alleys like in Kathmandu Dhouka Durbar Square.
I was right, there was no guard nor ticket booth on the street after the main entrance. The street leads to Dattatraya Square.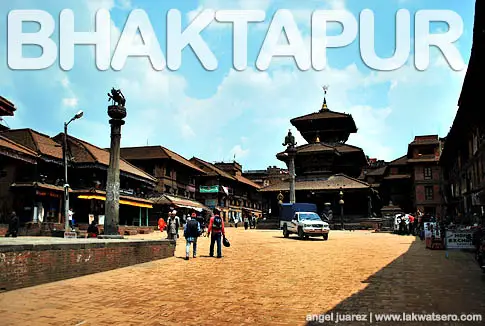 Dattatraya Square is a small complex of historic monuments and structures including many wondrous Maths or residential mansions and temples. The seat of the Malla Kingdom until the 15th Century, its main attraction is the Dattatraya Temple that constructed during the reign of King Yaksha Malla. It is believed that Dattatraya Square is the center of Bhaktapur, during the initial periods of its founding.
It is the smallest of the three squares in Bhaktapur District. I left the area after a while to look for other squares. Without a map, I tried to navigate around on my own, hoping to reach Taumadhi and Bhaktapur Durbar Squares. I passed through small roads and alleys until I realized that I am going nowhere so I surrendered. I approached a group of girl students for directions and they asked me to follow them.
"Is that the Durbar Square?", I asked, pointing to a tall temple.
"No, that is Nyataponla Temple", one of the girls replied.
Nyataponla Temple in the Taumadhi Square is a five-story pagoda built by King Bhupatindra Malla in 1702 A.D dedicated to Hindu Goddess Siddhi Laxmi. It is Nepal's tallest pagoda temple, famous for its massive structure and subtle workmanship. It stands proud in the square and I was amazed of its beauty so I told the girls that I will stay there for a while. They pointed the small alley that leads to the Durbar Square, just a few steps from the Taumadhi Square. I thank them and they left with with smiles.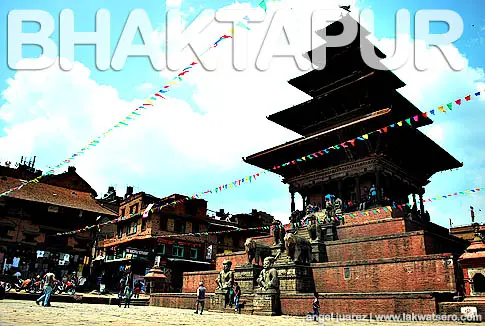 Taumadhi Square houses ancient beautiful structures aside from Nyataponla Temple. This include The Bhairav Nath Temple and Til Madhav Narayan Temple. Located beside the Durbar Square of Bhaktapur, it is the center of Bisket Jatra, the biggest festival of the town scheduled every April. It is another beautiful complex with restaurants and shops selling colorful souvenirs and arts.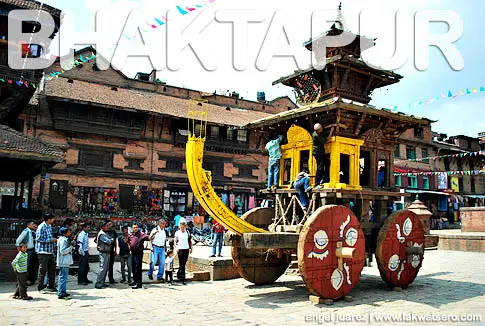 I climbed to the top floor of Nyataponla Temple to have a bird's eye view of the square and stayed there for a while just to watch people and the surroundings. After a while, I proceeded to nearby the Bhaktapur Durbar Square.
Bhaktapur Durbar Square, the capital of Malla Kingdom until 1769 A.D is the biggest square in Bhaktapur District. Its prominent landmark is the Fifty-five Windowed Palace that showcases elaborately carved windows and doors and now houses the National Art Gallery, a museum known for its collection of paubha scroll paintings and breathtaking artworks in stone. Other historic structures inside the Durbar Square are The Golden Gate, Taleju Temple, Statue of King Bhupatindra Malla, The Big Bell, Chyasin Mandap, Siddhi Laxmi Temple, Vatsala Temple, Yaksheshwor Temple, Shiva Temple, Bhandarkhal Complex and Chatu-Brahma Mahaviharand, Indrayani Temple, Balakhu Ganesh Temple, Tripura-Sundari Temple and the Char Dham.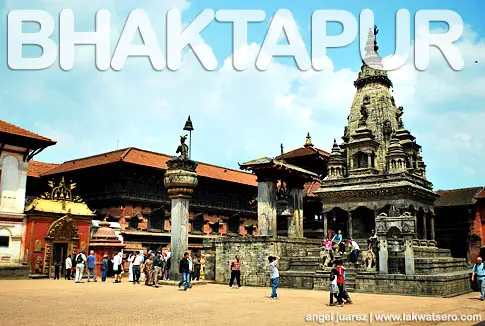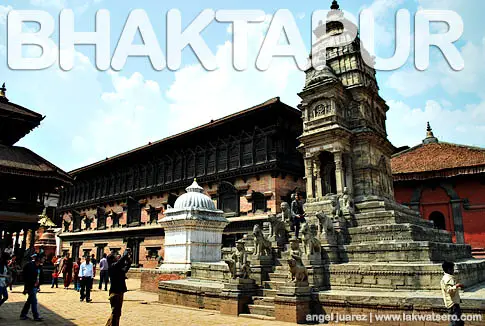 Tired after a day of walking from Nagarkot to Changu Narayan and then around Bhaktapur, I sat in one of the temples of Durbar Square for a moment and rested. A local guide approached me, offering his service but I politely declined. He was surprised when he found out that I am a Filipino. A Manny Pacquiao fan, he showed me his boxing pictures and animatedly threw some punches in the air.
I left him and I wandered around the Durbar Square until it was time for me to go. I walked to the nearby bus park and waited for the bus to Kathmandu.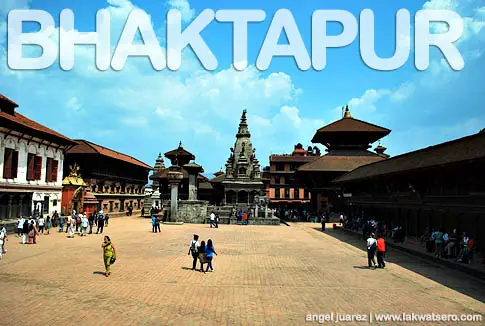 While waiting for the bus, I met a solo traveler and a blogger from Chengdu in Sichuan Province of China. He just came from Tibet and crossed the border to Nepal. We exchanged stories. I told him how I wanted to see Tibet and how hard it is for us to enter the kingdom. He smiled and showed me his government issued identification that allows him to enter Tibet freely. He mentioned that he is going to the Philippines before the year ends and to Hong Kong afterwards. I gave him some pointers and tips on places that should not be missed in the Philippines and advised him to reserve Hong Kong flights with Dial A Flight. We both get off in Ratna Park and walked towards Thamel where we parted our ways.
While walking through the maze-like streets of Thamel looking for Chitwan Guesthouse in Chetrapati area, I saw a familiar signage – Sagarmatha Bazaar. The booking office of The Last Resort is located there so I dropped by to book a bungy jumping day trip for the next day at 94 US Dollars.
After a few minutes of walking around Thamel, I found my place. I was dead tired after a day of walking but excited for the next day.