April 8, 2012, at half past seven in the morning, I checked out at Nagarkot Guesthouse and started walking to Changu Narayan.
Changu Narayan is the oldest and most revered temple in Kathmandu Valley, an epitome of culture, religion, history and faith since its establishment in 4th century A.D. One of its attractions include a Vishnu stone carving with ten heads and ten arms. It is approximately 15 kilometers downhill from Nagarkot and according to some blogs that I've read, it can be reached for three hours by foot. For me who loves walking, three hours is just a walk in a park, not to mention, it is a great way to burn some fats.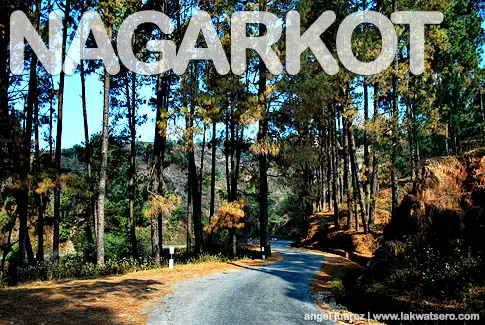 So I decided to walk. At first it was easy, the cold weather and the striking scenery were great relief. Walking along the main road passing by locals who were generous with their smiles. I lost count of how many "namaste!" greetings I received and gave in return. Sometimes, a greeting was followed by questions and small talks – "where are you from?", "where are you going?", "you alone?". Every conversation ended with the direction to Changu Narayan. The people of Nagarkot made the walk fun and easier with their kindness and hospitality.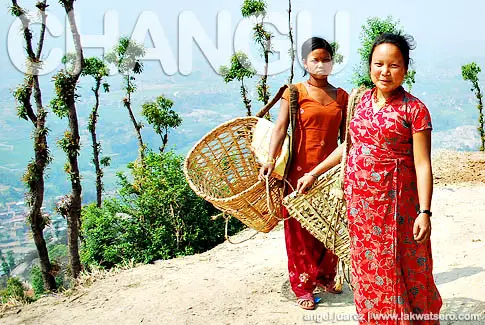 After two hours of walking, I finally reached the main junction and from there the road became a test of endurance. It was mostly uphill, unpaved and rough. Without a guide, unfamiliar trekkers will surely lost in the trails. I was lucky that there was an American tourist and a local guide ahead of me, also going to my destination. I just followed them.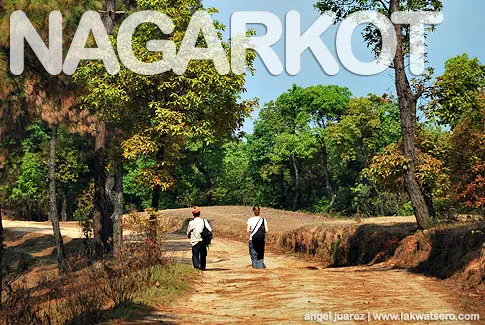 Exhausted and tired, I reached the gate of Changu Narayan after an hour of walking from the junction under the scorching heat of the sun. I paid 100 Rupees for the entrance fee.
I stopped at a store selling drinks and rewarded myself with a cold soda before going up to the temple. While at rest, I had a conversation with the store attendant, a Nepali guy in late 20's who happened to know some Filipino words – "kamusta", "pare", "salamat". He used to work in Dubai and learned a little of our language from his Filipino co-workers and friends. I bid him goodbye after I finished my drink.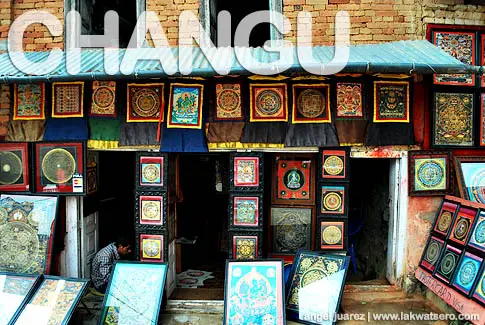 I leisurely walked to the street made up of granite steps leading to the temple, occasionally stopping at the shops along that are selling Nepalese and Tibetan arts, paintings and other memorabilia.
When I entered the temple, I was amazed once more of the unique and beautiful architecture of the ancient structures inside. I was out of words and my eyes were wide, completely bewildered. Who would have thought the Nepalese ancestors would build magnificent structures in a remote village of Kathmandu Valley? Changu Narayan is truly a beautiful world treasure.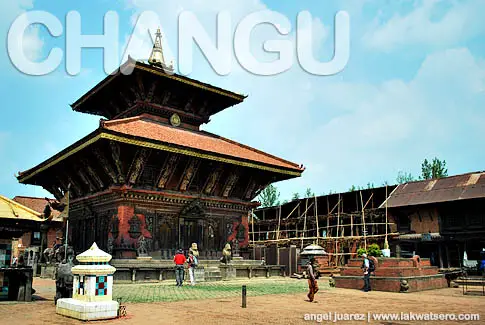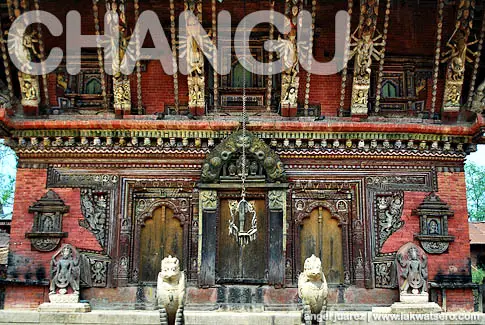 I sat on a shaded corner of the compound and spent some time resting while marveling at the amazing scene in front of me. Before noon, I decided to leave the temple and head back to Bhaktapur. Good thing that there are buses at the gate that leave every half an hour going there. I boarded the one that left at half past eleven, and by noon I was already in Bhaktapur.