For mountain bikers based in Metro Manila and nearby provinces, a mere mention of "Shotgun" will surely illicit anxious faces. Not the anxiousness of excitement but more of challenge and restlessness.
Shotgun is a famed and prized destination for mountain bikers in the Metropolis. Located in Mt. Mararat, San Mateo, Rizal, it is popular for its notoriety and difficulty. An approximately seven kilometer of paved road on a tough uphill slopes ending up on a trail.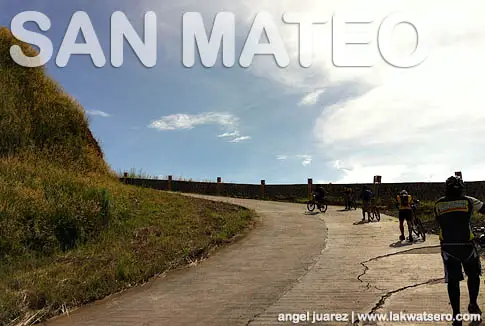 It was my second ride and with me on this trip was my Las Piñas Environmental Developement Awareness League (LPedal) brothers who rode all the way from the south. Coming from Manila, I just met the group at Fort Bonifacio Taguig on the way to San Mateo, Rizal via Marikina. The ride from Fort Bonifacio to San Mateo took two hours including all the stops.
From Marikina to Shotgun, I used a different bike lent to me by Arnel aka Vice, an LPedal member and resident mechanic of Bike Stop Bike Shop in Talon Uno, Las Pińas. My Trek's fork was damaged by the unfortunate incident in Silang and they thought it wouldn't stand the trail.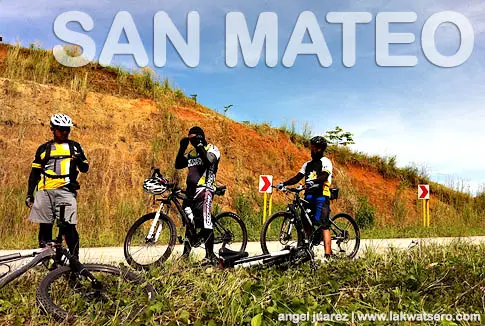 We had a short stop at Aling Tina's Eatery (or Aling T's) in San Mateo, a famous stopover for mountain bikers in the north and the equivalent of Aling Pina's (or Aling P's) of Silang, Cavite in the south. Shortly after, we proceeded to Shotgun junction and from there it was mostly inclined road. When the uphill started, my energy started to mellow down. On my first kilometer, I already felt exhausted and wasted. It was a test of will and endurance. The scorching heat of the sun and the uphill slope of Mt. Mararat connived to give us the biggest challenge of the day. Our supply of water was also already running out. I almost gave up but a part of me wanted to finish what I have started. I assume, others on my group felt the same.
We walked our bikes and rode on zigzags, frequently stopping on shades to regain ourselves. On one of the stops, my bike's wheel just burst while at rest, probably because of the heat. But the energy and willingness of the group were contagious. We continued our pursuit of satisfaction despite the tough rendezvous.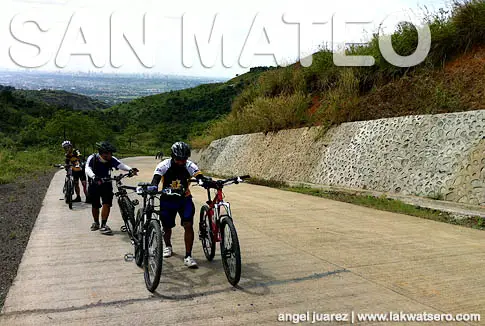 We were in jubilation when we reached the waterfalls, it marks the last stretch of uphill paved road, around 40 degree inclination and 200 meters long. It is the crowning glory of the ride before the trail starts.
Another bad luck hit me in the trail when my other tire got flat, it was the front this time. Thank goodness, my groupmates were quick to fix everything and we were back on track. It was a grueling three hours in the seven kilometer Shotgun and we ended up in Timberland. When we reached the Biker's Cafe, others were already resting and waiting for us.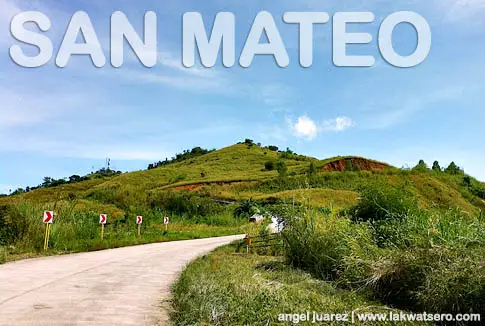 It was a tough and challenging day and  I was very proud that I survived Shotgun. I wouldn't have done it without LPedal. Their patience, support and encouragement boosted my morale to conquer this one of the hardest mountain biking destinations in Greater Manila Area. The walks and frequent stops do not matter now, what is important is that we were able to outdo ourselves and exerted every possible effort to go beyond our limits.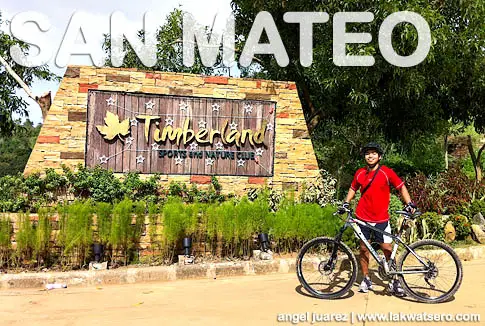 Today, whenever I hear bikers say "Shotgun", I can't help but smile. Just the thought of it evokes anxiousness. I guess I had enough of Shotgun for now, but I know I will still go back there someday and I will make sure I will do better 🙂