Eversince I've seen the image of Lussok Crystal Cave, the dream of going to Luna haunted me. There's something about the place that got me, something mystifying. I was fascinated and transfixed by the beautiful aura that the image radiates. I should see it by my own eyes.
Luna is the de facto seat of government of the province of Apayao, a province under Cordillera Administrative Region. Although the town is regionally alligned with Cordillera, it is in fact generally a lowland town, bounded in the north by the town of Abulug of the province Cagayan.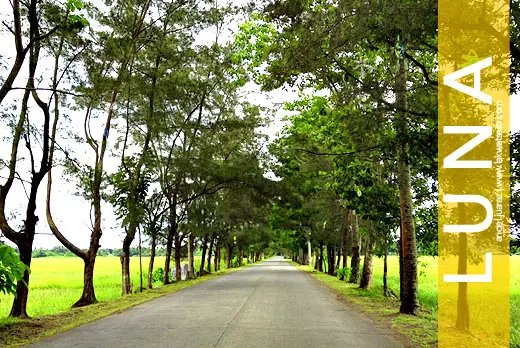 Luna and the entire province of Apayao is out of the usual tourists path but unknown to many, it has fair share of natural attractions that makes it a promising eco-tourism destination. It is dubbed as the "Show Window of Apayao", the premiere tourist destination of the province and I believe time will come that the province will shine, and I would like to jumpstart it as early as now.
So I headed to Luna last year to crossout one item in my bucket list. I boarded the night bus of Florida Bus Line from Sampaloc to Junction Luna in Abulug, Cagayan that traveled for 12 hours via Ilocos route. By eight in the morning of the next day, I was already in Luna Junction and after fifteen more minutes of trike ride, I reached my destination! Welcome to Luna, Apayao!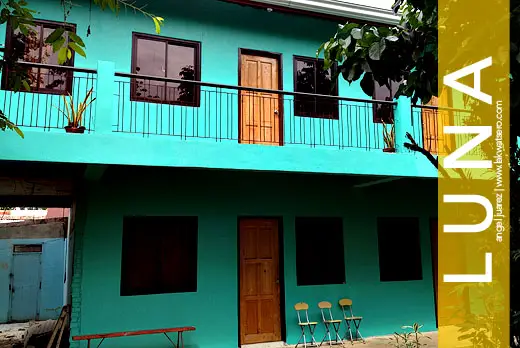 Armed only with old information from the internet I was generally clueless about the town. The information on the web are either outdated or lacking, the scarcity of relevant and up to date information made me want to go to Luna more.
First concern was accommodation, my research yielded Versola's Transient and two other establishments, all with no contact numbers provided. So I asked the trike driver to bring me to the first one, Versola's, who happens to be owned by a family of politicians. But they no longer offer accommodations, instead they led me to the town's center at the back of Landbank, just a short walk from Versola's.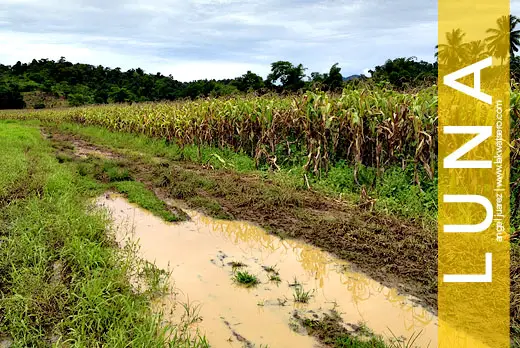 After a few walk, a streamer caught my attention. "Village Guest House" it says, complete with contact information to which I dialled quickly. It was Mircha, daughter of the owner, who answered on the other line and all of a sudden, I already have a room. A cheap one at P250 per night. Mircha told me to wait for Kuya Nar, the caretaker, who arrived in his motorbike shortly.
Kuya Nar fixed my room and was so helpful on attending to my needs. I asked him to help me find someone to guide me to Lussok Crystal Cave, Bayugao Falls and Allabang Cave. He drove his motorbike away and when he came back, he was with another guy in a motorbike – Kuya Bobby Agite, my guide.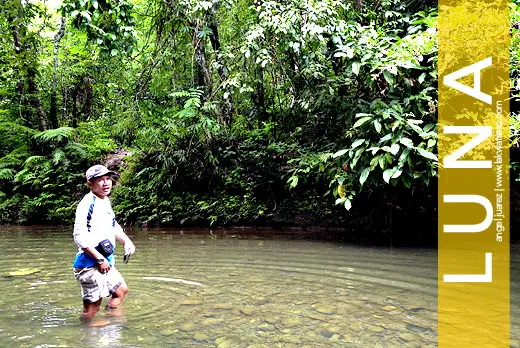 After a brief introduction, I rode on Kuya Bobby's back and off we went. It was a long road going to our first destination –  Lussok Crystal Cave. The road is mostly rough, muddy and grassy trail but Kuya Bobby made sure I was comfortable and at ease. He opened up his life story en route to our destination. I can say that his life as a family man is interesting and entertaining.
We crossed two rivers and muddy trails before Kuya Bobby stopped and parked his motorbike. From there, we traversed a slippery trail that leads to a river and the mouth of Lussok Crystal Cave.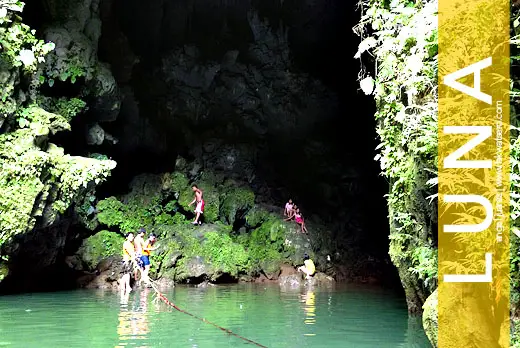 Lussok Crystal Cave is a seven-chamber cave in the rocky slope of Barangay Dagupan that is adorned with beautiful stalactites and stalagmites. It is navigable through an underground river system that flows freely from end to end. The river is around five meters wide and its water is approximately four meters deep. There's no other way of going into the cave but to swim accross the emerald water. I am not a good swimmer but I had no choice, thankfully there's a rope attached to a tree that I could hold on to.
There were other people in the cave when we arrived. Holding my camera phone, Kuya Bobby went ahead first, I followed shortly. I tried not to hold to the rope to build my confidence in swimming, it was just a short and easy swim anyway. When I finally reached the dry rocky area of the cave, lo and behold, a stunning view of the river and the cave opening was revealed from my vantage point. It was so beautiful! I told Kuya Bobby that the scene in front of me was the exact captivating image of Lussok Cave that my friend Kenneth showed me. There used to be a raft in the mouth of the cave, but it wasn't there that time. So we weren't able to navigate the underground river towards the end of the cave.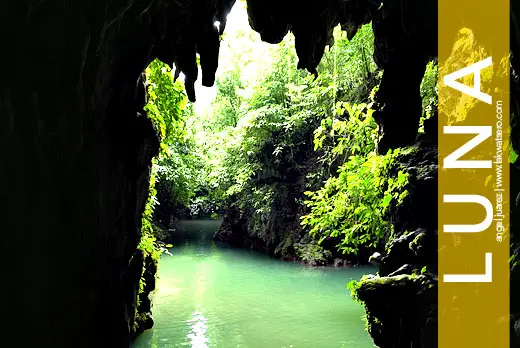 After spending some time in Lussok Cave, we decided to leave and head to our next destination – Bayugao Falls.
En route to Bayugao Falls, Kuya Bobby told me of an unnamed waterfalls in the forest of Luna. According to him, it was the biggest waterfalls he has seen in the entire Luna. I got interested but going there requires two days. Wow!
Kuya Bobby was a good story teller, I was hooked with his stories that I didn't notice the rough trail going to our next destination. I was surprised when he just stopped somewhere, we were already in Bayugao Falls.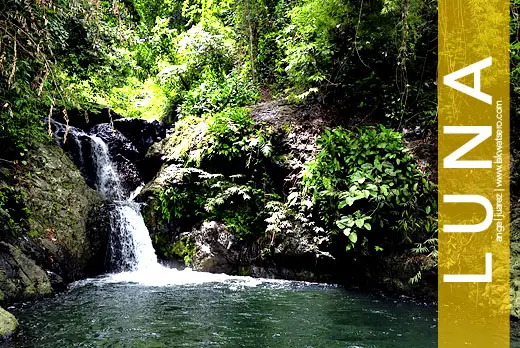 Located in the village of Turod, Bayugao Falls is a six layered waterfalls consisting of three decks of natural pool. The second deck is ideal for swimming. There were no other people around when we arrived, so we had the whole waterfalls all to ourselves. But I just took pictures of the falls and opted not to swim. We left afterwards and proceeded to our next stop – Allabang Cave.
Allabang Cave is situated in the village of Zumigui near the Poblacion, it is hidden in a rocky slope carpeted by green vegetation and overlooking the vast rice paddies. Going there, we needed to pass through a muddy trail. Since the cave is rarely visited by tourists, there is no clear path going to the entrance so we had difficulty finding it.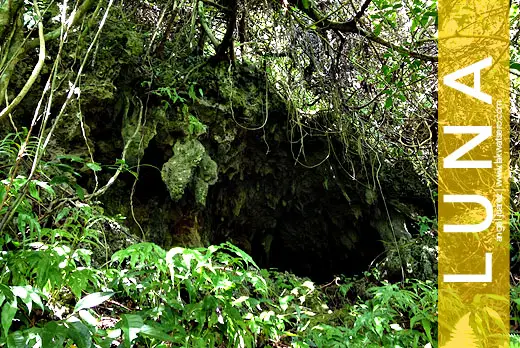 The cave has a small opening that can only fit one person at a time but inside is a huge chamber that can fit a lot of people. The smell of "guano" and the sound of the bats welcomed us inside. Kuya Bobby said that the cave is generally unexplored, there may be other chambers and openings that lead to somewhere. I didn't have a luxury of time to explore more since I have a bus to catch in the afternoon, we decided to leave.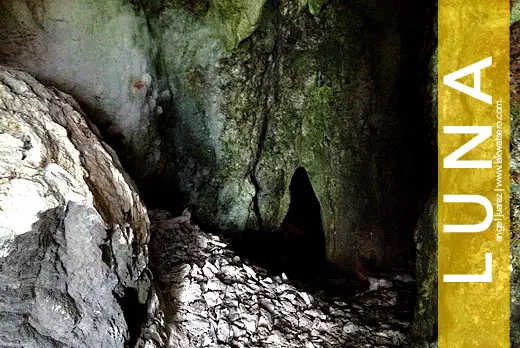 Back to the guesthouse, I had a short rest before packing up my stuff. I originally intended to stay in town for a night but with my primary goal of seeing the main attractions of Luna, specifically the Lussok Crystal Cave, I decided to cut it short and take the late afternoon bus to Manila. It was a long road to my city, but I was about to go home filled with new discoveries from one of the least explored areas of Cordillera. There are more in Luna than Lussok Crystal Cave, Bayugao Falls and Allabang Cave and I am looking forward someday on spending a day or two in town to get to know Luna well. But for now, thank you Luna for a short yet sweet experience!