February this year was my fourth consecutive years in the town of Sablayan, and supposed to be in Apo Reef too. As if all first timers, our group couldn't hide the excitement. We could almost see the white sandy island, its the lighthouse and the stunning sunset as well as the sea turtles, sharks, humpheads, schools of fishes and colorful corals that thrive on its water.
But our excitement was spoiled out by the unfavorable sea and wind conditions that made the two-hour boat ride to Apo Reef impossible.
To make the most of our quite long trip from Manila to Sablayan, we had to detour and make last minute decisions on where to go. Several destinations in Mindoro were considered including the islands off San Jose and Bulalacao, and even Puerto Galera. But we ended up exploring more of Sablayan and the nearby Pandan Island, a great decision, we realized afterwards.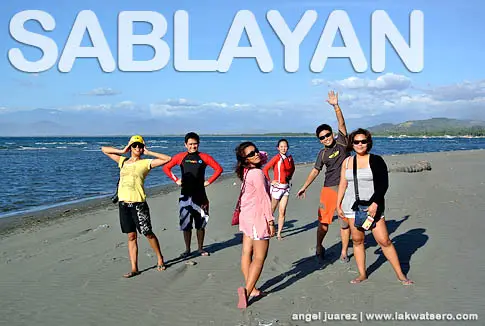 We stayed in Sablayan Adventure Camp per recommendation of Ate Helen and Ate Angie of Sablayan Tourism Office. Our beach front room was at a bargain rate of P1,500 per night, a basic one with an attic and seven beds but was quite big for the eight of us. The beach sand may not be white but it has great view of Pandan Grande and Pequeño islands, both so close to our shore and can be crossed using a kayak.
We prepared our lunch in the camp's open kitchen. Shortly after, we feasted with the typical easy to cook chicken adobo, canned foods and steamed rice. There was not much to do afterwards. The afternoon sun was at its peak and releasing its scorching heat so we stayed out of the water and killed our time in a cottage along the beach. Over stories, laughter, card games and drinks, our afternoon passed.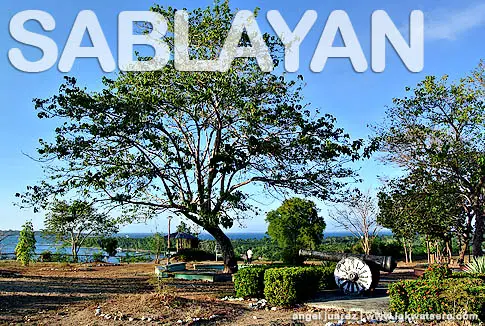 When the heat was already bearable, we walked along the beach to the lighthouse and the old church. Thirty minutes of walking and we reached Parola Park located on top of a hill where a modern lighthouse stands and overlooking the coastal area of Sablayan. It was a small yet beautiful park amid this rural town. Families,friends, kids and lovers frequent the place. Well it was such a sweet escape – the amazing backdrop and stillness of the place provide a romantic ambiance, a perfect place to celebrate love.
We went down before sundown with a quick stopover at the old church of Sablayan then back to the shore just in time for a show of ephemeral beauty – the sunset! Ah, a beautiful yet short sunset! Too short that the darkness quickly creeped from the western sky and in no time, the sky turned into a gradient of orange and purple. The placid water of Sablayan reflected the amazing hues of the sky and the almost still objects floating above. A beautiful twilight.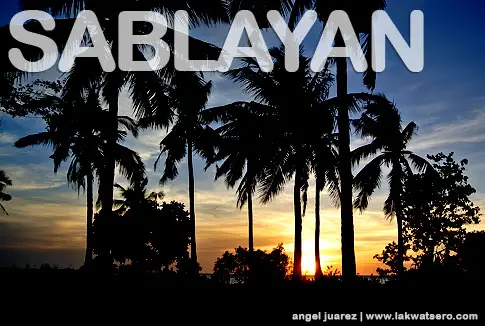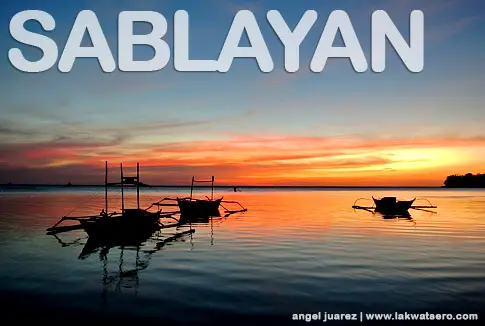 It was already totally dark when we arrived at the camp. We prepared and ate our dinner before calling it a night. The group decided to explore Pandan Island the next morning.
We woke up the next day excited for a day in the beach. We rented the glass bottom boat of the tourism's office of Sablayan at P800 per hour, which also fetched us from and to where we were staying. The boat fitted the eight of us with enough spaces to move around comfortably.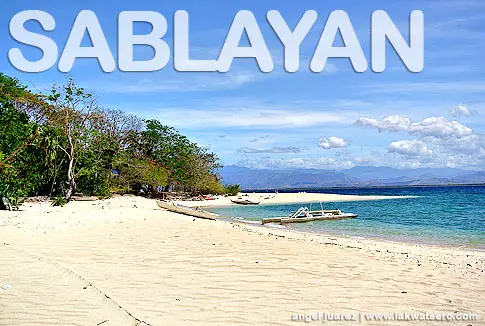 The boat traveled for 10 minutes and the underwater scene slowly changed. From dark with almost nothing to see, the glass bottom displayed vivid colors, manifold of corals and underwater species. Everyone was in amazement in every species we deemed rare. We exclaimed wow as often as we could, but a huge sea turtle, swimming in oblivion, put us all in chaos. It wasn't the first time I saw one but I, too, was amazed. It was so huge!
More sightings followed that we lost count of how many it was. Every sighting was punctuated by unimaginable amazement, of roaring wows and animated faces. We forgot to take pictures.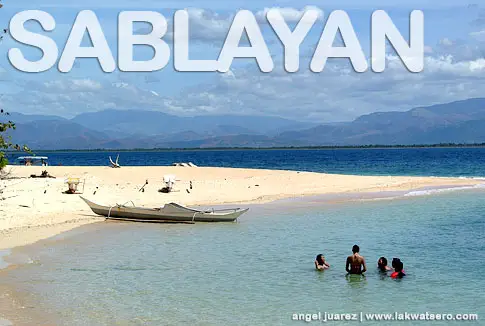 The boat stopped in a coral covered area where we went snorkeling then brought us to Pandan Island afterwards. We paid P155.00 each for the entrance and environmental fee.
It was our second time in Pandan Island but this was better than the first, way better. Except for few foreign tourists that were staying in the cottages, we were the only guests that day. The summer-like weather and the uncrowded ambiance made us enjoy our moment in the island, it was as if we own the beach! A perfect synergy of sun, sea, sand and a company of fun friends.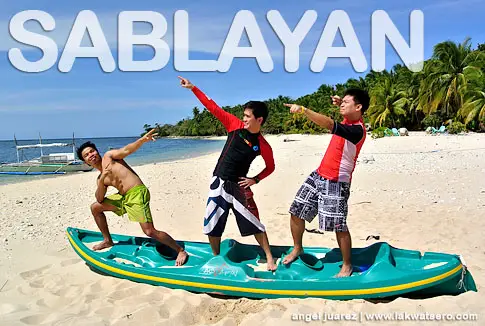 We left Pandan Island with smiles and happy faces. It was short yet sweet prelude to summer of 2013. It may not be as grand as Apo Reef but Pandan Island and the town of Sablayan both offer a worthy experience.
After lunch, we started our long journey back to Manila, with our longing for a beach weekend greatly fulfilled. Thinking of everything that transpired – the last minute changes in itinerary and unexpected detour – our decision to stay and explore more of Sablayan was right after all. 🙂