"When a mystery is too overpowering, one dare not disobey" – The Little Prince.
"There it is. We're almost there", I pointed the lighthouse to Gael. Standing on a white sandy beach dotted with big rocks, Gael smiled as she had the first glimpse of the lighthouse. We've been walking for more than four hours under the scorching heat of the sun, dead tired. The innocent smile Gael was wearing in the morning started to fade, but the moment she saw the lighthouse, her face brightened. I could feel her excitement. Finally we were almost there.
It was actually Gael's birthday trip, and I just gatecrashed on what was supposed to be another one of her solo backpacking trips. Our destination – Palaui Island!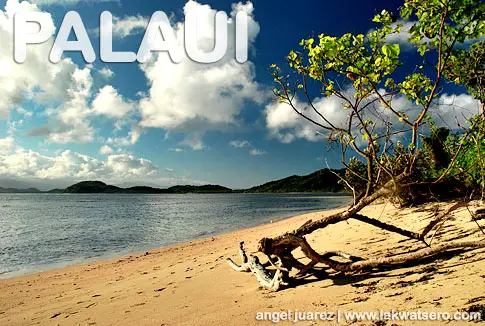 An island made up of volcanic rocks and surrounded by white sandy beaches, Palaui Island is politically under the jurisdiction of the town of Sta. Ana in Cagayan, Northern Luzon. It is home to a fishing community, without electricity and commercial accommodation. Its main attraction aside from its beaches is the Farol de Cabo Engaño, an 18th century lighthouse built by the Spaniards that guides ships entering and leaving the coastal town of Sta. Ana specially those vessels using Port Irene and San Vicente Port,  and those traversing the Babuyan Channel and Philippine Sea.
We set foot to the island before eight in the morning straight from three hours bus trip from Tuguegarao City and 30-minutes boat ride from the port of San Vicente. Kuya Edwin Tabucol, a local of the island let us ride in their boat for free.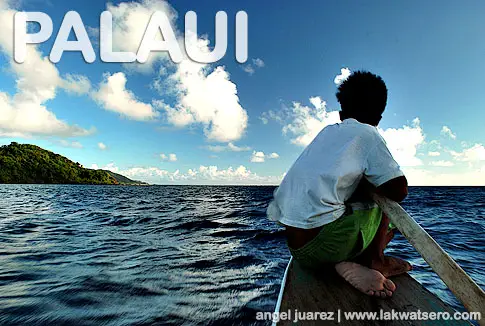 The morning sun and the cream sand of Palaui welcomed us as our boat docked on its shore. Kuya Edwin could not accompany us for he will going to the sea later that day to catch fish. Instead, he advised us to register to the outpost and get a guide, but we insisted that we could trek it on our own.
"How many hours will the trek be?", we asked.
"Two hours I think, probably lesser", he replied, referring to the short trail passing through the woods.
Gael and I thought for a while, at the back of our minds, two hours trek is just a walk in the park.
"Can we trek it on our own? Can you lead us the way?", Gael and I asked.
The reluctant Kuya Edwin said yes and pointed the direction. "Take that way, cross the small bridge, then you can just walk along the shore," Kuya Edwin was stuttering. I know it was easier for him to just trek than to provide directions.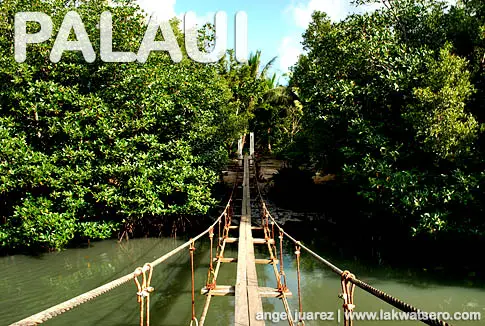 We bid adieu to Kuya Edwin, his wife and their cute little kids. Armed with a loaf, a sandwich spread, two packs of chips and two liters of water, our journey to the light house started.
We walked along the beach and met some locals and kids along the way, repeatedly asking the same question, "where is the lighthouse?" Our way of starting small talks. We bumped with a family of three, they were going to the eastern cove to pick some shells. They told us that the lighthouse is farther than where they were going. We tried to follow them but they were walking too fast, while we were doing frequent touristy stops. Then they just vanished in the horizon and we were left again on our own.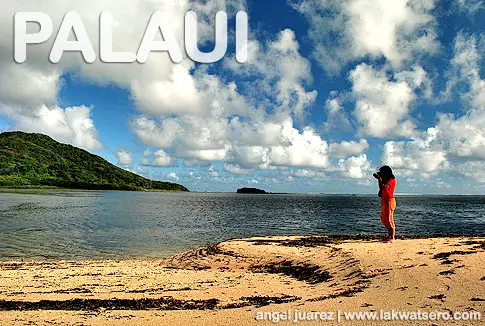 An hour passed and we reached the last inhabited house en route to Cape Engaño. We rested for a while and had a short conversation with an old man. He referred to the lighthouse as "Bahay Kastila" and told us that it was just an hour away from there via the shorter trail in the woods. The old man was quite concern if we could make it on our own, but Gael and I still decided to give it a try. We entered the woods following a trail mentioned by the old man, hopeful that we were traversing the right path. Shortly after, we crossed the wooden fence just as told us, but from there, the trail we were expecting to lead us was gone. Grasses, trees and thorny veins covered the terrain and we already knew that we were lost, but we kept on going in a hope of finding the trail again.
"Are we on the right path?", my dumb question. We both laughed.
After almost an hour of getting lost, sweating and frustrated, we decided to take the longer trail along the shore. But finding our way to the shore was another challenge. We were in the middle of the woods, on our own trail, surrounded by greens in an unfamiliar terrain. How we managed to be back on the shore was a mystery, perhaps my wounded legs could only comprehend.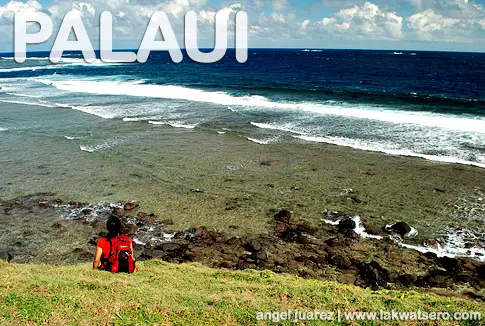 More than two hours has passed and we kept on walking until we reached a point in the shore where we needed to cross big boulders and climb a hill. We sat in the grassy hill, rested for a while, amazed of the beautiful scenery around us.
An amazing cove of white sand on our left, a rocky shore on our front, grassy hill on our right and the wild goats and water buffaloes freely roaming behind us. They were all in harmony with the sound of the howling waves. We were like watching a movie while eating pieces of our loaf.
The wild water buffaloes ran away upon seeing us, the goats just slightly moved so I had a chance to click my shutter. "Is this how Batanes looks like?" Gael and I had the same question.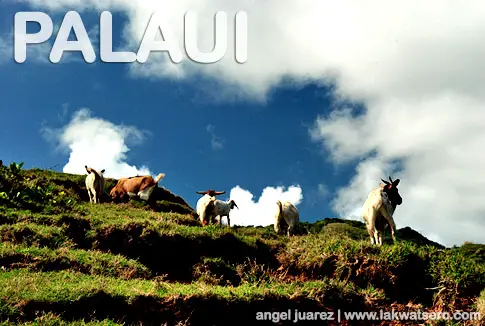 We continued our journey, went down from the hill and set our foot to a beautiful cove of white sand. There we saw the old lady of the family we bumped earlier, she was picking small shells from the beach. We asked her again if the lighthouse is anyway near and she pointed us to an abandoned house at the end of the cove.
"See that house below the hill? A trail from there will lead you there", the old woman said.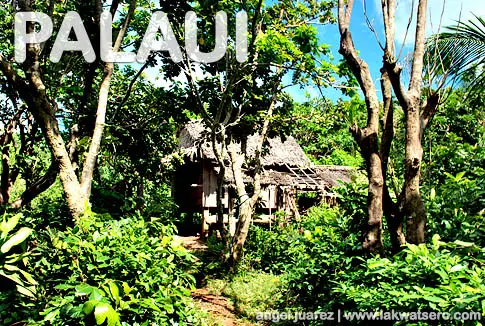 Gael and I smiled, we were almost there, we thought. So we hurried to the house and excitedly followed the uphill trail until we reached another grassy plateau. We looked around to see the lighthouse but it was nowhere on our sight. The small plateau is a crossroad of three trails: the one where we came from; one on our front downhill; and a clearer trail on our left. We took the last, a more evident but muddy trail, with what seemed to be a swamp on our right.
Butterflies greeted us on that trail, as if saying that we were on the right path. We continued walking until the swamp almost covered our trail. We hesitated. "Let's go back Gael, this isn't it", I said.
We went back and rested for a while on the grassy plateau, each had another piece of loaf.
"I'm sorry Gael, you do not deserve this on your birthday", I said.
Gael smiled and replied, "It's okay Kuya Jack. I am enjoying it", while munching our humble lunch.
I stood up and left Gael for a while to check the downhill trail on our right. The trail ended up on a beach where the father and son were catching fish. I looked around and there I had the first glimpse of the lighthouse which was still far, very far.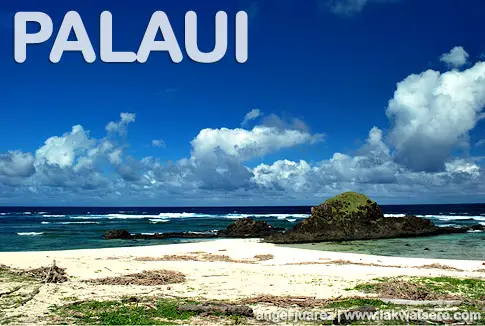 I quickly went back to Gael and told her of what I saw. She then stood up and followed me.
"There it is. We're almost there", I pointed the lighthouse to Gael. Standing on a white sandy beach dotted with big rocks, Gael smiled as she had the first glimpse of the lighthouse. We've been walking for more than four hours under the scorching heat of the sun, dead tired. The innocent smile Gael was wearing in the morning started to fade, but the moment she saw the lighthouse, her face brightened. I could feel her excitement. Finally we were almost there.
We walked along a rugged coastline, with big waves on our right. Keeping our eyes to the lighthouse which seemed to be not getting any closer.
"I never expected it to be this far. We've been walking for more than four hours now. It seems we've been in the road for two days now", Gael uttered.
"Let's eat some sandwich", I said, as we stopped once more to rest. Our foods and water were almost empty but we were almost there. "Are you regretting this Gael?", our tones were already serious.
"No, not all", Gael replied.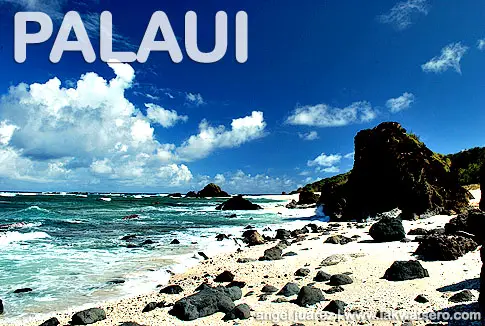 We continued walking along the rugged shore, crossing the slippery boulders that were being battered by waves. I kept on looking on my back to check Gael until I heard her say, "Let's go back! It's not safe!"
"We can't make it through this trail, the waves are too huge, even bigger than you. Let's try the other trail", Gael told me. Apparently, she saw big waves hit the rocks when I looked back to check her.
We paused for a while and stared at the elusive lighthouse before turning our backs. We saw another trail going to a small hill and without hesitation, we both agreed to give it a shot, perhaps it was the right trail, we thought.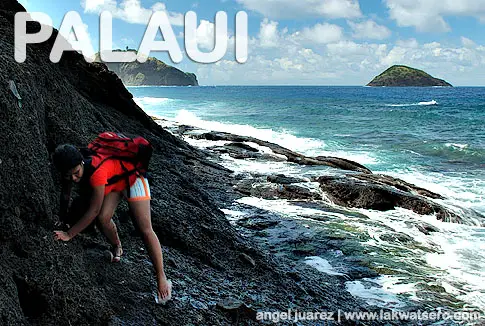 Atop the small hill is another plain grassy area and a swamp with wild water buffaloes leisurely dipping on it. The buffaloes stared to us, as if asking what we were doing there. I supposed the swamp was the same swamp we saw earlier. We walked further until we reached another woods, again no obvious trail to follow nor compass to guide us on our direction.
For the second time we entered the woods unsure of where to go and just hoping that fate would lead us. What made it harder was the steep and slippery terrain full of thorny veins. The veins were hitting my legs, inflicting more wounds while the thick blood kept flowing. I wrapped my shawl to my left leg but it didn't help. My tolerance to pain started to extinguish.
We were already frustrated, we really wanted to see the mysterious and elusive lighthouse up close, and the hardships we've experienced that day added to its mystique. But as The Little Prince said, "when mystery is too overpowering, one dare not disobey." So our hope and eagerness didn't fade.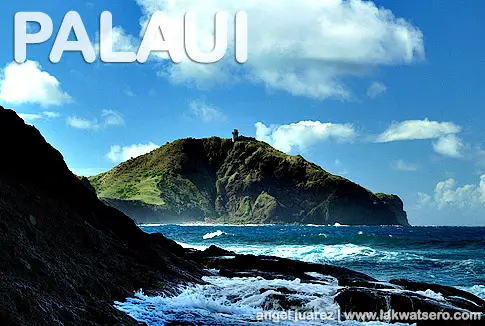 Gael and I look for the highest point in the woods so we can gauge our distance from the lighthouse. To our surprise, it was still far. As if we didn't make any progress since the first time we saw it. At that point, I felt the sky fell down on me. I sat down and recalled what we had experienced – the hunger, sweat, restlessness, frustration and pain that we went through. And the thought of more sufferings as we go back to the same trails which means more sweat, blood and pain. I almost gave up. I just wanted to stay where I was seating and wait for the rescue. I bowed my head, Gael was just staring at the lighthouse.
The rain fell. I stood up and looked at my watch. It was already 4PM, we had to go back. Our food and water were almost empty and we had to race with time. We needed to go back before darkness envelope us. Gael and I finally decided to let go of our desire to reach the lighthouse, it was the perfect time to give up.
"Let's try to find a way to the shore", I said. I really didn't want to go back to the woods and inflict more wounds to our bodies. So we tried to make our own trail down to the shore. We followed the stream that ended up on a steep part down to the beach, but it was impossible for us to go down, it was dead end. Our only option was to go back to the woods and we needed to hurry because it was already getting dark.
So we found ourselves in the woods again and fought once more to the thorny veins. I don't get it up to now why these veins loved embracing my lower body.
"We're sorry! We will just plant trees!", I promised as I cleared the small plants, veins, shrubs, and bushes in the woods to make our own trail. Gael was very sorry for my wounds but laughing as I continued my pleadings to the plants. Thanks to her encouragement, or else I would have opted to stay there and wait until kingdom come. She is really a strong woman.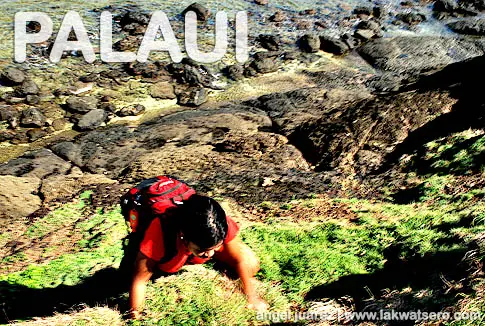 At last we got out of the woods and took the same trail going back until we reached the beautiful cove again. We thought of swimming in the beach but the tide was getting high and we were running out of time. We trekked up again to the hill where we saw the wild goats, but it was harder this time. The wind was blowing hard, the vertical trail was so steep, one wrong step and we will slide down to the rocky shore and meet mortality. Gael was afraid, so I had to be strong for her. She was strong enough when I was down in the woods so it was my time to be strong. I grabbed her hand and tried to assist her until we reached a safe plain on top of the hill.
We rested for a bit and as I looked down trying to figure out the rocky shore we traversed earlier, big waves were already hitting the boulders. It was impossible to take that route again, we had to find new way.
"Let's follow the goats", I said. So we slid down and crawled to the steep, slippery and grassy goats' trail, holding only to the thick grass and vegetation as support. I told Gael to follow me. I never looked at her again as we slide down because I didn't want to see her sufferings. For the nth time I said, "you don't deserve this Gael." And that was how Gael got all her scars. My heart melted when I saw her wounded body.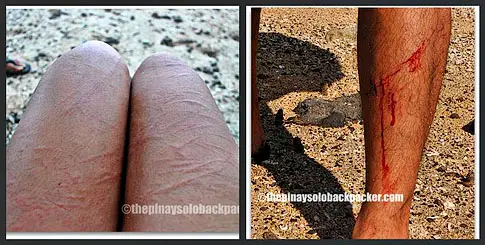 Finally, after all the challenges, hardship and wounds, we reached the beach. An hour more of walking and we got to the community. It was already dark. We rewarded ourselves with a cold liter of orange soda. I opted to rent a boat to bring us to mainland and as we sailed, the rain poured and the waves drenched us. The salt water touched our skin and our fragile bodies were hurting as our screaming wounds felt the water. I gave my shawl to Gael, for I know she was in terrible pain. She covered her body with the bloody shawl and she closed her eyes until we reached the mainland. I am very proud of Gael.
After getting lost in the woods twice and almost ten hours of a challenging trek, with limited foods and water supply, we had the journey of our lifetime finding Cape Engaño. Along the road, there were lots of lessons and realization… on life, hope, faith, survival and friendship. We may have failed on our quest but these lessons and realizations made us appreciate the real beauty of Palaui Island more than what others usually see.
You may want to read the other angle of our elusive quest to the lighthouse as told by Gael Hilotin in her blog entry Offbeat Travel: Palaui Island.
For information on how to get to Palaui, check out my Palaui Island Travel Guide.