Mt. Kinabalu, the highest peak of the island of Borneo, is the tallest mountain of Malaysia. It was once dubbed as the roof of Southeast Asia, when Myanmar was still not part of ASEAN. Today, with Myanmar's Himalayan side, it is considered the 10th tallest mountain in the region.
But the mountain is so popular, not only because it is Malaysia's first ever UNESCO World Heritage Site but because its summit is truly a site to behold, a dream climb for mountaineers – hardcore, regular and seasonal climbers alike.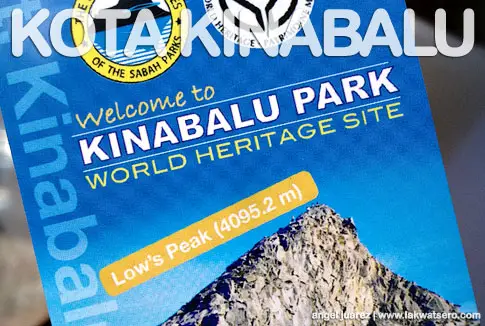 Never did I imagine that I would be setting my foot there, but with my friend's Kenneth invitation, I was inevitably heading there. I was bound for Kota Kinabalu!
Although most of the preparations were done on the final week, it was a trip almost a year in the making. Our plane tickets were purchased a year ago, planning followed afterwards but put aside to a deep slumber; the climb was arranged four months before the trip; final itinerary was finalized a week before; accommodation in the city was confirmed two days prior to our flight; and all the other activities were fixed when we were already in Kota Kinabalu. Yay! The last minute arrangements proved that we worked best on crammed mode.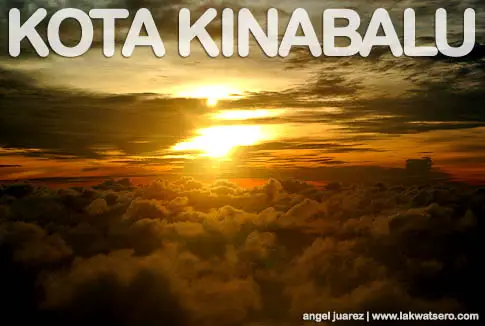 The two-hours flight was uneventful. Half of the group flew from Manila and the other from Clark but the group re-converged at the Terminal 2, the budget terminal of Kota Kinabalu Airport. It was already dark and the last public bus from the airport to the city proper that leaves at 7PM already left so our only option was to take the taxi or walk for five kilometers, we chose the former. Fixed taxi rate is at 30 Malaysian Ringgit (MYR) per trip. But Kuya Albert, a Filipino living on Kota Kinabalu, offered his service for 20 MYR. Since we were eight, it took two trips to bring us all in Jalan Gaya, the street popular for backpackers and tourists.
Kota Kinabalu is the capital city of the Malaysian state of Sabah, which used to be under the Sultanate of Sulu. The Philippines has an old dormant claim to it. A large number of Filipinos live and work here which is no surprise due to its proximity to the country. In fact, a public ferry sails from Zamboanga in Mindanao to Sandakan, a northern town of Sabah regularly. So do not be surprised if Filipino is widely spoken here, it is either you are really talking to a Filipino or a local who can speak our language.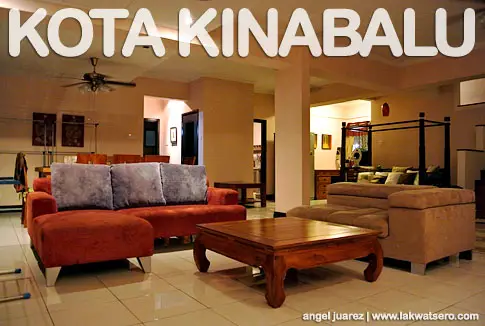 We booked our accommodations at Sensi Backpackers Hotel located in the busy Jalan Gaya, the oldest street in Kota Kinabalu and the city's main tourist area. We were welcomed by Tita and Jessica, both Filipina, working in the hostel. They are both warm and hospitable, typically Filipino, so it was easy for us to get at ease with them. The dormitory room that we booked was still occupied for the night so we were transferred to their bigger room at the penthouse of Marina Garden, around one kilometer away from Gaya.
It was an elegant room for budget travelers like us. There are a total of four bedrooms and two separate showers in the two-story penthouse room, with a spacious living area, dining area and kitchen. A big LCD TV is hanging on the wall, there is a consistent water supply, indoor water filtration facility, plus a refrigerator and stove free to use. Sensi's Marina Penthouse is truly an elegant and budget accommodation in Kota Kinabalu for only 50 MYR per person per night for a group of at least eight person or 300MYR per room per night for a group composed of less than eight person. But since we were originally booked at the dorm room, we were given special discount at the Marina Penthouse.
After settling in our beautiful room we went out for dinner at an eatery just two blocks away, followed by a night walk, hoping to find a money changer. But the night was already deep and as expected most of the establishment were already closed. We ended up buying foods and supplies at a nearby round-the-clock convenience store before returning to our room.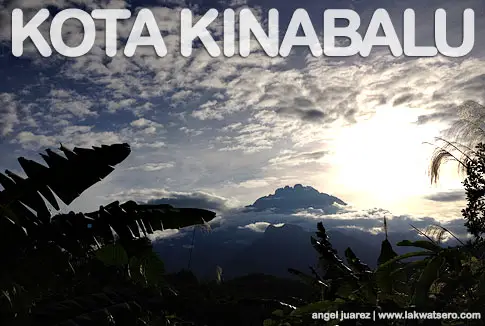 Kinabalu climbers Ken, Den, Trabz and I prepared all our climbing stuff while Bry, Grace and Bj already hit the sack. I finished packing past midnight and called it a night. I had barely four hours left to rest. Our call time was 4:45 AM the next day to catch the earliest bus from the city to Mt. Kinabalu National Park Headquarters.
There were plenty of rooms and beds to choose from but I preferred the couch where I had a comfortable sleep. At 4:45AM, my sweet slumber was abruptly cut by my alarm clock. The moment Ken, Den, Trabz and I have been waiting for! We were bound to Mt. Kinabalu National Park, the highest mountain of Borneo, the roof of Malaysia.
We left Marina few minutes after five in the morning and dropped by at the nearby McDonald's for breakfast. I also took out three sandwiches which served as my trail food during the climb. Before six, we were already in Bandaraya Bus Station.
The first public bus from the city proper to Mt. Kinabalu Park Headquarter departs at 6:30AM daily and we were quite early. A taxi approached us and offered his service for 20MYR each, same as the public bus fare, so we agreed and left Bandaraya earlier than schedule. Two hours passed and we were already in the park headquarter.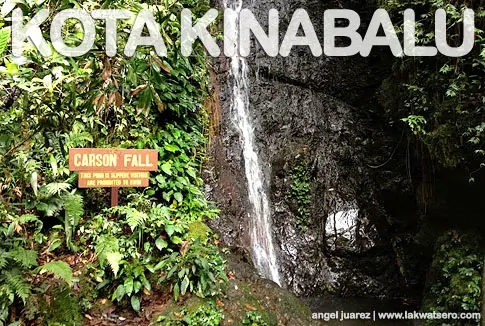 We paid and arranged all the necessary requirements of climbing the summit and after an hour we were already aboard the bus that would bring us to the Timpohon Gate.
Timpohon is one of the two gates going to the summit. Situated at 1866.4 meters above sea level, it is around 6 kilometers away from Sutera Harbour's Laban Rata Guesthouse and 8.7 kilometers away to Low's Peak, the highest peak of Kinabalu.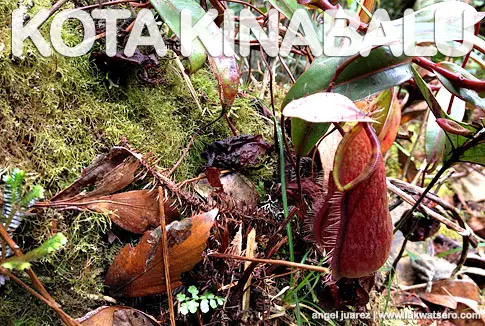 At 10AM, we started the trek from Timpohon Gate and few meters passed, Carson Falls welcomed us. Still excited and full of energy, we posed for a couple of shots in the waterfalls and continued our trek, pacing one kilometer per hour with frequent stops for photo ops.
Admittedly, we didn't have enough preparations for the climb. We even lacked enough rest and sleep the night before but we were all determined. The first three kilometers were relax, we still managed to paint wide smiles on our face and gamely posed for photo ops. We reached the Kilometer 3 marker a few minutes past 1PM and had our lunch at a shelter past Kilometer 3.25.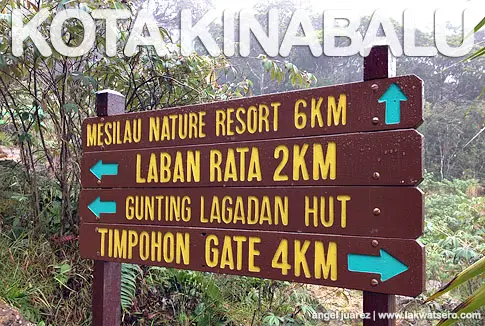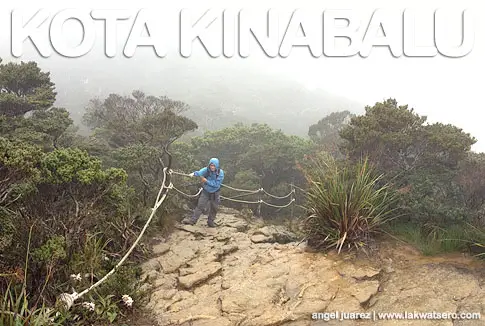 On to the second half of the climb to Laban Rata Guesthouse, the trail became more challenging. The exhaustion, restlessness and the rain brought the serious trekkers on all of us. By 4:30PM, we reached the Shelter 5 near Kilometer 5 Marker and the rain started to pour.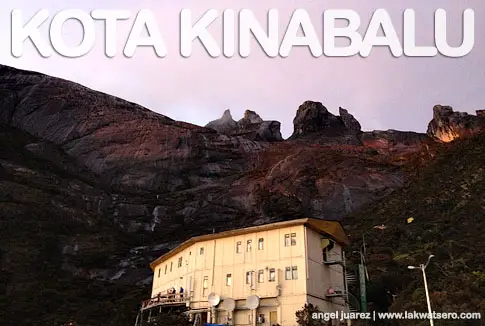 We let the rain pass for a while and continued our trek. With only a kilometer left to Laban Rata Guesthouse, we were all dead tired. The unfriendly trail on this stretch was a real hell but we pushed ourselves to our limits and finally made it to the guesthouse at sunset, just in time when the sky and the clouds were turning red. I saw the summit as the red sky reflected the flaming hue on the mountain's peak. It was amazing, beautiful, surreal. My jaw dropped in disbelief and amazement. I shoot and and shoot and shoot and then poof, my camera phone turned off, the battery has drained out .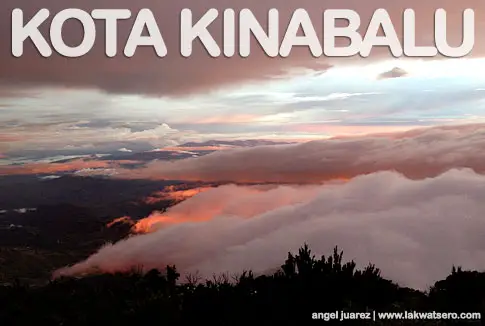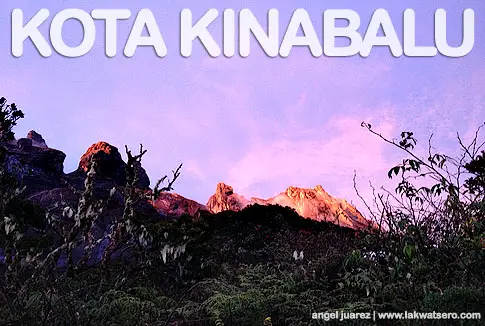 So we entered the guesthouse just in time for the buffet dinner. A fusion of Malaysian foods were on the table. Chicken, veggies and seafood in their usual Malay flavors – curry and other spices.
After dinner we proceeded to our room on the second floor of the same building. Two Kiwis were already in the room, a dormitory type with three double-decked beds. After settling our stuff and washing up, we were off to an early night. It was only eight in the evening but we had to doze off early for our summit assault the next day. Well, it wasn't hard to sleep because there was nothing to do anyway and our tired body gladly preferred the comfort of our beds.
To be continued…