There are places that are worth coming back more than once and Indonesia is one. There are so much to see and so much to do in the world's biggest archipelago that I promised myself to be back after my first love affair with Bali three years back. That promise didn't take too long to materialize, I fullfilled it last year.
The monsoon rain was inundating Manila when I left but a three-hour plane journey transported me to the warm and sunny side of the world. It was summer in this part of Asia! Hello again Bali!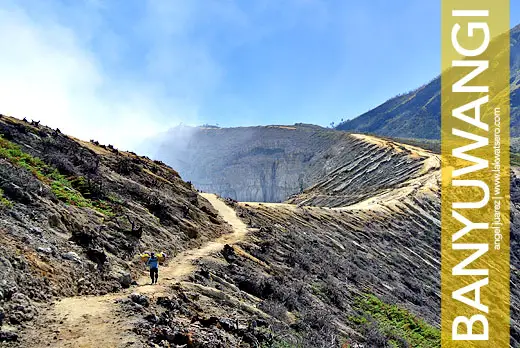 One of the many reasons why I went back in Bali, aside from the invitation of Samabe Bali Resort and Grand Mirage Thalasso Bali Resort, was to trek in Kawah Ijen.
Kawah Ijen is part of the Ijen volcano complex in East Java, Indonesia. Standing at 2,600 meters or 8,660 feet above sea level in the City of Banyuwangi, it is an active volcano topped with a large caldera of molten sulfuric acid.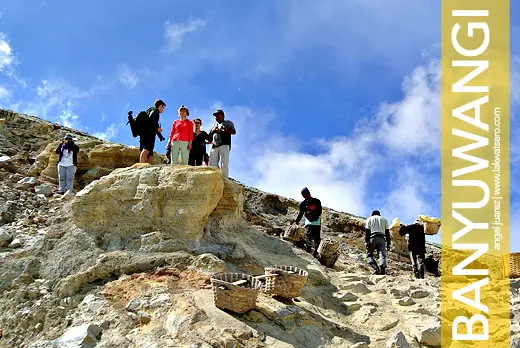 Despite the dangers it posses as an active volcano, Kawah Ijen is one of the main attractions of Banyuwangi. Everyday, hundreds of tourists trek to its scenic crater to see the turquoise colored crater lake. Meanwhile, local miners brave the hazards daily just to harvest solid sulfur from the caldera.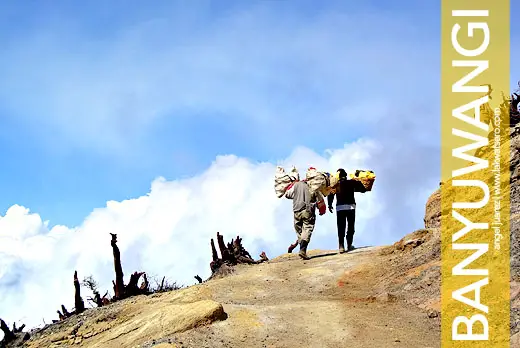 There are two possible approach to Kawah Ijen – the popular Bandowoso from the west and the shorter yet unpopular Banyuwangi from the east. Although they say that the former has more established route, I still chose the latter since it is much shorter which I found ideal for me who was on a tight itinerary. So after three days of luxurious living in Samabe and Grand Mirage, I took a taxi (230,000 Indonesia Rupiah/IDR) from Nusa Dua at noon and headed to Terminal Ubung Denpasar to catch a bus (200,000 IDR) to Banyuwangi. The bus traveled for three hours to Gilimanuk Port and boarded a ferry that crossed Bali Strait to Ketapang Ferry Terminal. After a total of of six hours from Nusa Dua, I was finally in Banyuwangi.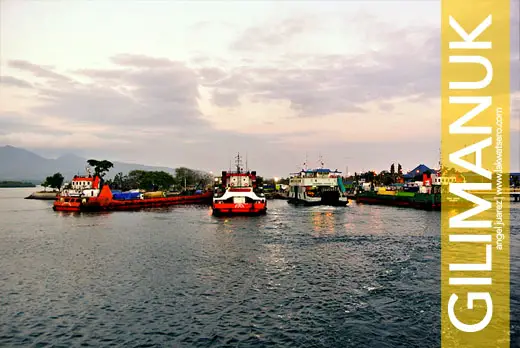 At the Ketapang Ferry Terminal, I flagged down a motorbike locally called ojek to bring me to Ketapang Indah Hotel where I was booked for the night. It was just a short ride to my hotel, my driver named Eddie billed me 25,000 Indonesian Rupiah (IDR). I asked him if how much would he charge me for a ride to the base of Kawah Ijen and he priced me 300,000 IDR. I got his number and promised to text him if I would be needing his service.
I booked my stay at Ketapang Indah Hotel through Agoda on a last minute deal of 423,000 IDR or approximately 37USD for one night accmmodation with breakfast. I set no expectation on this hotel but I was surprised to see that it was a lavish one. Not as lavish as Grand Mirage or Samabe but lavish enough for my budget. With well lighted and beautifully designed lobby, restaurant and garden, I felt at home in it. The hotel has a swimming pool too, a bar, well designed cottages and of course complimentary wifi. I thought it was a great deal!
I was warmly welcomed by the staff and eventually led to my room at the second floor of a building near the pool area. It was a huge airconditioned twin bed room surrounded by glass window. Like the totalilty of the hotel, my room was clean, homey and comfortable.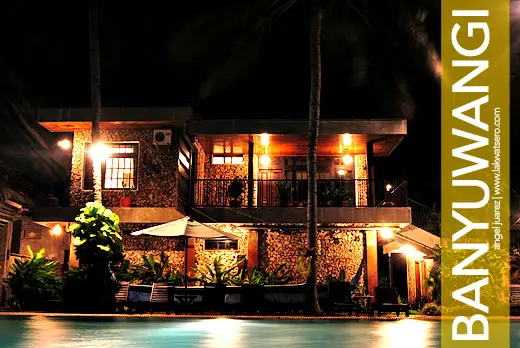 After a quick rest, I went back to the lobby to inquire about the trek to Kawah Ijen. The hotel staff offered me their 700,000 IDR per person day package for Ijen Plateau / Crater Tour which includes a guide, a 4×4 ride and meals but requires minimum of four person. It was quite a hefty one for a solo traveler like me considering that I would be paying for the entire capacity since there were no other guests or groups that I could join to.
So I decided to message my ojek driver Eddie and he agreed to pick me up at six in the morning the next day. His 300,000 IDR rate, although I thought was expensive, was still cheaper than Ketapang Indah's package.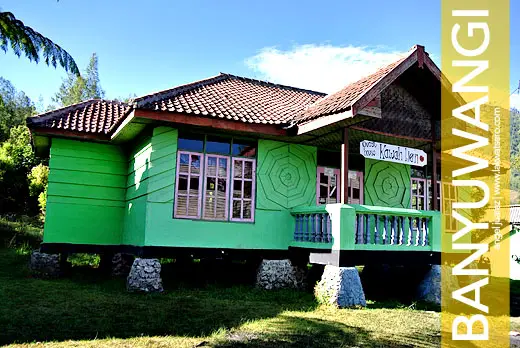 The next day, I woke up early for breakfast before meeting Eddie at the parking area of the hotel. It was already half past the hour of six in the morning and the summer sun was fully up. It would be a tough trek with this heat, Eddie mumbled in broken English.
The drive from Ketapang to the base of the Ijen Plateau took 75 minutes on a generally good road. I was expecting a rough ride but it was surprisingly smooth and hassle free. The base is where the three-kilometer trek to the crater lake starts. There are guesthouses and stores in the area and a huge parking space where Eddie parked his motorbike. He said he would just wait for my return, I said I wouldn't take long.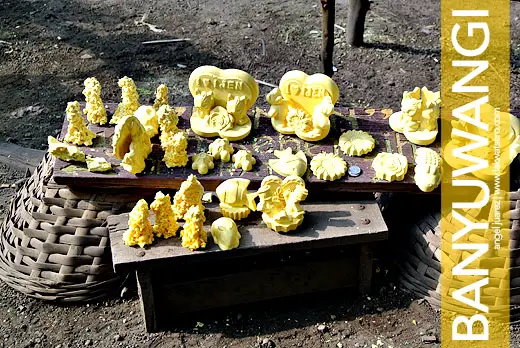 So I started the trek, without a guide, on a gradually ascending shaded trail. There is only one track going up and the condition is not so technical so guide wasn't really necessary. There were other trekkers along the course as well as sulfur miners who seemed oblivious of the weights on their shoulders. Forty minutes have passed and I reached the weighing station, where sulfur miners exchange their harvest for cash. There is a resting area in the station and stores that sell souvenir items made of sulfur. I opted not to stop and continue my trek since I was racing with time. I had a flight to catch at night from Surabaya Airport to Jakarta, and Surabaya is at least six hours from Banyuwangi.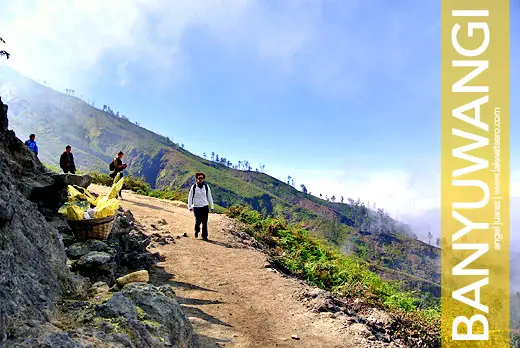 Few more minutes from the weighing station, the scenery changed from tree-shaded trail to a vast view of the green mountains and finally to the dry oddly-colored crater rim with the caldera below. Finally! The crater of Ijen Volcano!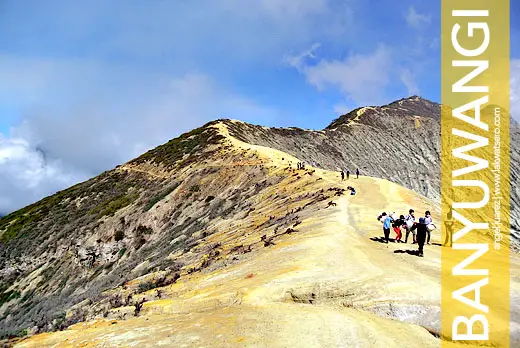 The caldera was engulfed with sulfuric clouds making the turquoise crater lake below barely visible. Nevertheless, the scenery was breathtaking! One sulfur miner offered to guide me down to the creater lake and to the fuming sulfur deposits but I declined since I was in a hurry. I contented myself on the crater rim with the panoramic view around me. Not minding the summer heat, I spent half an hour just gazing at the scenery. Something was telling me to get down to the crater, but I firmly said no. I had to leave early, I had a flight to catch.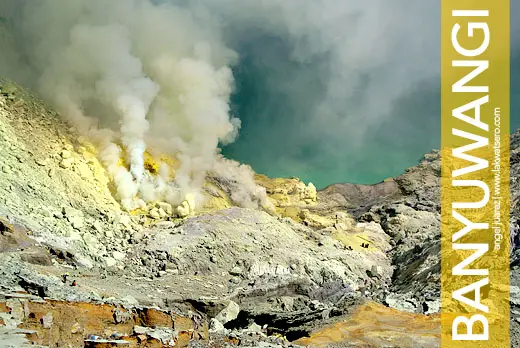 Going back to the base was easier, it took me only forty minutes. Eddie asked if I needed some time to rest, I said we needed to be back in the hotel quickly. So we boarded the ojek and traveled for more than an hour to Ketapang. When we reached the hotel. I asked him to wait for me as I check out, bring me to a money changer and then to the bus terminal. There was a sort of panic for I felt I was running late.
By half past noon, I was already at the bus station. Eddie billed me 450,000 IDR, I wanted to contest why it balooned to that amount and ask for discount but the situation was not fitting. I handed the amount to Eddie and uttered my "thank you!"and "goodbye!". He shook my hands and said "do not forget me brother!"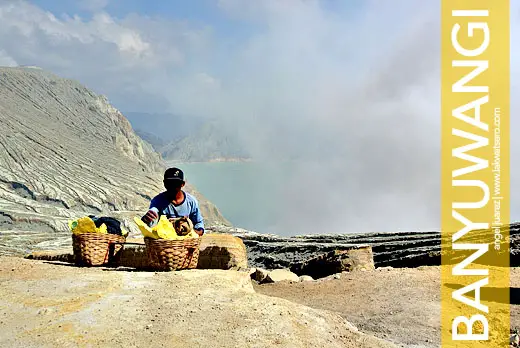 The bus to Surabaya waited for more passenger before it left after almost an hour of waiting. It was so slow and it made frequent stops that it took me more than eight hours to reach my destination. More than eight hours!!! I thought it was just six hours! So I missed my flight to Jakarta, the first time ever I missed a flight. Had I known that this would happen, I would have went down the crater lake of Ijen Volcano!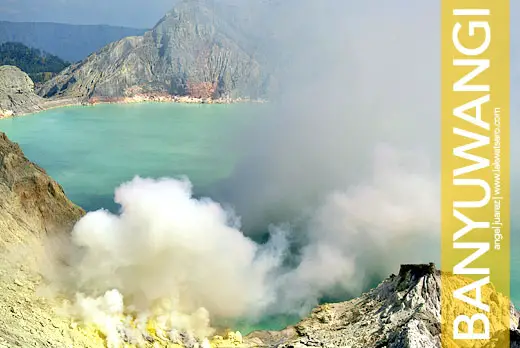 Despite the turn of events, it was still a memorable trek! The bad luck of missing my flight didn't dampen my beautiful memories of Kawah Ijen. Never mind if I wasn't able to go down the crater like, I intended to return anyway. I saw surreal images of the glowing blue gas flames from burning sulfur at night so I am planning to go back there soon, pitch a tent on the crater rim and spend the night if possible. But for now, my vivid memories and photographs of Kawah Ijen will always remind me of that amazing day in Banyuwangi!