More than the verdant rice terraces, the town of Sadanga in Mountain Province offers more surprises to curious souls – wondrous caves and river systems, beautiful lakes, refreshing hot springs and majestic waterfalls such as the Fowa-as Falls (sometimes spelled as Fuwa-as), the main reason I ventured into the town.
Sadanga, situated in between Bontoc and Tinglayan, is a quaint town overshadowed by its more popular neighbors including Sagada, Bontoc and Tinglayan. Unknown to many, it is home to some of the most beautiful rice terraces in the province. The rice terraces of Betwagan and Anabel that can be seen along the highway linking Bontoc and Tinglayan are just samplers.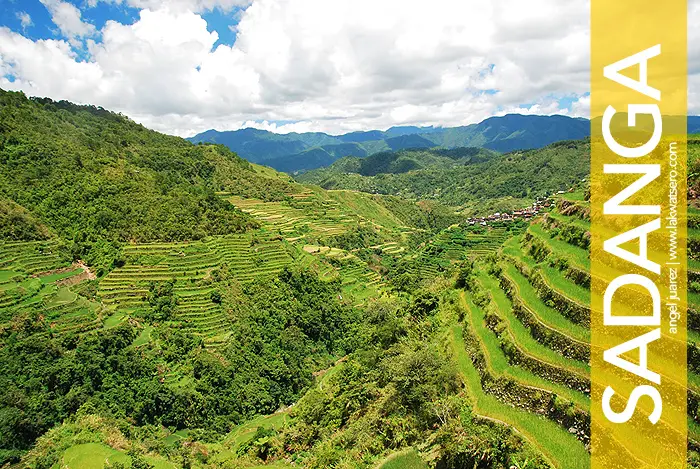 I arrived in Poblacion Sadanga before midday unsure of how to go around the town. I know no one in the village, not even a local guide. All I had was just notes – pointers and spots I was aiming to see. I know for a fact that the caves and waterfalls are located in the upper village of Belwang. But how do I go there? I had no idea!
The main road ends in Poblacion and going to the village of Belwang is only by foot, seven kilometers or at least two hours of not so easy trekking via maze-like trail that passes along some of Cordillera's most beautiful rice terraces. The last few kilometers are steep stone steps that reminded me of the stone steps going to Annapurna Base Camp.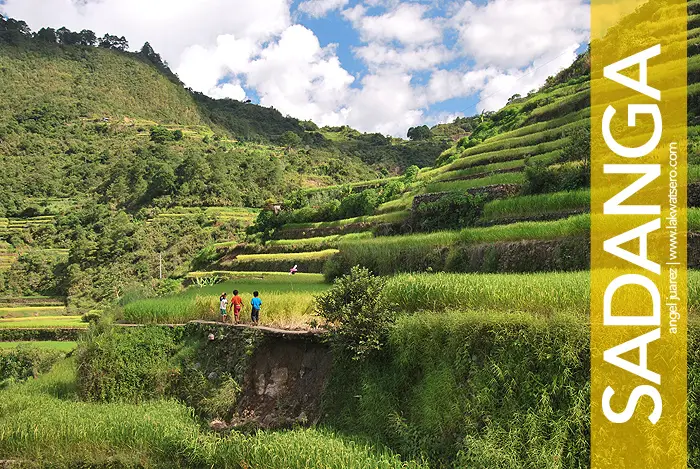 "Malayong malayo! Gabi ka na makakarating!", kids teased me when I asked for directions.
I ignored them and proceeded on trekking mostly along the rice paddies and after two hours, I reached Belwang. It was indeed far and the trail wasn't easy, the unforgiving sun didn't help either.
Cliche as it is but the saying "difficult road often leads to beautiful destination" is definitely true for the village, home to more panoramic rice terraces, Kansel and Angoten Caves which are believed to be an extension of those in Sagada, and the majestic Fuwa-as Falls which is another 45 minutes of epic trekking from the center of the village.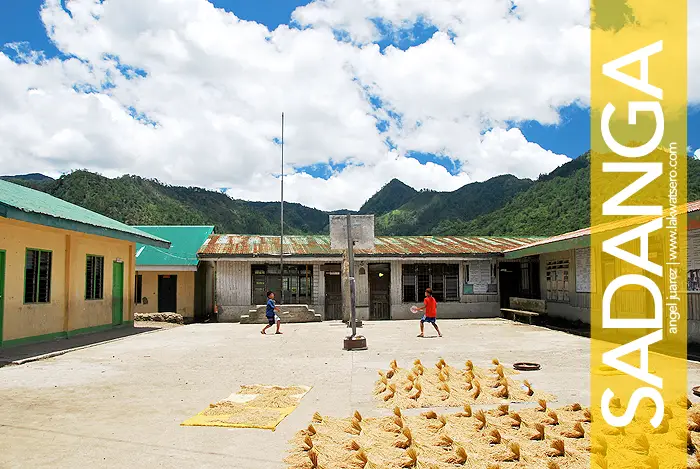 But Belwang is not always open to outsiders, same with other villages in Sadanga. Locals, especially the elders, are protective of their place that they usually close it to outsiders or guests on rest days or weekends.
My lucky day, they left it open that weekend. 😀
I went to Barangay Hall to pay a courtesy call to the officials but they were all in Bontoc. Only Ate Mila and Ate Heidi, both office staff, were there. They asked me so many questions.
"Who are you?"
"Why are you here?"
"Why are you alone?"
"What is your job?"
"Affiliation?"
"How did you know of this place?"
"Didn't you see an off limits marker at the entrance of the village?"
Interrogatory questions that later turned into personal and soft questions. Our conversation lightened.
They eventually told me that no one is available to guide me to the falls, much more to the caves. The men were all out working – in the farm, in Bontoc or in Tabuk. I should have advised them ahead. They asked me to sign in their log book.
Sadly, it would be impossible for me to visit Angoten and Kansel Caves. Fuwa-as Falls? Well if I could find the way to, they said.
"I will find my way", I replied.
Ate Mila and Ate Heidi conversed in their dialect. By and by, Ate Heidi signalled me to follow her. So I bid goodbye to Ate Mila, and off we went.
"I wanted to guide you but I just had a miscarriage", Ate Heidi said.
I followed Ate Heide to their house where she called her two daughters, aged 7 and 8, to guide me to the waterfalls. The fact that Ate Heidi entrusted me to her two young girls was surprising. Or should I say, Ate Heidi entrusted her two young girls to me – a stranger. I was touched!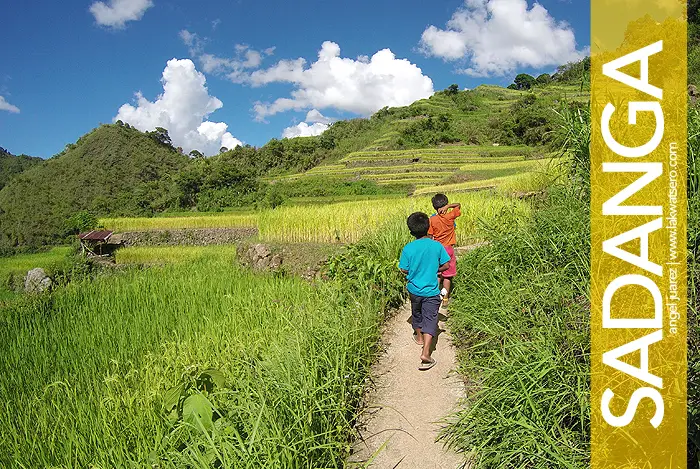 A group of young boys followed us as we trekked along the rice terraces' edges. The boys were teasing the girls, the girls were barely talking. They couldn't understand Tagalog the same way that I couldn't understand their Kankana-ey. They were only conversing in laughter and smiles and giggles so I returned the same.
We trekked for 45 minutes along the upper slope of the rice paddies with the panoramic view of Bekigan Rice Terraces. The trail was mostly narrow concrete irrigation trail with one side that leads to eternity. I scrambled on some parts but for them the trail seemed so easy. I ended up with grass cuts in my legs, arms and neck.
As we got closer, the gushing sounds became louder. And from afar, we got a view of the waterfalls I was surprised by its grandeur!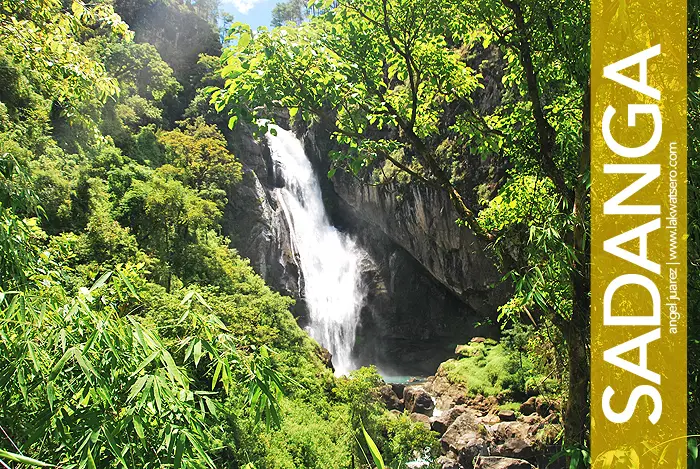 It's hard to describe how strong the drop was! It was so strong because of the daily late afternoon rains in the past few days.
The height, probably around 70 to 80 meters! Tall and grand indeed!
The depth, no one really knows! The kids told me that no one has reached its bottom yet.
I was also told that atop the waterfalls are Kansel and Angoten Caves. The latter is believed to be an extension of those in Sagada with numerous rock formations, chambers and halls, and underground river system. They keep it off limits as much as possible because they source their drinking water from the cave.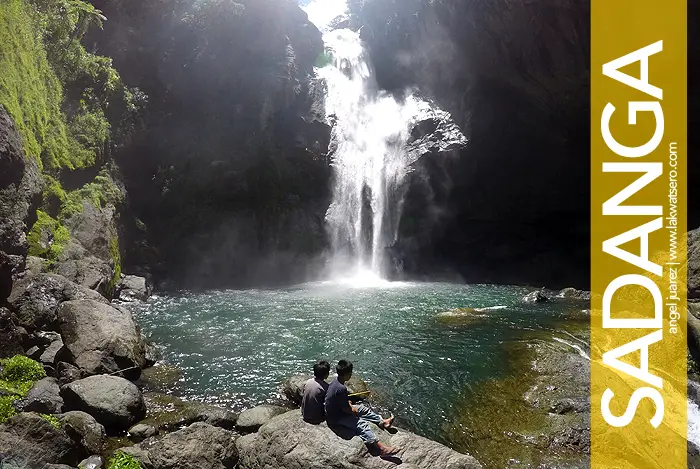 I didn't swim, I was shy with all the kids just watching every move I make. Well if they did swim, I would. But they did not.
I decided to trek back afterwards, the kids all stood up and started their leisurely walk along the trail while I made frequent stops to take pictures and catch my breath. The rice terraces of Bekigan is too beautiful to ignore.
After almost an hour, we were already back in the village. It was quiet and deserted, the locals were probably in their midday siesta.
I dropped by the Barangay Hall again but Ate Mila and Heidi were not there anymore. I texted Ate Heidi to thank and inform her that I would be heading back to Poblacion. She replied with an invitation for lunch at their home to which I politely declined. I made sure that I will when I return for the caves.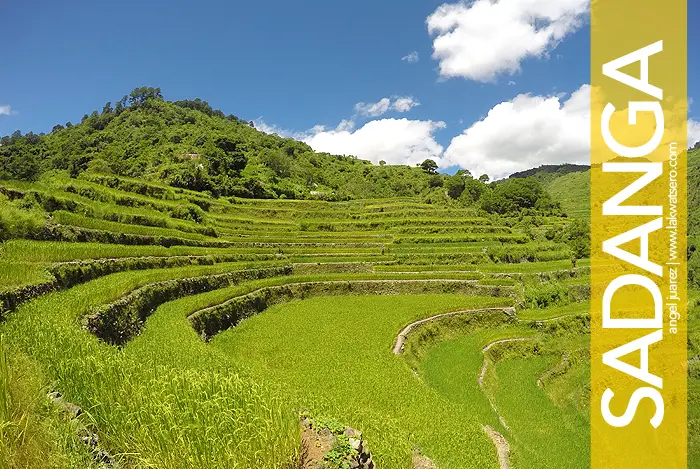 With mostly descending trail going back, the trek to Poblacion was easier. I got to enjoy the scenery more, walking leisurely along the rice terraces that for me can rival those in Ifugao.
Every step was slow and easy, wondering how a place as beautiful as Sadanga was able to remain secret to most. Must be its isolation or the local tradition. But I am not complaining and given a choice, I wanted the village to remain as it is today – quaint, laid back and away from the disorder of this chaotic world.
I think I found my newest favorite place in Cordillera. 🙂