Mt. Pulag National Park is the third highest mountain in the Philippines and the highest in Luzon. Standing 2,922 meters above sea level, the National Park is a favorite trekking destination and considered to have the most beautiful cloudscape and summit's landscape of all the Philippine mountains, thus tagging it as "Playground of the Gods".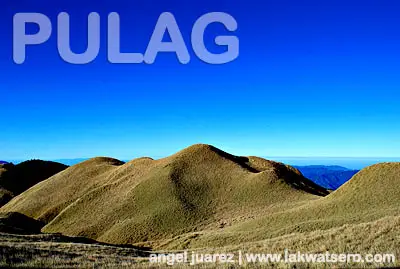 Also called as Mt. Pulog, the Park sits in the Cordillera Mountain Range and bounded by the provinces of Benguet, Ifugao, and Nueva Vizcaya.
Aside from its enticing beauty, the park has widely acknowledge ecological importance for being a significant watershed and habitat for a huge diversity of endemic flora and fauna.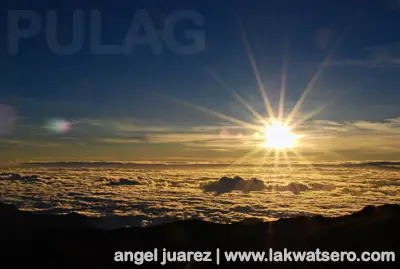 The sea of clouds, rolling plains, endemic plants and animals, cold temperature, eye soothing greens and the thrill of conquering its beautiful peak attract a lot of mountain climbers of all levels and purposes to trek the mountain all year round through its five known trails – Ambangeg (the easiest), Akiki, Eddet and Tawangan trails from Benguet and the Ambaguio  (Lusod) trail from Nueva Vizcaya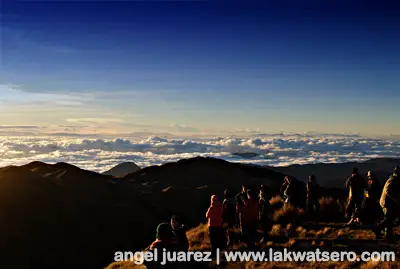 How to Get There
The easiest and most common route of going there is via Ambangeg Trail in Kabayan, Benguet. The usual jump-off point is Baguio City, four to five hours away from Manila.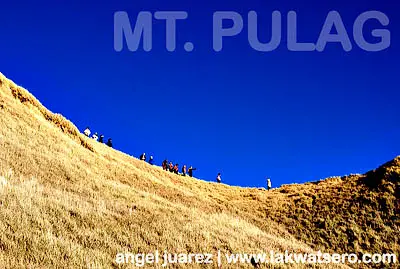 From the capital, most bus companies heading to Northern Philippines have trips to Baguio. But Lakwatsero prefers Victory Liner. Their Baguio bound busses leave their terminals (Manila, Pasay, Cubao and Caloocan) every hour. Fare is at P460.00 (~$10). The most ideal time to travel is around 10:00 PM to 12:00 midnight to reach their Baguio Terminal before 5:00AM the next day. Other bus lines that ply to Baguio are Dagupan Bus (EDSA cor. New York,  Cubao , Quezon City/ Contact No: (02)727-2330) and Philippine Rabbit (Rizal Ave., Sta. Cruz, Manila).
From Baguio, one can hire a jeepney or take the public bus at Northern Bus Terminal in Magsaysay Avenue bound for Kabayan, where the trek starts.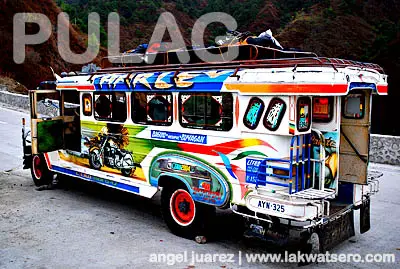 When to Get There
Mt. Pulag is open all year round, but the best time of the year to trek the summit is during dry season, specifically from November to early March when the sea of clouds is well defined.
Preparation
While mountaineers consider the trek to Mt. Pulag a major climb, it is in fact an easy climb. A Basic Mountaineering Course is not required although would be of great help. To date, several mountaineering and travel groups offer package tour to the National Park.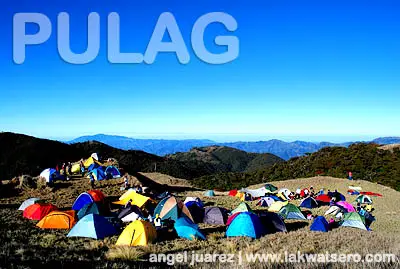 But a Mt. Pulag trek can be done on a DIY way with the help of the Mt. Pulag National Park Office who are more than willing to help in arranging guides and transportation (trekking Mt. Pulag requires a guide). Contact Ms. Emerita Tamiray, Park Superintendent at +639196315402 for this.
For more information, Pinoy Mountaineer's site will surely be a big help 🙂