Right at the foot of Mt. Talomo in Davao City's Toril District is an 80 hectares of man-made nature park that for years has been providing a cool relief from the city's busy urban life – the Eden Nature Park and Resort.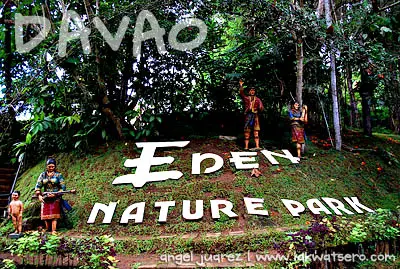 Shortly called as Eden, the mountain resort offers various attractions, activities, adventures and even food experience. At 2,650 feet above sea level, it also offers the best view of Davao City.
Commune with nature with their vast gardens of organic vegetables, various tropical flora, thousands of pine trees and other plants while enjoying the temperate climate and fresh forest air. For first timers, a tour is a must to see the The Amphitheater, Lola's Garden, Flower Garden, Plaza Maria, Mayumi's Well and other spots around.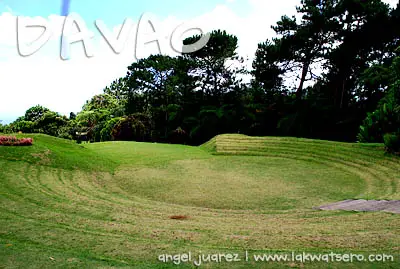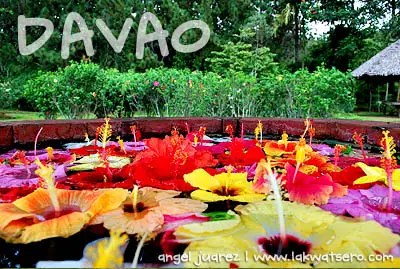 Experience adventure  as you trek down their Mountain Trail, camp in their grounds, try rope gliding in their Indiana Jones, play and move in their grounds or zip to their 200-meters zip line tagged as Sky Rider.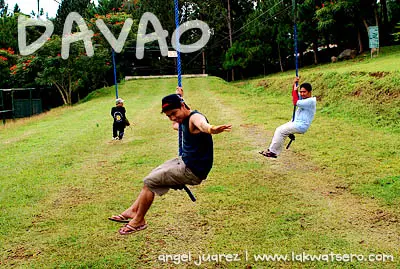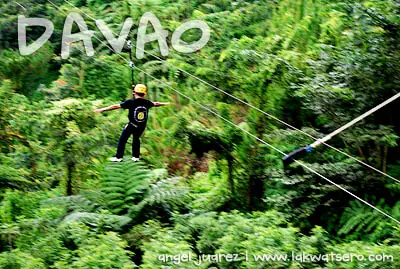 Indulge with their delectable menus that are mostly made from natural fresh raw ingredients harvested in their own backyard and carefully prepared to suit everyone's delicate taste. Don't miss the green salad in a sun-dried tomato dressing, my personal favorite 🙂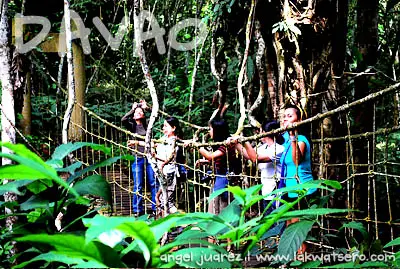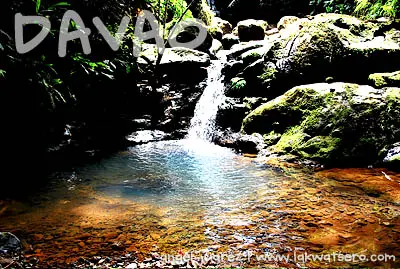 Take a peek at the lives and cultures of our Mindanaoan ancestors with the walk to Tinubdan or enjoy their other facilities which include swimming pools, playgrounds, cottages, souvenir shops, function areas and business center equipped with wi-fi.
True to their tagline, "a respite, an adventure, a spiritual retreat, a cultural excursion and a sensuous feast" await everyone at Eden!
Eden Nature Park is located at Toril District, Davao City. The easiest and most convenient way to go there is to avail of their shuttle service from Matina Town Square at P200 per person during weekends. Scheduled departure is at 830AM and 11AM. From Eden to Matina, the shuttles leave at 130PM and 4PM. On weekdays, the shuttle can also be rented at P1,500.00 round trip. Travel time is forty five minutes to an hour.
For booking, reservation and inquiry, please contact:
Eden Nature Park and Resort
Sales and Reservation Office
Matina Town Square, MacArthur Highway, Matina, Davao City
Landline: +63-82-2991020/+63-82-2960791
Mobile +639189307590
Website: http://www.edennaturepark.com.ph
E-mail: info(at)edennaturepark(dot)com(dot)ph
Rates:
Lunch Buffet with entry to the park: P450.00 for adults and P280.00 for children age 4 to 10 years old
Fun at the Park with entry to the park, plated snack and entry to the swimming pool, fishing village or horse riding: P230.00 for adults and P200.00 for children age 4 to 10 years old
Guided Shuttle Tour in the park: P75.00 per person
Sky Rider: P150.00 per person
Swimming Pool Entrance: P85.00 (adult) / P55.00 (child)
Fishing Village Entrance: P55.00
Horse Back-riding: P85.00
For other rates and special packages, please visit their package page: http://edennaturepark.com.ph/main/packages/