Love, indeed, conquers all, even the third highest mountain in the Philippines and the highest in mainland Luzon – Mt. Pulag.
It was February of 2009. I, along with some friends trekked to this mountain's peak, where we witnessed not only the infamous sea of clouds that made the mountain a popular and favorite climb for most Philippine based mountaineers.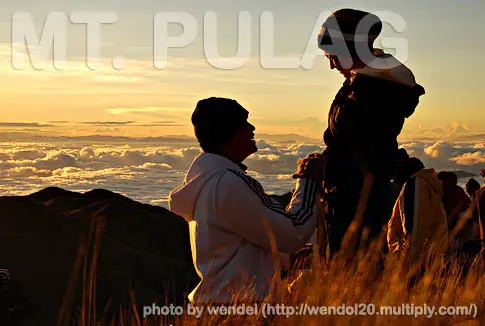 February 22, we braved the cold and dark dawn to trek from Camp 2 to the summit. It was almost freezing at 5 degrees, and after two hours, our group was the first one to reach the top. It was still dark.
As the sun slowly break the horizon of clouds, the sky displayed its magnificent colors and the sea of clouds we've all been waiting to see started to become visible. The scene was awesome.
When the sun was already up, the cold summit of Mt. Pulag was defeated by the warm emotions as love conquered the hearts of those who witnessed King proposed to Margie. With the sea of clouds as backdrop and the mountain as deaf witness to their testament of love, King and Margie proved that the best place to celebrate love is in the most unexpected place.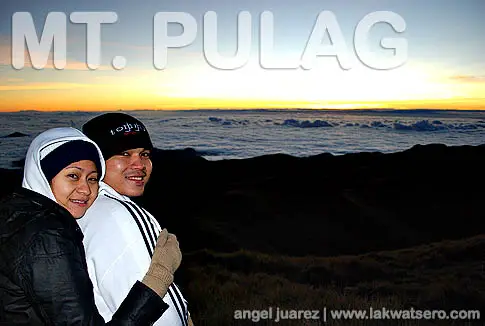 Being close to heaven, above the clouds, atop the mountain and with love in the air, being on the summit of Mt. Pulag is truly a fascinating and unforgettable experience. Indeed, it is one of the most romantic places on Earth.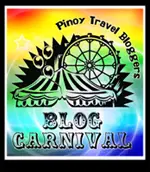 This is in response to the Most Romantic Places in the Philippines theme of Pinoy Travel Blog Carnival as compiled by Aleah of Solitary Wanderer. For information on Mt Pulag, please visit Lakwatsero's Feature on Mt. Pulag

*First publication: May 18, 2009