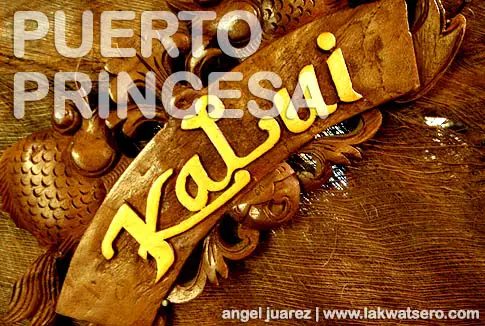 Ask the locals and even tourists who have been to Puerto Princesa for the best restaurants in the city and one that will easily and definitely be on the list is Kalui.
For years, Kalui has established itself as one of the notable landmark of Puerto Princesa, offering a wide array of Filipino foods prepared extraordinarily with their own original recipes and all made from fresh produce and ingredients. They come in very reasonable prices too.
Their menu is based on the catch of the day but some of the best sellers and must try are the Choice Catch, a selection of Tuna Steak, Fish Cordon Bleu, Shrimps or Blue Marlin, served with veggies of the day and Rice or Camote Fries; Kalui Vegetable Plate; and Special for the Day made of Fish Steak, Prawns, Veggies of the Day, Chili Crabs, rice and starters.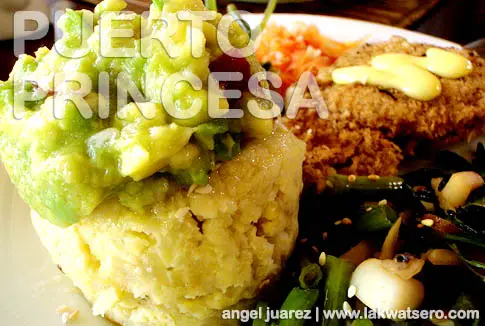 You may want to try also my personal favorite Tubbataha Salad, one of Lakwatsero's top picks for Best Foods last year. Tubbataha Salad is made of various fruits in season, topped with raw tuna and mixture of garlic, macopa (malay apple/wax apple) and onion on a homemade Palawan Dressing. A must try at P165.00 per serving.
Aside from their seafood specialties, they also offer great refreshments, I personally love their creamy fruit shakes specially the Avocado and Mango shakes at P65.00 per serving. Also, do not be surprised if they serve you a fruit salad in a fresh coconut bowl, it is complimentary 🙂
Oooops, before I forget, everyone is encouraged (or required) to take off their footwear when dining in. Inside, you can choose where you want to enjoy your meal. If you want it in the table with wooden sofa and pillows; to the traditional dining tables; or to the lowered tables where you will just sit on the floor. Wherever you are comfortable and at home.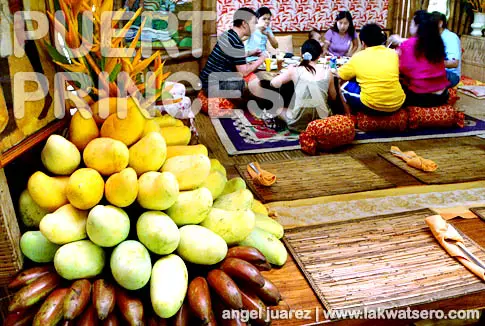 Kalui is located in #369 Rizal Avenue, Puerto Princesa City. They are open from Monday to Saturday from 11PM to 2PM for lunch and from 6PM to 1030PM for dinner. The place is usually full on dinner so call them ahead for dinner reservation at (048)433-2580 or 63928-7539621.