2009 WORLD PYRO OLYMPICS IS POSTPONED!
Official Statement of the Organizing Committee:
The Executive Committee of the World Pyro Olympics (WPO) 09 announces the postponement of the WPO originally set on November 28, December 5, 12 and 19, at the Bonifacio Global City to a later date early next year.

The incessant rains and flooding during the past months have rendered the firing area almost unfit for pyrotechnics launchings which have certain international standards to observe. The participating countries have thus agreed to postpone the event

Ticket holders are requested to contact WPO hotline 568-6908 / 384-0239 or log on to www.worldpyroolympics.com for more details.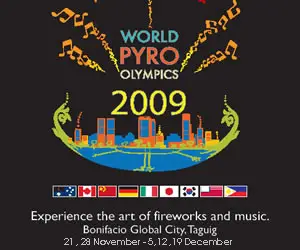 All roads lead to the Fort Bonifacio Global City in Taguig, Philippines on November 21 and 28, December 5, 12 and 19 as the 2009 World Pyro Olympics is back with its new format and new venue.
Eight participating countries will showcase their artistry and technical skills by shooting dazzling fireworks synchronized with musical scores. The new twist is the addition of low-level fireworks effects, which were not utilized in past World Pyro Olympics.
Prepare for a more explosive and more spectacular experience! Visit their website www.worldpyroolympics.com for more information.
Schedule of Performances
21 November – Germany, China
28 November – Canada, Australia
05 December – Japan, Italy
12 December- South Korea, United States of America
19 December – Highlights from the Participants, La Mancha Group International (closing display)
Ticket Prices
Per Show
VIP – P1,500 (inclusive of dinner)
Special Viewing Area (SVA) – P500
General Viewing Area (GVA) – P200
Discounted Prices for Five Shows
VIP – P6,000 (inclusive of dinner)
SVA – P 2,000
GVA – P 800
For reservations for VIP and the Special Viewing Areas, please call 568-6908 or 384-0239 (World Wide Womb). Limited VIP tickets only. Reserve now!
Tips
The event will be held in the  The Fort Open Grounds behind High Street, near MC Home Depot.
VIP comes with a free dinner from Via Mare and sure seats.
VIP and SVA are in front of the GVA.
Seats are on a first come first served basis at SVA.
Food booths are available at SVA.
Gates open at 3pm, but fireworks start at 6.30pm.