From an overcast sky of Puerto Princesa, our boat Hans Christian Andersen cruised for 13 hours in the  vast water of Sulu Sea. We woke up on a sunny blue sky above of the Tubbataha Reefs of Cagayancillo, Palawan. A perfect weather and calm seas, just as what we prayed.
There were 25 divers aboard, all excited to dive the reefs of Tubbataha. More than half of the divers were Filipinos, while the others were from different parts of the world – Australia, Canada, Slovakia, United States and etc.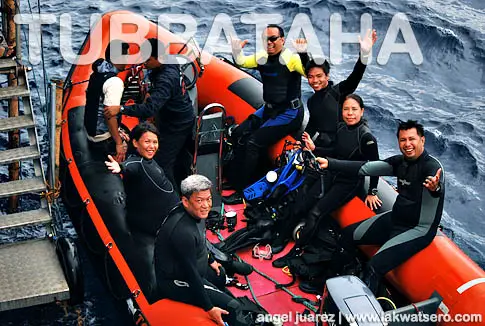 I was grouped with all Filipino divers from Mindanao: Father John Christian Young, President of Father Saturnino Urios University in Butuan City, Sir Dodong Uy and Ma'am Nana Uy of Mantangale Alibuag Dive Resort Camiguin, Doctor Candy Estacio, Sir Jan Surposa, Sir Marc Allen Du and Ate Claudia Artazo. With us was our Dive Master Wally.
We excitedly geared up after our heavy breakfast. Afterwards, our DM briefed us for our first dive – no cameras allowed for it was a check out dive.
Dive 1: Malayan Wreck (Sharks Welcome)
A wreck submerged to a shallow area with its top part partially seen on the surface was our first dive spot.
We descended at 0920H on a water with a very mild current, great visibility and temperature. There were so many fishes in the wreck including a good number of Many-Spotted Sweetlips.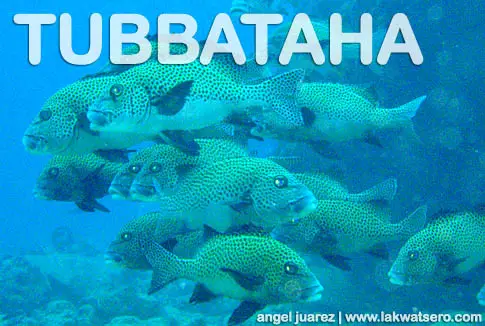 Shortly after we descended, two Gray Reef Sharks showed up and swam below us. Then a lot of pelagics and tropical species followed. It was all eye feast seeing Barracudas, Giant Bluefin Jacks, Giant Snappers, Bumpheads, Trevalies and Groupers, Huge Sea Cucumbers, Giant Eels and the usual small and colorful species including Fire Goby, Scorpionfish, Butterflyfish, Morish Idols, Anemonefish, Wrasses, vivid corals, sponges, seafans and crinoids.
On the final stretch of our dive, before we went to to 15 feet for our safety stop, I was looking on a small cave when a small Gray Reef Shark came out. It was such a view.
I spent a good 48 minutes underwater at a maximum of 29.8 meters and came up with 600 psi of air left on my tank.
Dive Profile: Maximum Depth – 29.8 meters/Date-Time of Descend – 06-May-2011 0921H/Bottom Time – 48 minutes/Water Temp – 31°C/Start Air – 3100 PSI/End Air – 600 PSI
Dive 2: The Wall Street (More Sightings)
Snacks were served on the boat and after a short rest, everybody geared up again for our second dive in the site they called Wall Street. It was 1209H.
From the name itself, it is a beautiful wall full of colorful marine life.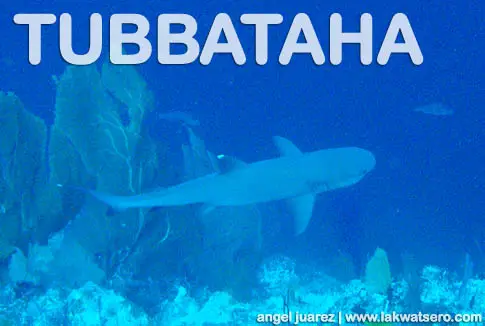 I started with 3200 psi of air when we descended to a maximum of 28.9 meters. There, another great underwater show graced my eyes. Four sharks, including a White Tip and Gray Reefs, a lobster, huge Tunas, Bluefin Jacks and Trevalies teased us. The usual Wrasses, Groupers, Snappers, Sweetlips, Giant Eels and other pelagics were also present, plus the macro species of Nudibranches, Gobies and tropical fishes, corals, crinoids and seafans.
The visibility, temperature and current were great and after 51 minutes of diving to a maximum depth of 28.9 meters, we surfaced with big smiles on our face.
Dive Profile: Maximum Depth – 28.9 meters/Date-Time of Descend – 06-May-2011 1219H/Bottom Time – 51 minutes/Water Temp – 31°C/Start Air – 3000 PSI/End Air – 500 PSI
Dive 3: Amos Rock (It's Getting Better)
We had a sumptuous lunch during the two hours surface interval before going down again for our third dive at Amos Rock, another wall with a rock exposed on the surface.
The visibility was still good, so as the current and water temperature with some areas of noticeable thermoclines.
I only saw one shark during the dive, but there were a lot of Giant Eels, Bluefin Jacks, Snappers, Sweetlips, Groupers, Nudis, Gobys, other pelagics and the usual tropical species.
I reduced my weights to four kilograms for better buoyancy and spent 51 minutes underwater to a maximum depth of 21.5 meters. Another great dive.
Dive Profile: Maximum Depth – 21.5 meters/Date-Time of Descend – 06-May-2011 1513H/Bottom Time – 51 minutes/Water Temp – 31°C/Start Air – 3200 PSI/End Air – 800 PSI
Dive 4: Ranger Station (Sunset Dive)
It was already getting dark when we descended for our fourth and final dive of the day so we all brought our torch. Time stamp was 1751H.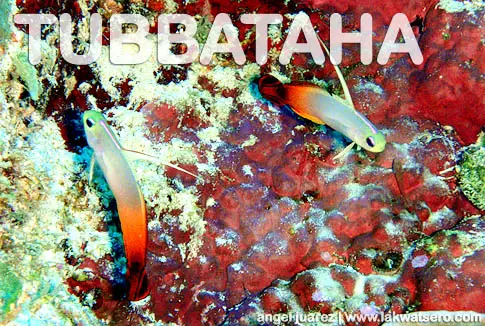 The Ranger Station was near the white sandy island where the Tubbataha Rangers stay. It was another wall dive where we saw Lobsters, Eels, Bluefin Jacks, Sweetlips, School of Jacks and the resident tropical marine creatures.
We didn't see any shark this time, perhaps they were already sleeping on their caves.
Forty-four minutes of diving to a maximum depth of 19.6 meters.
Dive Profile: Maximum Depth – 19.6 meters/Date-Time of Descend – 06-May-2011 1751H/Bottom Time – 44 minutes/Water Temp – 30°C/Start Air – 3200 PSI/End Air – 700 PSI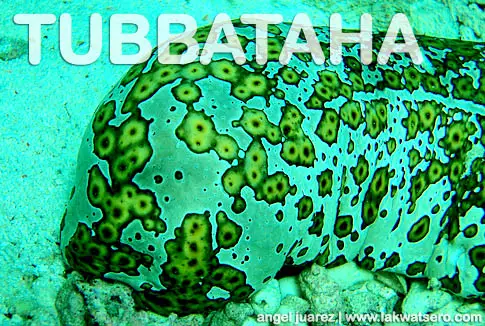 It was already dark when we surfaced, and a vivid after sunset color already enveloped the western sky. The moon seemed smiling at us, with the glittery stars of Tubbataha adorning the sky. It was a lovely day and tomorrow is a promise of another great one.
Tubbataha is love!