A tiring day on the water and a full stomach put me to an early slumber on our first day in Tubbataha Reefs. I was already down at 2100H and had a good nine hours of sleep on day one.
I woke up before 0600H and had a light snacks before the first dive of our second day, still on the North Atoll.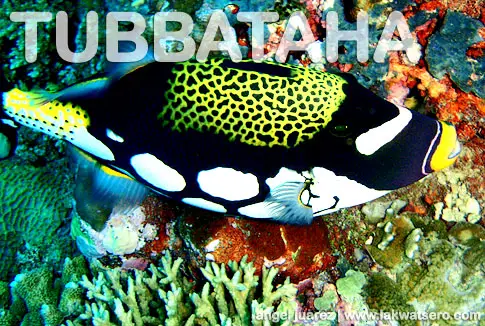 Dive 1: Sharks' Airport (Warning! More Sharks Below!)
At 0612H, our boat stopped to a site where we descended to a vast area of soft and hard corals, sloping into a wall.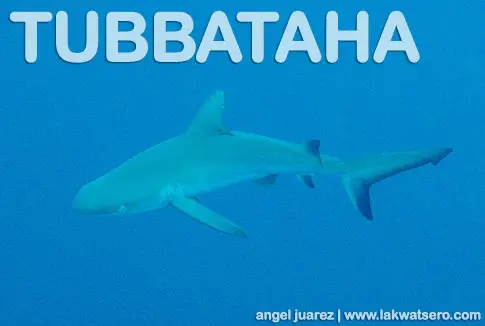 We were in the Sharks' Airport, and it wouldn't be named such for nothing. True enough, not long after we descended, Sharks of various sizes came from every direction, and we all became busy watching them. It was still early and the vis was not that good so I didn't take much photos. They were also fast moving… running away in different directions. There were some chasing a Giant Trevaly, and others just passing by as if playing. Huge Tunas, Triggers, Trevalies, Snappers, Jacks, Groupers, other pelagics and tropical species were also there swimming with us.
It was a total of forty four minutes of bottom time at a maximum depth of 29.5 meters. On the surface, three in our group said they saw a Manta Ray from afar during their safety stop, most of us were yet to see one.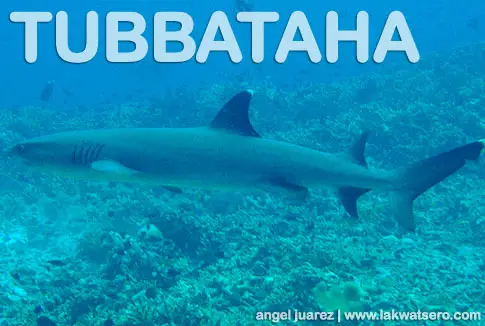 "I had enough Sharks sightings", I ranted. "I want to see Manta!"
Ate Claudia, on a comforting tone said we still have more dives, more chances to see Mantas.
Dive Profile: Maximum Depth – 29.5 meters/Date-Time of Descend – 07-May-2011 0705H/Bottom Time – 44 minutes/Water Temp – 29°C/Start Air – 3200 PSI/End Air – 700 PSI
Dive 2: Sea Fan Alley (A Close Encounter with Sea Turtles)
At 1014H, our group went down to a dive site named Sea Fan Alley, a beautiful wall full of sea fans of varying sizes, shapes and colors.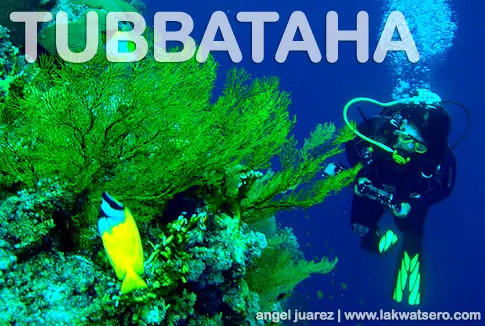 With great visibility, water temperature and current, we saw the usual tropical underwater creatures and a lot of pelagics including an oversized porcupine and sea turtles. We bumped into the group of Monsignor Nene, Father Aldrin, Pia, Mae, Amish, Natisha, Dave and Seth as we were diving.
When we were on the final stretch, we saw a sea turtle surfaced and then swam down them landed on the corals near us. It rested there for quite some time so we had a lot of time taking pics and videos. Another one appeared close to us when we were on our safety stop.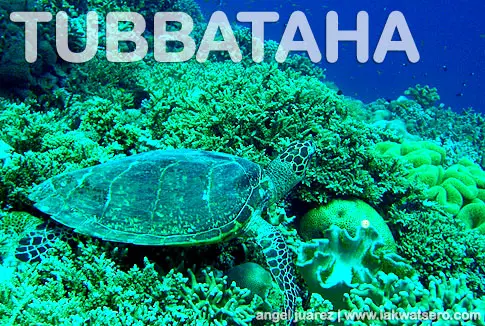 I didn't see any sharks or mantas this time, but it was still a very good 50 minutes dive, our first encounters with sea turtles in Tubbataha.
Dive Profile: Maximum Depth – 23.2 meters/Date-Time of Descend – 07-May-2011 1014H/Bottom Time – 50 minutes/Water Temp – 30°C/Start Air – 3000 PSI/End Air – 600 PSI
Dive 3: Sharks' Airport (Manta at Last!)
At 1350H, we went back to the Sharks' Airport for the third dive of the day, Ma'am Nana didn't join us this time.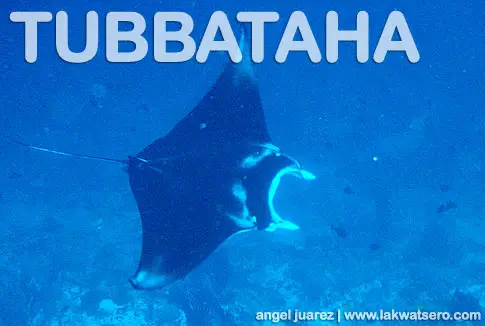 It was a relax and easy start, but at 10 minutes of diving, a magnificent sea creature appeared – a Devil Ray, a family of Manta! At last, just as what we were wishing.
The Ray was moving slowly below us, and we all hurried to get close to it. We were all in awe as it move gently until it was out of sight. Our group was jubilant, exchanging smiles and "O" signs.
What followed were just pure sightseeing and relax drifting, with more Sharks, Trevalies, resident pelagics and other species. At the end of our dive, before the safety stop, another Sea Turtle showed. It was a lovely 48 minutes bottom time.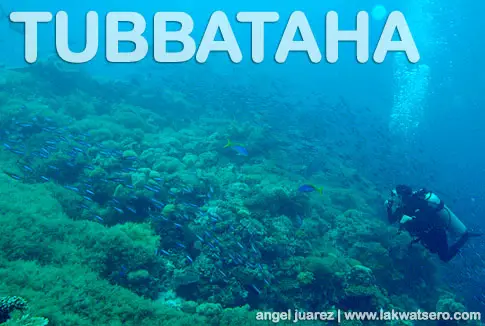 Dive Profile: Maximum Depth – 24.2 meters/Date-Time of Descend – 07-May-2011 1350H/Bottom Time – 48 minutes/Water Temp – 31°C/Start Air – 3000 PSI/End Air – 400 PSI
Dive 4: Sea Fan Alley (Schools of Jacks)
We were supposed to have our last dive of the day at the most requested site they called Dive Terraces but due to strong current, we just went down again to Sea Fan Alley at 1636H. Ma'am Nana and Sir Dodong didn't join us for the dive.
We just drifted with the current along the wall where we saw more White Tip Sharks, Gray Reef Sharks, Triggerfish, Trevalies, School of Jacks, Snappers, Groupers, Tunas and a lot more pelagics.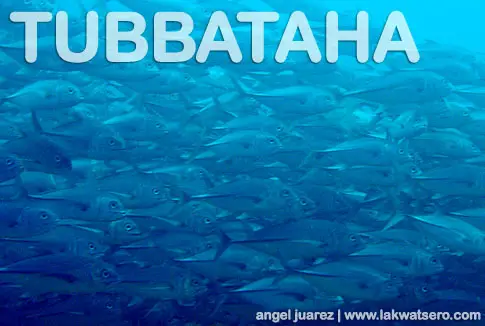 We had our safety stop at an area full of soft corals, and from afar I saw another School of Jacks. I went close to the school and noticed a juvenile White Tip Shark being circled by the Jacks. When I looked behind, the other divers were around 25 meters away from me, and I could barely see them so I swam back, completed my safety stop and surfaced.
Dive Profile: Maximum Depth – 16.4 meters/Date-Time of Descend – 07-May-2011 1636H/Bottom Time – 53 minutes/Water Temp – 30°C/Start Air – 3100 PSI/End Air – 800 PSI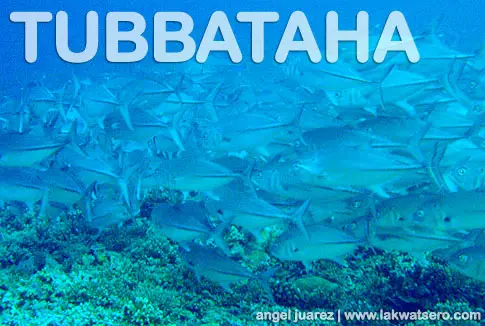 The day two of our live aboard Tubbataha cruise was amazing, as if everything was just getting better. More close encounters with different species of Sharks, Devil Ray, Sea Turtles and other pelagics. Oh man, it was awesome.
I couldn't wait for our third and fourth day of diving at South Atoll!