Romblon is not an easy place to get to. There is no commercial airline flying to the province to date. So unless you can charter your own plane, you must endure the twelve hour of ferry ride from Batangas City. But its isolation is a double-edged sword, a blessing and a curse. A blessing for it has preserved its resources and a curse for it has reserved its potential.
Our incessant quest for offbeat dive destinations in the Philippines brought Ate Claudia and I to this place last year. And for a place made up of islands and surrounded by water, there is always a guarantee of finding unspoiled and unexploited dive sites. We were right!
We were intrigued with what Romblon has to offer, we've been reading and hearing a lot about the Blue Hole and the thought of diving into it excites us. One of our dream dives! And finally, after parking some time in our bucket list, we were able to fulfill the dream!
We arrived at the capital at dawn of the day of our dive. We were billed to Park Bay Mansion, which is, thankfully, only a walking distance from the port. After a short power nap, we woke up to a dive-perfect day, excited for the underwater treats.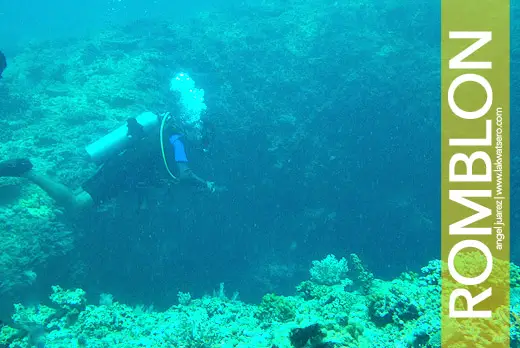 Our light breakfast was some biscuits and DIY cappuccino, enough to provide some energy for the underwater actions. Ate Claudia and I don't want to dive full anyway. When we were good to go, we flagged a tricycle to bring us to Three P's Holiday and Dive Resort in Barangay Lonos. We found out later on that our dive boat was anchored just in front of our lodge in the town proper.
The boat left at almost nine in the morning and maneuvered westward towards the northeast tip of Tablas Island particularly in the town of San Agustin. With us were our dive master Peter and his wife Anne, a local of Romblon and also a diver. We sailed for almost an hour until our boat stopped off the coast of Barangay Cawayan, with a lighthouse on our view. Anxious as excited, we geared up and jump off the water for our first dive.
The Blue Hole
The ocean is a big stash of treasures, mysteries and surprises… mystery like the Blue Hole of Romblon. The large submerged hole located off the coast of Punta Gorda, the north-easternmost tip of Tablas Island, is the only known blue hole in the Philippines. The hole has its opening at five meters deep and goes down to 30 meters to a sloping floor that opens into the wide sandy bottom. With diameter of six meters, the hole is big enough to fit all of us.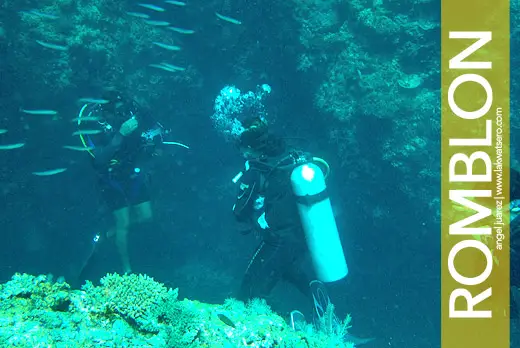 How this deep hole was formed is a big mystery. Diving into it is by luck and perfect timing. It is impossible if not very hard to penetrate if the current is strong that it will push you up to the surface. Thankfully and with great luck, the current was mild that getting in and down the hole was so easy.
Holding my dive buddy's hand, we went into the hole and descended slowly… very slowly. My eyes were busy watching the scene, my head circling around, up and down, amazed of everything. I looked up and saw the sun, around and gazed at the hole's wall, down and saw Peter and Anne already near the bottom.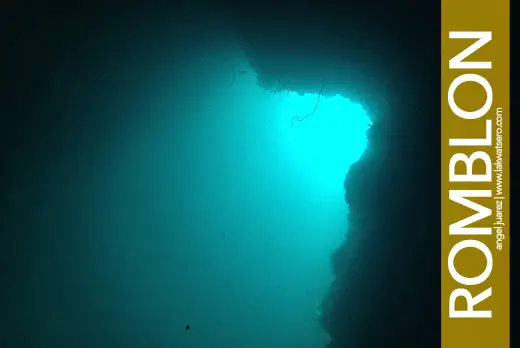 The bottom of the hole leads to big chamber that opens into the endless sloping sea bed. It was a colorful world down there, corals of all varieties and colors carpet the reef that houses nudibranches, shrimps and other macro species as well as the usual tropical fishes and marine creatures.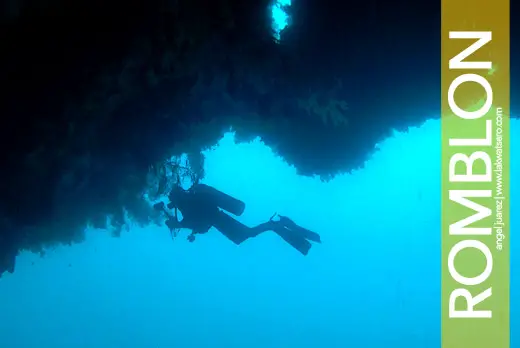 We continued drifting until the landscape changed into a reef covered by crown of thorns, so many, overwhelmingly many! Oh how I wish to harvest the others and save some corals but they were at around 30 to 40 meters and I was few meters up to avoid decompression, not to mention that we didn't have stuff to harvest them anyway. So I just watched while slowly ascending hoping that their natural predators would do magic.
We surfaced after diving for 54 minutes at maximum depth of 37 meters.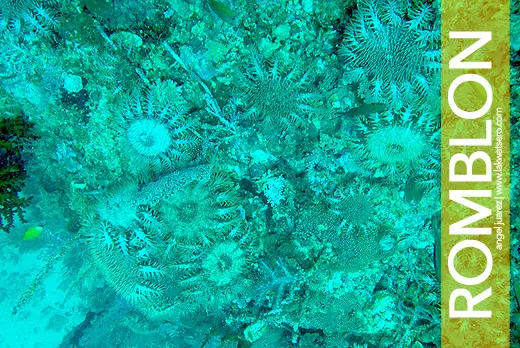 Surface Interval: Punta Gorda Lighthouse
A side trip at the lighthouse came as a surprise. It was just within our reach and Peter assured that we could check it out during surface interval. But it meant swimming approximately 100 meters since the boat cannot dock into the beach due to shallow coral area around. From the shore, stone steps lead to the lighthouse on top of a hill at 46 meters elevation.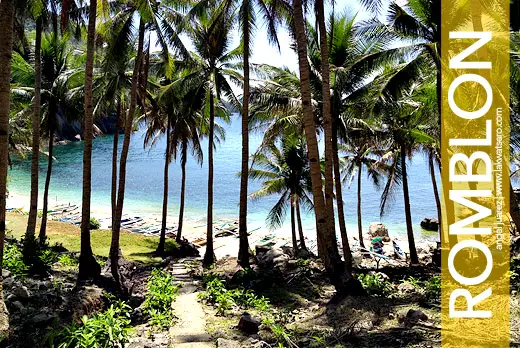 Punta Gorda Lighthouse is one of the major lighthouses of the Philippines constructed during American era. Built sometime in the 1930s, the lighthouse stands on the northwestern part of Tablas Island, in the village of Cawayan.
The lighthouse with its ruined keeper's house has an octagonal concrete tower with lantern and gallery. Its focal plane (height of the lamp above sea level) is at 65 meters or 213 feet and it flashes white rays every 15 seconds. It guides ships traversing the Sibuyan Sea particularly those passing through Romblon Pass.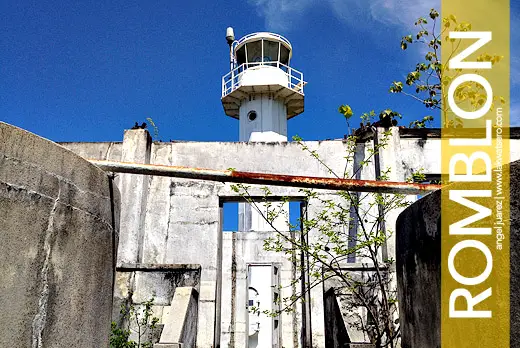 It is just an easy trek from the beach to the lighthouse which also provides a panoramic view of Sibuyan Sea and the neighboring islands.
Gorda Wall
After the surface interval, we swam back to the boat and geared up for our second dive at Gorda Wall.
It is a beautiful wall close to the Blue Hole with prolific corals, fishes and other marine life. The wall starts at 10 meters and goes beyond 70 meters at the bottom. Barrel sponges, soft and hard corals, sea fans, feather stars and sea ferns decorate the wall that serve as home to juvenile fishes and macro species such as nudis, pygmy seahorses and shrimps. At the middle of our dive, a white tip shark passed by and disappeared quickly as if disturbed by our presence. On some occasions, other species of sharks, rays and turtles go to the area.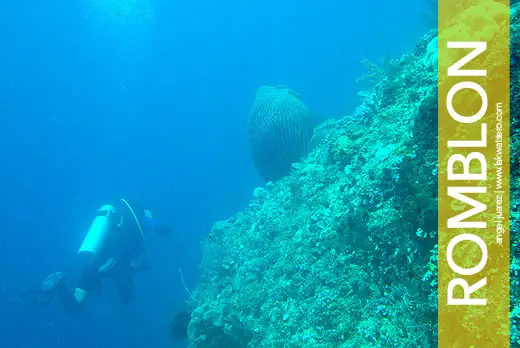 It was a relaxing yet eventful dive that ended up in the shallow coral area covered by table, brain and other corals. Thankfully, there was no crown of thorns in the site. The reef is generally healthy, unspoiled and unexploited. We ascended after 67 minutes of pure underwater bliss.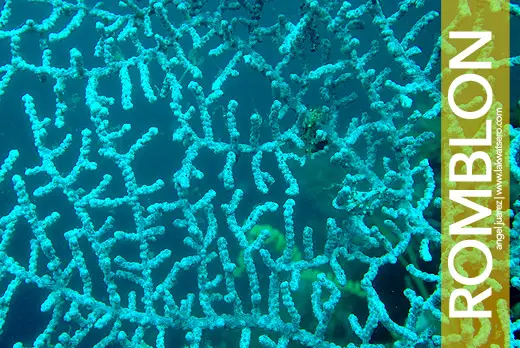 After two dives in the vicinity of the Blue Hole, we sailed back to Romblon Island in a hope to catch the sunset at Fort Santiago. And we did! A trike brought us from the port to the fort and before sundown we were already positioned for the sunset. Unfortunately, the fort itself is cordoned off due to repair works that we didn't get to see what's inside. Nevertheless, the dives, the lighthouse and the sunset were overwhelming enough for our senses to take.
Romblon is still generally out of the tourists radar… an off beat destination, a rare find! The entire island group is surrounded by various bodies of water, holding a promise of more unspoiled dive sites – known or yet to be discovered. Our dream of scuba diving on its water finally came into reality but the dream doesn't end there. We know for a fact that on its depths lie some of the country's best underwater scenes and we are hoping to get back to see more of it. For now, we will content ourselves to our two great dives in the Blue Hole, thankful that all the universe conspire to make this day a truly awesome one.