I was half-hearted if I will go scuba diving in Maldives. With diving rate that is almost double than what I usually pay for when diving in the Philippines, I almost backed out. After all, the underwater scenery is pretty much like the same in my home country, they say.
With its rich marine ecosystem, perfectly blue waters and ideal warm water temperature diveable all year round, the Maldives, without a doubt, is in the bucket list of every scuba divers in the other parts of the world. As a dive destination, the country boasts of the abundant tropical marine species – colorful corals, fishes, macro and huge species such as sharks, rays, turtles and other pelagic.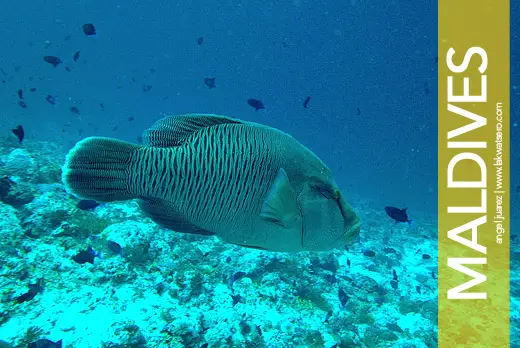 For me who frequent the various dive sites of the Philippines, I really didn't know what to expect. What's there that is not in the waters of the Philippines? What's unique stuff down there to look forward to? Sharks? We have plenty! Rays, we have that too! Turtles, countless! Other pelagic? Name it! So why would I dive in the Maldives?
To be honest, there wasn't a clear answer on my head. But for reason unknown, there was something in me that was very eager to dive on its water. Perhaps just for the sake of saying that I have dive Maldives. The been there, done that thing.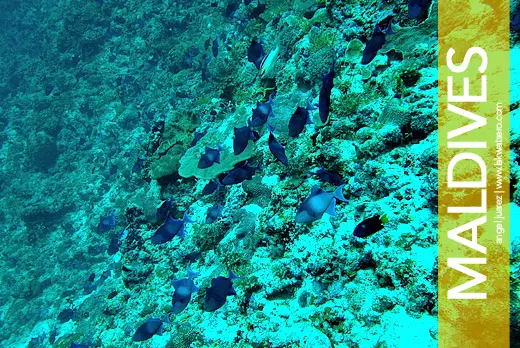 So I ended up confirming my dives with Maldives Passion. Two day dives in the water near Maafushi Island, in all hope that it is all worth the price.
On my last day in Maafushi Island, I showed up at the pier in the morning to meet Maldives' Passion crew led by Jinah, our local dive guide. There were two of us diving with them that day, me and Andy, a British guy accompanied by his partner Emily. By half past eight in the morning, the dive boat left the pier and sailed northeast across the beautiful turquoise water towards Miyaru Faru for our first dive.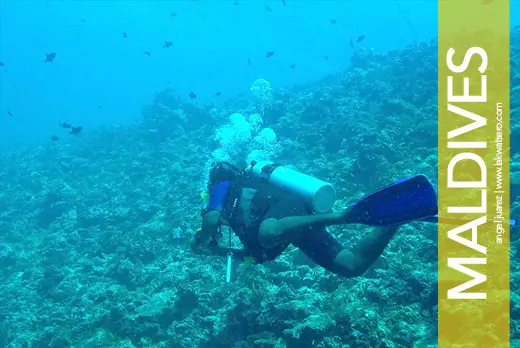 Miyaru Faru
It was just a short ride to Miyaru Faru that we were already in the site after around 15 minutes. Miyaru is the local term for shark while faru is the local term for reef. In English, the site translates to Shark's Reef which gives us a clue of what's in there – reef sharks, eagle rays, manta rays and more!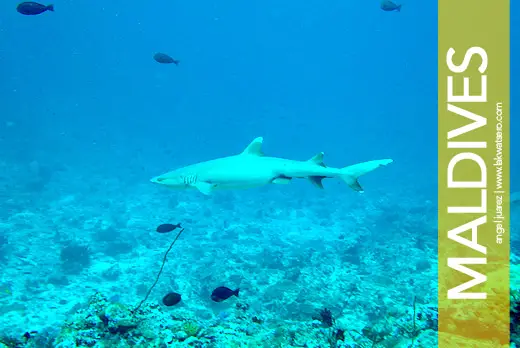 Andy and I anxiously geared up then Jinah made a short briefing. When everybody was ready, we dived into the warm water of the Indian Ocean and slowly descended while drifting with the current. The first few minutes were dull and uneventful but I enjoyed the clear visibility and the wall on my right. The wall is decorated with huge sea fans, it reminded me of Tubbataha Reef. There were occasional pelagic and other tropical species similar in the waters of Philippines such as barracudas, snappers, wrasses, oversized puffers, triggerfish and the macro species like shrimps and nudis.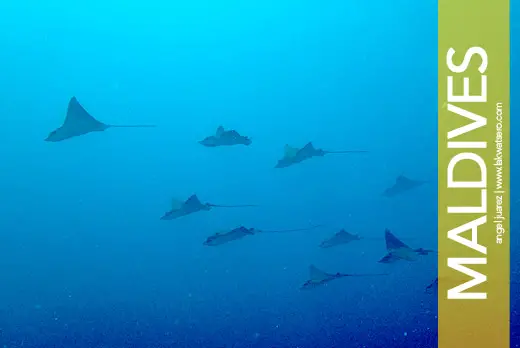 We drifted for a few more minutes until we reached the site with very strong current and there it was a struggle. We held onto some rocks and crawled slowly on the seabed at 21 meters deep. Then we heard a bang! It was Jinah and he was pointing to a school of eagle ray! Another bang for sharks! And more bangs followed for a more sharks and eagle rays! An orderly chaos followed as Jinah, Andy and I were treated to an amazing underwater show. I didn't know where to look! Eagle rays here, sharks there! Woah! Sureal!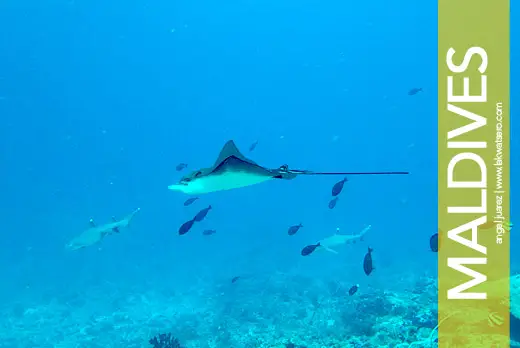 We stayed on the site for quite some time until it was time to go. I could see amazement in Andy's face and smile in Jinah's. It was one hell of an experience. It was my first time to see a school of eagle rays, they passed close to us, probably four or five meters away! After 39 minutes of underwater amazement, we ascended and continued our celebration on the surface.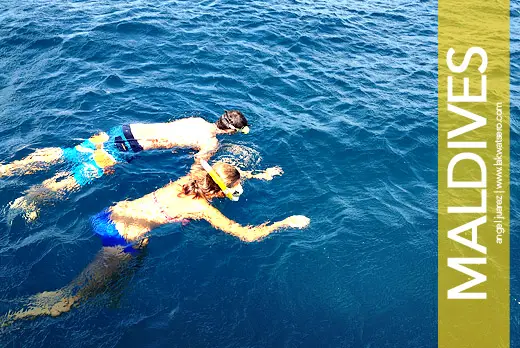 Kuda Giri
The dive boat maneuvered westward and reached Kuda Giri in around 15 minutes. It was time for surface interval. Andy and Emily went snorkeling in the small reef while I chose to stay on the boat to rest. When we were cleared to descend again, we anxiously geared up and dived to the water.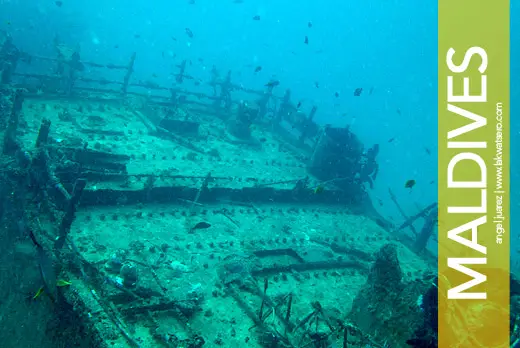 Kuda Giri's main attractions are the small reef and a steel wreck of an unknown cargo boat that lies from approximately 20 to 35 meters. The site is ideal for all type of divers even for beginners and one of the best spots for night dive. The wreck is covered with corals, algae, sponges, feather stars and sea squirts. Small fishes and other marine species dwell on it such as frog fish, stone fish, leaf fish, clown fish, scorpion fish and nudibranches among others. Meanwhile, the small reef is home to variety of marine life including wrasses, parrotfish, triggerfish, lobsters and sometimes sharks.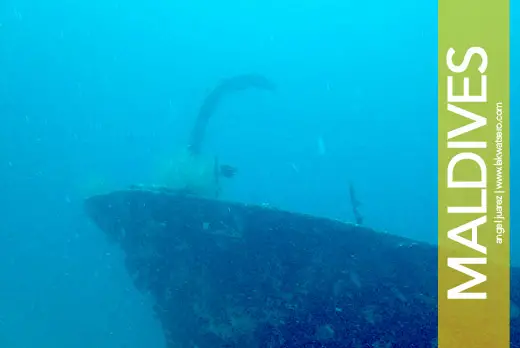 Our descent was on the reef with sloping wall that drops to a 40-meter seabed on the west where the wreck lies. Visibility was not so clear due to silt on the wreckage that were being disturbed by divers, but it was a good wreck. I saw a huge frog fish and an octopus resting on the deck. We spent a total of 51 minutes underwater on a maximum depth of 24.1 meters before finishing our dive.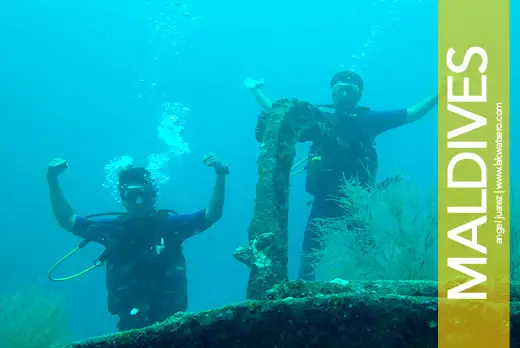 And just like that, our day of scuba diving in the waters of the Maldives ended. We had two dives in South Atoll, two amazing dives that instantly ranked among the best dives of my lifetime . I paid a total of USD110 for the two , I think it's not that cheap, but it was all worth it… very worth it! In fact, this dive trip was one of the highlights of my Maldivian journey. That said, I thank my dive buddy Andy, as well as Emily, and of course Jinah of Maldives Passion, for that extraordinary and unforgettable day in the waters of The Maldives!