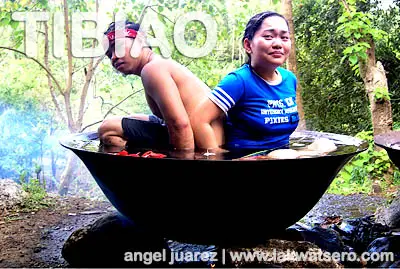 Two hours away from the famous Boracay is a quiet town of Tibiao, a fourth class municipality in the heart of the provice of Antique. With a population of 21,772 in year 2000, this town may not be a popular tourist destination but it has surprisingly something to offer with its unspoiled and panoramic beauty.
See the a seven-tiered waterfalls called Bugtong Bato, feel the rapids of the Tibiao River, soak in the hot kawa tub, commune with the rain forest of Barangay Tigbaboy, swim in the white sand beach of Seco Point and witness its rich marine life.
Tibiao is more than just a Boracay sidetrip, discover this place and experience the uniqueness of the town that is distinctly Tibiao.
How to Get There:
By Air
Tibiao, Antique can be reached by plane via Caticlan and Kalibo, Aklan or via Iloilo.
Caticlan: Philippine Airlines, Cebu Pacific and Air Philippines have flights to Kalibo from Manila while Air Philippines, Cebu Pacific, Asian Spirit, InterIsland Air and SEA Air has direct flights to Caticlan. From Caticlan, ride a jeepney to Nabas Crossing, a 30-minute ride for P20.00 (~$0.50) then catch another jeepney for a two-and-a-half hour ride (P50.00/~$1.25) to Tibiao.
Iloilo: Philippine Airlines, Cebu Pacific and Air Philippines fly to Iloilo from Manila daily, travel time is an hour more or less. From Iloilo, there are buses in to Libertad via Tibiao, it is a two-hour ride for P30.00 (<$1).
By Land and Water
(Though Lakwatsero haven't try these means of transportation yet, one can possibly reach Tibiao by bus and/or ferry rides. These alternatives are relatively cheaper than air travel though quite strenous.)
Ride a bus to Batanggas Port, then a RORO ferry (Montenegro Shipping Lines, Inc., Contact No: +63 043 723 7975 / +63 043 723 7598) to Calapan, from there take another bus/jeep to the port of Roxas, Mindoro Orriental where you can catch another RORO ferry to Caticlan, then follow the Nabas Crossing-Tibiao, Antique route.
Philtranco buses leave regularly from Cubao to Antique. Travel time is approximately 17 hours.
MBRS Lines (Contact No: +

(632) 2418539, (632) 2435886, (632) 2435888 Fax No: (632) 2425483

) operates a Manila-Caticlan ferry from Manila North Harbor. It is a 12 hours ferry ride, then follow the Caticlan-Nabas Crossing-Tibiao, Antique route.
Negros Navigation has ferry direct to Antique, travel time is around 20 hours.
SuperFerry and Negros Navigation have ferries bound to Iloilo for around 20 hours travel time. From Zamboanga to Iloilo, it is a 16 hours ferry ride; from Cagayan de Oro, 14 hours; from Cebu, 12 hours; from Puerto Princesa City, Palawan, 38 hours. From Iloilo follow the Libertad-Tibiao, Antique route.
If you're coming from Bacolod, ride a Bullet Express (Contact No: +63-033-3380618/+63-033-3380619/+63-033-3380620) or Weesam Express (Contact No: +63-033-3351572/+63-033-3373282) to Iloilo and then follow the Libertad-Tibiao, Antique route.
Where to Stay
If you plan to spend the night in Antique, you may opt to check-in at Kayak Inn, Tibiao or at Kam'mea Beach Resort in San Jose. But since Boracay and Iloilo are just 2 to 3 hours away, you may also scout for the wide list of hotels and lodges in these places.

Activities
White water rafting/river kayaking in Tibiao River (P3000.00/~$72)
Soak in hot kawa tubs
Try the Tibiao Fish Spa
Experience a hibby-jibby walk in their hanging bridge
Trek to Bugtong Bato Falls
Swim in Seco Point, Tiguis Beach and other nearby beaches
Snorkel in Coral Resort
Drop by in Boracay and Iloilo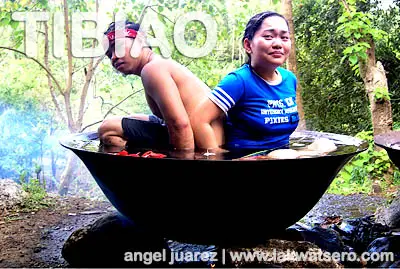 Tips
Katahum Tours now offers day tour packages in Tibiao. Please visit their site for details, rates and more information: http://www.katahum.com/
Lakwatsero Experience
Lakwatsero tried the Tibiao River kayaking (the kayaking guy in the picture is me by the way, thanks Mike), trekked to the waterfalls and soaked in hot kawa tubs in 2006. Watch out for the narrative, itinerary and photos of his different experince in Tibiao.
(Visited 185 times, 1 visits today)