Recently, Lakwatsero invaded TriNoMa's best restos where bloggers were treated to another round of exclusive food tour sponsored by SPOT.ph and Ayala Malls at TriNoMa.
It was an afternoon of food and fun, of countless stories and experiences. Thanks to SPOT.ph and TriNoMa and of course all the participating restaurants: Bubba Gump, Cafe Breton, Cyma, Cold Rock, Fish & Co., Five Cows, Haiku, Holy Cow, Italiannis, Jack's Loft, Krispy Kreme, La Maison, Madison Grill, Recipes, Red Box, Ruby Tuesday, Starbucks and TGI Fridays.
SPOT.ph is a website devoted to Metro Manila restaurants, bars and events. It is your one-stop-shop for everything you need to know about the latest happenings in the Metropolis, the great places and foods.
The site features directory listings of restaurants, bars and clubs, reviews of the establishments, gallery, articles and social networking site.
Questions like: Where's the best ribs in town? Where to take a girl for romantic date? Where can I celebrate my party? Who offers the cheapest party package? Where's the nearest branch of your favorite resto? – SPOT.ph will surely have answers.
The best of Metro dining and partying on the click of your hand, only at SPOT.ph.
The TriNoMa (Triangle in Northern Metro Manila) is Ayala Malls' first venture in northern Manila. Strategically located at the corner of North Avenue, Mindanao Avenue and EDSA in Quezon City, the mall sits atop the MRT Nort Avenue depot and is directly linked to its rail artery.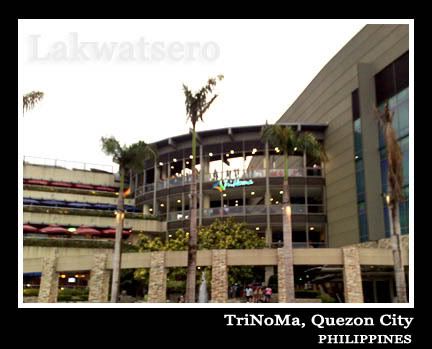 TriNoMa promises its patrons a renewed and different mall experience with its well designed landscape, a beautiful and incomparable environment, complete line of traditional and modern shops and restaurants, activity center, park and movie house, all in one roof.
The Spot Pass
The Spot Pass in TriNoMa is the first leg of Blogger's Food Tour sponsored by Spot.ph and Ayala Malls, in partnership with Summit Media and GMA New Media, Inc and the participating restos. These restos provided bloggers with free treats of their best sellers and best dishes. The idea is to spread in the blogosphere and the whole internet the dining experience (good or bad) to these spots.