Calaguas Travel Guide: How to Get There, Where to Stay, Sample Itinerary and Budget, and More
Categories

Luzon, Travel Guide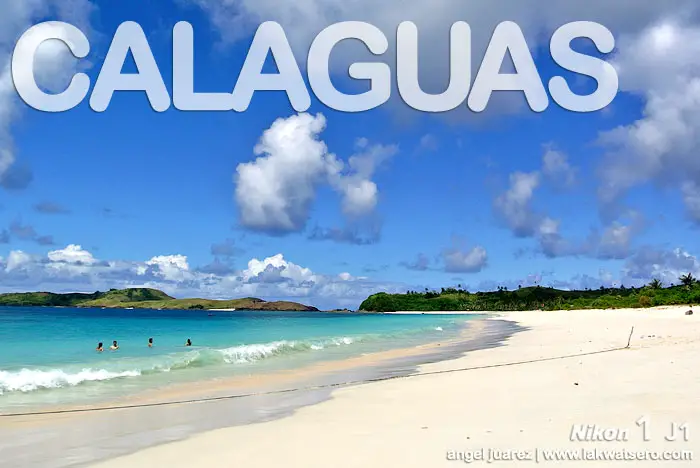 Calaguas is a group of islands in the Pacific under the jurisdiction of the town of Vinzons, Province of Camarines Norte, a merely two hour boat ride from the mainland. It boasts of powdery white sand beaches, crystal-clear waters, and unspoiled natural resources, a place where  you can truly relax while enjoying the pristine beauty of the place.
Over the years, Calaguas has evolved from being an offbeat destination to being a go-to place of beach adventurers. The once quiet coastline is now beaming with life but despite all the activities, structures and crowd, its natural beauty still shines.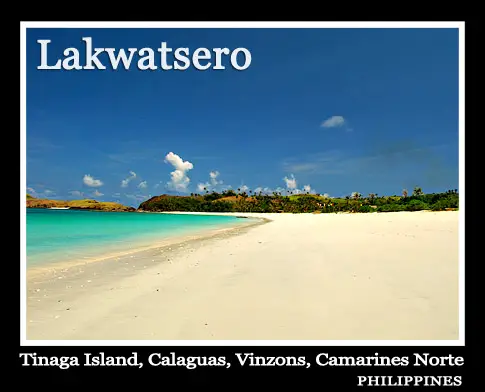 The long stretch of beach named Halabang Baybay/Mahabang Buhangin (Long Beach) by the locals, is a cove located in the Tinaga Island, it is a picture perfect paradise with its long stretch of fine white sand, dotted with volcanic rocks on its both ends, the place is the most frequented camping and swimming site by tourists.
Discover Calaguas Group of Islands, swim on its turquoise water, sit on its white sand, enjoy its magnificent view of sunset, explore its beauty… you'll definitely find a reason to be happy.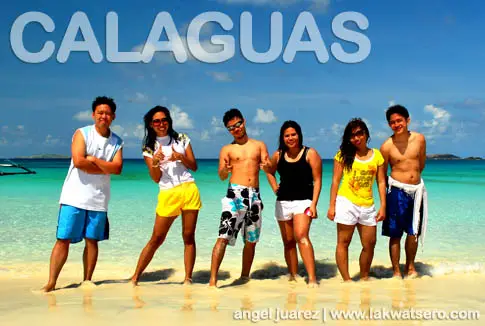 How to Get There:
While there are travel/tour organizers offering Calaguas tour, a DIY trip is possible and the cheapest way to get to the island. The experience of doing it on your own for the entire journey adds thrill and excitement to what is already an exciting adventure.
Via Vinzons
Daet, the capital of Camarines Norte is the jumpoff point to Calaguas Islands if you are going there via Vinzons. From there catch a jeeney to Vinzons and get off at the fishport (pandawan). There's a boat going to Barangay Banocboc daily, it departs the fishport at 11 AM, from Banocboc you can hire a banca to take you to Calaguas Islands for as low as P500.00 or even lower depending on your haggling skill. The return trip to Vinzons fishport leaves Banocboc at 6AM the next day.
Alternatively, you can hire a banca from Vinzons fishport to Calaguas Islands, price depends on the capacity of the boat. For a small boat that can fit four to five people, the lowest rate is at P2500-P3000.00. It is a two hour boat ride from the port.
Going to Daet from Manila, you have two options:
By Land
Philtranco, Amihan (Contact No: 3871792), DLTB and Superlines buses offer Cubao/Pasay to Daet for an approximately 7-8 hours travel time. Fare cost differs, but ranging from P450.00(~$10) to P750.00(~$17)
By Air
Naga in Camarines Sur is closest airport with regular commercial flights via Philippine Airlines and Cebu Pacific. From Naga, Daet is around two hours drive. There are vans to Daet located in Naga Van Terminal, the earliest departs at 5AM and the last trip is around 7PM.
Via Paracale
Paracale, a Camarines Norte town popular for its gold, is fast becoming an entry point to Calaguas Islands. From Daet, the town can be reached in less than two hours by public vans, fare is around P60.00. Last trip from Daet to Paracale is 6PM and 5PM for Paracale to Daet.
If you are coming from Manila, Superlines has direct trip to Paracale/Panganiban (P515/pax, one-way, as of February 2016). Get off at Paracale and make your way to the fish port. Alternatively, you can ride a bus to Daet, get off at Barangay Talobatib in the town of Labo and ride another bus for less than an hour to get to Paracale town and walk to the fish port.
At the fish port, you can ask around for fishermen's boats to Halabang Baybay (Mahabang Buhangin), Calaguas for as low as P3000 (good for five to six persons, overnight) or you may opt to ride a boat that goes to Barangay Mangkawayan, Calaguas for a cheaper fare of at least P50 per person. However there's no regular public boat going to Barangay Mangkawayan but more of fisherman's boat and the schedule  is unpredictable.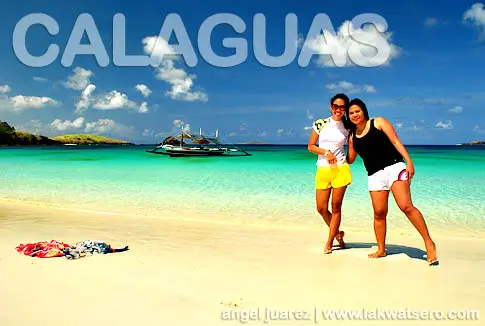 Where to Stay
There are now plenty of cottages and resort in Calaguas Island. Waling-Waling Resort offers air-condition room for at least P3,500 per room per night.
For campers, entrance fee ranges from P120 to P150 per person, tent pitching fee is P100 per tent and cottage is as low as P500.
If you plan to stay in Paracale before or after your Calaguas trip, Paliza del Rio Tourist Inn in Poblacion, near the market, has affordable rooms and open parking space. You can leave your car there if you are going to Calaguas Island for minimal fee.
Activities
Calaguas is the best place to relax and unwind if you are not the party goer type or if you are a fan of a quiet beach scene. Just sit on the sand, swim in the water, explore the island, bond with your friends during a bonfire night, and you will definitely appreciate the place.
Other activities include:
Scuba diving/snorkeling (bring your own equipment)
Island hopping
Swimming
Camping – just bring your own camping equipments, enough foods and water supply.
Surfing in Daet's Bagasbas Beach
Visit the old churches St. Peter the Apostle Parish of Vinzons, St. John the Baptist Parish of Paracale and neighboring towns
Island and beach hopping around Calaguas Group: Pinagtigasan Beach on the southern Tinaga Island, Cumalasag, Pinagtakpan, Pinagcastillohan, Guintinua, Huag, Cagbalisay, Bendita, Sang-atan, Balagbag Malaki, Balagbag Maliit, Calangcawan Sur, Mantigbi Beach and other white sand island beaches around
Explore other islands in Camarines Norte: Maculabo, Mercedes Group, etc.
Swim in Pulang Daga Beach of Paracale
Check out Saltahan Falls, Palanas Falls, Malatap Falls, Burok-Busok Falls, Binuan Falls and other waterfalls of Labo
Go spelunking in Mt. Cadig Cave also of Labo
Head south towards Caramoan, Camarines Sur Water Sports Complex in Naga, Albay and Sorsogon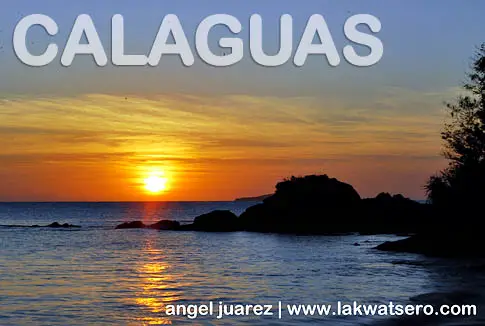 Travelogues
Our group went back to Calaguas via Paracale route last February 2010. For the details, itinerary and budget of the trip, read my blog post Calaguas: Paradise on a Budget (A DIY Guide).
For other Calaguas related posts, please see these posts:
Sample DIY Itinerary (via Paracale)

Estimated Budget: P2500 – P3,000

Day 0:
2100H: Departure at Superlines Cubao (Cubao to Paracale – P515/person)
Day 1:
0500H: Arrival in Paracale
0500H – 0800H: Arrival in Paracale/Find Boat/Shop for other needed items (ice, meat, fruits, fish, drinking water, etc)
0800H – 1030H: Paracale to Mahabang Buhangin, Tinaga Island, Calaguas by boat
1030H – 1300H: Set-up Camp / Lunch
1300H – 1800H: Free time: beach bumming, photo ops, swimming, snorkeling, trekking to viewpoint
1800H – 1930H: Dinner Preparation/Wash-up/Fix-up
1930H – 2030H: Dinner
2030H: Socials, Lights off
Day 2:
0600H – 0700H: Call Time, Breakfast
0700H – 1000H: Free time: explore, discover, play, pose, packup, prepare lunch
1000H – 1100H: Break camp, wash-up
1100H – 1330H: Calaguas to Paracale by boat
1330H – 1500H: Arrival in Paracale/wash-up/fix-up/late lunch
1500H – 1630H: Paracale to Daet by van
1630H – 1730H: Waiting time/snacks/rest
1730H: Departure from Daet to Manila
Day 3:
0230H – Arrival in Manila
Boat rate is as low as P3,000/boat overnight for six persons, P5,000/boat overnight for 10 persons, P6,500/boat overnight for 15 persons. Contact Ate Nilda: +639486793920 (Paracale)
Paliza del Rio Tourist Inn organizes private and open tours on fixed date to save cost, contact number 02-7855215 or +63923-8297096
Barangay collects P20 per person as Environmental Fee in Calaguas Island
Those coming from Paracale, a P20 fee is also collected by barangay for every tourist
Best time to go is during summer and dry months (September to June)
Try trekking to the nearby hill to see the beach from the higher vantage point
There is a source of fresh water in the island
There are restrooms in the island
The island have now more cottages and stores, entrance fee is P100 – P150 depending on where you will rent your cottage or pitch your tent, cottage is as low as P500/night, tent pitching fee is P100 per tent
Waling-waling has rooms for at least P3,500 per room per night
There is a small community (Barangay Mangkawayan) on the opposite side of the island, around 10 minutes by foot
Superlines is the cheapest aircon bus line to Daet and Paracale, their Cubao to Paracale fare as of February 2016 is P515.00
Please! Please follow the LEAVE NO TRAIL PRINCIPLE: TAKE NOTHING BUT PICTURES, LEAVE NOTHING BUT 

FOOTPRINTS

, KILL NOTHING BUT TIME
First Published: March 21, 2009; Updated: 09-Jul-2011 / 15-Nov-2011 / 12-Feb-2013 / 22-Feb-2016
(Visited 4,573 times, 69 visits today)
Follow @thelakwatsero on Instagram: