Excitement woke me up early on our third and final day of our Ifugao adventure. The first thing I did was to go to the veranda to catch my first glimpse of the famed rice terraces of Batad. There it was, rising like an amphitheater perched in the green mountains of Cordillera – so picturesque, awe-inspiring and magical.
My world stopped for a while, my eyes glued to the scene in front of me. I uttered not even a single word, just deep breaths of amazement. It wasn't a dream but it seems I was living on a dream!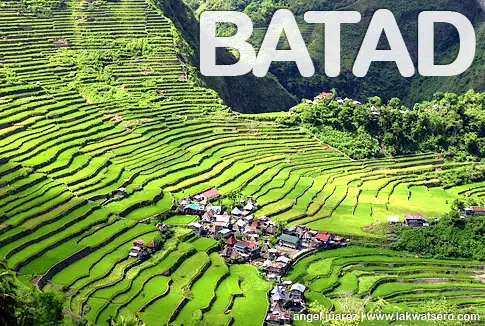 For the second time that morning, my consciousness was awaken by the moment. Gravity pulled me back to reality. It was our third and final day of our Ifugao adventure and as much as I didn't want all the good times to put to a halt, the end was inevitable.
I went down for our breakfast. Ken, Rod, Glen and Richard were already there. We exchanged smiles for there were a lot of reasons to do so. Breakfast was still being prepared, but Rebecca and Reah Paula were there to entertain us. Shortly after, the food were served on the table and with the beautiful rice terraces as our backdrop, it was the best breakfast I have ever experienced.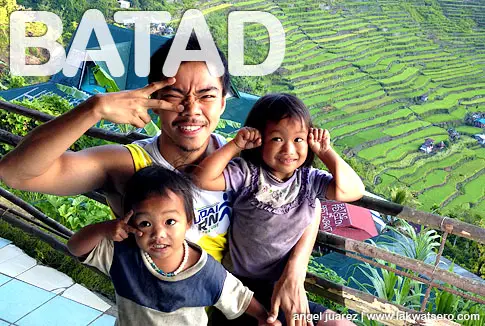 Our activities for the day included trekking around Batad and biking towards Poblacion Banaue. Here's the diary of what transpired on the third and final day of our Ifugao bike adventure:
May 12, 2013: Trekking around Batad and biking from Batad to Banaue Poblacion – 15 Kilometers
6:33AM Rideoff
We left the guesthouse for the guided trek to Awa Viewdeck via Buntang-Patpat trail. We went down the rice terraces before going up again to the mountainside which, locals say, offers the best panoramic and bird's eye view of Batad.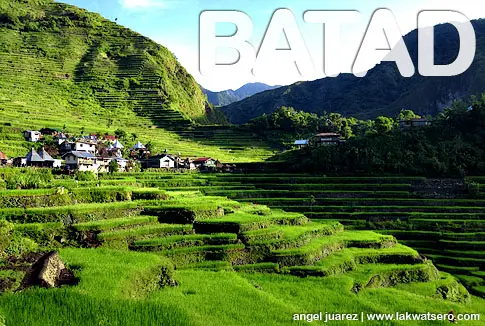 8:38AM Trek to Awa Viewdeck
A grueling trek that lasted for almost two hours brought us to Awa Viewdeck. True, it offers the best view of Batad Rice Terraces worthy of the efforts of waking up early and going up the highest vantage point of the terraces.
Awa Viewdeck or Viewpoint is actually a passage used by locals crossing to and from Batad and Sitio Patpat. The viewdeck offers two different sides of Cordillera – the rice terraces on Batad side and the mountain view on Patpat side that serves as potato plantation. The trail of the latter leads to Anaba and Ducligan.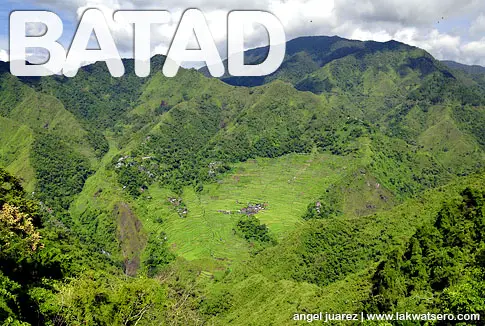 9:05AM Trek Down
We left the viewdeck and trekked back to the lower grounds, moving fast to catch up with our planned itinerary since the trek up to the viewdeck consumed much of our time.
10:30AM Back at Inn
We reached the lower ground of Batad and stopped for a quick rest. With our limited time, we had second thought if we would still proceed with the trek to Tappiya Falls. But we were determined to see it so we ended up taking the trails going to the waterfalls.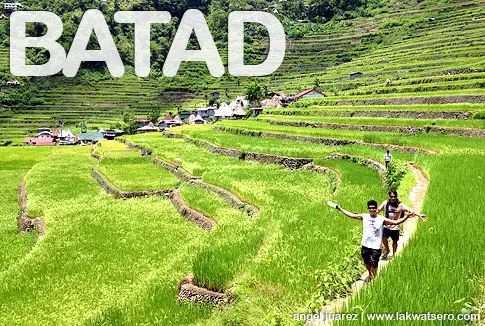 11:42AM Trek to Tappiya Falls
After two days of pedaling and the early morning trek to Awa Viewdeck, the trek to Tappiya Falls seemed to be an easy activity. We reached the falls before midday with the scorching heat of the summer sun on its day's peak, it was perfect time to freshen up. As if kids in our own playground, we dipped and enjoyed the cold water of Tappiya Falls oblivious of the time
12:15PM Trek Back
We left Tappiya Falls and trekked back to our hotel in a hurry since we were to meet Jake Singh, a fellow biker from Lagawe, supposedly at 1PM in the Saddle. We passed by the part of the rice terraces destroyed by the landslide but was restored by the concerted effort of the community, NGOs, local and national government.
1:02PM Back at Inn
Back at our inn, we quickly washed up and fixed our stuff, all our movements were in fast pace since we were already behind our schedule. We managed to have quick lunch prepared by Ate Germaine before bidding Batad goodbye.
2:28PM Trek to Saddle
Until then Batad! With heavy steps, we turned our backs to the picturesque rice terraces as we trekked back to the Saddle. Local porters already transported our bikes earlier that day for a minimal fee.
3:13PM Meetup with Jake
Waiting for more than two hours in the Saddle, Jake was about to go down the village, worried of what happened to us. We met him few meters from the Saddle.
3:30PM Saddle
Finally, we reached the Saddle. After a quick rest, we all geared up, boarded our bikes and enjoyed the 3-kilometer downhill rush from the Saddle to Batad Junction.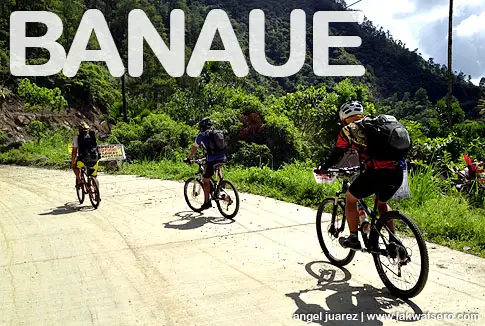 3:47PM Ride to Banaue
We continued to pedal back to Poblacion Banaue, approximately 13 kilometers on mostly paved road with downward slope and gradual ascents. The sun already hid behind the gray clouds, a hint of afternoon shower.
It was the last leg of our Ifugao adventure and I couldn't help but savor the last kilometers of our epic trip – the beautiful scenery, the cool breeze blowing against my face, and the great company of friends with me.
4:55 PM Touchdown Banaue
We were back in Banaue! Three days ago, the place radiated excitement and enthusiasm but as our journey came to its end, our rendezvous to the same spot radiated mixed emotions – sadness that all the good times were on its end, and happiness that we finally finished this one of a kind adventure all in good condition. It wasn't easy, in fact it was tiring, butt-numbing and exhausting, but it was all worth it. The amazing scenery and lovely people we met in Ifugao were more than enough to soothe our aching bodies.
We boarded our bikes and hitched on Jake's truck that would bring us to Lagawe, more than half an hour ride from Banaue. We were barely talking but our thoughts were conversing in silence, biker's language. Then, strong rain drenched us when we reached the provincial capital but we were all incognizant of what's happening around. Our thoughts were still rushing in the trails of Ifugao, recalling the highlights of our memorable ride.
Jake reserved our seats on the night bus to Manila and opened his Lagawe home to us. We exchanged stories and laughter over few bottles of beer and light snacks. A sumptuous dinner was also prepared – the delicious Ifugao Longganisa and some freshly sauteed veggies. Then came the inevitable end of our journey.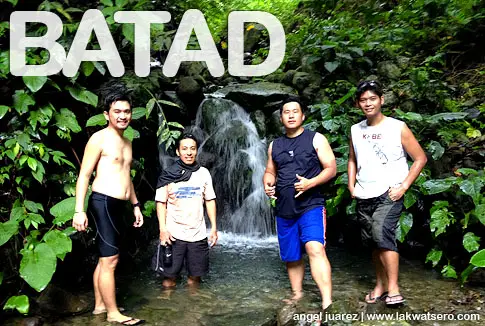 Frank Herbert once said that without new experiences, something inside of us sleeps. This entire experience surely awaken my thoughts and my eyes to the beauty of Ifugao and its people. An experience that I will always cherish. There are still more roads to pedal, more horizon to explore, more trails to brave and more journeys to take, but this adventure sets the bar high and I thank my company of bikers Rod, Ken, Glen, Richard and also Jake and all the people we met along for the entire experience. This adventure was truly one for the book!