Boracay is indeed a paradise. With fine white sand beaches and blue water as backdrop, the place is haven for those who like sea sports, swimming, sun bathing (if you like a tan), snorkeling and scuba diving not to mention island hopping. It is also a tropical party place with its cozy bars and restaurants. So for a typical tourist, those are the activities waiting for you.
But of course, I enjoy doing things differently. My first time in Boracay, we spent a day in Tibiao, Antique, two hours away from the white beach, for a white water kayaking, and ended up with bruises and swellings all over our body, we enjoyed it nevertheless. We also trekked to a majestic waterfalls and soaked in a hot kawa tub at the end of a day. I tell you, it was more than a sidetrip. The fun and adventure we had in Tibiao is worth all the bruises and body aches which I will not trade for a lazy day of just swimming and lying in the beach or partying in the bars (I am not a party goer anyway).
Things to do in Boracay and Tibiao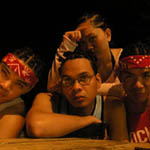 [1] Braid your hair.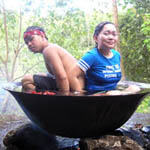 [2] Soak in a hot kawa tub.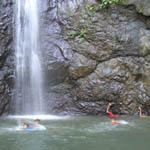 [3] Trek to waterfalls.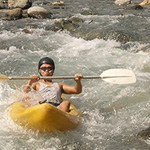 [4] Kayak in Tibiao River.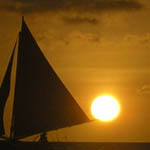 [5] Watch the sunset.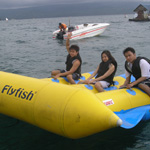 [6] Try aquatic sports.
But then a Boracay experience will never be complete without the usual activities: island tour and a visit to the crystal cave, beach hopping in Puka Beach and Balang Hai Beach, finding nemo in Boracay waters, and some aquatic sports such as Banana Boat Ride and Fly Fish (I wish to try parasailing too, hmm… next time).
On my recent Boracay visit, I discovered one great and funny thing to do there. While sitting on the sand, after watching the sun set, I started digging and digging and digging until I came up with a masterpiece I am truly proud of. A lot of friends didn't believe me, but I apparently did a SAND LAMP, well okay, with the help of two kids. But I claim 80% of work for this one, honest! Since building Sand castles now requires permit in Bora, local kids resorted to creating sand lamps and asking donations from amazed tourists. I saw their works, and I challenged myself to create one (and beg for donation too.) Here's how:
Create you own Sand Lamp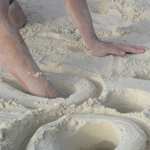 [1] Dig.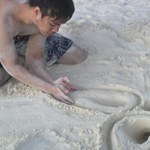 [2] Shape.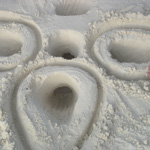 [3] Dig and shape more.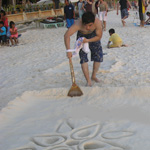 [4] Polish.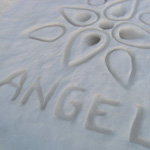 [5] Name it.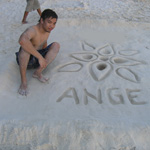 [6] Pose.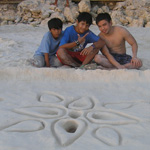 [7] Pose with people who help you. Thanks Junjun and Ericson!

[8] Put a candle in the hole and pose once more.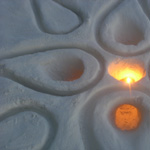 [9] Bravo! A sand lamp. Ready to beg for donation 🙂
Budget
A day in Tibiao is worth P3000. Inclusive of the round trip transportation, white water kayaking with equipments, meals, and a very rare chance to soak in a hot kawa tub. If you are interested, you may get in touch with the Sand Castle Resort in Boracay, they organize the Tibiao Adventure.
Sand lamp making is free of charge. 🙂
Other activities and approximate budget:
Island tour: P1200-P1500
Banana boat ride, 15 mins: P250/pax – minimum of 5 pax
Fly fish, 15 mins: P600/pax – minimum of 3 pax
Parasailing, 15 mins: P2,500
Jetski, 30 mins: P2,000 / 60 mins: P3,500
Tube ride, water ski, wake board, 15 mins: P1,500 / 30 mins: P2,500 / 60 mins: P3,800
Speed boat rental, 60 mins: P3,500