*Since I was afraid to use my DSLR in Delhi, I used my mobile phone for all the photos in  this post 🙂
Seated on a bench in platform 11 of Old Delhi Railway Station, I waited for an hour-and-a-half before the train arrived. An old lady beside me tried to converse but since I cannot speak nor understand even a single Hindi word, we just ended up smiling to each other.
A Nepali-looking family then came and sat on the remaining empty seats. I have learned that they were heading to Gorakhpur too and onward to Nepal. I smiled and told them that I will just follow them when we get off in Gorakhpur.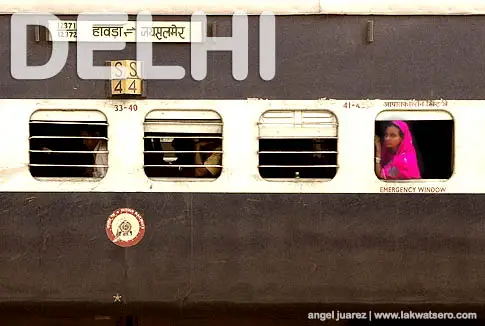 Few trains came and went before ours arrived. At 3:30PM, the Gorakhpur bound train stopped in our platform and chaos followed. Imagine the usual Indian railway scene that we usually see on TV, movies or in photos, it was real and I was astounded.
The Nepali guy pointed me to a coach and I got in. Well, not actually, I was pushed by a wave of people trying to get inside the cramped and already full train.
"Stop pushing!", I shouted. I was afraid that I would trip off and fall. An old lady in front of me stopped because a huge luggage was blocking her way, so I couldn't move forward either. But the men and women behind me kept pushing.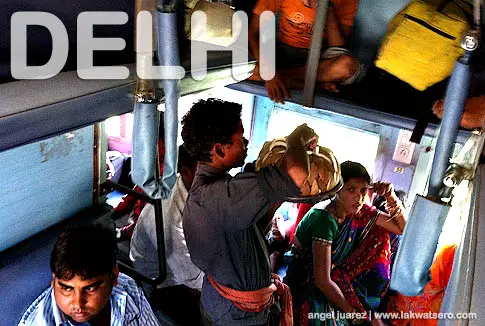 I was shocked with the scene inside. The train was already full – men, women, children, infants, chickens and luggage scrambled inside. But then, more passengers, including me, were still trying to get in.
I kept on moving forward because people behind me kept pushing and yelling. With some luck, I was able to find my seat. Seat number 54 was on the lower deck though and already occupied by an Indian family, with a lady leisurely stretching on the bed while kids were on her feet. I showed them my ticket but they just ignored me so I just sat in a small space beside the lady's head.
A young man approached me after a while and checked my ticket. He was trying to say that I was in a wrong coach. He tried to look for help but there were too many people and he could not move around so I just got off.
Confused, I asked the men in the platform where coach S6 was but they just raised their arms up. If they didn't know or just couldn't understand me, there was no difference. I ended up moving from coach to coach, looking for officers or someone who could understand me until a man pointed to a sheet of paper posted on one of the coaches. I have learned that a passenger's list is posted in every coach so I checked out the lists, hopping from one coach to the other in a hurry. Alas, I found my name in one of the lists, but going inside the train was another challenge. Coach S6 was already full, its walkway was already blocked by people and luggage but there were still more trying to get in, including me. Again, I kept pushing because the people at my back were pushing too. It was a long search, my seat was on the other end of the train. And when I finally saw seat number 54, I stopped inside its cube and the occupants around all looked at me.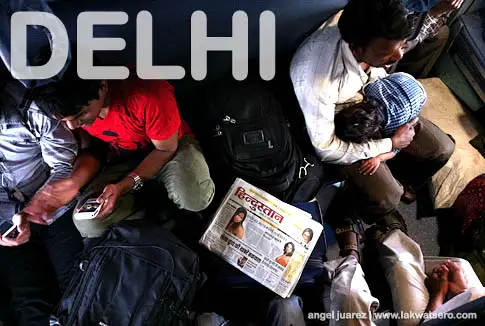 "Seat number 54", I said while showing my ticket.
A young guy stood up and pointed the bunk above where four people were already seated. The young guy motioned the four men to get down but they didn't move, they were just looking at me.
Luckily, a male inspection officer passed and the young guy talked to him in Hindi. The officer motioned to the four men to get down and they obliged. I felt sorry for them as they ended up standing on the walkway.
I thanked the young guy who helped me. He asked where I came from and was surprised to find out that I am a Filipino.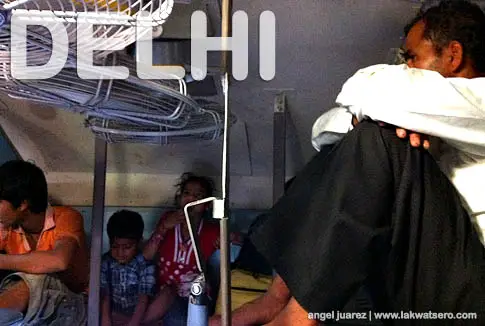 So I climbed to my bed, stretched my legs and laid my back on the soft cushion while the four men I evicted were looking at me. I felt ashamed that I looked so comfortable in my bed while people below me were all fighting for their own space. I didn't know what to do, so I just closed my eyes because I couldn't bear the apathy.
I was awakened when one of the four men I evicted climbed up my bed and sat on a small space beside my feet. I adjusted so he could sit comfortably. I smiled at him and he smiled back. The other three were also looking for their own small spaces. After a while, the train engine started and my 16-hour journey to Gorakhpur commenced.
The sound of the moving train, the scream of crying babies, the music from the numerous radios and mobile devices, the ceiling fan beside me, and the noise of the crowd all mixed up but I tried to get accustomed to all of it. The train would be my home for 16 hours so I had to force myself to get used to all these noises. I also quickly got used of the smell – the remarkable Indian odor, the toilet not more than 10 meters away, the spices, foods and the unexplainable aroma of the train that seems to be already stuck on its walls. I ended up staring at the ceiling, only three feet above me, until I fell asleep.
It was already dark when I woke up, all people below me were all having their meal. I felt the hunger and thirst but I was trying not to eat nor drink because I didn't want to use the toilet. Not because it was gross but because I was afraid that other passengers might take over my bed. I just wanted to protect my space. One more thing, going to the toilet meant passing to the sea of people and luggage in the hallway and it wasn't easy.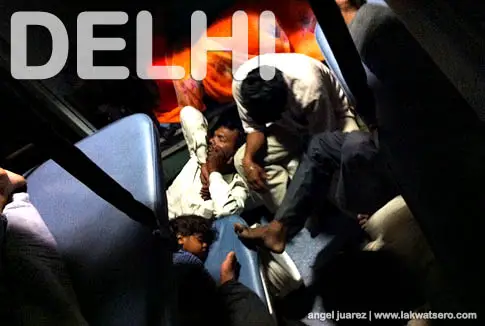 With nothing to do, I just forced myself to sleep again. I woke up after a while and the young Nepali guy who helped me earlier was already laying on the opposite bed. He conversed with me in decent English and I was happy that I found someone to talk to. Sometimes, traveling solo is a bit sad.
He advised me to see Lumbini, the birth place of Lord Buddha, only 25 kilometers from Belahiya, the border town of Nepal. He also suggested to take a night bus to Kathmandu, arriving in Nepal capital in the morning. I checked my itinerary and it was just perfect.
He bid goodnight after a while and I went back to sleep. At past midnight, I was awakened by the scream of a crying baby. My body was already seeking for the toilet while my stomach was screaming of hunger and thirst. But I endured and ignored the calls of nature. I thought of happy thoughts and for the last time, I surrendered myself to the night.
Before eight in the morning the young Nepali guy woke me.
"We will get off in the next station", he said. They were already preparing.
The train stopped and we got off. The scene was no different from Delhi. Gorakhpur finally!