With my Singapore ticket expiring soon, I spontaneously decided to go to Merlion city. But I have been to Singapore a couple of times in the past and being just a small state, I would like to believe that I have already seen its entirety. So I opted to cross the Malaysian border and visit the heritage city of Melaka, which is just around four hours away from Singapore.
Situated on the western coast of Malaysian Peninsula, the City of Melaka is the capital of Malaysian state of the same name, a UNESCO World Heritage Site since 2008. Melaka or Malacca is a diverse and historical city and its history can be traced back in the 15th and 16th century, from the establishment of a Malay Sultanate to the colonization by the Portuguese, Dutch and British as well as the big influence of the Chinese. Its colorful history interests me and it has been in my bucket list for quite some time, finally I was able to crossed it out on my list.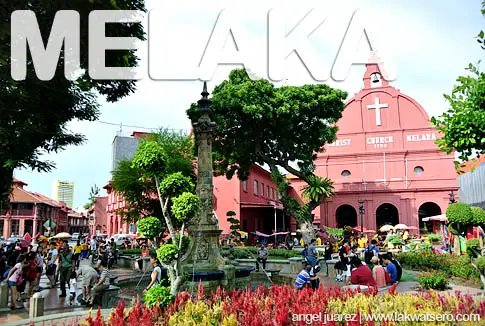 Since it was an abrupt decision, I hurriedly did a last minute research and once more the internet proved to be useful. In an instant, I came up with a decent itinerary complete with maps, directions and other valuable tips. With the help of other blogs and TripAdvisor, I was able to search for Voyage Guesthouse, a budget hostel in Melaka that offers dormitory bed for as low as 15 Ringgit per night, perfect for my budget! So in just a short preparation, I was all set for Melaka!
Singapore to Melaka Overland
Going to Melaka from Singapore requires at least four transfers by bus commute, five to be exact from those coming from Changi International Airport like what I did – Airport to Bugis (Queen Street Terminal), Queen Street Terminal to Border, Border to Johor Baru, Johor Baru to Melaka Bus Terminal and Melaka Bus Terminal to Melaka downtown.
First thing to do is to cross the Singapore and Malaysia border which can be done by air or by land. There are three ways to do it by land, either by bus, taxi or train. Doing it by bus, there is a lot and still growing list of bus companies offering direct transport between Singapore and Johor Bahru and they are stationed in various terminals in Singapore from the traditional terminal in Kranji MRT and to others located in Queen Street, Jurong East, Woodlands, Yishun and even in Changi Airport.
I chose the one from Queen Street, via SBS Transit to Larkin Terminal in Johor Bahru that costs me a dollar and 90 cents. There are few buses from Queen Street to Johor Bahru and it is almost always guaranteed to catch a bus from five in the morning to midnight daily. Travel time takes almost an hour an involves a bus transfer at the checkpoint or immigration border.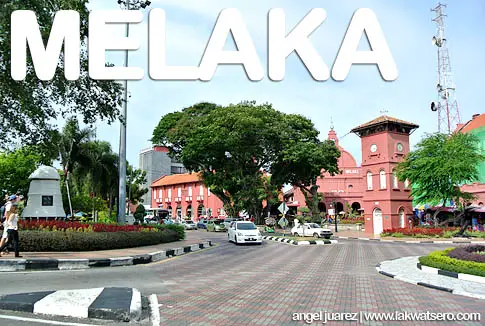 Actually, all bus passengers from Singapore to Johor Baru are required to get off at the border, pass through the immigration and transfer to a different bus to Larkin Terminal. Take note that when alighting at the border, bring all your stuff with you and remember the company of the bus you took to the border because you will be taking any bus of that same company after you have cleared the immigration. From the border to Larkin Terminal, it will take another hour or so. Larkin Terminal is the main bus terminal of Johor Bahru, the capital city of the Malaysian state of Johor. The terminal connects the city to various points in Malaysia and even Singapore.
Catching a bus to Melaka from Larkin Terminal is easy, there are a lot of bus companies going there and ticket can be purchased on the day itself. I chose Causeway Link for 19 Ringgit that departed at 12:30PM and I arrived at Melaka Sentral Bus Terminal approximately three hours after. I also purchased my return ticket to Johor Bahru for the next day before going to the downtown.
To get to downtown Melaka, transfer to Town Bus #17. This bus stops at Jalan Laksamana, in front of the famed Christ Church of Melaka. Travel time is around 15 minutes and tariff is only One Ringgit.
Take note that going back to Melaka Sentral Bus Terminal from the downtown takes around one hour or so at 1.50 Ringgit because the bus goes around the town before finally making its final stop at the Sentral Bus Terminal. This made me almost missed my scheduled bus trip back to Johor.
Voyage Guesthouse
At around four in the afternoon, the town bus dropped me off at at Jalan Laksamana, right in front of the Christ Church which is probably the most photographed spot in Melaka.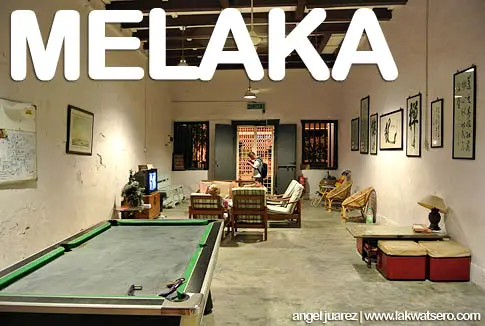 I booked my accommodation in Voyage Guesthouse in Lorong Hang Jebat, conveniently located in the Chinatown area and just a short walk from Jalan Laksamana and other major attractions of Melaka.
Voyage Guesthouse is a backpacker's favorite for its cheap rates, clean rooms and  facilities, cozy ambiance, great location, free wifi and friendly staff. It also has a rooftop balcony with a good view of old Melaka, overlooking St.Paul's Church, Dutch Square, St. Francis Church, mosques and temples. The guesthouse is manage by the same staff of the nearby Voyage Café and Sayang Sayang Guesthouse.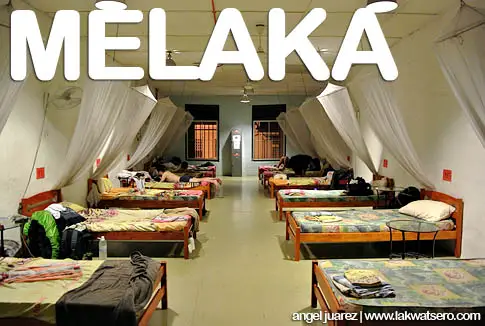 My reservation was on their 14-bed mixed dormitory room which I got for only 15 Ringgit. It was a huge room, without aircon but with open windows and proper ventilation. For only 15 Ringgit, it was such a good deal, no wonder all but one bed are occupied when I arrived.
I settled on one of the beds and had a quick rest while charging my phone. Shortly after, I went out to check the nearby attractions.
Walking Tour
One of many things I like about Voyage Guesthouse is its proximity to the major attractions of Melaka. Almost everything is just a short walk, from the famous street market in Jalan Hang Jebat popularly known as Jonker Street to the nearby Melaka River, churches, mosque, fort, ruins, museums and other places of interest.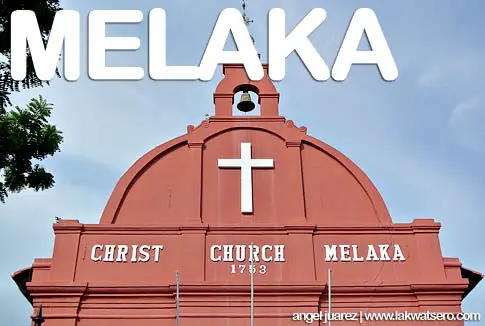 From where I was staying, I just walked to the riverside and crossed the bridge for my first stop – the historic quarter of Melaka. There were a lot of colorful rickshaw locally called as trishaw offering every tourist a ride but I opted to walk, it was already late in the afternoon and the heat of the sun was already bearable. I checked out the Christ Church, The Stadthuys, Clock Tower, St. Paul's Church Ruins, Malaka Sultanate Palace and A'Fomosa. It was already dark when I ended my short walk but without much to do I ended up in the Quayside, fronting the street where the old Dutch houses are standing. There I let time pass watching the boats as they cruised the Melaka River. Indeed, Melaka is a beautiful heritage town – organized, well preserved and well maintained. For a moment, I dreamed of the same development in Intramuros. I am quite sure that it will rival Melaka if only the Philippine Government steps up its efforts in preservation, maintenance, development and promotion of the old walled city of Manila.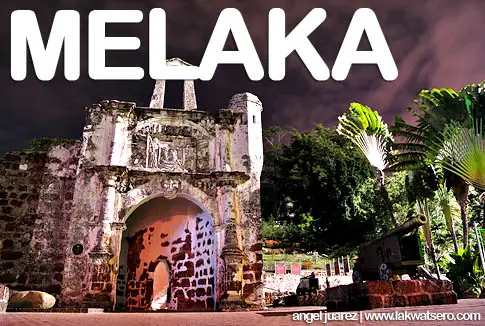 Shorty after, I headed to Jonker Street and blended with the chaos of the night market. Walking at Jonker Street was indeed an experience, where one can shop, dine or just mix with the lovely mess of the lively street.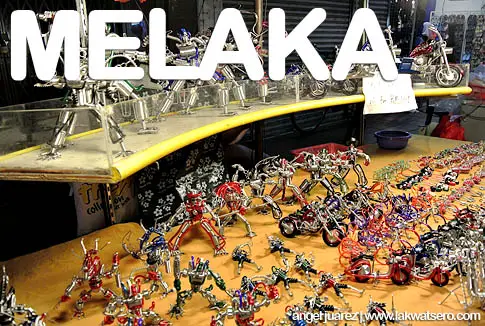 With street food as my humble dinner, I left the street and walked towards the guesthouse. I passed by the Voyage Café and I heard the live band playing some English songs. I decided to get a seat and stay for a while. With a glass of orange juice and the slow songs of the band, I was able to breath and relax. It was such a busy day and chill time was much needed.
An hour passed and the soporific effect of slow music on my tired body already took effect so I billed out and went back to the guesthouse to call it a night.
A Taste of Malaysian Cuisine
I woke up early the next day only to find out that the city was not an early riser. It was already six in the morning yet the streets were still quiet. I grew up in a district in Manila that never sleeps and perhaps I am just used to it, Melaka is the opposite.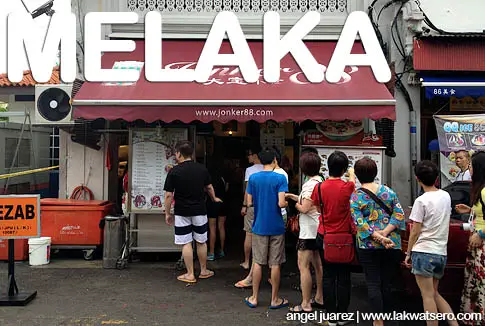 I went again to the Jonker Street and I was amazed to see the alley on its bare state when just last night it was bustling with activities. The shops were still closed and the restaurants were just opening up. I walked along and passed by Jonker88, a famous museum café in Melaka. The queue was already starting to build up. I counted five awaiting customers, relatively short compare to their busy hours, so I was tempted also to queue.
I am really not a fan of other cuisines and I do not usually explore on gastronomic adventures, but I ended up queuing for the sake of queuing, just to say that I have been there and I have eaten in Jonker88.
Jonker88 offers traditional Malaysian foods served with cultural uniqueness of Melaka. Their specialty are laksa and other handmade noodles and iced dessert.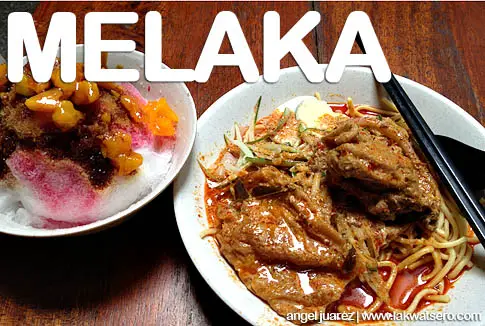 I scanned their menu but nothing seemed familiar so I ended up with something I thought would be safe to order – Baba Rendang Chicken Noodle. An old lady quickly prepared my order with her bare hands, the same bare hands she used for accepting payments. Then I turned to the other side to order dessert, I opted for Mango Ice Kacang.
Inside the restaurant, I chose the empty seat in an open area surrounded by interesting displays. The entirety of the place is simple yet cozy but my meal was the star of the place for me. It smelled really good and looked really delicious so I shook off any hesitation to have my first ever taste of Malaysian cuisine. It was spicy and oozing with flavors, the coconut milk and the mixture of spices blended quite well. My sensitive palate enjoyed the first few spoons of it but got bored halfway on finishing the meal. I think it was good but it wasn't something I would crave for. Next was my dessert, a bowl of Mango Ice Kacang which also tasted good.
Farewell Melaka
After finishing my breakfast and with an hour to spare, I decided to walk back to A'Fomosa and Malaka Sultanate Palace. I also checked out Malaysia Architecture Museum and Maritime Museum before coming back to the guesthouse. By eleven o'clock, I checked out the Voyage Guesthouse and walked to the bus stop at the Clock Tower.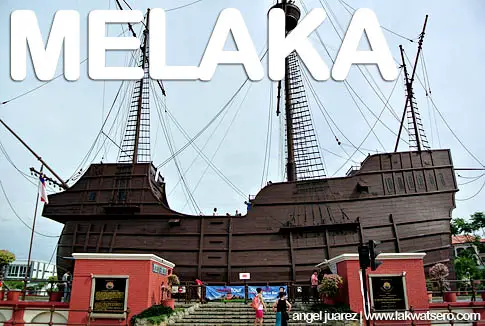 I hopped in the town bus to Melaka Sentral Bus Terminal which I estimated to be just a short ride. But the bus circled around and in the city interiors before going to the terminal. It took almost an hour and it made me almost missed my bus that was scheduled to depart at 12 noon. Two minutes after I boarded the bus to Johor Bahru, it departed for a three-hour trip. At Johor Bahru, I transfered to a Singapore bus that dropped me off at Queen Street, walked to the nearby MRT terminal and boarded the train straight to Changi Airport.
Going back to Manila, the thought of Intramuros once again bothered me. I ended up on a bias decision that Intramuros is more beautiful than Melaka. For some reason, I envy Melaka and admired the Malaysian Government for properly managing their heritage city and how I wish that the same fate happens to the heritage places in the Philippines. But for now, thank you Melaka for the good memories of that short but sweet getaway.