January 29, I woke up on the last day of Lakbay Norte and realized that the eight days we've been together came and went so fast. Later in the day, we were about to part ways and continue on our journeys in different roads.
I took a hot shower to wash up the little hangover from last night's party and went down to the restaurant with all my stuff. I've been doing the same for the last six days, waking up early, packing my stuff and checking out in a hurry. Hectic, but I got used to it and this time would be my last. For a sentimental me, I felt a bit sad.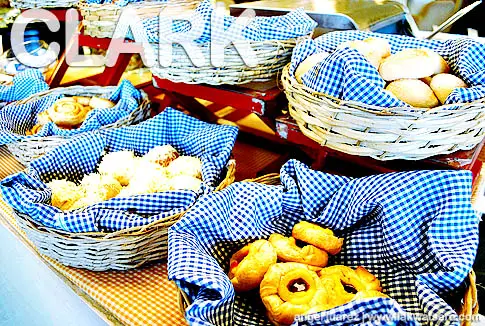 I forgot all my sentiments for a while when I saw the wide choices of food at Salt Coffee Shop of Widus Hotel and Casino. I was so full after I devoured two plates full of breads, meat dishes, pancakes, fruits and cheeses. It was my best breakfast after The Manor 🙂
After our morning meal, we all boarded the bus and went to Barangay Sapang Bato in Angeles City for the off-road ride to Puning Hotspring and Spa. It was my first time to hear of such place but the name didn't gave me a push of excitement or curiosity. Seriously, it sounds like a name of an old lady. But I was fooled by the name because it was the best surprise of the trip.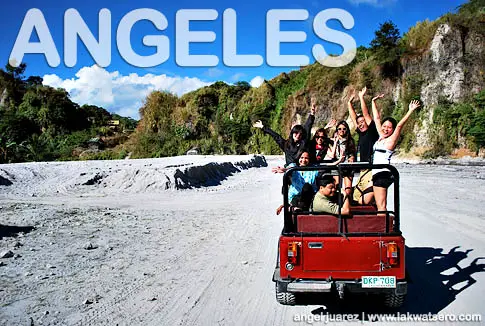 At Barangay Sapang Bato, we transferred to jeepneys that took us to the starting point of the off-road adventure. The 4x4s are lined up and waiting for us when we reached the jump-off and when the shutters stopped clicking, the convoy of 4x4s started moving. In a few minutes, the scenery transformed and turned from one to the other. As if a curtain backdrop in the theater, the varied visuals awed everyone. We passed by the ragged terrain beautifully shaped by the volcanic ash of Mt. Pinatubo, along the river and steep slopes, through gorges, with the towering walls of mountain and ash. When the gorge came to an end, we traversed the wide and desert-like ground of ash and sand mixture until an unexpected view unfolded in front our eyes – the waterfalls and layers of structures that is known as Puning Hot Springs.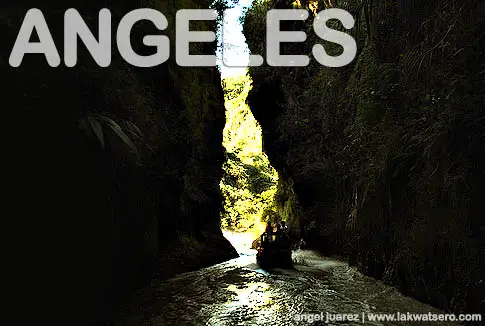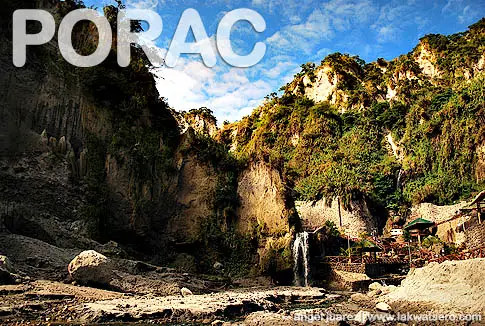 Situated in the Porac side, it is one of the wonders created by the eruption of Mt. Pinatubo in 1991. The Aetas used to call the site "punang" or "mapunang", to describe the place which was once full of trees, it later evolved into its current name "puning".
Our ride to Puning Hot Spring was a visual treat, but what made the adventure more memorable was the relaxing treat at the end when we dipped in the hot spring. Afterwards, we rode back and stopped in the sand steam area where we were buried in the warm mixture of volcanic ash and sand. We were all sweating profusely but it was definitely surreal and relaxing experience. Afterwards, cool mudpacks were all applied to us, it was so refreshing.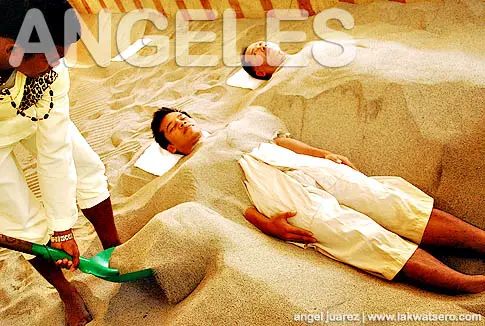 We left by noon for our lunch at Camalig Historical Restaurant, a quaint heritage restaurant in downtown Angeles City. I was amazed with the interior of the place and I felt like I was transformed in the old world… very classic, very Filipino.
They served us one of the best Spaghetti I have ever tasted and their specialty pizzas: Marco's 3-Way, pizza topped with sun-dried tomatoes and kesong puti in three Filipiniana flavors – tuyo, tinapa and classic chicken adobo; Doy's Kapampangan which is topped with longganisa (Kapampangan sausage), ebun buru (salted duck egg), onion and pickle relish; and All the Way, a pizza with peperoni, ground beef, green pepper and mushroom toppings. It took only a few minutes for the food to be wiped out of the table as everyone devour the sumptuous lunch. My craving for sago't gulaman was also surprisingly fulfilled by Camalig.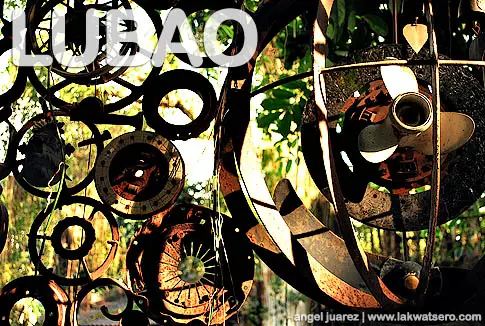 With full stomach, we traveled to Prado Farm in Lubao, Pampanga for a tour on the six hectares compound filled with art, architectural and historical treasures. Prado Farm used to be an LPG filling factory and traces of its past can still be seen on the various art installations in the compound using old LPG tanks. The main gate, podiums, playground and the nativity display they installed last Christmas are all artistically made up of LPG tanks.
But the heart of the farm is the bio-dynamic farming system that they practice and which we got to taste on the food they served. I was still full from our lunch at Historic Camalig Restaurant but I couldn't resist their extra ordinary offerings: the minindal they named Pistou which is made up of small pan de sal, giniling with small longaniza and kesong puti partnered with hot chocolate; flower salad; duck soup; and the organic lechon with stuffed duck.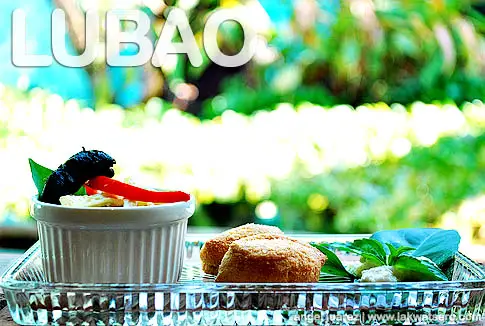 Mr. Renato Ticson, president of NPVB, took the floor for the debriefing before we left Prado Farm. The eight days of Lakbay Norte was nearly on its end. Sadness and silence prevailed as Mr. Ticson deliver his words, only his voice filled the air. A lot of words have been said… words of encouragement and of hope that after this memorable trip, we as ambassadors of the North will share to the world the beauty, wonders and everything worth sharing about the region. Truly, Northern Luzon has a lot of treasures that are waiting to be rediscovered and once again, I felt very lucky to have been selected to rediscover it.
After the debriefing, we did the last spiels for Living Asia Channel and a group photo op before we board the bus going to Robinson's Starmills Pampanga, the final stop of Lakbay Norte.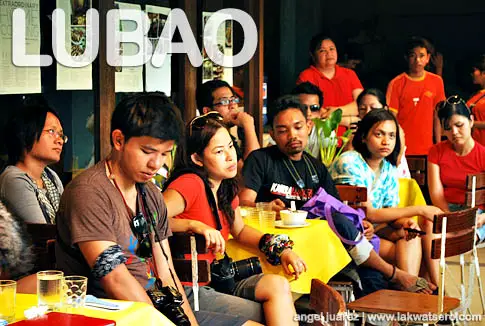 While on the bus for our last few hours together, the group exchanged contacts and promises that it will not be the end, rather the start of new friendship. We were bound together by our common desire to travel, and Lakbay Norte was only the instrument.
As I relish my last few hours in the cold bus, the memories of  the last eight days flashed back. I will definitely miss the whole experience and the people I've shared my eight days with. I will forever remember how Jesame introduced us one by one on a roll call; how Ivan Henares and Karlo de Leon kept track of time and itinerary with their famous line  "Boarding! Boarding!"; how Allen serenaded us on a piano during the Mimosa dinner; how Carlo Cruz revealed his darkest secret during the night party at Widus; how Ivan Bautista smoothly rode the waves of Pagudpud; how Marcos simply delivered his jokes; how Edcel Suyo and James laughed at me on my clumsy moments; how Gael and Sam exchanged sweet words; how Hannah panicked during the Pinoy Henyo game; how the lady in red Glaiza rode the red bike in Prado Farm; how shocked Edsel Ochoa was when he found out that The Ritz Spa has an open shower; how Joy raced well in go kart; how Rodel and Dickie shoot Joy's spiels; how Kara laughed at the thought of the boys in the Sauna; how Frances quietly worked to make sure everything was fine; how Ms. Grace constantly checked how we were doing; how Jerricho took charge of the Pinoy Henyo game; how Ivan Dela Rosa fell off the paddle board at Paoay Lake; how Krismel remained soft spoken; how Darren got acquainted with codename Brando; how Dandie managed to discretely cover his runny nose during a massage; how Christian took amazing photos; how Kristine teased Sam and Gael; how Nap shared his love for the mountains; how Irish patiently served and attended to our needs; and how Kuya Leo and Kuya Reynaldo safely drove the bus;
I snapped back to reality when the bus parked in front of Robinson's Starmills in San Fernando. Our stomachs were still full from the food trips in Camalig and Prado Farm but we still devoured the pizza and pasta served to us by Rosemary and Thyme Restaurant. After shopping for some pasalubongs, we came to the inevitable end of our journey. It was already dark and we were hours behind our schedule but nobody cared. Our steps backed to the bus were all heavy, I personally couldn't believe that in a few hours we will be back to reality. Then, a familiar line echoed from the distance, and that was the last time I heard Karlo and Ivan shout "Boarding! Boarding!"
Lakbay Norte is an eight day media familiarization tour of Northern Luzon organized by North Philippine Visitors Bureau in cooperation with Manila North Tollways Corporation, Victory Liner, Mc Donalds, Petron and Universal Robina Corporation.
Thanks to Greater Clark Visitors Bureau (GCVB), Pampanga Convention and Visitors Bureau (PCVB), Puning Hot Springs, Historic Camalig Restaurant, Prado Farm and Robinsons Land Corporation.