Three years ago when I first stepped my feet in Sagada. It was from then that I started tagging this lovely town as my special place. I fell in love with Sagada, and with that I will keep coming back.
My Sagada Chronicle
I have researched about Sagada for months, I have read a lot about this town and I wonder why most people I met, who have been there, always have their praises for the place… and so, armed with the little knowledge of Sagada and a bundle of excitement, we made our journey to our country's version of the so called Shangri-La, and personally discovered the charm this small town offers.
[1] Lumiang burial cave.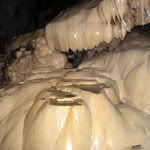 [2] Amazing stalactites and stalagmites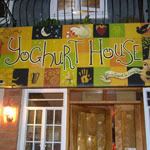 [3] Yoghurt house.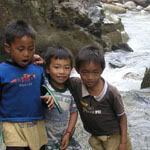 [4] Lovely locals.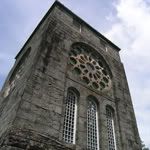 [5] The church tower.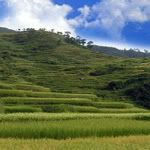 [6] Sagada rice terraces.
Leaving the Big City
The idea of a long weekend out of town break made me anxious, I am finally off to a new rejuvenating journey, out from the effluence and traffic of the metropolis, free from work-related stress and away from this typically busy yet (sometimes) boring city life.
We left from the Victory Lines terminal in Pasay at 2230h to Baguio. Victory Lines has round the clock schedule to the summer capital, but it is advisable to have your tickets purchased and reserved earlier to get the best seats and to make sure you'll be on the bus. There are quite a high number of passengers going to Baguio at any given day, fare costs P390.00 + P5.00 insurance. The bus offers comfortable seats. We spent the five hours ride to Baguio with a good sleep. Around 0350h of the next day, our feet landed on the pine city and the cool climate proved to me that indeed, it is the "summer capital" (my bad I didn't bring a jacket).
A ten-minute taxi drive from Baguio Victory Terminal to Dangwa Terminal costs around P40.00. The clock ticked 0400h and the bus to Sagada has not yet arrived. Two transport companies offer Baguio-Sagada route, the Lizardo Bus and GL Transit. Both offering non-air conditioned buses at Dangwa Terminal for P220.00. The earliest leaves the terminal around 0530h to 0600h and the latest around noon. Travel time is five hours.
While waiting for the bus to arrive, we took our early breakfast at Mang's Cuisine. My P70.00 is good for an overwhelming Chicken Chopsuey Rice Toppings. Half hour after we finished our meal, the bus arrived, and at that moment the terminal was already jam packed with local and foreign backpackers, heading to Sagada. The bus offers no reservation nor advance selling of tickets and there is no proper way of passenger queuing. The fare is collected once you are aboard. At 0530H, the bus started its six hours trip.
Day One: The Cave Connection
Around 1115H, our bus stopped just across their Municipal Hall. Welcome to Sagada Poblacion. The Sagada Poblacion is the busiest part of the town, tourists are everywhere. Shops, internet cafe's and restaurants are all over the place.
We went straight to the Sagada Municipal Hall Tourist Registration Center and have ourselves registered. Registration fee is P10.00, and is required for every tourist arriving in their town. They offer guides for the activities for a reasonable standard rates posted on the registration center. The center is open seven days a week, from 0700h to 1700h.
Upon registration, we contacted Tita Mary Daoas, the owner of Residential Lodge. She's offering a P200.00 per head per night room accommodation. The room is great and accessible to nearby restaurants, shops and cafes, and just five minutes walk from the Municipal Hall. But the smart signal went down that time and we couldn't reach Tita Mary. Thank God, almost everybody knows everybody in this town, a kind woman helped us, she gave the direction and even managed to find someone to walk us to the place.
We had our lunch in the Masferree's Restaurant at 1200h. It is around 10 meters from the Municipal Hall. A Chopsuey-Adobo-Vegetable rice meal that is good for three persons costs P250.00. But the busy restaurant made us feel uncomfortable. We asked for drinks and it took an eternity before we were served. Nevertheless, the food is not bad, but we were racing against time, and we cannot afford wasting our time waiting to be served.
Our adventure officially started at 1300h. We went to the Municipal Hall to get a guide to assist us in our trek to the Bomod-Ok Falls. Unfortunately, the ongoing ritual in the falls that time prohibited tourists from visiting the place. So we just decided to venture into the caves and rescheduled the trek to the falls the next day.
We happened to get one of the best Sagadan guide – Mang Perry. The spelunking costs P400.00 per person, an evenhanded amount to ensure that we will end up alive (LOLS)! We had a fifteen minute walk from the Municipal Hall to the Lumiang Burial Cave, where the cave connection begins. At the mouth of the cave, we saw some coffins and then we were greated by the rotting smell of a dead cow who happened to fall in the cave. (Poor cow! LOLS!)
The three-hour journey through the cave (from Lumiang to Sumaguing) is one of my most unforgettable experience in Sagada. We made all kinds of body twists, and maneuvered some difficult and life-threaning stunts, Haha! There was a point where the only way out is to crawl up the 15ft steep wall without harness that we have to step through Mang Perry's shoulders and crawl up with extra care or we might end up hugging the boulders below with broken bones or worst, enter mortality. We slid, glide, leap, crawl and amble inside and toddle to crystal-clear and ice-cold pools. When we reached the lower chamber of the Sumaguing Cave, I felt proud of the journey we've made. Seeing other people looking at us coming from different side of the cave made me feel really proud. Haha! Our bruises were the the proofs of the intricate challenges we encountered inside that were not captured by our cameras, yet stay in our memories.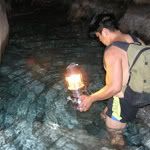 [1] A very cold pool inside the cave.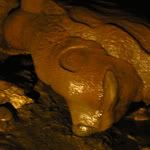 [2] Mickey mouse formation.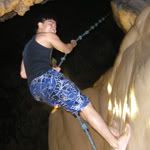 [3] Rappelling in Sumaguing.
Our spelunking experience ended at 1700h. We then went back to our lodge to get a good shower then off again to discover a place that added so much fun to my Sagada trip – the Yoghurt House.
We want to reward ourselves after the "life-threatening" experience we just did so we strolled around to look for Alejandro's Restaurant. We've already reached St. Theodore's Hospital, but the place is nowhere to be found, only to find out in the end that there is no Alejandro's but Alfredo's, which is located just in front of the Municipal Hall. We entered Alejandro's and surveyed the menu that is almost the same as those offered by Masferre's so we decided to walk back to the Yoghurt House. Here, I found one of many reasons why I want keep coming back in this place.
Yoghurt House is one of the coziest restaurant I've been to. The place is relatively smaller than Masferee's but just enough to maintain its relaxing ambiance. It is twenty square meters more or less, with a mini library, a computer set where one can surf the net for P40.00 per hour, and a fire place in the corner where most locals stay to warm themselves while drinking beers and sniffing tobaccos. Wonderful Sagada photos are framed and posted in the walls. They offer superb foods foods – pasta, chickens, salads, sandwiches and of course yoghurt. Must try of course the carbonarra, pan fried pork, cheese spaghetti and the yoghurt with banana and strawberry preserves and granola or simply "yoghurt complete".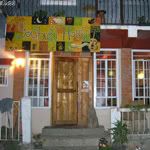 [1] Yoghurt house.
[2] A very relaxing interior.
[3] Yoghurt complete!
We left before the 9 pm curfew (curfew is from 9 pm up to 5 am the next day, Globe Telecoms, with a mobile experimental cell site in Sagada also follows the curfew, their signal is off during the curfew hours). We went back to Residential Lodge. With all the challenges and surprises, it was more than enough to call it our first Sagada day.