At two in the afternoon (Kathmandu time), three hours past our departure from Kuala Lumpur, our plane touched down Tribhuvan International Airport. It was sunny yet hazy afternoon, Nepal was transitioning to winter. Namaskar Kathmandu!
The jumbo plane was almost if not fully occupied, a complete mix of locals and foreign nationals were aboard. I gazed at my window as the aircraft was taxing in the runway and I saw other jumbo jets in the terminal building – Thai, Malaysian, Indigo, Spicejet and other livery I could not identify. Well I guess it was a good month for trekking, a peak season! For sure Immigration queue will be long.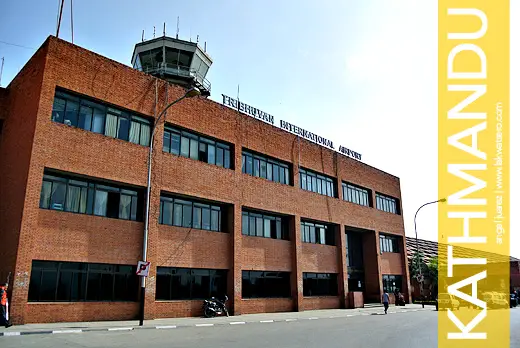 The cold Himalayan air welcomed us as we disembark from the aircraft. Everyone seems in hurry, racing to get past the immigration which as expected was a blockbuster. There were only six open counters serving hundreds of guests.
I filled up the immigration form, attached my old photos, prepared my 25 USD visa fee and waited for exactly one hour and twenty minutes for my turn to the immigration. Enough time to be acquainted with fellow Filipinos and other tourists on the queue. Surprisingly, Tikoy of Travel Factor and Benj of Atheista.net were there too! Quite a small world!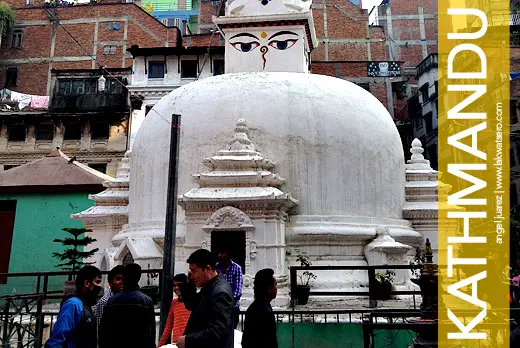 I decided to spend the night in Thamel before heading to Pokhara the next day. Thamel is just 14 kilometers from the airport, but taxis are charging at least 400 Nepali Rupees (approximately 200 Philippine Peso) for a short ride to the tourist district of Kathmandu.
I opted for the local bus to Ratna Park that passes along the main road in front of airport's gate. For only 20 NPR (approximately 9 PHP) and half/an-hour travel time, I was already in Ratna Park.
Excitement enveloped me as I stepped out of the bus and walked towards Thamel. It was familiar sight and smell, crowd and colors, sound and vibes, familiar lovely mess of Thamel! Finally, I was back again!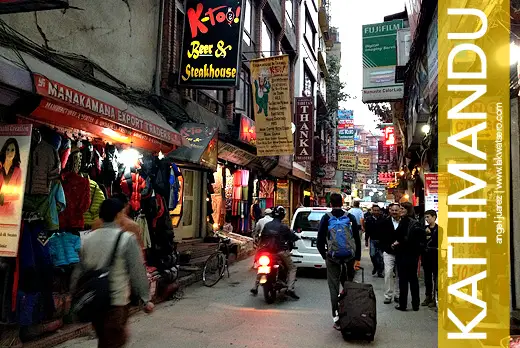 I walked slowly along the narrow streets of Thamel with a wide smile on my face while leisurely enjoying the sweet blend of everything. I can still recall the first time I have been on the same spot, the moment I first fell in love with Kathmandu that I made sure to remember its mazelike alleys by heart. Oh I missed the place, I missed it so bad! That no words can describe how happy I was to be in her lovely arms again.
My mind was too busy with the thoughts of my return, I never noticed that I was already near my first agenda for the day – Nepal Wilderness office – at Paknajol Street to arrange my trek to Poon Hill.
Himal Gurung was waiting in his office when I arrived, our previous communication was only through email so I promised to drop by his office to pay and get my permits. He owns Nepal Wilderness Trekking (pvt), a travel and tour company based in Kathmandu that offers budget trekking package in Nepal, Tibet and Bhutan. He has also a pool of independent guides and porters for independent travelers, and it was the reason why I contacted him.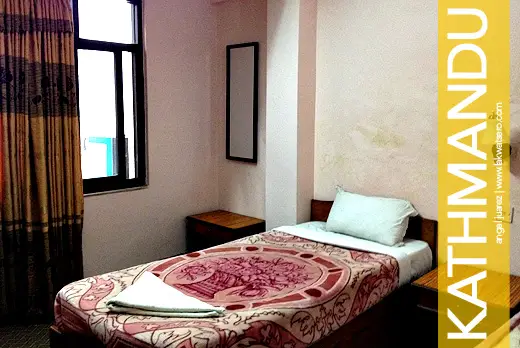 After short pleasantries, I handed him 122 USD as payment for my TIMS and ACAP permits, and an English-speaking guide for my four days trek to Poon Hill. He gave me the permits, souvenir shirt, maps and brochures in return, then he wished me tons of fun on my short Himalayan adventure. My guide would meet me in my hotel in Pokhara the next day.
I bid Himal goodbye and walked to the nearby Festoon Inn at Z Street, just few meters away from Nepal Wilderness office. The friendly Nepali guys at the reception warmly welcomed me, quite anxious maybe because they rarely receive Filipino guests, as they said.
I was led to my room at the third floor of the building. A fan room (aircon is not really needed in Kathmandu) with a twin bed, apparently big enough for me. The room is clean and decent, I thought it was a good deal at P500 which I booked through Agoda. I settled in, had a quick hot shower, and rested for a while before going out for a walk in Thamel.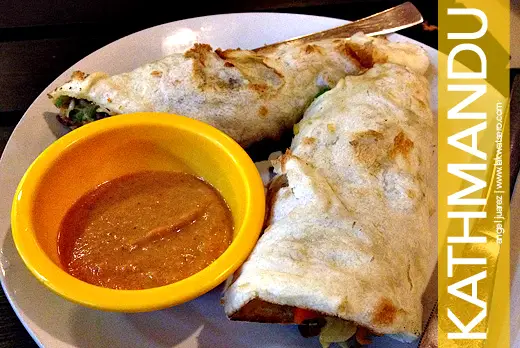 I decided to have early dinner first and Sagarmantha Bazar came into my mind with its wide choices of restaurants and cafes. There are also money changers in the complex, so I changed my dollars to rupees before continuing my scouting for a good place to eat. I passed by some restaurants offering Italian, European, American and Nepali cuisines. I chose the last to get my bearing, to get deeply acquainted with Kathmandu… with Nepal.
One of the things I regret not doing during my first visit in Nepal in 2012 was eating their local foods. Honestly, I was too afraid of food poisoning back then. I heard and read a lot of rumors about the unhygienic way of food preparation in India and Nepal, and it scared me off. I ended up eating biscuits or breads most of the time. So this time, I wanted to be gastronomically adventurous because they also say that Nepali cuisine is oozing with flavors and spices!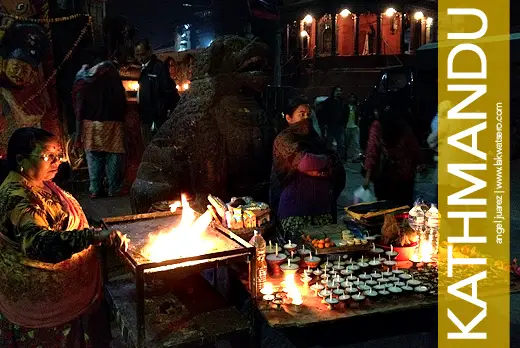 I ended up with a plateful of Chicken Katthi Roll in Dalabi Nepalese Restaurant, beside the Last Resort office. It was one of Nepal's traditional food, good but kinda safe. It costed me 230 NPR.
With nothing to do after dinner, I decided to walk from Thamel to Kathmandu Doukha Durbar Square. It was already dark, and yet the streets and alleys of Thamel became more vibrant and active. The barely lighted Durbar Square was crowded by merchants, shoppers and tourists.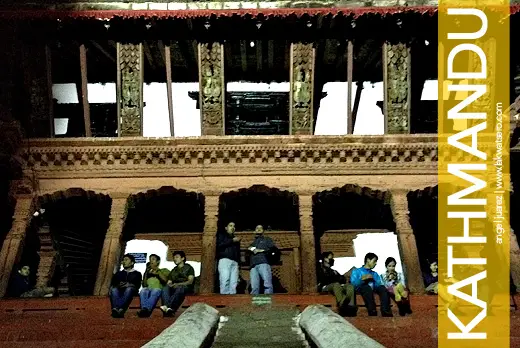 I walked around the Durbar Square, gazing at the beautiful old temples that were quite sad and different at night, and watching the busy night market in the middle of the Durbar Square.
It was cold night in Kathmandu and I wasn't prepared for it so I decided to walk back to my hotel passing again to the small streets and alleys filled with all the lovely mess of the city. It would be a long travel from Kathmandu to Pokhara overland by the next morning and I wanted to buy some rest.
Back in my room, I lay down my bed and waited for my consciousness to fade but the thought of being in Nepal again kept my mind entertained. Everything was just starting to sink in, I never thought that I would be back so soon. But there I was again, in one of the places that I love, with new adventures to take and new memories to make.
"This time will be sweeter", so I thought… and slowly my consciousness faded into deep slumber.