After spending few days in Biri Island, Ate Claudia and I traveled all the way to Tacloban City, Leyte for our flights back to Manila. It was a long road from Biri to Tacloban, a strenuous trip that involves a lot of transfers – an hour by boat from Biri to Lavezares, fifteen-minute trike ride from Lavezares to Allen, three-hour jeep from Allen to Calbayog, two-hour van from Calbayog to Catbalogan and finally another two-hour van from Catbalogan to Tacloban. After crossing the famed San Juanico Bridge (my first time), we finally arrived in Leyte capital late in the afternoon.
We stayed at GV Hotel which we booked online on a promo budget rate of P650 per night for an air conditioned room with twin bed. The hotel albeit already showing signs of age is conveniently located in the downtown. Surprisingly, it was fully booked when we checked-in. Perhaps its great location was really a big factor.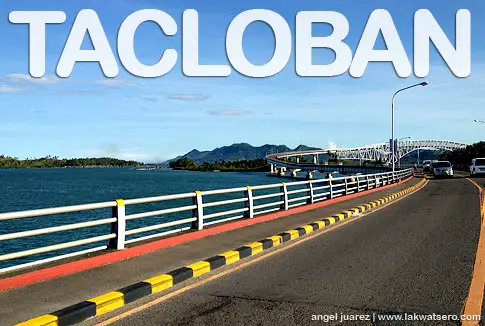 Our room is cramped and small, without window and with only one power outlet while the beds are typical of those in budget inns and motels. Don't get me wrong, I am not complaining here. With the rate we got, I didn't expect grandeur facilities, but the staff are very nice and worth commending.
Our flights to Manila were both scheduled on the afternoon of the next day so we had few hours to spend in the city. We initially planned to cross San Juanico Bridge by foot; check out the Capitol Building, museums and MacArthur Statue; and pig out in the city. But the long travel from Biri ate up a huge chunk of our time so we had to trim down our little itinerary.
It was almost dark when we went out of the hotel and since we skipped lunch, we decided to have an early dinner. Of course we made sure to check out the must-visit restos and cafe in town.
Zunsibar
Our first stop was this Mexican inspired restaurant in the downtown that I believe is one of the culinary treasures of Tacloban and is enough reason to fall in love with the city.
Their specialty and best seller is the Rum Ribs, so tender that the ribs fall off the bone. Every order comes with two glasses of iced tea, salad and rice, all that for only P385! We've tried it and its wow!
Libro Cafe
Still full from the sumptuous dinner at Sunzibar, we walked and walked around town until we found ourselves in Libro Cafe, a famous coffee shop in Tacloban City. Situated in the corner of Gomez and Sto. Niño streets, the cafe has a homey ambiance that will definitely make you wanna stay long. From the name itself, the shop is full of books and other reading materials that you can borrow for free while enjoying their affordable drinks, cakes and other pastries.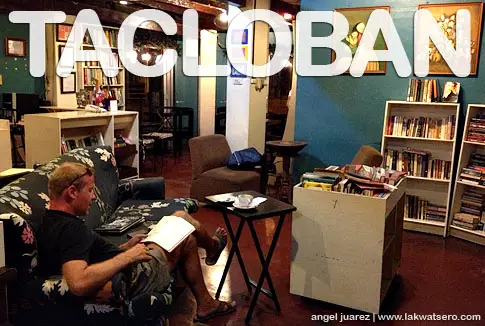 Their best sellers include their own version of Cookie Monster Chocolate Cake, Chocolate Cheesecake Brownies, Fruit Shakes and other coffee-based drinks. We've tried them and they are undoubtedly good!
I think I can spend my whole day here. Imagine – coffee, cakes, books and lazy couches, perfect combinations!
Sto. Niño Parish Church of Leyte
The next day, we woke up early for the morning mass in Sto. Niño Parish Church of Leyte, considered as the most important religious site in the province and home to the miraculous image of Sto. Niño.
We wanted to drop by at Jose Karlo Coffee, another popular coffee shop in town located just across from the church but it was still closed so we went to our next stop.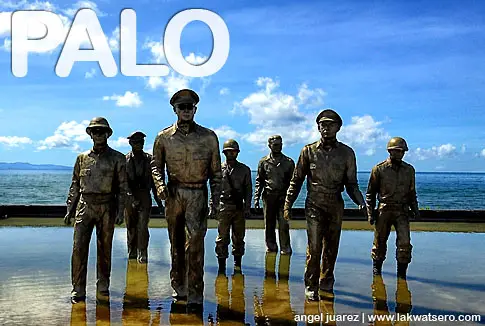 Leyte Park and Memorial
We catch a jeepney to the neighboring town of Palo to see the province's icon and most popular landmark – MacArthur Statue, in their landing site now called as Leyte Park and Memorial.
Previously named as MacArthur Park and Imelda Park, the site is in Red Beach of Barangay Candahug in Palo, Leyte, around five kilometers from Tacloban City. This landmark is where General Douglas MacArthur and his men actually landed in his memorable comeback to the Philippines on October 20, 1944.
Giuseppe's Italian Restaurant
After visiting Leyte Landing Memorial, we went back to downtown for our afternoon flight back to Manila. But before going to the airport, we decided to have an early lunch to one of Tacloban's famous diners – Giuseppe's Italian Restaurants.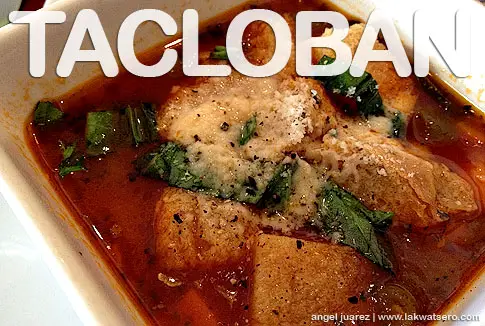 I have read a lot of good revies about this restaurant so I was excited. We waited outside for a few minutes since we arrived before 10 o'clock, their opening time. We ordered Minstrel Soup, Vegetable Salad with Olive Oil Dressing and Pizza Marinara. I enjoyed the Minstrel Soup but I was not impressed with the others that we ordered, perhaps we made the wrong choice. Nevertheless, I will still give them a try the next time I go to Tacloban specially the mouth-watering desserts that we missed!
It wasn't my first in Tacloban City. With the Province of Leyte as my mom's hometown, I have been to this city a lot of times before, only because the airport is here. But this short stopover made me appreciate what the city offers and I regret that I missed all of it before. Thankfully, this trip to Biri paved the way for this quick Tacloban stopover and with the city's welcoming ambiance to us, I see myself going back again to experience more of Tacloban's soul.