In the mountaineering community of Mega Manila and Southern Tagalog, the province of Batangas is known for its friendly mountain trails and summits. Minor mountains with not so technical trails but offer uniquely striking views. Who wouldn't know Mt. Talamitam and Mt. Batulao of Nasugbu, Mt. Maculot of Cuenca or Mt. Gulugod Baboy of Mabini? But these are not all that Batangas has, there are more dwarf mountains in the province including the not so popular Mt. Banoi in the town of Lobo.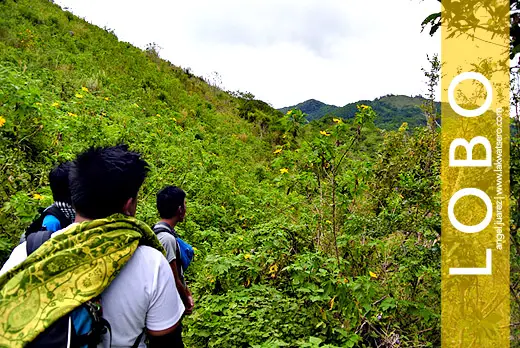 Situated in the southernmost town of Batangas, Mt. Banoi is part of a mountain range east of the town that borders with Batangas City. It stands at 960 meters above sea level and offers striking scenery of Southern Batangas including Verde Island Passage and the island of Mindoro. Late last year, it was our day trek destination on a benefit climb for the survivors of Super Typhoon Haiyan or Yolanda that ravages the Central Philippines specially the province of Leyte in November 2013.
It was a climb invitation that was very hard to resist for four reasons. First, it was organized by one of the most passionate mountaineers, travelers and bloggers that I know – Ivan Lakwatsero; second, because it was a climb for the survivors of super typhoon in Tacloban; third, because I was curious about Mt. Banoi; and lastly, because of the sidetrip to the Spanish-era lighthouse of Malabrigo.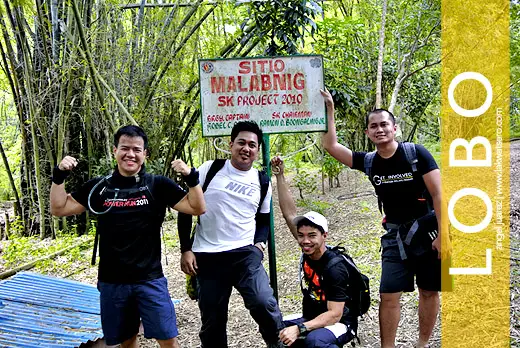 We were total of 12 in the group, enough to fill a whole Nissan Urban. It was a diverse group consisting of newbie, seasonal and experienced mountaineers who all wanted to be part of the cause. Call time was at three in the morning in España, Manila but we left at almost four. At half past six, just after daybreak, we were already at Lobo Police Station, with the beautiful mountains of Southern Batangas surrounding us.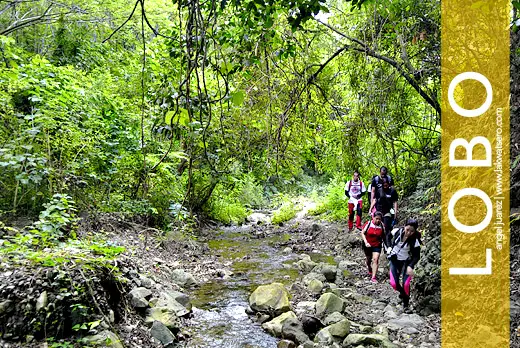 It was a good day for climbing. The morning was quite cold and the sky was generally clear. There were patches of cotton clouds and spots of rain clouds but it was still a promise of a beautiful day. After the registration at the Police Station, we went to the town proper for breakfast.
The town proper was just starting its day as we arrived. Most establishments were still preparing if not still closed. We happened to see an open eatery selling Lomi and we decided to have our breakfast there. Each had its own bowl of Batangas Lomi which we all found out to be interestingly different. The magic of laughter over the bowls of famed Batangas noodles worked on its own that we all found ourselves closer despite being strangers to one another a few hours earlier.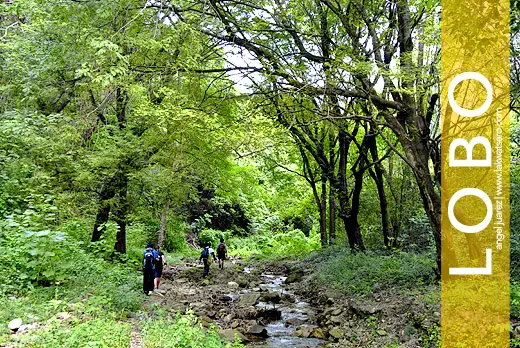 Before the clock ticked eight, we were already at the foot of Mt. Banoi, finding our way to the right trail going to the summit. Everyboody was in high spirit.
The trail starts at Barangay Malabnig marker with a gently flowing stream on our left. The trail is generally friendly, gradually ascending through the woods and passing through some streams and coconut plantations. There are few houses along the trail and a community halfway to the summit that collected P20 for each hiker. We noticed two small sari-sari stores but both were closed. Two hours passed and we reached a grassland slope, just below the Front Peak at 770 MASL. We decided to rest and have our lunch there with the scenic view of the town, Verde Island Passage and Mindoro Island right on front of us.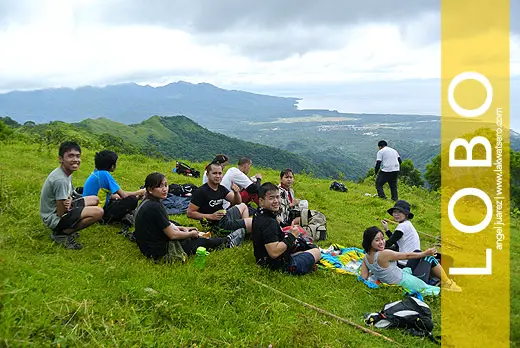 The sky turned to gray as we ascended to the Front Peak, an electric post marks the spot that also serves as campsite for overnight trekkers. The Two Towers' Peak (850 MASL) was on our sight but we decided not to pursue to it as the sky started dropping its teardrops. The view from Front Peak is pretty amazing and we were already satisfied with it. Almost the same view can be seen from Two Towers' Peak and even at the Main Peak (960 MASL).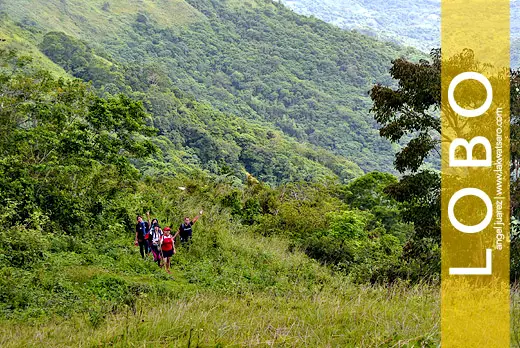 We started the descent after some snapshots and group pictures, the light rains stopped eventually. We took the same trail going back and we were already where we started after an hour-and-a-half. We rested on the chapel while waiting for our van that would bring us to our next stop – Malabrigo Lighthouse!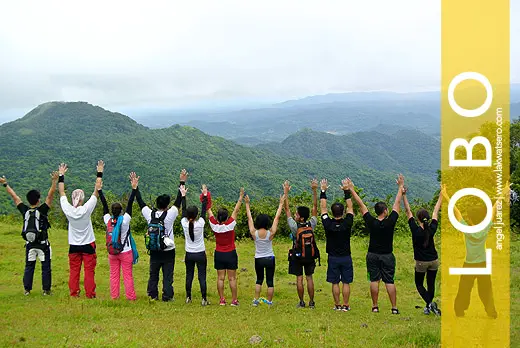 Malabrigo Lighthouse is one of the few remaining Spanish-era lighthouses in the Philippines that are in good state and actively being utilized until today. Built in 1891 and completed in 1896, the lighthouse has a single-storey keeper's house and a pavilion made of wood and bricks. It was built primarily to guide the ships traversing Tayabas Bay and the eastern end of Verde Island Passage. It was declared as National Historical Landmark in November 27, 2006 by the National Historical Commission of the Philippines to commemorate it significance in maritime history of the Philippines.
Malabrigo Lighthouse awed me, with its timeless grandeur and charm still visibly sprawling. Thanks to the local group "Friends of Malabrigo" who exerted all their efforts in restoration, development and preservation of the lighthouse.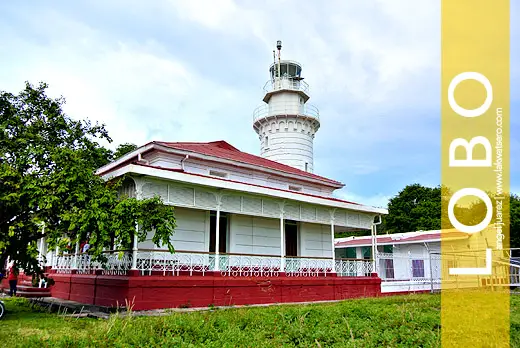 We left the lighthouse before four in the afternoon. The van was silent as we traversed the long way back home, most were probably asleep, resting after a tiring day. Not for me, sleep was shallow if not elusive. I gazed at the window, my eyes were stuck at nothing but the moving scenery. I guess I was still high, high with Mount Banoi and Malabrigo Lighthouse. Needless to say, it was a day well spent! Thanks to the bunch of happy people I was with, the trek became lighter with them around.
Trekking Notes
How to Get to Lobo
Take a Batangas City bus (P157) from Cubao or Pasay and get off at Balagtas Junction (the junction after STAR Tollway). From there, take a jeepney (P8) to SM City Batangas and get off at the Lobo Jeepney Terminal. Catch another jeepney (P60) there going to Lobo town proper and ask the driver to drop you off the Police Station / Lobo Town Hall. From Police Station, flag a tricycle to take you to Sitio Malabnig (P100).
Suggested Day Trek Itinerary
0300 Departure from Pasay/Cubao Bust Terminal
0500 Arrival at Balagtas Junction. Take a jeep or trike to Lobo Jeepney Terminal.
0530 Arrival at Lobo Jeepney Terminal. Catch a jeep to Lobo.
0630 Register at Lobo Police Station. Breakfast.
0730 Take a tricycle to the jumpoff at Sitio Malabnig.
0800 Arrival at the jumpoff. Start trek.
1000 Arrival at the Village. Register.
1100 Arrival at Front Peak (770 MASL). Rest + Lunch.
1200 Arrival at Two Towers' Peak (850 MASL). Optional ascent to Main Peak (960 MASL).
1300 Start descent.
1500 Back at jumpoff. Optional sidetrip to Malabrigo Lighthouse.
1700 Jeep from Lobo to Batangas City
1800 Arrival in Batangas City. Take a jeep/trike to Balagtas Junction or Batangas Grand Terminal. Quick snack. Catch bus to Manila.
2100 Arrival in Manila. Dinner.
Approximate Budget: Less than P1000.00
Guide: Not required since the trail is readable.