I've always dreamed of climbing Everest ever since I was a kid. It was a dream that has always been a dream (to read: a far reality). And as I understand the way of things, I realized that it is impossible for me to summit the top of the world and I came to accept the closest thing – the Everest Base Camp trek!
After four consecutive years of venturing into Nepal, I promised myself that my fifth would be to Everest Base Camp. I needed to do it, while I'm still in my prime and my resources could still handle it.
So, I returned to the Himalayas on the last week of November 2016. Lacking proper training and armed only with determination and strong will to reach the base camp, me and my buddy ventured on a fifteen-day self-guided journey that took us to the heart of the Greater Himalayan Trail!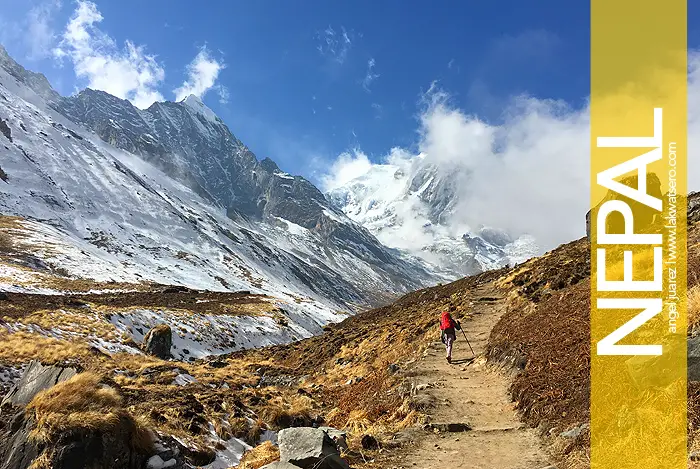 Everest Base Camp Trek Day 1: Kuala Lumpur to Kathmandu (1,400m)
Our flight from Kuala Lumpur departed on time but landed in Kathmandu late. It was due to air traffic congestion at Tribhuvan International Airport. The aircraft spent an additional 15 to 20 minutes circling above Kathmandu Valley but no one on board complained. With the view of Himalayan peaks on our windows, who would dare complain?
We finally touched down the runway at half past two in the afternoon, Nepal time. As soon as we disembarked from our plane, we immediately proceeded to immigration hall for the visa processing. Thankfully, the application was smooth and fast. It pays off when one knows how things go. After five consecutive years of traveling to Nepal, I like to believe that I have already mastered the process.
When we got our entry stamps, we rushed to the exit and brushed off the taxi drivers offering 500 Rupees ride to Thamel. I always prefer  the local bus outside the airport. It only costed us 20 Rupees each to Brikuthimandap, where Nepal Tourism Board (NTB) is situated.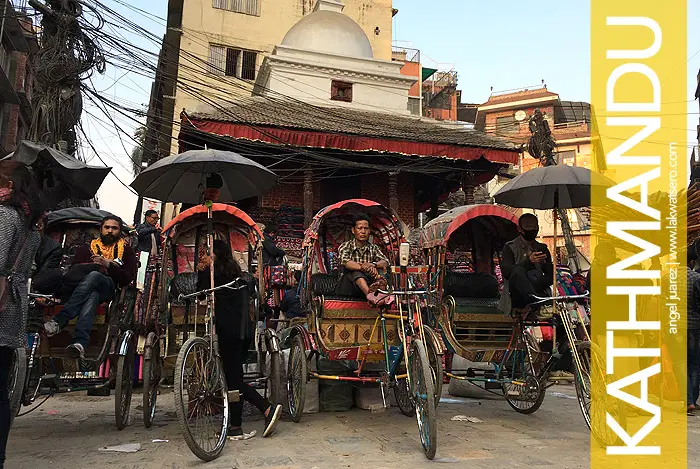 Fifteen minutes before closing time at four, we were already in NTB filling up the Trekkers Information Management System (TIMS) Form. We paid 2,000 Rupees per person, the other required permit should be applied after Lukla, we were advised. We were good!
From Brikuthimandap, we walked to our hotel in Thamel. Ah! There is something appealing in the busy streets and alleys of Thamel. Its mess and chaos were lovely… well at least for me. I love the place – the aroma, the food, the bargains, the ambiance.
We just decided to relax when we arrived in our room, we were to start trekking on the next day anyway. By nightfall, we had pre-climb dinner in La Dolce Vita, my favorite Italian Resto in Thamel, where we had pizza, pasta and wine for the night! We went on some last-minute shopping afterwards before going back to the hotel to call it a night.
Everest Base Camp Trek Day 2: Kathmandu to Lukla (2,800m) to Phakding (2,652m)
Call time was four in the morning but the cold night was a good excuse to extend a little more. It was already half past four when I got up my bed for a hot shower, my last shower for the next ten days. Few minutes after five, we left the hotel and walked to Ring Road where we flagged a taxi to the airport at 400 Rupees.
We were early for the 0715H flight to Lukla. Truth was, I wanted to be the first to check-in to get the best seats. Only to find out that it was free-seating! After check-in, we waited and waited long inside the departure area of the cramped domestic terminal building of Tribhuvan International Airport. The 0715H schedule was eventually re-timed to 0945H, which is common for Lukla flights dependent on weather condition.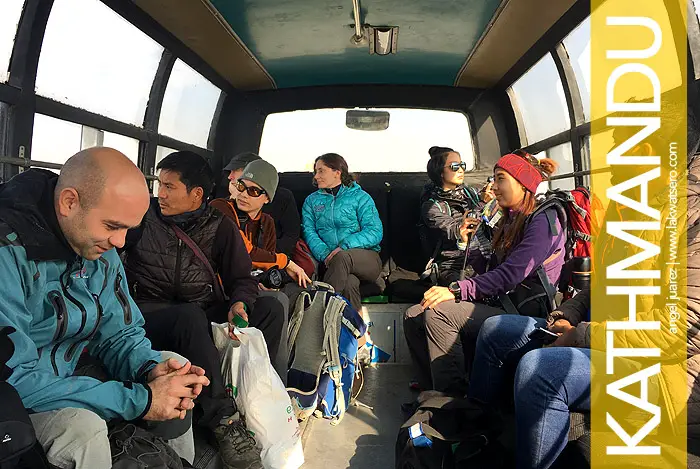 Boarding was announced at 0930H and a bus took us all 12 passengers to the parking bay of the small Tara Air plane. We all had window seats as we boarded. When everyone was seated, the flight steward walked down the aisle to inspect our seat belts. She offered candies and cottons to plug on our ears.
The lady pilot started the engines and our small aircraft taxied the long runway and eventually took off. Gradually, we ascended past the dusky layer of the atmosphere where the Himalayan summits were clearly visible. It was a short 25-minute treat with the snow-covered peaks around us and the pearl-white cotton clouds below. By and by, the seat belt sign was lit. I could see from the pilot's view the famed runway of Tenzing-Hillary Airport. Applause followed as our aircraft touched down the runway.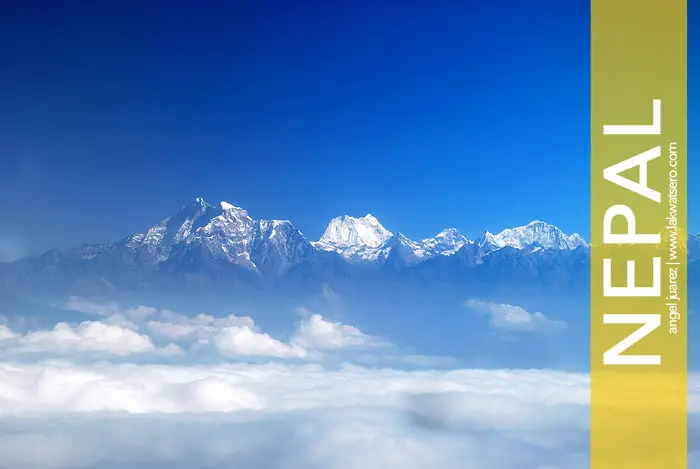 Hello Lukla!
Nested at an elevation of 2,800 meters above sea level, Lukla is the gateway by air to the Great Himalayan Trail of Sagarmatha National Park. It is the starting point of numerous climbs and treks in the region including the Everest Base Camp, the starting point of my dream journey.
It was a cold but sunny and clear day in Lukla, timestamp was 1025H when we started the trek outside the airport. Our target for the day was to trek to the village of Phakding (2,652m) for three hours, a drop of 148 meters for a total distance of eight kilometers. We assumed it to be an easy leg.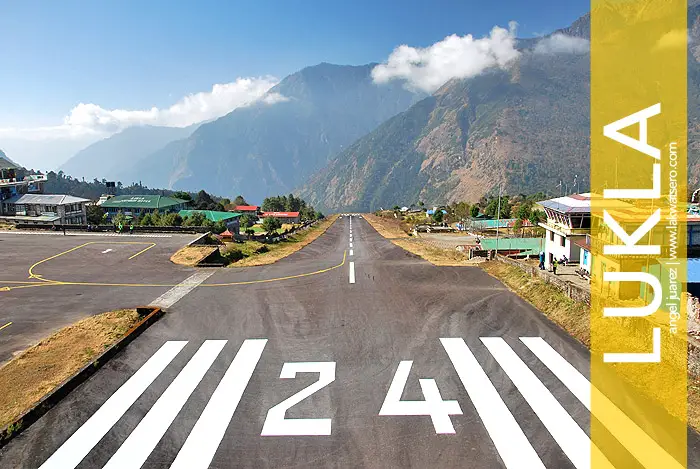 It was indeed an easy one, passing the small villages of Chheplung, Thadokosi and Ghat. The stretch was a combination of rough trail, steel bridges and stone steps with minor ascents, recoveries and lots of descents. The challenging part was the ascend from Chheplung to Thadokosi. By 1320H, we were already in Phakding.
We decided to trek farther from the steel bridge and stay at the near end of the village. Our home for the day was Sunrise Lodge, 200 Rupees for a huge room with twin beds.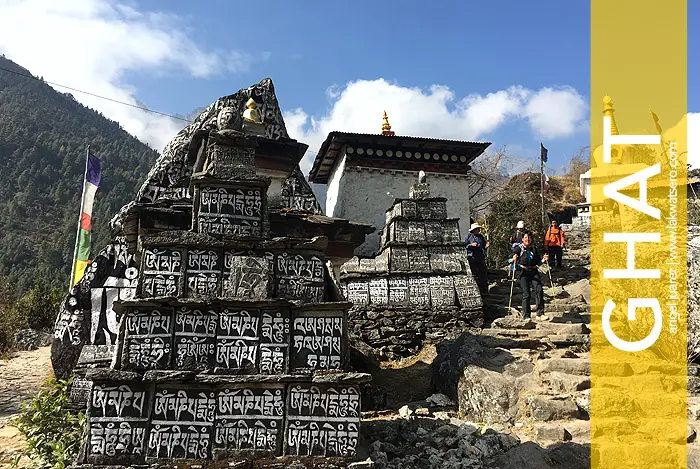 The remainder of the afternoon was spent resting and sleeping in the comfort of our soft beds. At dusk, we had dinner before continuing our trance.
Everest Base Camp Trek Day 3: Phakding (2,652m) to Namche Bazaar (3,440m)
On our third day, an earthquake woke us before sunrise. It was a strong one that I could hear the screeches of our beds, our wooden room and the stuff outside. All I could utter was a repeated "shit", thinking we were in grave danger. I was frightened. In my mind, it could be bad or even worse. Nepal was just struck by a magnitude 7.8 earthquake a year earlier causing landslides and avalanches in the Everest Region. I was worried but I tried to go back to sleep since it was still dark.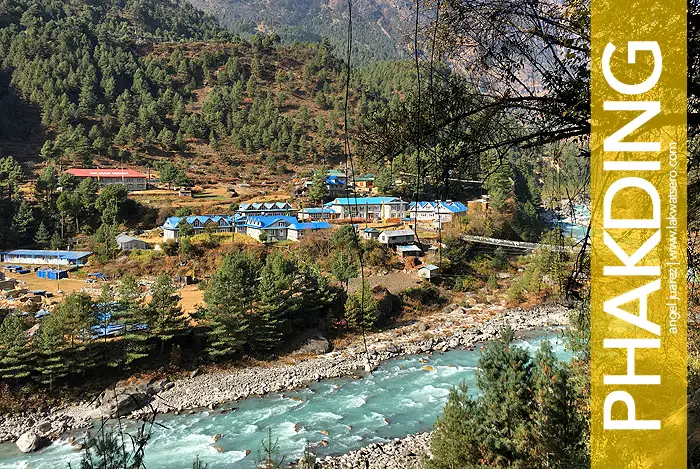 At daylight, the staff from Sunrise Lodge provided free wifi so that we could check the news and probably contact our loved ones. We found out that it was a magnitude 5.4 earthquake at exactly 0520H with epicenter at Solukhumbu District. Phakding being in Solukhumbu means we were in the epicenter of the tremor!
Thankfully, everything seemed normal. There were no reported casualty or damage in life or property. No reported landslide, avalanche or trail closure. No advisory for trekkers or climbers to abort the journey. It was all systems go!
We checked out of the lodge after breakfast to continue our journey. It was 10 to 12 kilometers or at least five hours of trekking ahead of us to Namche Bazaar.
We started at 0745H and reached the waterfalls past the village of Toktok half-an-hour after. Another half-an-hour and we were already in the village of Benkar. Then we pushed further towards the villages of Chhumuwa and Monju before stopping at Jorsalle to pay the Sagarmatha National Park entrance permit. We paid 3,390 Rupees per person, tax included.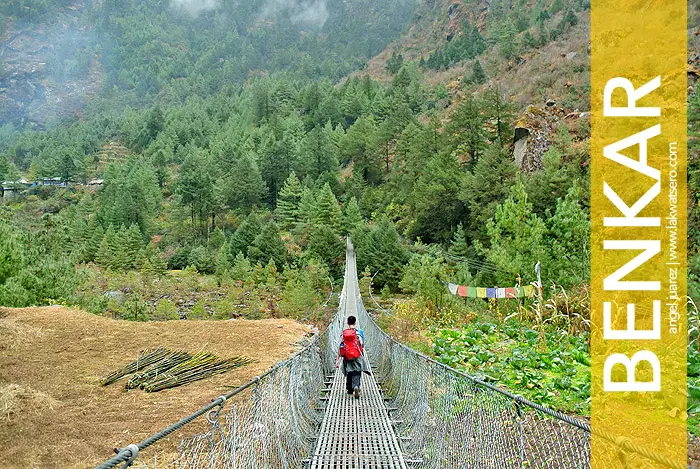 The stretch from Phakding to Jorsalle was easy to moderate. There were gradual ascents and recoveries. Passing along a rocky riverside with the mighty Dudh Khosi (Dudh River) on our left and numerous riverside waterfalls along the way. The mood changed significantly from Jorsalle. The trail turned into an steep and ascending slope mostly made of stone steps towards the double bridge and onward to Namche Bazaar. It was hard! Damn hard!
It was a blessing in disguise that the sun was hiding behind the clouds and thick fog. The trek would definitely be harder if the sun was out. With numerous stops to rest and catch our breaths, we survived the challenging leg from Jorsalle in two hours. By 1300H, we were already in our room in Hotel Namche Bazaar. At 300 Rupees per night, it was a good choice considering that it was at the heart of the village. We were staying there for two nights to acclimatize.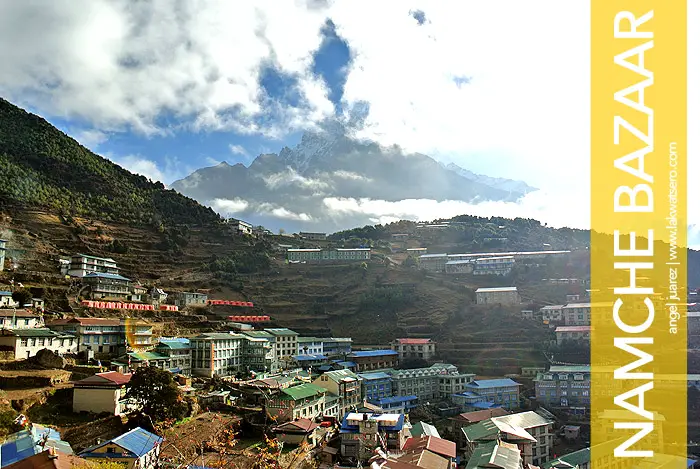 Late lunch was at Sherpa Barista, a cozy café near our hotel serving good food and drinks, with free wifi. We ordered a pizza for sharing, I added sweet corn soup and hot honey lemon juice. My bill was 1,005 Rupees, quite hefty but that's the rate in Namche Bazaar, an expensive village, understandably because of its location.
We went back to the lodge after a late lunch and succumbed to the calls of our warm and soft beds missing dinner.
Everest Base Camp Trek Day 4: Acclimatization Day at Namche Bazaar (3,440m)
Fresh from 14 hours of sleep, we woke up to a clear and sunny day in Namche Bazaar.
At 3,440 meters, Namche Bazaar is a small bustling village in a sloping mountain surrounded with Himalayan peaks. It is the usual staging post of treks and climbing expeditions in the Everest region. In the old days, Sherpas from the surrounding villages including Tibet converge here to trade their commodities and to display their arts and crafts. Today, trekkers and climbers usually stay here for a day to acclimatize. There are numerous hotels and lodges, restaurants, cafés, bars, pubs and shops in the village making Namche Bazaar an ideal stop.
There's not much to do in Namche Bazaar if you are staying for more than a day. Some venture into an easy trek to the neighboring villages of Thame and Khumjung but we prefer to conserve our energy, a good excuse for a bunch of lazy guys like us. Seriously, my right knee hurt a little after the grueling trek from Jorsalle to Namche. I thought of just resting it for the whole acclimatization day.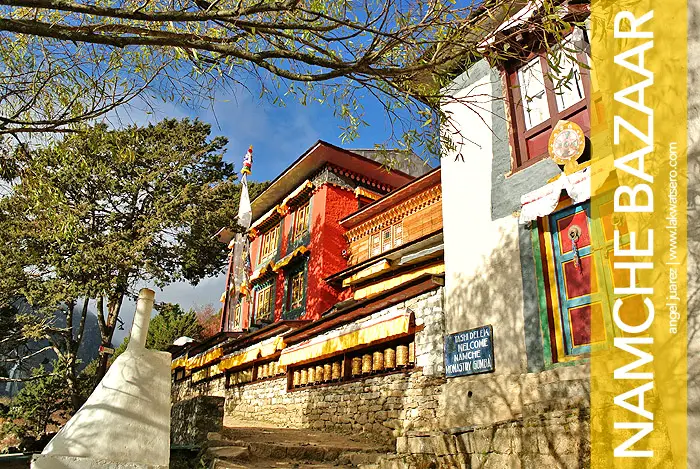 But the day was too good just to spend it lazing around. So we decided to walk around the village after breakfast. We went to Gumba Monastery atop the village with the panoramic view of Namche Bazaar and the surroundings, Thamserku was behind the clouds, occasionally peeking but most of the time hiding.
Hoping for the mountain peaks to clear up, we waited longer but got bored when there was no sign of clearing. We decided to go down the village and headed to the stupa. Kongde Ri was already visible by then. Eventually, Thamserku and Kangtega were also starting to clear up but the sun was totally against us making it hard to take a clear shot of the mountains. We agreed to return to the monastery in the late afternoon when the sun's lighting is much favorable, hoping that all the surrounding peaks would be clear. But the usual afternoon clouds covered the peak and so we just rested and slept the whole afternoon until dinner time.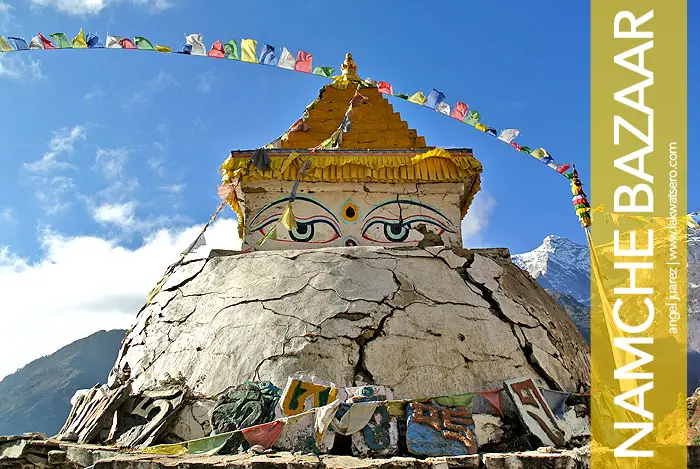 Everest Base Camp Trek Day 5: Namche Bazaar (3,440m) to Pangboche (3,985m)
We were back on the trail on our fifth day, recharged and well rested. We checked out of Hotel Namche Bazaar at exactly 0730H and started the trek on a cold and foggy morning. The itinerary for the day was to trek to the village of Tengboche, approximately nine kilometers away. With around 700 meters elevation gain, our modest estimate was six hours of trekking.
We followed the trail to the top of Namche Bazaar. The sky was starting to clear and the snow peak summits around us were starting to show up. From the top of the village, the trail was mostly flat and gradually ascending towards Kyangjuma and Sanasa before dropping to Tashinga and Punghi Tinga. The challenge was from the bridge in Punghi Tinga to Tengboche, with almost 500 meters of ascending track and stone steps. It took us three hours from Namche Bazaar to Punghi Tinga and another two from Punghi Tinga to Tengboche. By noon, we were already in Tengboche Monastery, the sun was in mighty shine and the sky was clear and blue.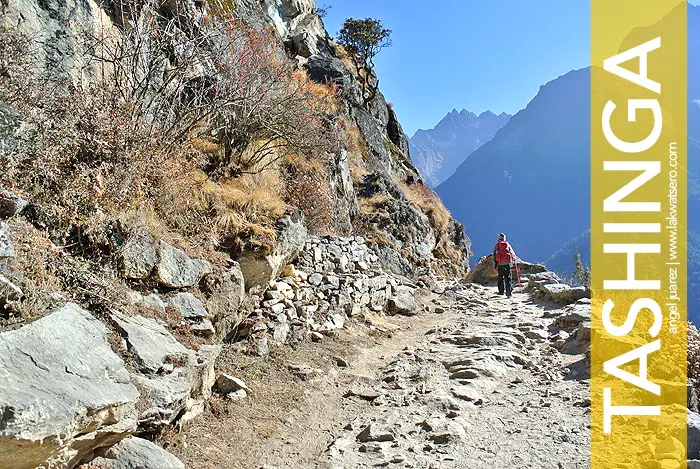 We were ahead of our itinerary so we thought of pushing further, our bodies could still bear more beating. We would try to make it to Pangboche but could bail out in the small villages of Debuche or Millingo along the way, if needed. But Pangboche is only two hours or 4.2 kilometers away, we were told. I was confident that we would make it there without any problem.
From Tengboche, the trail went down to Debuche, flat up to Millingo and started to ascend after the bridge towards Pangboche. It was a scenic two-hour trek, with the summits of Ama Dablam, Kangtega, Nuptse and Everest clearly visible around us. Before three in the afternoon, we were already in the comfort of our room in Everest View Lodge Pangboche.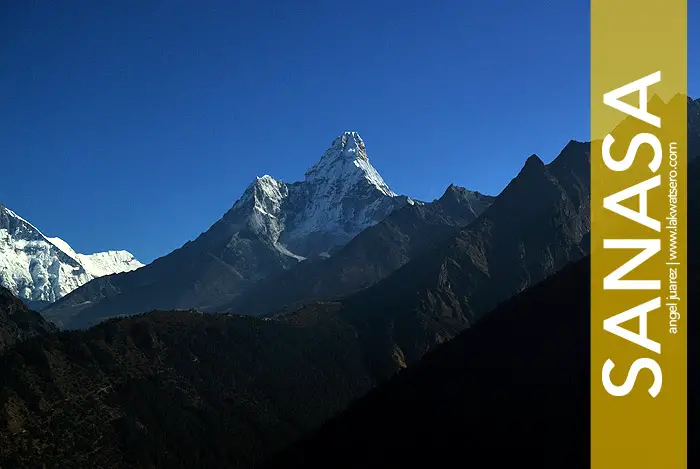 We rested for the rest of the afternoon as our muscles finally felt the brunt of the 13.7-kilometer stretch from Namche Bazaar to Pangboche. We surely deserved a sumptuous dinner!
Everest Base Camp Trek Day 6: Pangboche (3,985m) to Dingboche (4,410m)
It was another cold and lovely day on our sixth day in Himalyas. The sky was clear and blue, and the sun was up. It became a routine to wake up at six in the morning and procrastinate a bit before getting up to pack things and go for breakfast.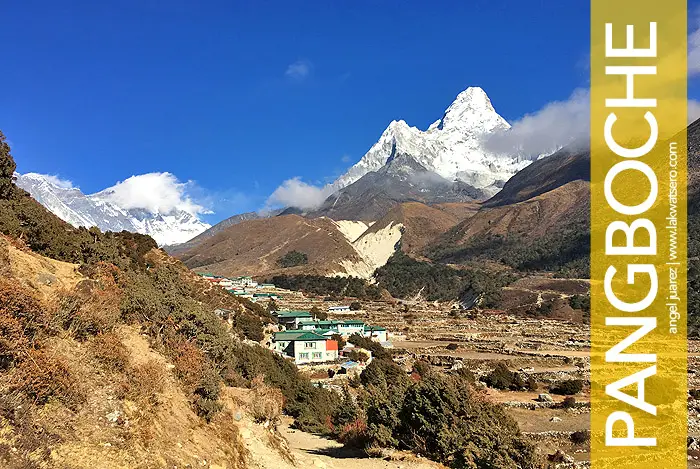 We left Pangboche before eight in the morning aiming to reach Dingboche before noon. It was an easy trek from Pangboche to the small village of Somare with few ascends going to the village proper. The easy trail continued to Chhengjuma and onward to Orsho. From Orsho, the trail turned into a wide field decorated with bonsai. It was flat to gradually ascending towards the village of Churro before dropping to the bridge and steeply ascending again towards Dingboche. Before 1100H, we were already checked in our room in Bright Star Lodge with Ama Dablam right outside our window.
Initial plan was to spend two nights in Dingboche with a spare day for acclimatization. There are peaks surrounding Dingboche that are ideal for side trips in case one decides to spare a day in the village. But with the lead that we got the other day and some spare time, we decided to summit Nagarzhang in the afternoon. It was our way of acclimatization.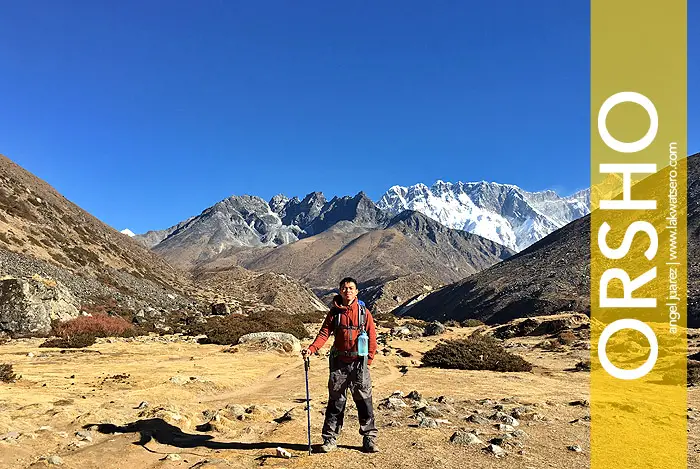 We rested for an hour and started the trek at exactly noon. With the trailhead right outside our lodge, it would take three hours to the summit and an hour-and-a-half going down.
The village of Dingboche is nested at 4,410 meters above sea level while Nagarzhang is at 5,050 meters, a gain of 640 meters. But considering that we started our day in Pangboche at 3,985 meters, it would be a total of more than a thousand meter elevation gain within a day! We underestimated the altitude and overestimated ourselves. So, we struggled on our way up.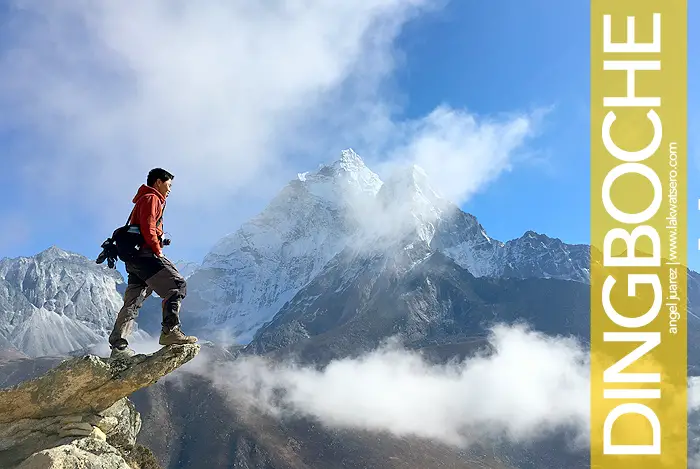 It was a hard trek to Nagarzhang Peak, made even harder by thick fog midway. Thankfully, it was clear on the summit. We managed to inch closer to the peak slowly. True enough, after three hours, we reached the rocky peak of Nagarzhang. With the unobstructed view of Ama Dablam and nearby peaks right in front of us, I thought the trek to Nagarzhang was a worthy challenge.
Going down is supposed to be easier but it wasn't so. The thick fog and barren trail, not to mention that we were not properly equipped for the summit assault, made the descent difficult.
Before five in the afternoon, we were back in the lodge, tired and high. Over dinner, we agreed to push to the higher village the next day if our bodies could still bear. Otherwise, we would spend extra day in Dingboche for recovery.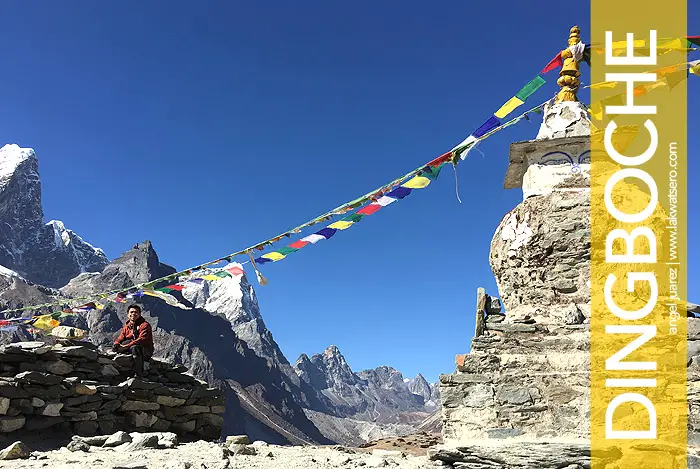 Everest Base Camp Trek Day 7: Dingboche (4,358m) to Lobuche (4,928m)
The Ibuprofen+Paracetamol liquid gel we took the night before worked! We both felt better and ready to face the trail. This day was supposed to be for acclimatization but we felt that the trek to Nagarzhang was enough. We decided to push to Lobuche.
Lobuche is approximately eight kilometers away and almost 600 meters of elevation gain from Dingboche via Thukla Pass. The trail from Dingboche to Thukla village was gradually ascending but the altitude made the trek difficult. The real challenge was the steep assault to Thukla Pass, one kilometer of rocky trail ascending almost 200 meters. It took us an hour from Thukla village to reach the flat ground above Thukla Pass, where commemorative markers of those who perished in the Mount Everest climb of May 1996 are erected.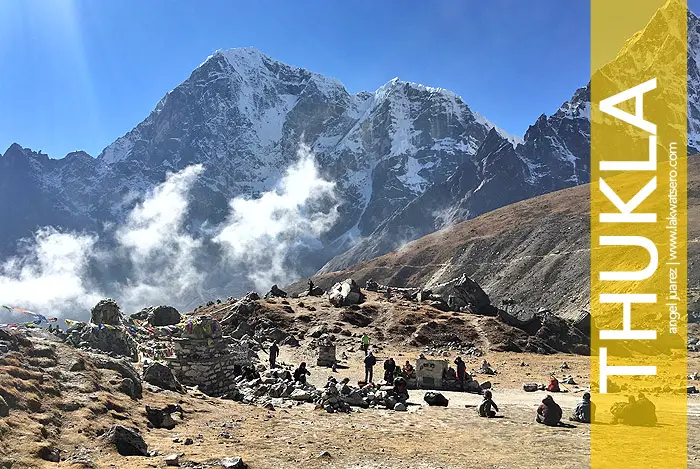 After a short rest at Thukla Pass, we continued trekking to Lobuche on a gradually ascending trail with few drops and recoveries. Timestamp was 1311H when we set foot in Lobuche.
Everest Base Camp Trek Day 8: Lobuche (4,928m) to Gorakshep (5,160m)
If there is one day I wish didn't happen, this would be it.The hardest day of my entire EBC journey. It was just three hours, but the hardest and longest three hours of my life.
We left Lobuche at 0815H. It was cold, windy and dusty morning, a condition that persisted the entire day making the trek extremely painful and difficult. The trail was mostly rocky and ascending with minor descent and recovery passing along the famed Khumbu Glacier.
I was moving slowly, cursing incessantly, and starting to regret what I was doing. I made frequent stops, halting after every eight baby steps to catch my breath. If it was the effect of the altitude, the thin air, the elements or simply my restlessness, that I felt so irritable during the stretch, I do not know. I felt annoyed with everything around me – the trail, the wind, the dust, and with my buddy who were several meters ahead of me.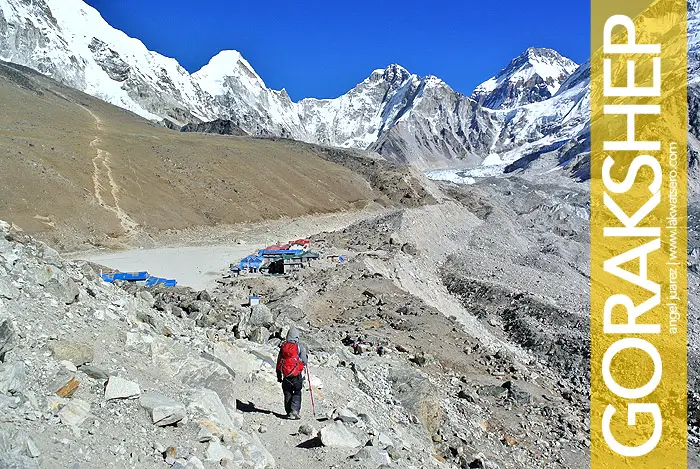 My buddy stopped at one point to wait for me but I wasn't on my normal state of mind that I bypassed him and continued moving forward. I would later found out that he was annoyed at me as well – for moving so slow, for stopping every now and then to take photos, and for bypassing him at the stop. We weren't talking.
We reached Gorakshep at 1105H and spent the rest of the day resting under warm blankets. Dinner interrupted our slumber.
Everest Base Camp Trek Day 9: Gorakshep (5,160m) to Everest Base Camp(5,320m) to Gorakshep (5,160m)
This was it! The day we reached Everest Base Camp!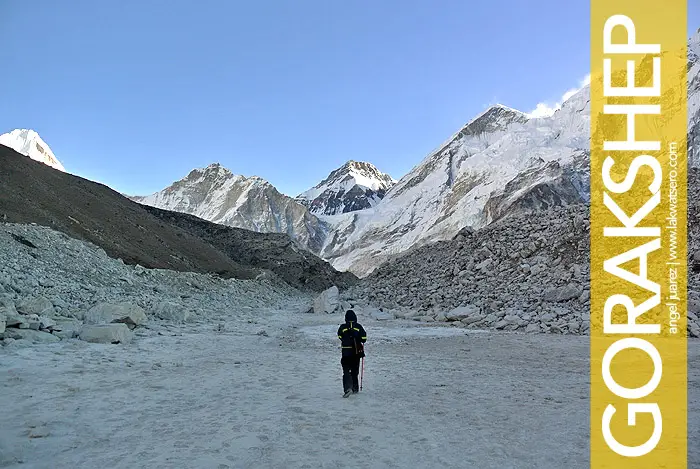 It was cold and sunny, and the air was thin as expected.The trail to the base camp was rocky and gradually ascending with short recoveries and descends. But the thin air proved it difficult to exert the much-needed effort. It was just 160 meters of elevation gain to the base camp and yet it took us two painful hours, we almost gave up. At one point, my buddy already decided to stop and was contemplating to be airlifted, the extended use of high cut trekking shoes was more than his right ankle could bear. But while our bodies were hurting, our will and determination were rock steady. We continued the ascent until we made it to our final stop.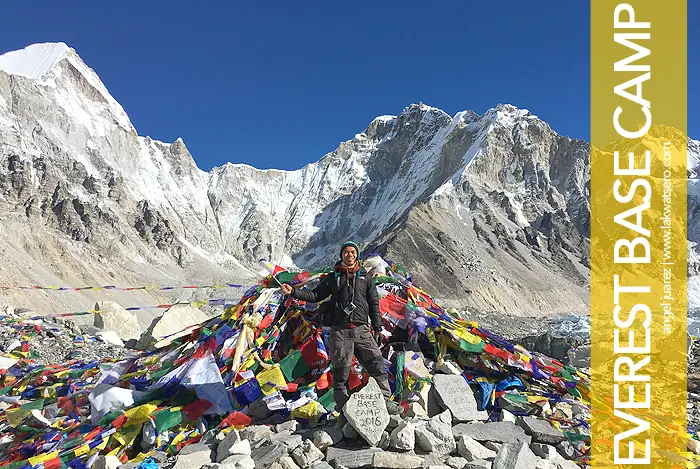 We made it! And we sure did! Everest Base Camp at 5,320 meters above sea level, the closer I could get to Sagarmatha!
It took us an hour going back to Gorakshep where we had our lunch before succumbing to our warm beds for the rest of the day.
Everest Base Camp Trek Day 10: Gorakshep (5,160m) to Dingboche (4,358m)
We were still high after reaching the base camp the previous day but we were only halfway on our journey. Going down from the base camp shouldn't be underestimated.
We left Gorakshep at 0830H, hoping for a favorable weather condition than what we encountered on our way up. My prayer was answered, it was a perfect day – cold and clear with just mild wind blowing from the east. We took the same trail going to the lower villages which s tarted as rocky and ascending before dropping to a wide trail of Lobuche passing the Khumbu Glacier, Thukla Pass and other areas I remembered cursing on my way up.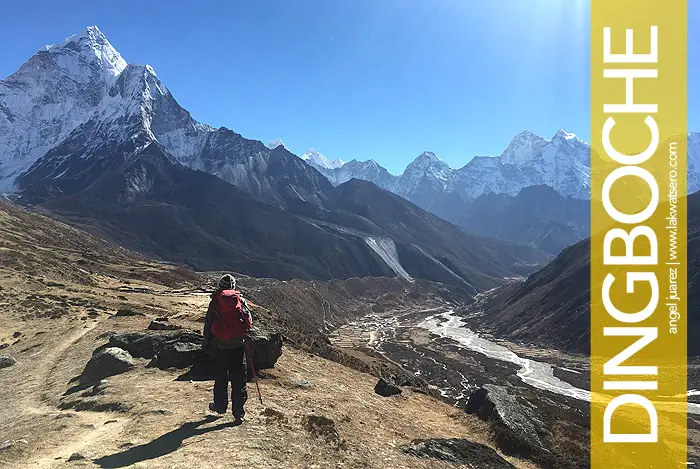 We opted to stay in Periche (4,320m), a village below Dingboche but our feet brought us to a more challenging trail to the latter. It was 13 kilometers of trekking that took us almost five hours to accomplish.
Everest Base Camp Trek Day 11: Dingboche (4,358m) to Namche Bazaar (3,440m)
It wasn't all easy going down, there were still high ascents that challenged our strength, endurance and patience specially for my buddy who was nursing what seemed to be a sprained ankle.
I was able to convince him to swap our footwear since Lukla was still few kilometers away and I was concerned that his condition would worsen. My shoes were in fact a size larger than his but I thought his feet needed space to relax. If it wasn't fully effective, I would like to think that it made him feel better.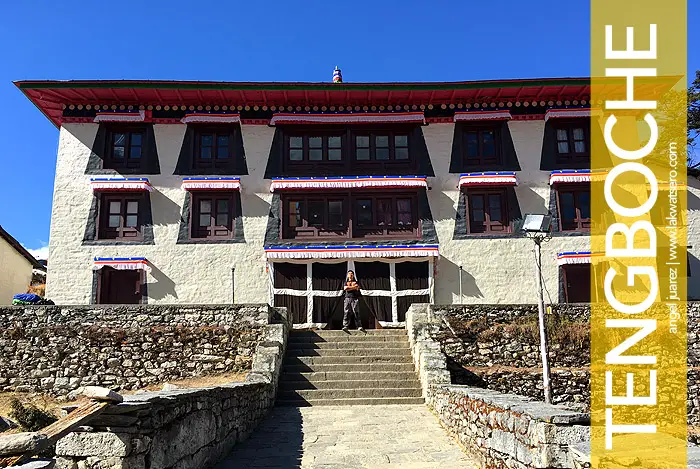 The hardest part was on the stretch from Pangboche to Tengboche which was mostly ascents with few flat recoveries. I could hear yak bells during the last few meters to Tengboche. It was as if I was racing with them who seemed to be oblivious of the challenges of the trail.
A total of 15 kilometers in seven hours, we reached Namche at almost 1600H and settled at Khumbu Lodge.
With just a day away from Lukla, we agreed to purchase the air ticket online via Tara Air going to Kathmandu. We found a flight scheduled on the day after tomorrow. Before dusk, we found ourselves wandering around Namche Bazaar one last time. Making fresh memories of the village before going down.
EBC Trek Day 12: Namche Bazaar (3,440m) to Lukla (2,800m)
This would be our last day of trekking in Everest Region. A grueling 12-kilometer journey from Namche Bazaar at 3,440 meters down to Phakding at 2,652 meters before finally ascending to Lukla at 2,800 meters.
We started a bit late at past 0900H, as if hesitant to leave the lovely Namche Bazaar. Honestly, I am not sure if I will be able to step foot in the village again so I cherished the final moment of being there.
The stretch from Namche Bazaar to Phakding was easy. And as we walked on the same trail that we took on our way up, the imagery of the hardship and the beauty of Everest kept playing on my head. Before I knew it, we were already in Phakding. Just nine days ago, we experienced earthquake while on this village providing a shroud of uncertainty to our journey. Now, we were already on our triumphant way down.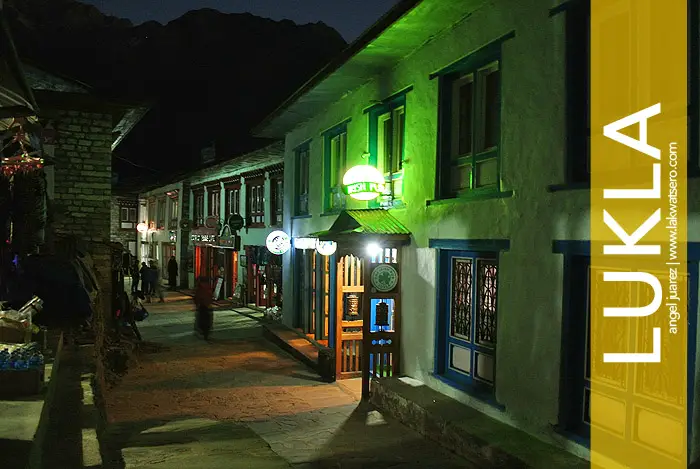 I am sure that the final stretch from Phakding to Lukla was the most hated part of the trek for most. Seriously, when I thought the agonies were over, here's a final and a difficult one to cap it all. I hated it! It was 150 meters of ascending trail and stone steps comparable to the one from Gorakshep to the base camp but on lower altitude with thicker air. We arrived at Lukla late in the afternoon and settled in the aging Tashi Delek Lodge. It was just across from a phony Starbucks.
EBC Trek Day 13: Lukla (2,800m) to Kathmandu (1,400,)
My rendezvous to this day bordered between excitement and longings. This would be the day we were turning our backs to the great Sagarmatha and yet I was already missing the place. The mountains, the peaks, the trails, the glaciers, the yaks… everything about her!
We had breakfast at the guesthouse before going to the airport, every sigh was heavy. Our flight was at 0800H and set to depart as scheduled. The pre-boarding process was a breeze and all passengers were eventually cramped into a small terminal building of Tenzing-Hillary Airport. It wasn't until nine when the boarding was called which we almost missed since we were too busy watching Indian music videos.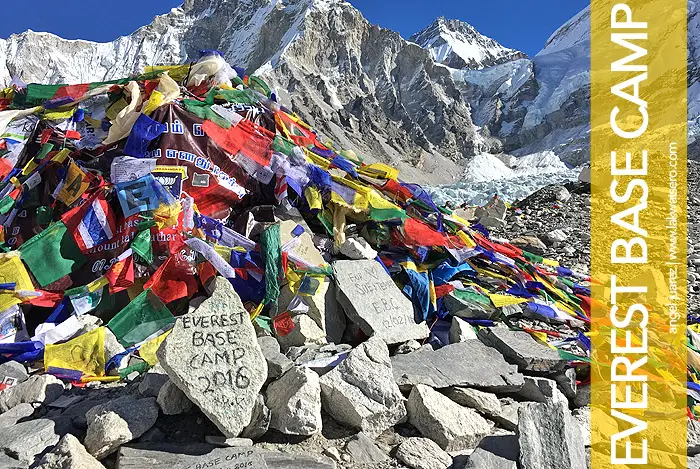 My eyes were glued to the glary window as our plane taxied the short runway, staring blankly on the fast-moving scenes outside – mountains, peaks, clouds, sky. I'm done with Everest Base Camp but I felt that Everest is still not done on me… I wanted more. Himalayas is like an opium deeply injected in my nerves.
Truth is, I don't want to bear all the pains of Everest Base Camp trek again, never! But I seemed to be yearning for more that I can see myself returning. I am confused!
A loud sound and I was awakened from my thinking. Touchdown Kathmandu! Hot shower at last!
EBC Trek Day 14: A Lazy Day in Kathmandu
This day was in fact reserved for delay that would be caused by any mishap during the trek, thankfully everything went well that we didn't have to use it.
Most of it was spent just in the comfort of our soft beds and temperate room. In the afternoon, we decided to visit Boudhanath Stupa, a UNESCO World Heritage Site in the outskirts of Kathmandu. It is a popular Buddhist pilgrimage site which was just reopened to public after the restoration of damaged incurred from 2015 earthquake.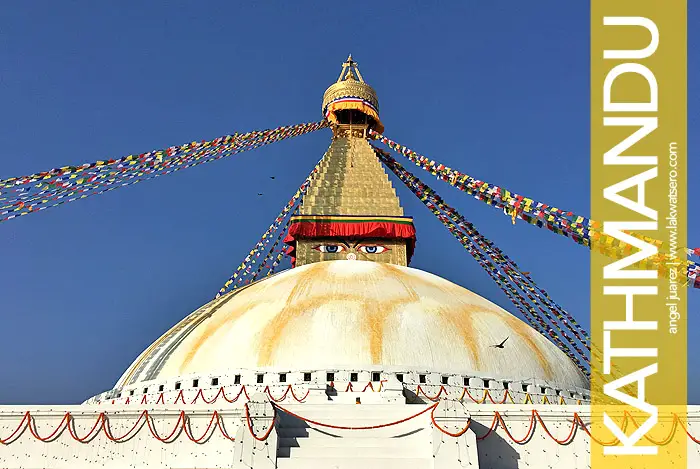 We surrendered to our beds when we got back to our room until it was dark.
On our last night in Kathmandu, we decided to dine in Blueberry Kitchen's along Paknajol Marg. It was a good choice! The food was delectable and the ambiance was cozy. We went home with happy tummies.
EBC Trek Day 15: Kathmandu to Kuala Lumpur
I woke up from a dream on my last day in Kathmandu. I dreamed of what transpired just six days earlier – the last few meters to the base camp. The dream was so real that I felt disoriented when I opened my eyes. I knew I was in Nepal but unsure of the details of the day.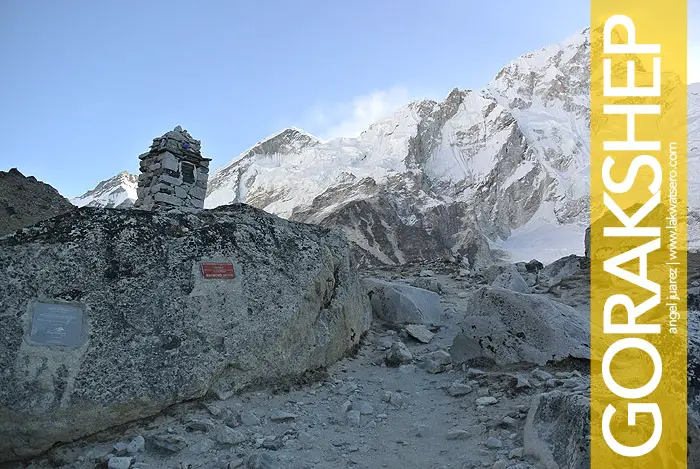 It took a while before it finally sunk in that it was my last day in Kathmandu and I was going home in the afternoon.
After breakfast at the hotel, I decided to walk around Thamel once more to feel its vibe again. I ended up unnecessarily shopping for more souvenirs. There's chocolates, handwoven hemp bags, tea bags, prayer flags, shawls, and what not. So I went back to the hotel with more shopping bags on my hands. As usual, I was about to go home from Nepal with all my bags full.
We checked out of the hotel at noon and went to Himalayan Java Coffee Shop in Sagarmatha Bazar . Killed some time there until it was time for us to proceed to the airport for our late afternoon flight back to Kuala Lumpur.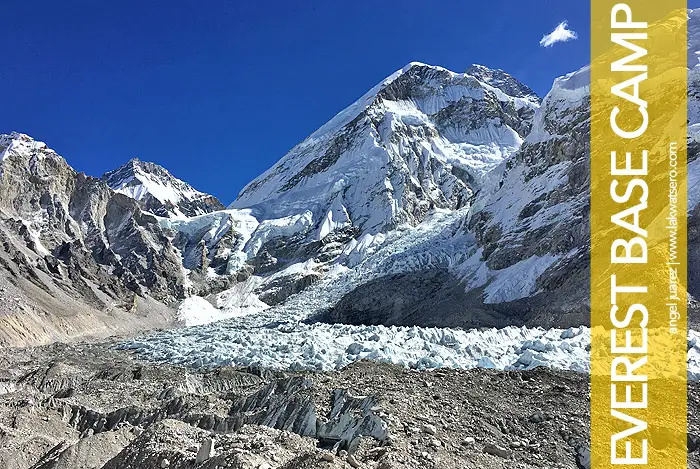 It was time to close this chapter of my Everest Base Camp journey. Time to bid adieu to Nepal. I have nothing but great memories of this trek. Memories that I will cherish forever.
I have always dreamed of Everest since I was a kid. It was a dream that has always been a dream (to read: a far reality). And as I understand the way of things, I realized that it is impossible for me to summit the top of the world. So, I came to accept the closest thing – the Everest Base Camp.

And I just did. 🙂
Post Note: I spent a total of P72,000 ($1,400) all-in-all for this self guided trek which is cheaper than packaged tours that starts at $1,500 USD not including the airfare going to and going out of Nepal. For itinerary, packing list and other frequently asked questions for an Everest Base Camp Trek, check out my post – The Everest Base Camp Primer: Frequently Asked Questions.