One of my biggest frustrations in life is to learn how to paint. Admittedly, I do not have the talent on painting or sketching or drawing. And while others insist that I have the talent since I have a good penmanship, I can create architectural drawings and I do good on lay-outing, truth is I can't even draw a proportional image of a human, not even a face.
But I always wanted to paint. It was a childhood dream. In fact, among the five of us siblings, I am the only one who do not have gifted hands. My brothers and sisters are either illustrators or draftsmen so I grew up envy of their talents. Never did I attempt to learn or practice it. I know it is not my forte.
While I really wanted to paint, truth is, I do not know where or how to start. I was too shy to ask my siblings, even my artist friends. Then one night, my fiend Gary (aka @dudeinorange) happened to mention Sip & Gogh Paint Studio while we were on a spontaneous food-and-wine trip at Le Village. I got curious.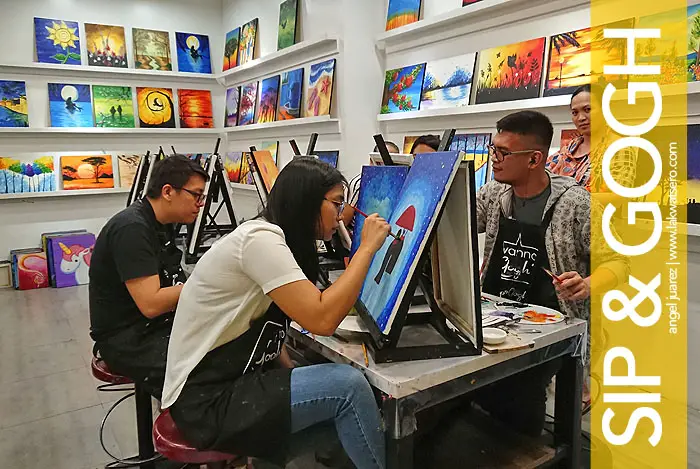 About Sip & Gogh Paint Studio
Sip & Gogh is the first-of-its-kind paint and sip studio in the Philippines. A place where you can unleash your inner Van Gogh without judgment. Where you can de-stress, relax, socialize and paint while enjoying your favorite wine or any beverage.
The people behind Sip & Gogh conceptualized the place in 2012. They are neither wine connoisseurs nor painting masters, they just simply aspired to provide a cozy venue for those who want to explore their creative side while enjoying a good sip of wine or a choice of beverage with fellow enthusiasts, family and friends.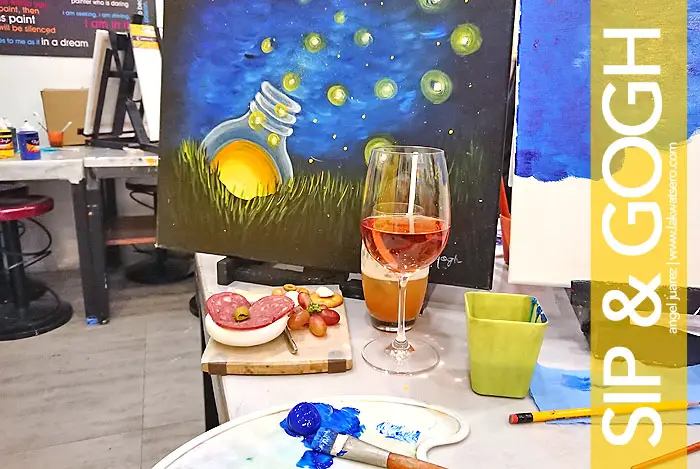 Sip & Gogh has four sessions daily starting at 11AM, 2PM, 5PM and 8PM. Each session lasts for three hours and guided by instructors. There are open session where you can paint any of their patterns and a fixed session where everyone paints the same image. Registration can be done thru their website or by phone, walk-ins are allowed if there are still open slots. It costs P1,000 per registrant with snacks and a serving of complimentary beverage. Canvas, paints, brushes, palette, easel and apron will be provided, just bring yourself, your creativity and enthusiasm. You can bring your masterpiece home afterwards.
Unleashing my Inner Van Gogh
The day after I learned of Sip & Gogh, I messaged Gary that I was going. Reservation was made for two and if he's free, he could join me. Then we found ourselves eventually at Sip & Gogh Kapitolyo for our five o'clock session.
My eyes were in full delight as I entered the studio. Artworks hanging everywhere; canvasses and easels lined up on rows; busy painters in front of their canvasses; brushes, paints, palettes and pencils on the tables. It was a colorful mess!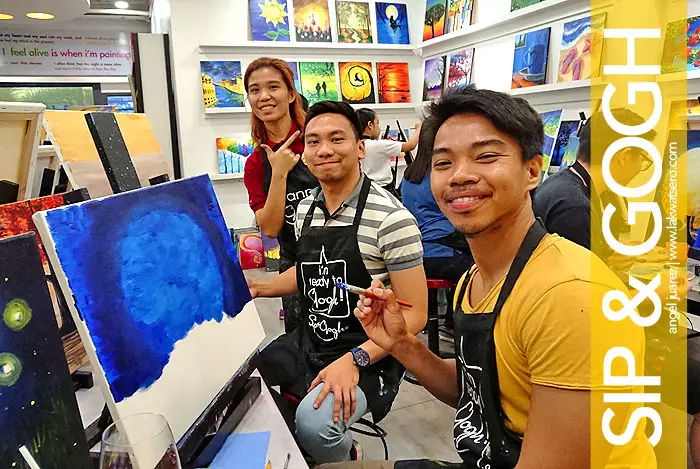 We were welcomed by a guy on a maroon apron who led us to our seats. It was an open session so we were asked to choose our patterns from their stack of artworks. Mind you, choosing alone was hard enough. There were too many options and a lot caught my attention. I ended up with a painting named "Fireflies in a Jar" which I would later call as "Freedom of Lights".
Apron on. Canvass, brushes and paints ready. Before we begin to paint, a lady approached and took our orders. Apparently, the session included a snack and a glass of drink. The lady was quick to notice the bottles of wine in my bag so she suggested the cheese and cold cuts platter to which we agreed, then a glass of iced tea for me and a can of coke for Gary. She said she would bring wine glasses so we could consume our bottle. To our delight, the corkage fee was waived! Woah! Never did I expect it. I didn't bring the wine intentionally in the first place. So it would be paints, brushes, canvass, wine and cheese night! Wow!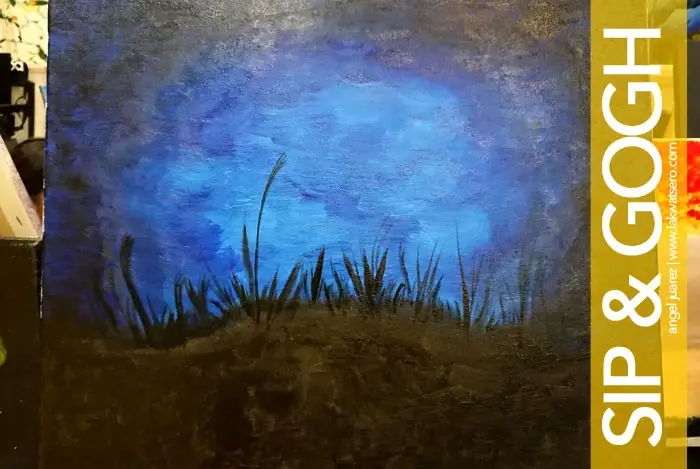 I asked Tsina, my instructor, for a tip before we begin. She only said one thing – "listen to the instructor". Hmmmm, seems easy!
Tsina drew a circle the size of a basketball on my blank canvass and instructed me to paint the space outside with dark blue acrylic. So I spent the next thirty minutes painting my canvass with monotonous blue paint. I couldn't see the beauty of my work compared to Gary's who was adding layers and gradients of different hues on his. I was a bit concerned.
Tsina came back to instruct me to paint the space inside the circle with the mixture of blue and white acrylics. Then to darken the outer edge with mixture of dark blue and black paints.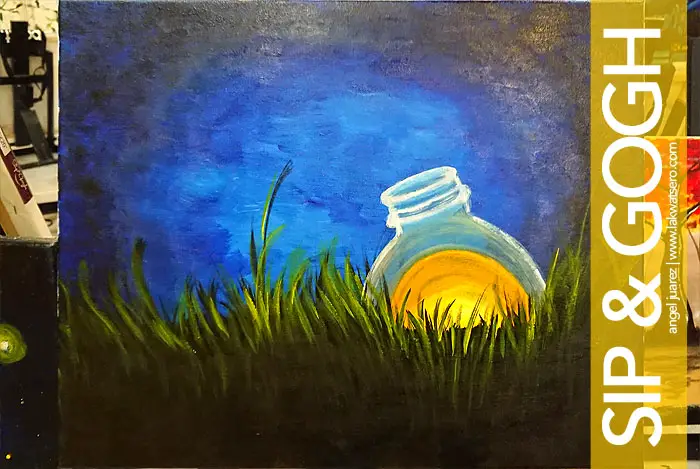 Claire, another instructor, took turn on coaching me. She instructed me to add gradients to the edges, darken some light areas, paint the remaining space with black and to add grasses. She even taught me the proper strokes and the techniques on applying paint to my brushes. After an hour, lo and behold, my canvass was already filled with promise.
For the next two hours, the coaching session went on. I was able to paint the glass jar (which I re-positioned to deviate from the original), the light, the fireflies, the shades of green and yellow on grasses and other elements. Halfway, I made rounds in the studio to check how others were doing and I felt pressured knowing almost everybody was in fact doing well, even the kid in front of me! Gary was doing good with his masterpiece as well. On the contrary, I wasn't satisfied with my development.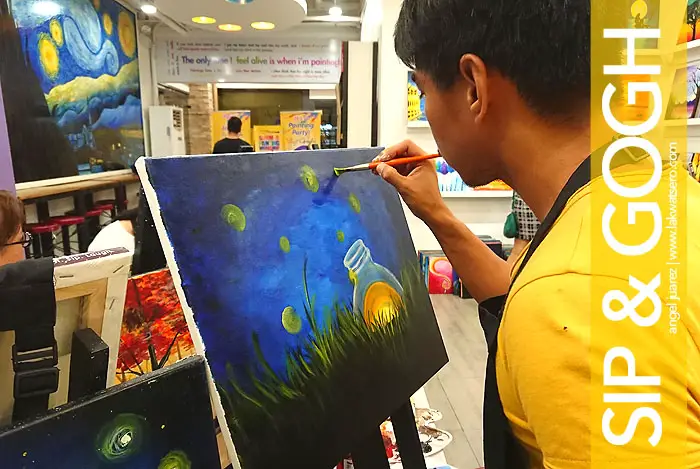 My First Painting!
Gary was able to finish first. I, on the other hand, was still adding the last elements and finishing touches. After three-and-a-half hours, I finally completed my first painting!
I stared at my artwork for a few minutes, I thought it wasn't that bad. The final output was decent enough for a first timer, well at least for me! Seriously, I never thought I could come up with such. I was so proud! I called it "Freedom of Lights".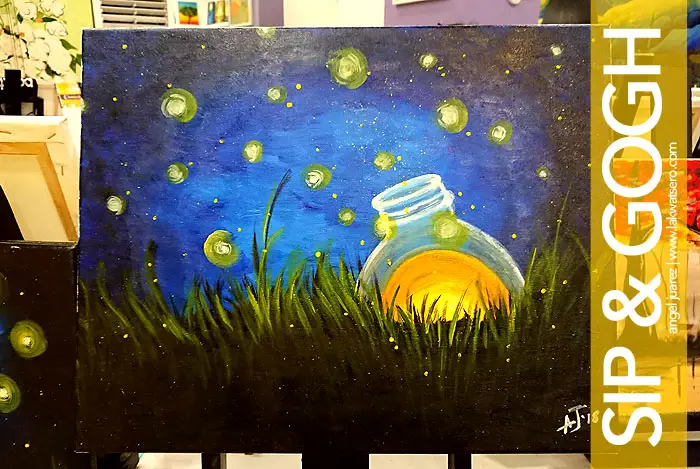 It was a well spent three-and-a-half hours. No judgment, just pure fun and excitement! Three-and-a-half of fun and relaxing hours, I want to do it again.
I am not aiming to be a Van Gogh or a Luna. I just wanted to paint. I know it is still a long way, extra long to be honest. But I am willing to take that road no matter how long in spite of the voices telling me I cannot… including my own. Because as Vincent Van Gogh said, "if you hear a voice within you say 'you cannot paint', then by all means paint, and that voice will be silenced."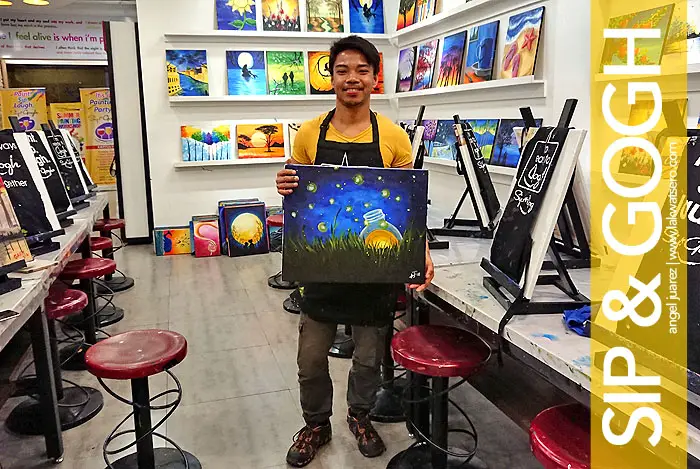 Sip & Gogh Paint Studio has branches in Kapitolyo, Ayala Heights, Eastwood, Alabang, Atelier and Century Mall. They are open from 11AM to 11PM. Aside from daily session, they also offer private party packages. They have bring-you-own-bottle session where you can bring at most two bottles of your favorite wine for only P300 corkage fee per 750ml bottle.