When I asked about your hometown, a lot of you replied. Your responses overwhelmed me, and I thought that sharing mine would at least equal all your efforts in replying to me.
I am a Bisakol* by blood. My father is a son of Ligao, Albay and my mom is a daughter of Palompon, Leyte. But I was born and raised in Manila, the place I call home. I am proud to be a Manileño.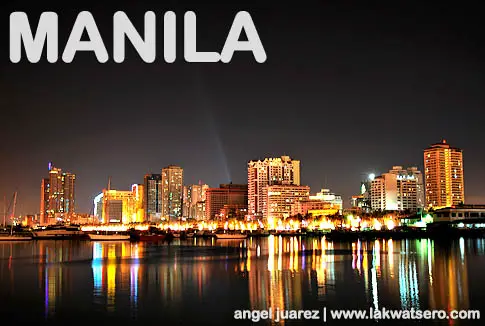 I already said this before but I will say it again, Manila is my hometown. Its historic streets are my playgrounds; its alleys and sidewalks are my everyday walkways; its structures, buildings, halls, walls and tombs are my regular sights.
Most likely than not, you already know the whats and wheres of my city. But Manila is more than what you already know. It is more than Intramuros, Malate, Ermita, Sta. Cruz, Quiapo and Binondo; or the malls, parks, century old churches, historical spots and old structures. My hometown is more than what you usually see.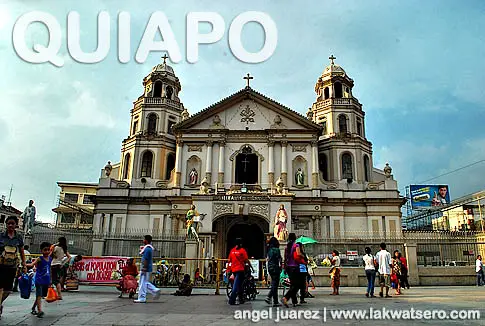 Drop by sometimes in Doroteo Jose. The site of the current Manila Grand Opera Hotel is what used to be the original site of the old Manila Grand Opera House, the heart of Philippine culture and the primary theater for plays, movies, zarzuelas and other events during the American era. Walk further until you reach Teodora Alonzo Street, where the Arellano High School, formerly Manila North High School, can be found. It used to be the largest high school in Manila with annexes in Zurbaran, Mayhaligue, Santander, O'Donnell, Teodora Alonzo, Lope de Vega, Halili and Rizal Avenue. Its Filipino Newspaper "Ang Tambuli" is the oldest school organ in the country. I should know because I served as Associate Editor of it way back in high school.
The building in front of Arellano High School used to be the original site of Ruby Tower. A six-story building collapsed by a deadly August 2, 1968 earthquake that hit Luzon. Nearby is the Arranque Market in case you need to shop for pets and animals, the Chinese restaurants of Binondo, the oldest Chinatown in the world, the centuries old Minor Basilica of San Lorenzo Ruiz commonly known as Binondo Church, the jewelry stores in Ongpin, the old Tutuban train terminal and the old shopping districts of Sta. Cruz and Divisoria.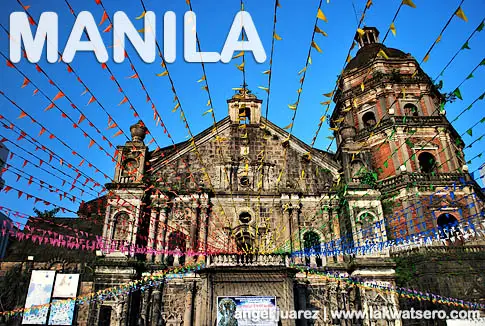 On the opposite end of Doroteo Jose is the Fabella Hospital, holding the record for being the hospital with the highest live birth in Metro Manila and even in the entire country. There used to be a saying that if your mom delivered you here, chances were, you went to the wrong parents. This is because there are many babies born here at any given day, 88 live birth daily on the average, thus it is commonly called a "baby factory." Wait, I was delivered here by the way 🙂
Fabella Hospital is just a stone thrown away from old Zurbaran district, Central Market, the University Belt, historic Mendiola and the diploma factory of Recto. If you need cheap books and printing services, this place is for you.
One LRT station away from Doroteo Jose is Bambang Street, where you will see the biggest and perhaps oldest ukay-ukay shop in Manila. It was already there when I was a kid.
Along Bambang, near Avenida Rizal is the first and oldest branch of Mercury Drug, still standing on the same spot, though renovated. On the eastern end of this street is the University of Santo Tomas (UST), the oldest university in the Philippines and Asia. Try exploring the area and eat at nearby tapsilogan that are open 24 hours a day, seven days a week. Lola Ely's anyone?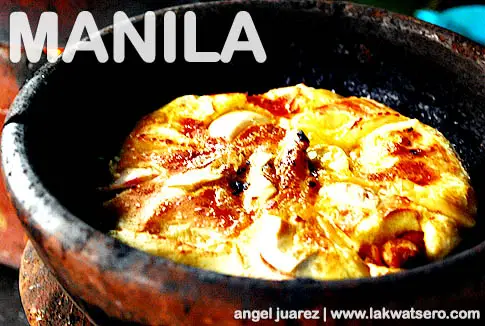 Walk along Rizal Avenue from Bambang and you will pass by the stores selling cheap medical and chemical equipments, in front of Jose Reyes Memorial Hospital and Department of Health Compound, San Lazaro Hospital is also nearby, along Quiricada Street. Continue exploring and when you're hungry, stop in Felymar's Special Bibingka in Tayuman, a famous stopover specially during Christmas. La Tondeña Special Bibingka in front of Espiritu Santo Church used to be the famous bibingka store in the area, but Felymar's now holds the title. The stretch of Tayuman is also popular for stores selling religious articles and statues.
The western end of Tayuman is Pritil Market, while the opposite end is the old site of San Lazaro Hippodrome and Manila Jockey Club now SM City San Lazaro, few blocks away from the UST and the flower market of Dangwa that extends from Arsenio H. Lacson to Maria Clara and Dimasalang.
Crossing the Dimasalang Bridge will take you to Blumentritt Market. This is where I live since birth. It is the biggest market area in Manila after Divisoria, the gateway to Chinese and Manila North Cemetery, bounded by the lechon filled street of La Loma in Quezon City on the north east.
Chinese Cemetery is the second oldest cemetery in the city, it used to be a resting place for the Chinese who were denied burial in Catholic cemeteries during the Spanish era. It is also here where you can find the the Ruby Tower Memorial and the oldest Chinese temple in Manila – the Chong Hock Tong Temple. A tour inside will reveal some of the most beautiful mausoleums and pagodas in the country.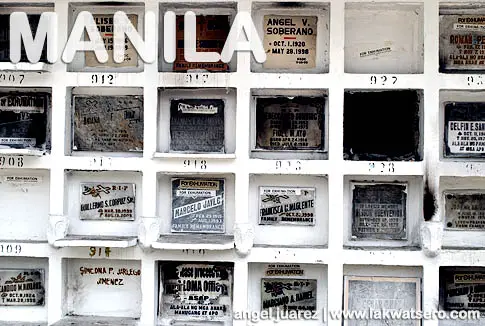 Beside Chinese Cemetery is the biggest and one of the oldest cemeteries in the country at 54 hectares – the Manila North Cemetery, formerly known as "Paang Bundok". Rested here are some prominent Filipino personalities including former Presidents Ramon Magsaysay, Sergio Osmeña, Manuel Quezon and Manuel Roxas; former Senators Isauro Gabaldon, Jose Fortich Ozamis, Claro M. Recto and Quintin Paredes; actors Atang dela Rama and Fernando Poe Jr.; and other celebrities, historical and political figures.
You can find everything you need in Blumentritt, all in great bargains, just do not forget to haggle. You can also go to almost anywhere in Manila from here by riding an LRT, PNR, jeepneys or trikes. If you're hungry, look for the delicious and cheap kakanin of Aling Pining in Rufina's Native Delicacies along Oroquieta Street or choose from a wide array of turo-turo and fastfoods in the area.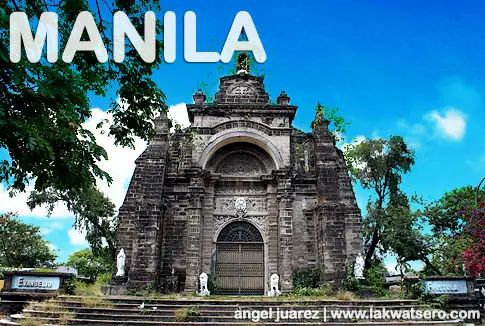 Going further north of Rizal Avenue will lead to the line of furniture shops near Abad Santos and to the northern gate of Chinese Cemetery. All the way to R. Papa Street, on the boundary of Caloocan City and Manila is where the main gate of Campo Santo de La Loma or La Loma Catholic Cemetery is located. The oldest cemetery in Manila, it opened in 1884 exclusively for Catholics. Some notable personalities buried here are former Chief  Justices Cayetano Arellano and Victorino Mapa , and Girl Scout of the Philippines founder Josefa Llanes Escoda. In the middle of La Loma Cemetery is a century old Chapel dedicated to St. Pancratius
There are many more about my hometown that I would like to share. But I do not want this post to be boringly long, so I just focused on three kilometer radius from where I live. At least you now know where I was born, spent my childhood, grew up and living up to now. Manila, my Manila, as Nick Joaquin said, is my hometown.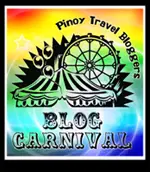 This is in response to the Hometown theme of Pinoy Travel Blog Carnival. Check out the hometown of other Pinoy Travel Bloggers as compiled by Mhe-Ann Ojeda.
*Bisakol – a Tagalog slang for half Bisaya and half Bikolano